Tomatoes are one of the most loved vegetables (or, botanically speaking, fruits) in the summer garden. They aren't hard to grow, but if you are dreaming of getting a bumper crop of beautifully ripe tomatoes, you'll need to make sure your plants are healthy and happy.
Spacing may seem like a minor issue, but it's one of the most important factors for ensuring healthy tomato plants and fruit.
Here's what you need to know about how far apart to plant tomatoes, plus some other growing tips for your best harvest ever.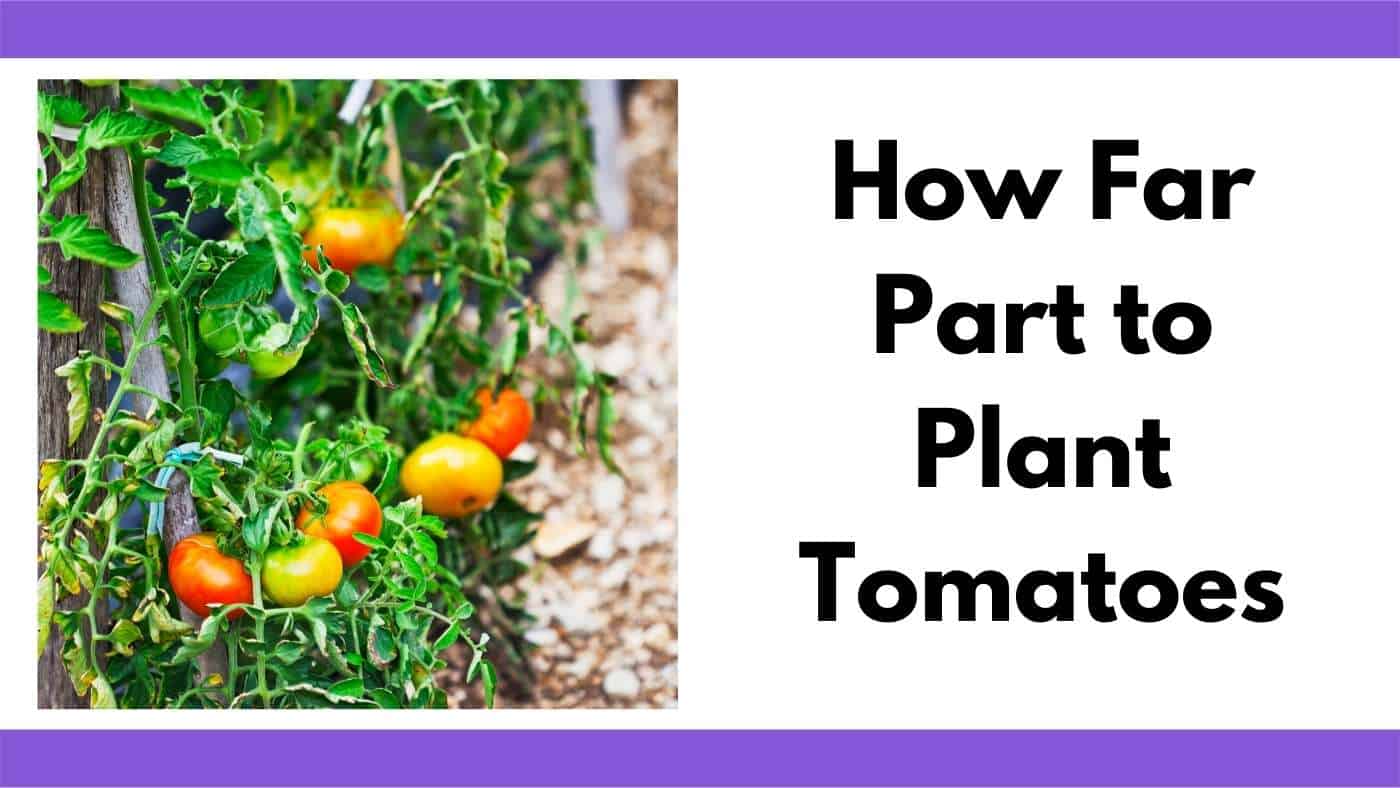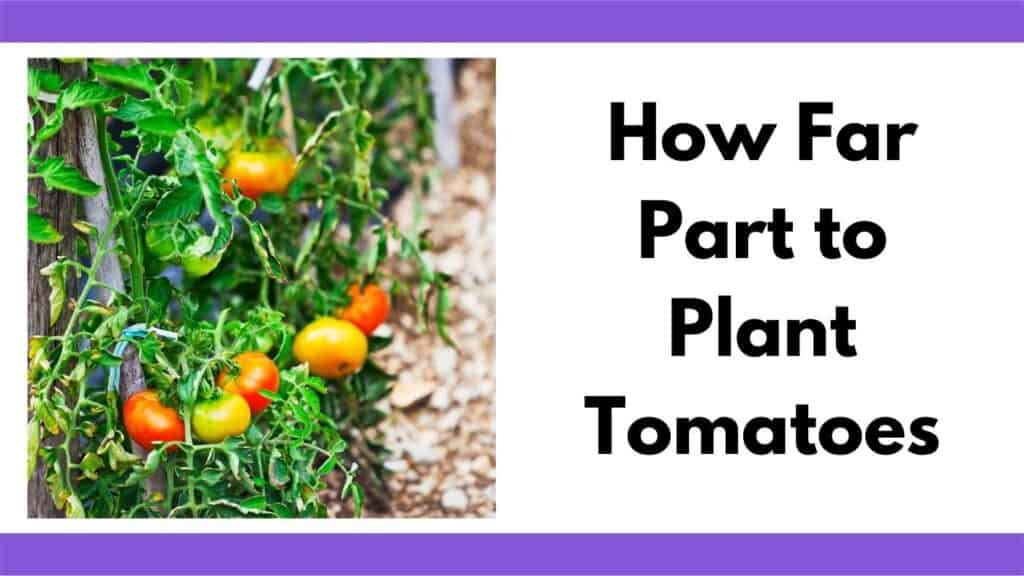 This post includes affiliate links. If you make a purchase using one of these links, Together Time Family will receive a commission at no additional cost to you.
Why Tomato Spacing Matters
Especially if you are gardening in a small space, it may be tempting to plant your tomatoes as close together as possible so that you can fit more in. However, this will most likely give you lower yields than if you grow fewer plants that are spaced properly.
Tomato plants that are too close together do poorly for several reasons:
Air Circulation – Adequate airflow is the number one reason you should always space plants, especially tomatoes, properly. Crowding is an invitation for fungal and bacterial diseases to take over. Most tomatoes are susceptible to a number of diseases, so planting them too close together may ruin your entire crop.
Sunlight – Tomatoes love warmth and sunshine. If they are too close together, they will start shading each other out. This means their growth will be stunted, and they will produce few to no fruits.
Competition – Some plants can grow right next to each other with no problems, but most vegetables can't. One of the reasons for this is competition. Each plant needs a certain amount of water and nutrients to grow well and be productive. If plants are crowded, they are all trying to compete for the same water and nutrient source, which means not all of them will get what they need.
Knowing these things may make you want to space your tomatoes as far apart as possible, but this is also inadvisable. Crowded tomatoes can be a big problem, but you don't want to go too far to the other end of the spectrum and leave big gaps between plants. Getting the perfect spacing means that plants will have enough airflow and that you are making the most of the garden area you have. As a bonus, not having large patches of bare ground helps to keep down weeds!
How Far Apart to Plant Tomatoes
A key part of tomato spacing is knowing which type of tomato plant(s) you have and how big the variety you are planting will grow. You need to know this information before you can determine how far apart your tomatoes should go.
Determinate Tomatoes
Determinate tomatoes grow to a certain height (usually 3-4') tall and then stop growing upwards. They tend to be more compact than indeterminate plants and also come in dwarf varieties.
In general, full-size determinate types should be spaced about 2' apart. Smaller dwarf varieties can usually be planted anywhere from 12-18" apart. If you want to plant in containers, put only one tomato plant per pot and make sure the container is at least 18" wide and deep.
According to Epic Tomatoes author Crain LeHoullier, 5 gallon containers are adequate for dwarf and determinate tomato varieties. Five gallon containers are easy to come by – just grab a few five gallon buckets and drill holes in the bottom or pick up a pack of fabric grow bags. If you get a multi-pack on sale, grow bags can cost less than buckets, plus you don't have to drill holes. At the time of writing, this listing for 20 5 gallon grow bags had a per piece price of less than $2.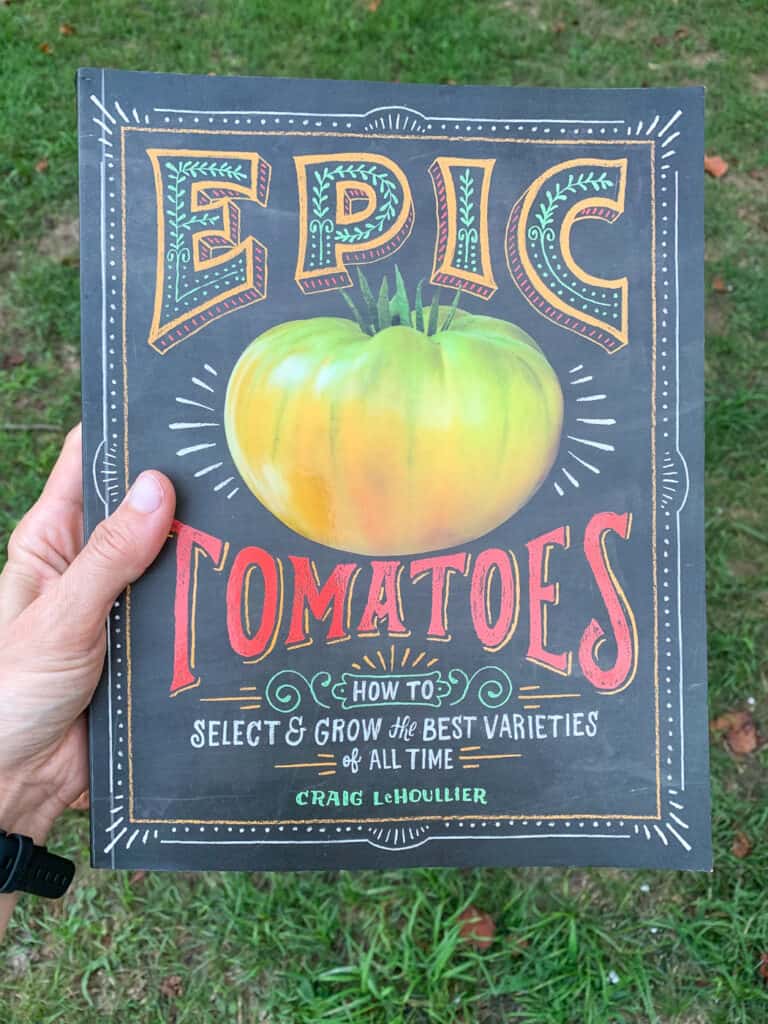 If you are planting in rows, space tomato rows 4' apart from each other.
Indeterminate Tomatoes
Indeterminate tomatoes will keep growing taller until either the season ends or you prune the top off. They can grow up to 8' in one season and can also grow many side branches. I hesitate to call them "bushy," because that implies they can hold themselves upright. They can't. They sprawl and flop when left unsupported, like the Amish Paste Tomatoes in the photo below: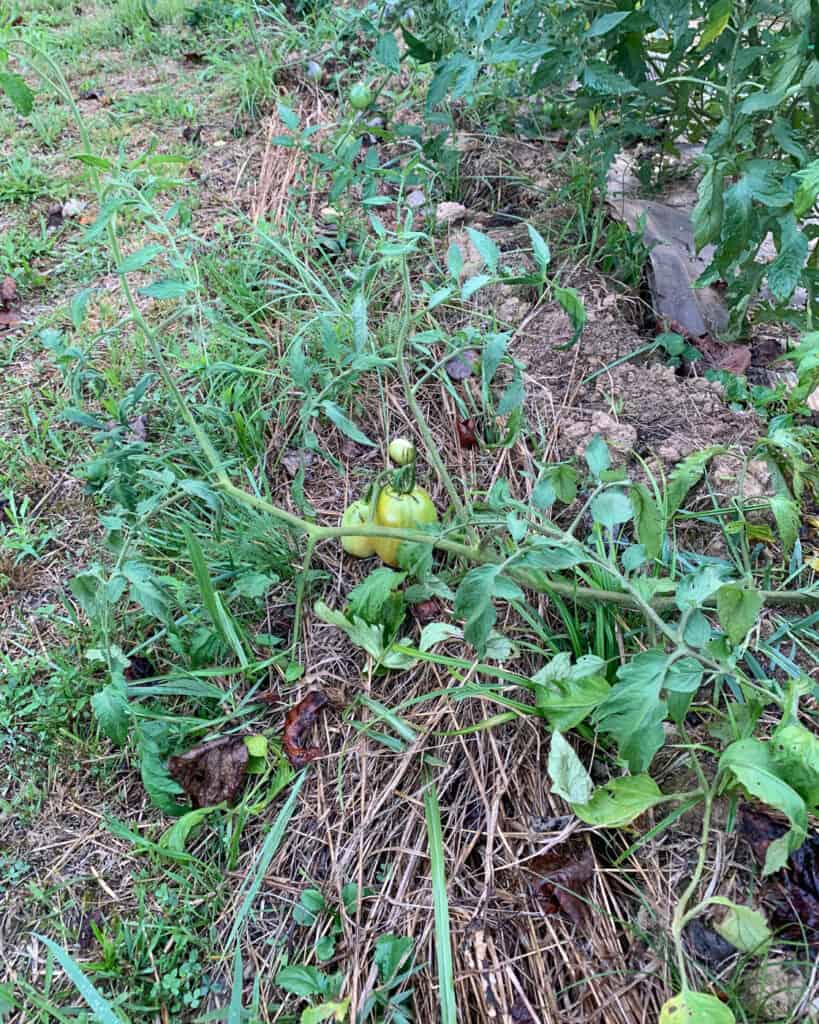 Because they are usually larger, indeterminate tomato varieties should be planted 3-4' apart if you plan to let them sprawl. If you plan to keep them contained with large cages or a staking system, you can plant them 2-3' apart. Although some people do let their tomatoes sprawl, it can make them more vulnerable to soil-borne diseases and fungi.
You need larger containers for indeterminates if you want to grow them in pots. Aim for ones that are at least 24" deep and wide, but don't be afraid to go larger to give your tomatoes lots of soil to grow in.
LeHoullier writes that each indeterminate tomato should have a 10 gallon container to itself if you want the same yields as tomatoes grow in the ground.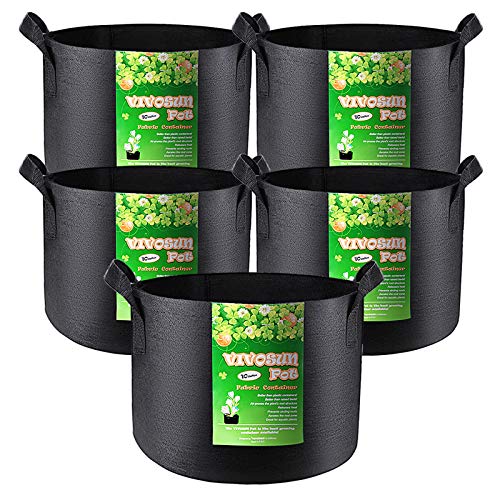 VIVOSUN 5-Pack 10 Gallon Plant Grow Bags, Heavy Duty Thickened Nonwoven...
Sturdy Fabric Material: Made of 300g of thickened nonwoven fabric, these pots are moderately permeable, and BPA-free
Great Drainage: Nonwoven fabric means the pots do not retain excess water, allowing your roots to breathe for healthier, more vigorous growth
Durable, Reinforced Handles: While the competition uses flimsy handles that are merely strips of the same fabric the pot is made from, we use serger...
If you don't mind smaller yields, they can be grown in 5-7 gallon containers with frequent pruning, staking, and watering. I have grown Cherokee Purple tomatoes in a 7 gallon grow bag, but it wasn't the happiest, healthiest tomato plant I've ever grown. I personally prefer growing smaller cherry tomatoes in containers because the plants are easier to support: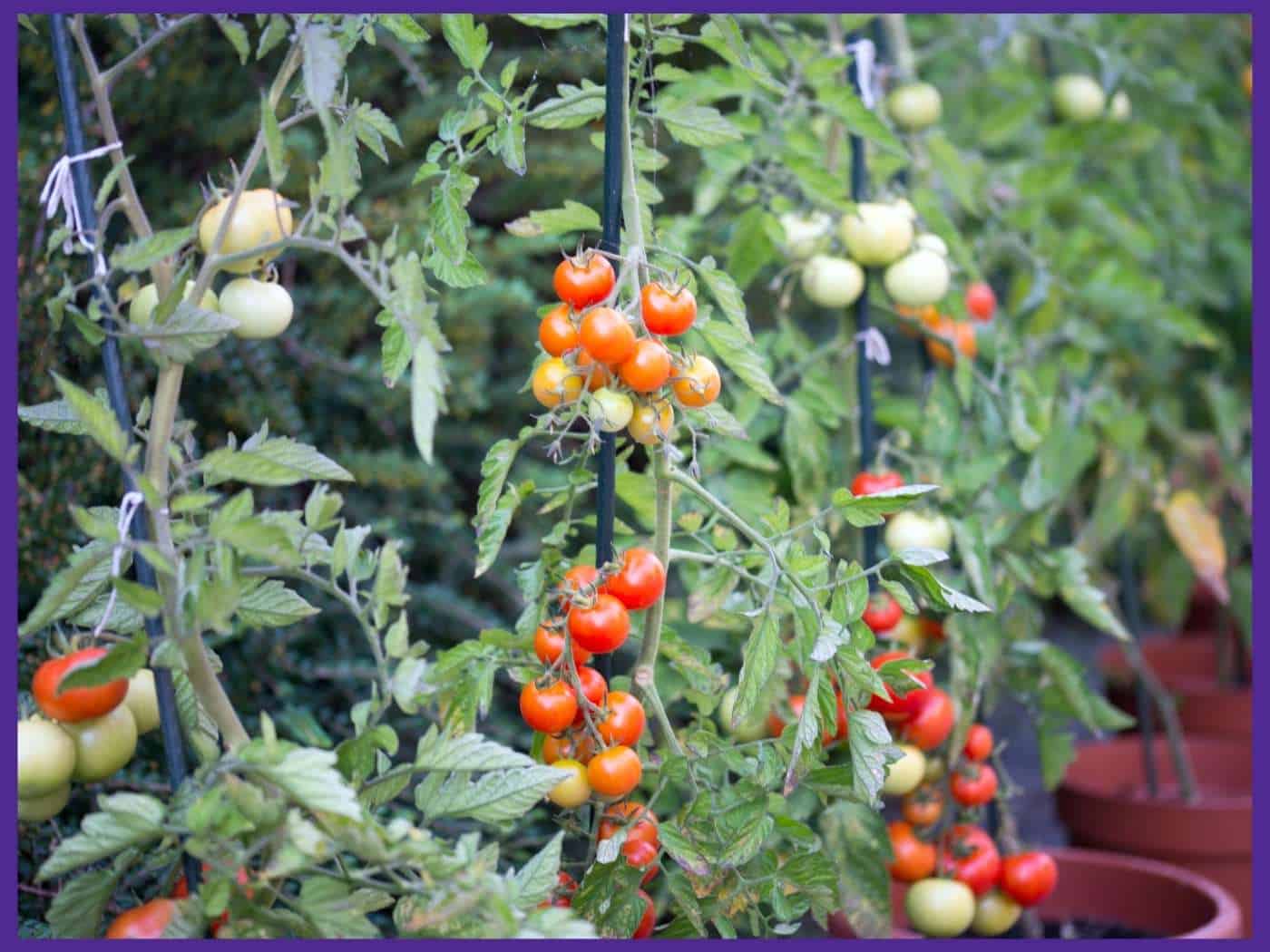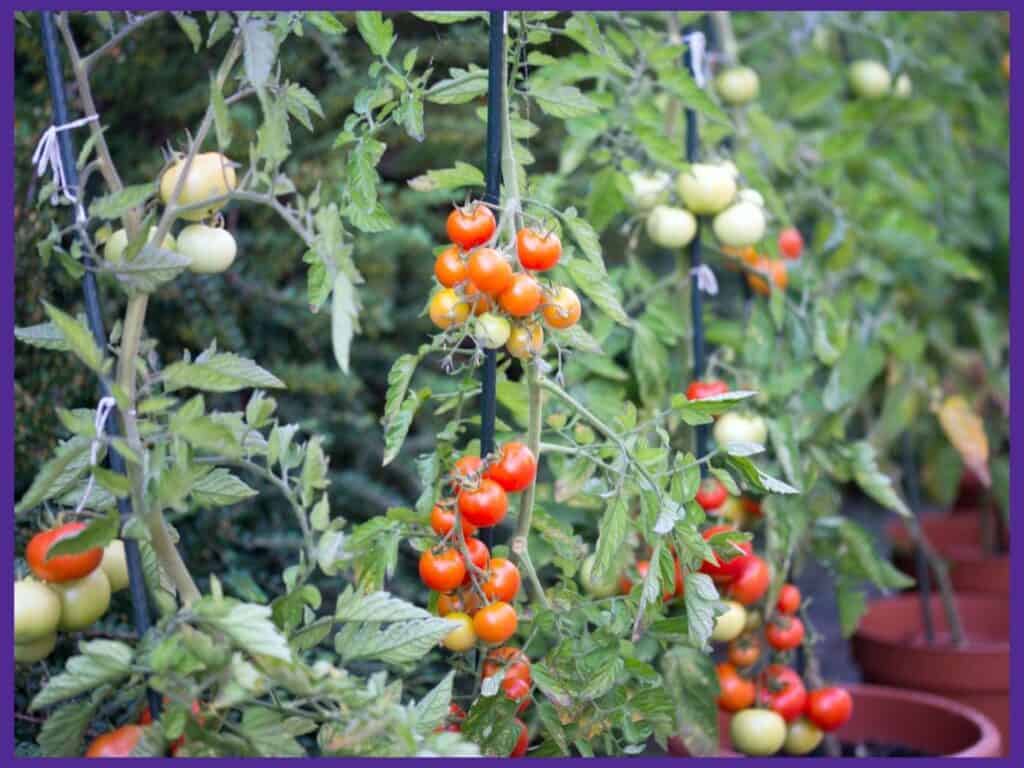 Take a look at Epic Tomatoes for photos of LeHouillier's inspirational container tomato garden. Each summer he transforms his driveway into a tomato paradise covered with containers.
Sale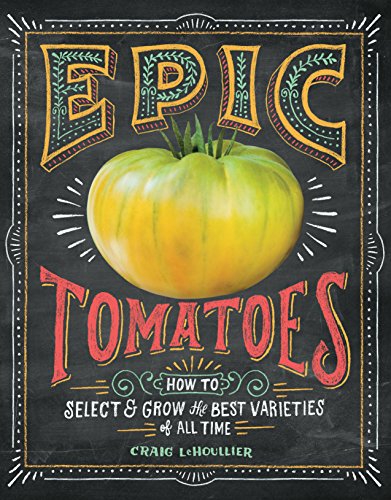 Once again, rows of tomatoes should be spaced about 4' apart.
Vertical Growing
If you really want to be able to fit more tomatoes into a small space, try growing them vertically.
To do this, you'll need to grow an indeterminate variety, since this type will keep growing up like a vine. You'll also need a support structure they can grow straight up, which could be a wire fence or a really good (and tall) staking system. If you're diligent, you can wrap tomato plants around a strong vertical line. Tomatoes do not naturally twine, but you can train a tomato plant around a line so it grows vertically.
With central leader pruning, your tomatoes can be planted as close as 18" apart. As they grow, you'll want to pinch or prune out the suckers that appear in the V-shaped area between a branch and the main stem of the plant. (This keeps them growing up instead of bushing out.)
You'll also need to regularly prune off any branches that are touching the ground and keep tying the main stem to the support structure as it grows up. You can see the tall stake and frequent tying in the photo below: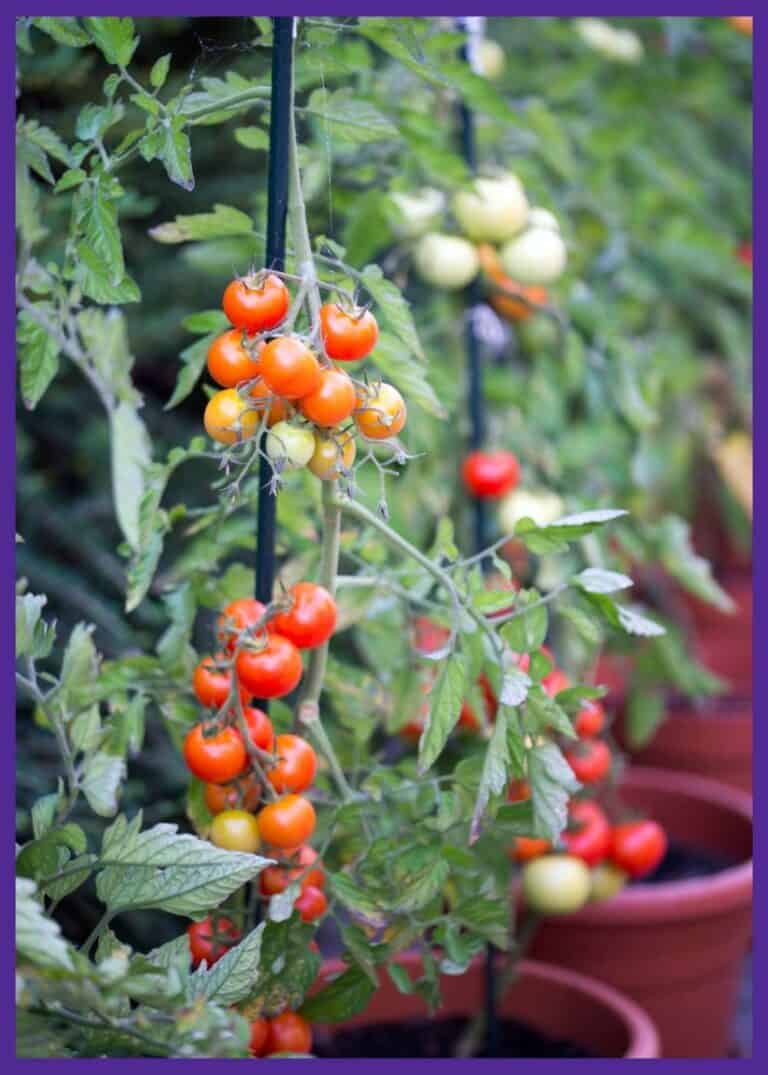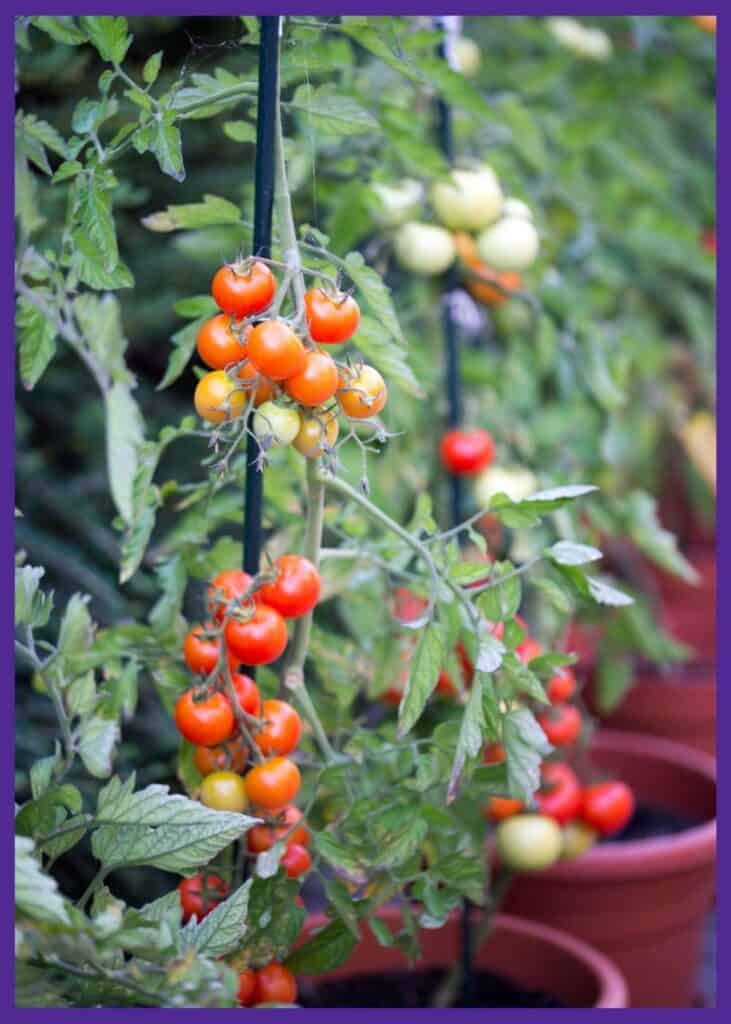 By doing this, you should get a good crop of large tomatoes and be able to fit more plants in the same amount of space!
This type of growing is common in greenhouses.
Other Tomato Growing Tips
Besides knowing how far apart to plant tomatoes, there are a few other important tips that will make your plants happy and productive.
Tomatoes love heat and sunshine. They don't enjoy 100°F weather, but they won't start really growing until temperatures get at least above 70°F (and 80°F is even better). Have patience and plant your tomatoes well after the danger of frost has passed and the soil has warmed to give them a good start in life.
Plant tomatoes deep. Most seedlings should be planted just below the soil line, but tomatoes do better if planted deeply. Any part of the stem that gets planted under the soil will sprout roots, giving your plants a firmer root system. You can plant them so that the first few sets of leaves are completely buried and even mound some soil up the sides of your plants. After you've done this, prune off any leaves that are touching the ground. Pruning lower leaves helps protect your plant from soil borne diseases.
Support your tomatoes. You can let your tomatoes grow along the ground, but plants are usually healthier when kept upright. I prefer using soft coated wire instead of twist-tie material or twine. It's easy to use, reusable, and less likely to damage the plant's skin.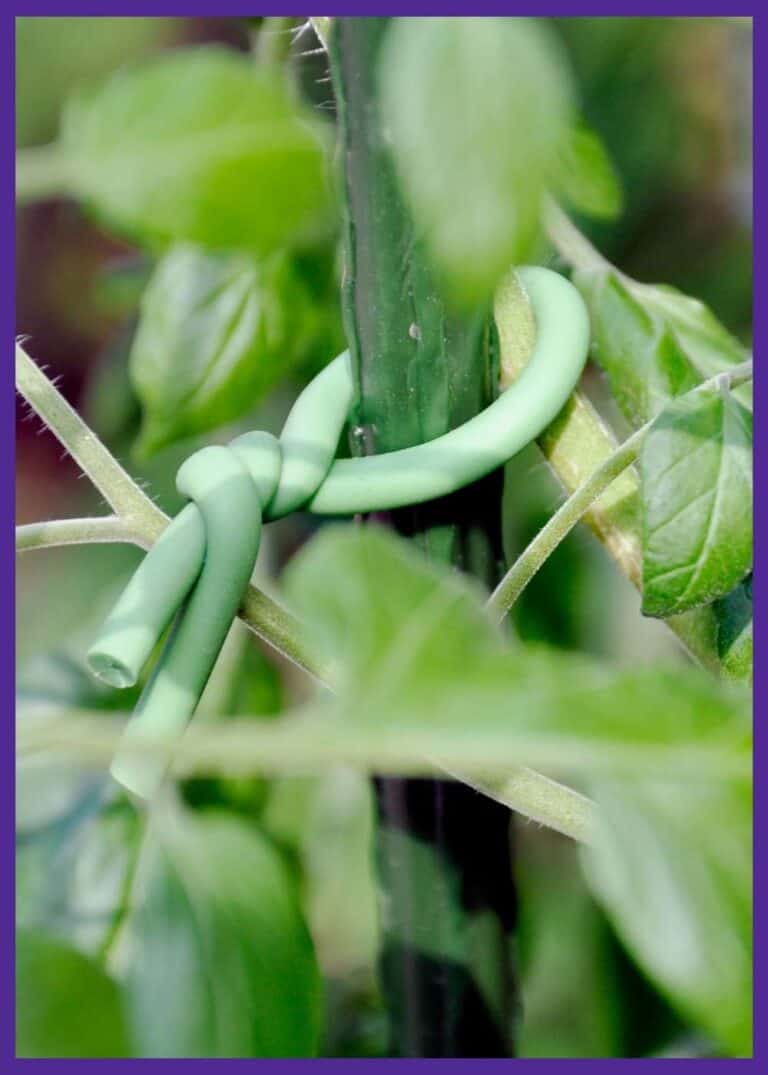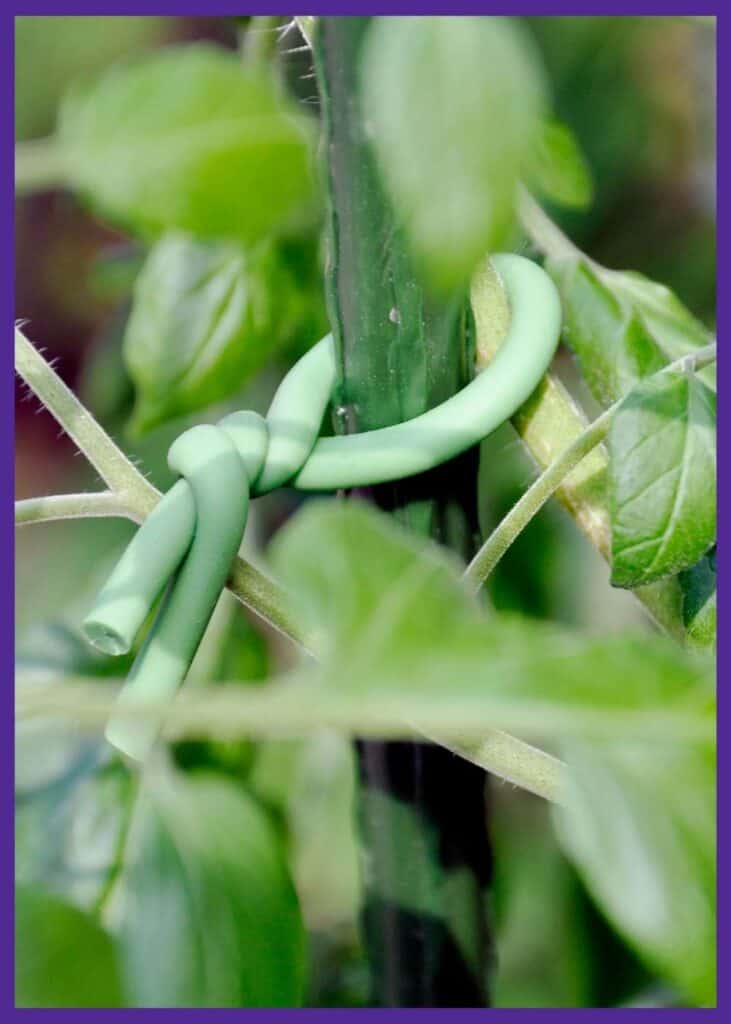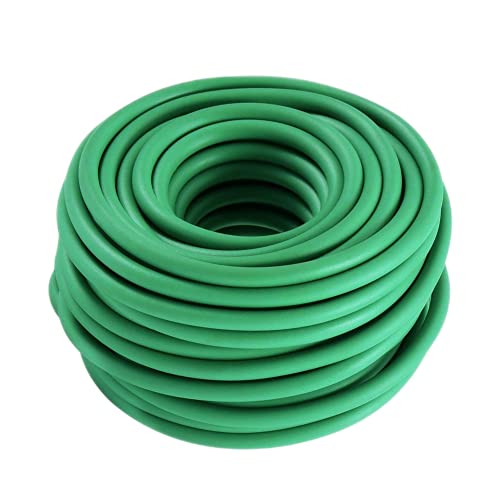 Bacetuao Soft Plant Ties, Garden Ties TPR Flexible Durable Heavy Duty Twist...
🍅【High Quality Material】 -The outer shell of our soft plant tie is made of high quality rubber TPR material, which is not only perfect to...
🍅【Stronger Garden Ties】 - Inner equipped with metal cord. Soft, flexible and durable, also our plant ties are cuttable and reusable, will save...
🍅【Heavy-duty Tie】: With thicker 5mm diameter, garden wire is excellent for tying heavy laden branch or vine, protecting them from damage in the...
Ironically, tomato cages typically aren't very good at holding up tomato plants (especially indeterminate ones). Try a sturdy staking system instead, tying your plants to it at intervals as they grow. LeHoullier recommends stakes that reach 4 feet above ground for dwarf and indeterminates and stakes that are as sturdy and tall as possible for indeterminates. Indeterminates can grow 8', so use the biggest stake you can.
You can create your own cage out of sturdy wire fencing. If you do this, make sure to select fencing with large enough gaps to reach through and harvest your tomatoes: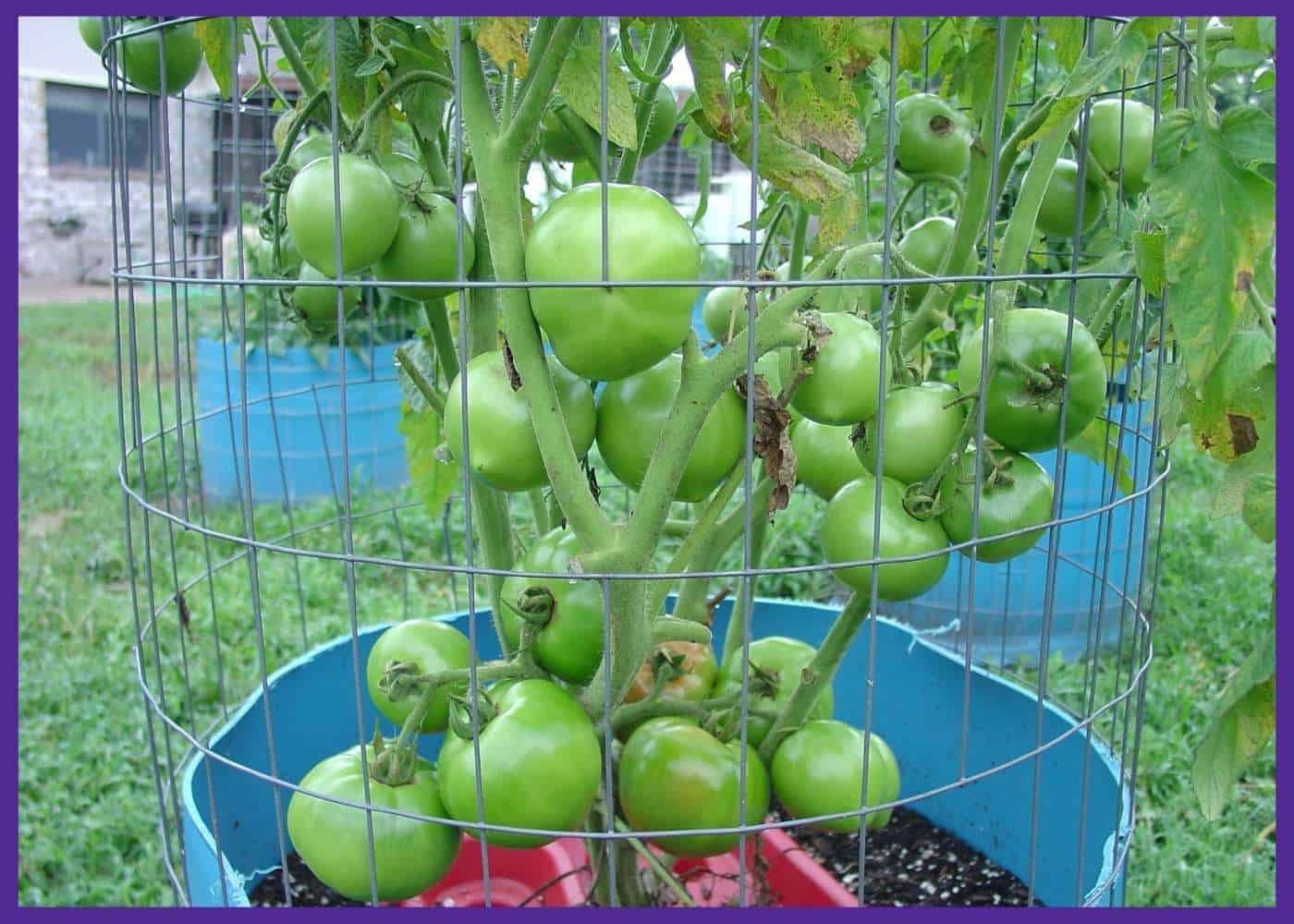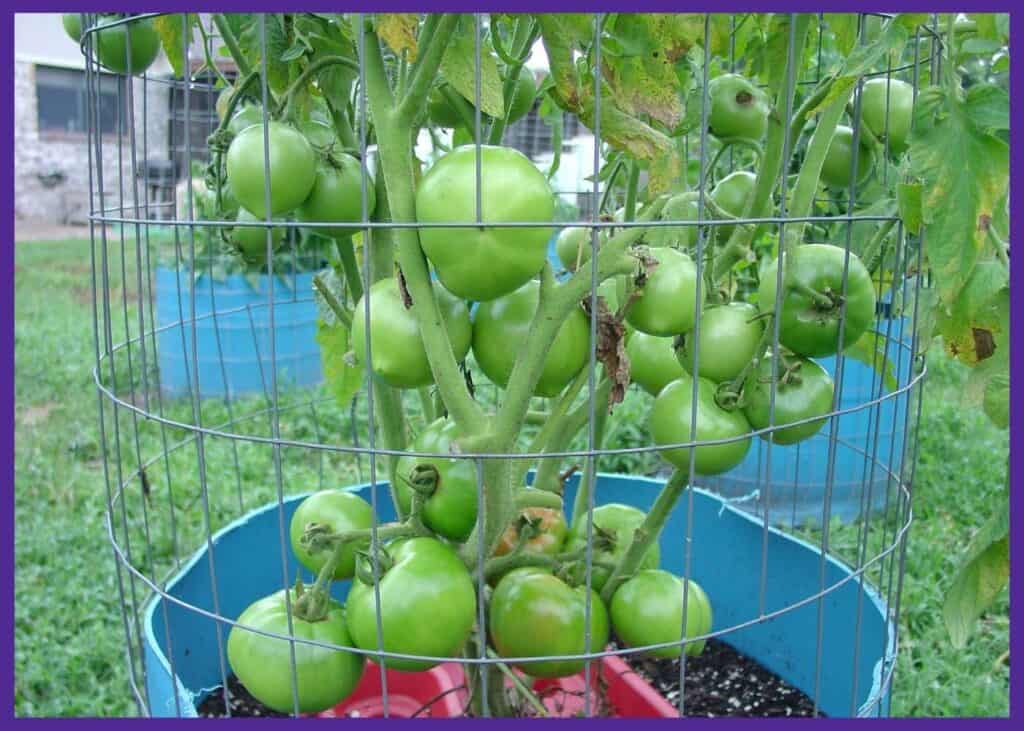 Tomatoes need lots of water. Once your tomatoes are close to being ripe, consistent watering is very important. Cracking and splitting of the fruits usually occurs because of a dry spell followed by a drenching (from a rainstorm or enthusiastic young gardener). While you can't control nature, water regularly and deeply when it doesn't rain to give your plants a more consistent water supply.
Mature tomato plants, especially ones in containers, can need watering twice a day. Creating a drip irrigation system can save you time and the heartache of split tomatoes. For a look at drip irrigation systems, including a layout for raised beds, check out Drip Irrigation for Every Landscape and All Climates.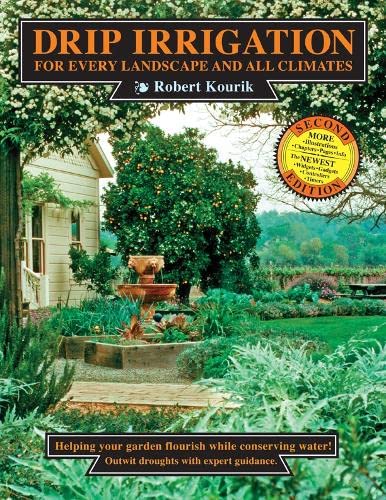 Enjoy Your Harvest
Now that you know how far apart to plant tomatoes, plus a few other tricks for growing them, you can look forward to a delicious harvest!
Don't be afraid to pick your tomatoes often to catch them at peak ripeness and encourage the plants to produce more. By spacing them correctly, you should help ensure that you get the best crop possible with plenty to freeze or can for the winter.
Popular summer vegetables and herbs
Discover how to grow popular vegetables and herbs in your backyard garden or container garden with these in-depth vegetable growing guides.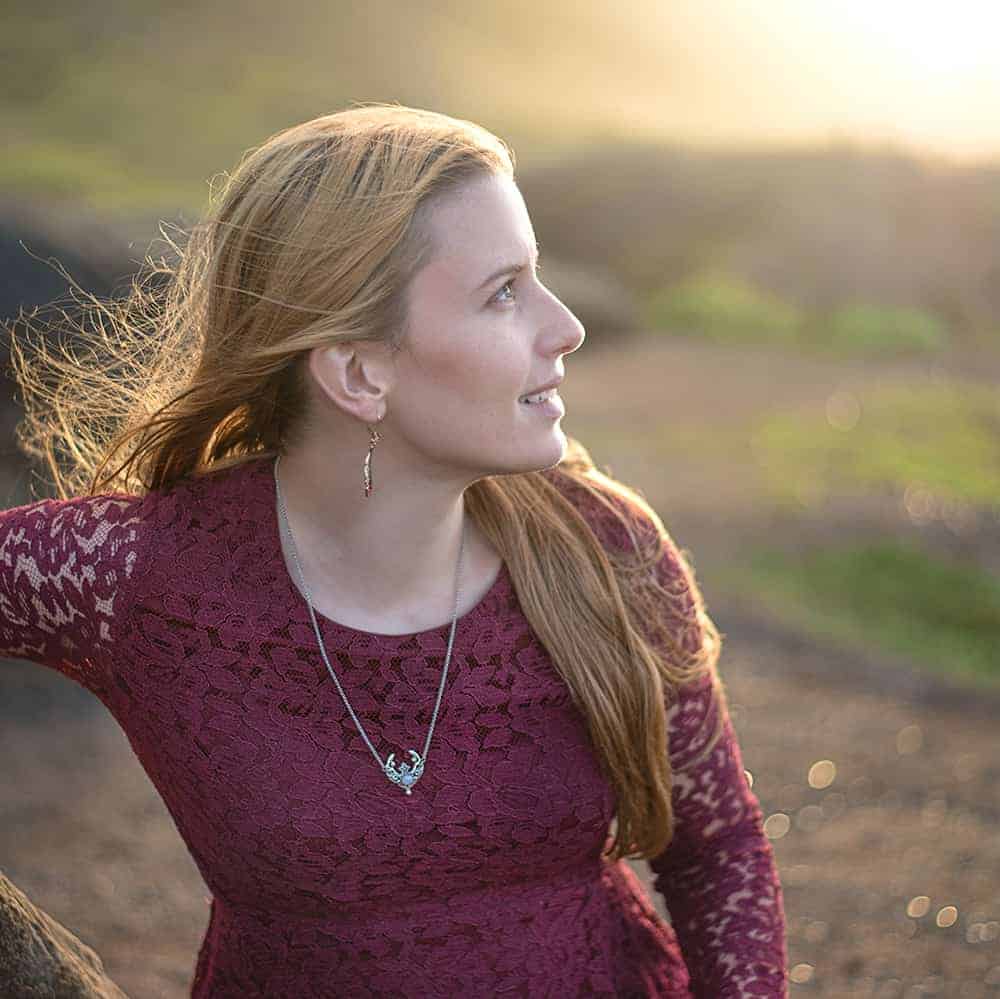 Natasha Garcia-Lopez is an avoid home-gardener and proud owner of 88 acres of land in rural West Virginia. She was a member of the Association for Living History Farms and Agricultural Museums for many years and is currently enrolled in the Oregon State University Master Gardner Short Course program so she can better assist you with your gardening questions.She holds a certificate in natural skincare from the School of Natural Skincare.