Borage is a versatile and easy to grow herb, even if you don't think you have a green thumb. This edible herb doubles as a beautiful flower and is one of the most low maintenance plants you will find.
Of course, getting the planting conditions right and doing a few simple care tasks is important when growing any garden plant.
With that in mind, here's everything you need to know about growing borage- both in the garden and in containers.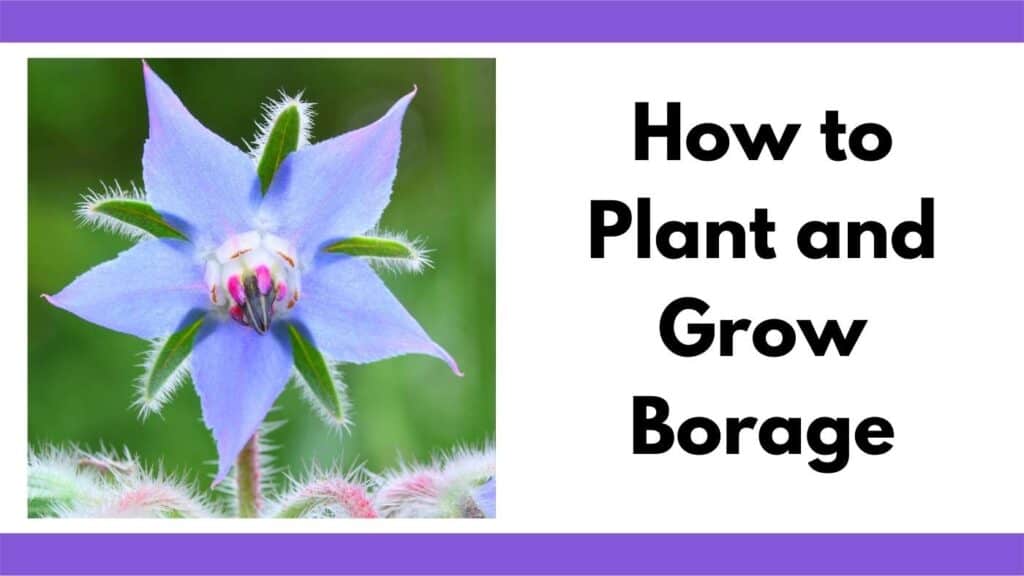 This post includes affiliate links. If you make a purchase using one of these links, Together Time Family will receive a commission at no additional cost to you.
What Is Borage?
Borage (Borago officinalis) is an annual herb that is fast-growing, edible, and pretty. It belongs to the Boraginaceae plant family and is closely related to comfrey, a perennial garden herb. (source)
Borage plants typically grow 2-3' tall and bush out 12-18" wide. When planted in early spring, borage will bloom in early to midsummer with lovely star-shaped blue flowers that hang downward in clusters.
Both the leaves and the flowers of the plant are edible and have a light cucumber-like flavor. As the season goes on, the leaves and stems of the plant become fuzzy, which makes them not quite as pleasant to eat raw.
Because it's an annual and adapts to many growing conditions, borage can be grown in USDA hardiness zones 2-11, which is a very wide range.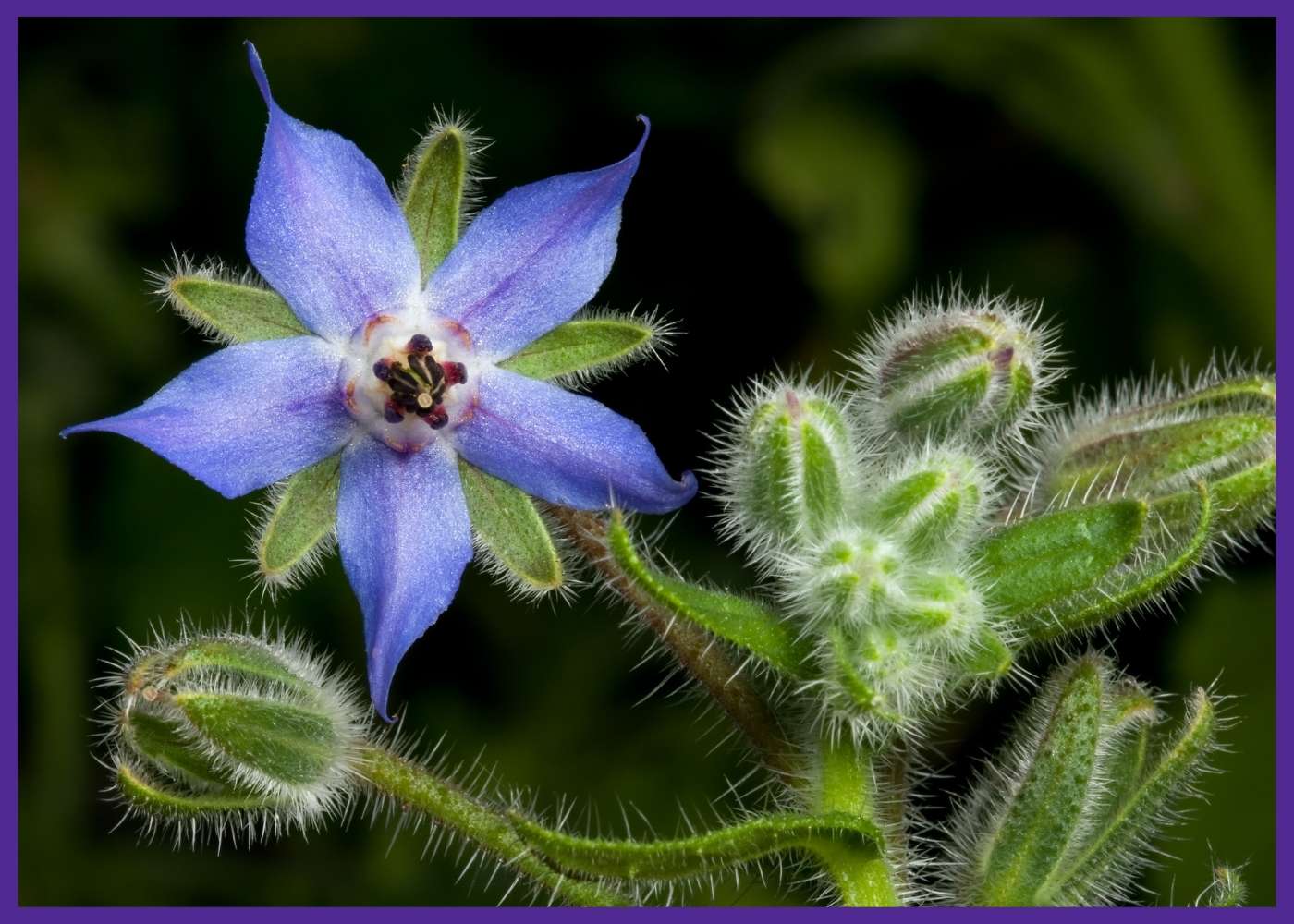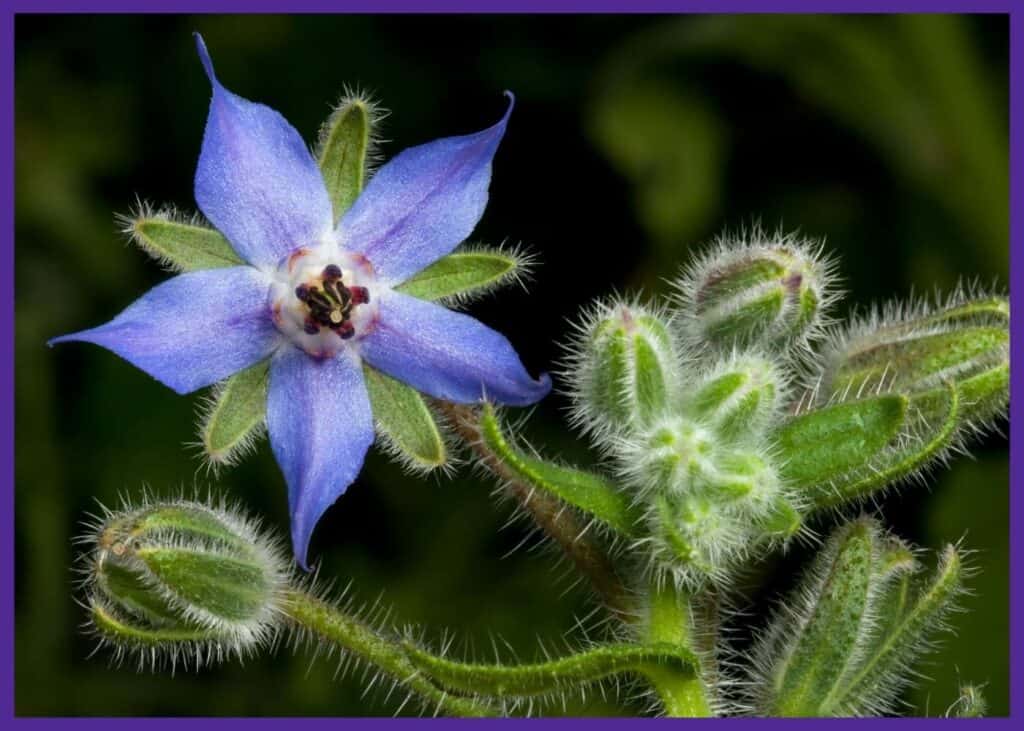 Reasons to Grow Borage
There are so many reasons to grow borage. To start with, the plants are native to the Mediterranean and very drought tolerant, which makes them excellent for a low maintenance, low water garden. Plant them near other low-maintenance herbs like thyme and rosemary for an easy to care for herb garden.
For more information about companion planting borage with other herbs, be sure to check out this post on growing herbs together.
The leaves, stems, and flowers can all be eaten, used to flavor food, and also have benefits in herbal medicine. Their prickly fuzz deters insects and larger pests, making borage even easier to take care of.
Borage may have several health benefits. It is high in gamma linolenic acid, which is associated with anti-inflammatory properties. Tea made from borage leaves and flowers is considered cooling and cleansing. Learn more about borage benefits and potential side effects here. (Don't let "side effects" scare you – the Healthline article talks about the potential side effects of concentrated doses, not from eating a handful of flowers on your salad.)
When plants bloom in the summer, they draw in lots of pollinators. This makes them useful for growing around vegetables or underneath fruit trees. Even if you don't have edibles that need pollination, growing pollinator-friendly plants is a beautiful and easy way to help the environment.
Borage also acts as a companion plant to nearly any vegetable (or fruit), especially tomatoes, cucumbers, squash, and strawberries. The plants are thought to repel pests, like tomato hornworms, and also draw in beneficial insects like lacewings and parasitoid wasps. Wasps may look scary, but if you have a grub problem, you want to see parasitoid wasps: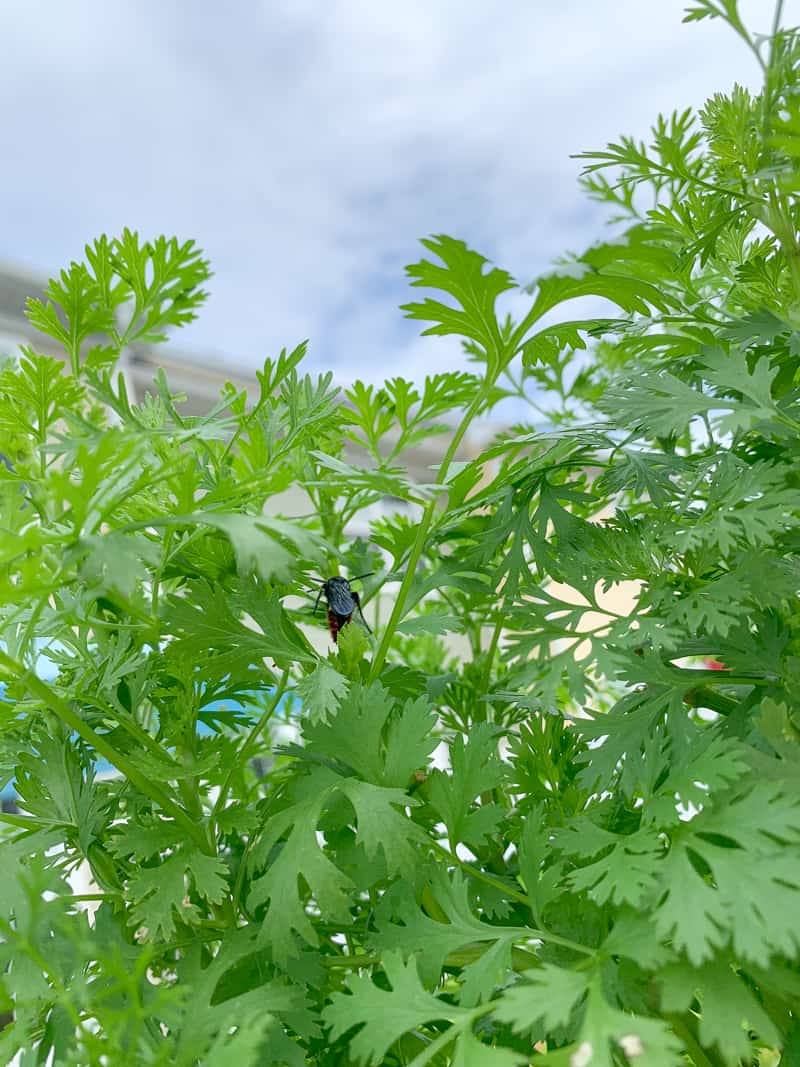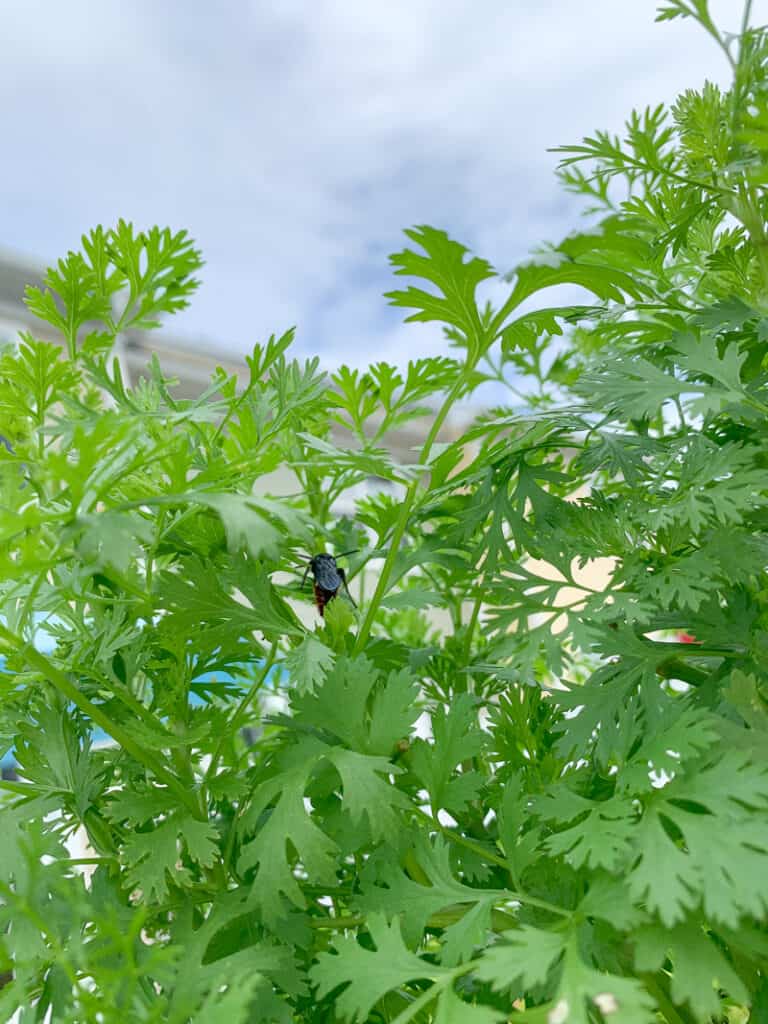 These lovely wasps (they're blue, gold, and iridescent) lay their eggs in grubs from damaging insects like Japanese Beetles and June Beetles. Other species of parasitoid wasps seek and destroy various other grubs and garden pests. If you stop killing wasps in your yard and garden, your pest population will plummet. Parasitoid are unlikely to sting humans – they really only bother you if you bother them, first.
If that weren't enough, you can also grow borage as a green mulch or green manure crop, meaning you can use it as "mulch" around other plants to suppress weeds or turn it into your soil to add nutrients. Do you prefer a no-till garden? Great! Just do a chop and drop on your borage cover crop. Allow it to sit at the surface for a couple of weeks before planting, or transplanting, into the soil.
With all these benefits, why wouldn't you grow borage?!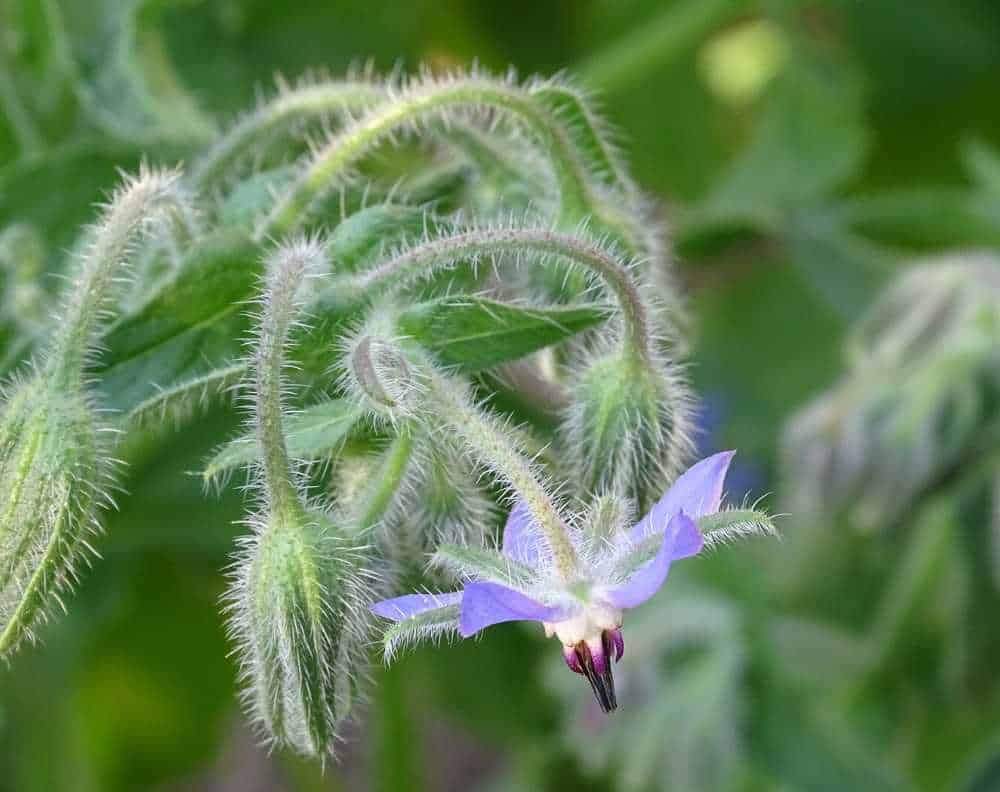 Growing Borage from Seed
Borage is easy to grow from seed, and this is the most frequently used method. Borage seedlings aren't very common and are usually only available from smaller growers. I've never seen them for sale at a "big box" store.
Most gardeners like to grow the common, blue-flowered borage, but you can also find a white variety ('Alba') and a variegated one ('Variegata' or 'Bill Archer').
Photo Credit: Southern Seed Exchange
This seller, Southern Seed Exchange, is one of my favorite sources for seeds. They always ship promptly and I've experienced great germination rates with their seeds.
Photo Credit: YouMakeMeSmileSeeds
White borage is less common than blue borage. Plant them both for a beautiful garden!
Starting Borage Seeds Outdoors
It's very simple to directly sow borage in your garden or in containers. Plan to plant the seeds early in spring, not long after the danger of frost has passed.
Before planting, prepare the soil by removing rocks and weeds and adding compost, if you have some available. Rake the soil surface smooth to have a good planting area. Many people recommend "working" the soil to a depth of several inches using something like a rototiller or cultivator. I find that using a sturdy hoe to chop up the soil, if needed, works well and doesn't invert the soil layers like a tiller.
A garden fork is another way to break up and aerate soil without destroying the soil structure. Discover the best garden forks in this post. Larger broadforks, like the "Meadow Creature" I'm using in the photo below, can even be used to prepare new garden beds.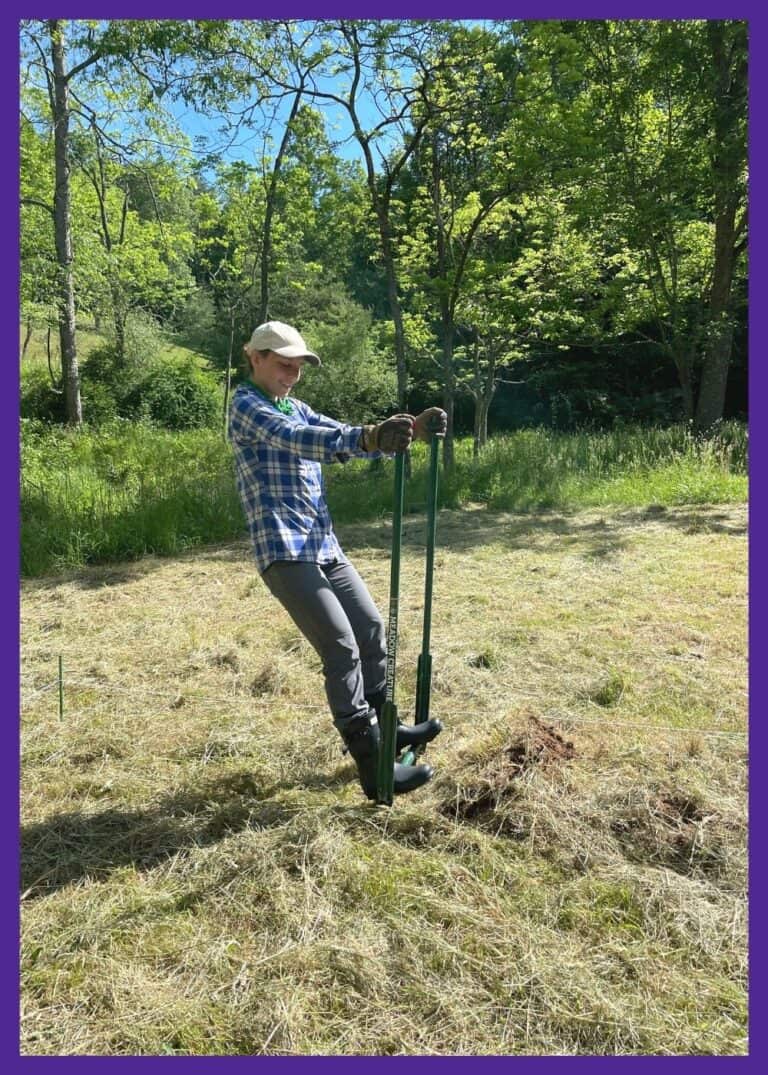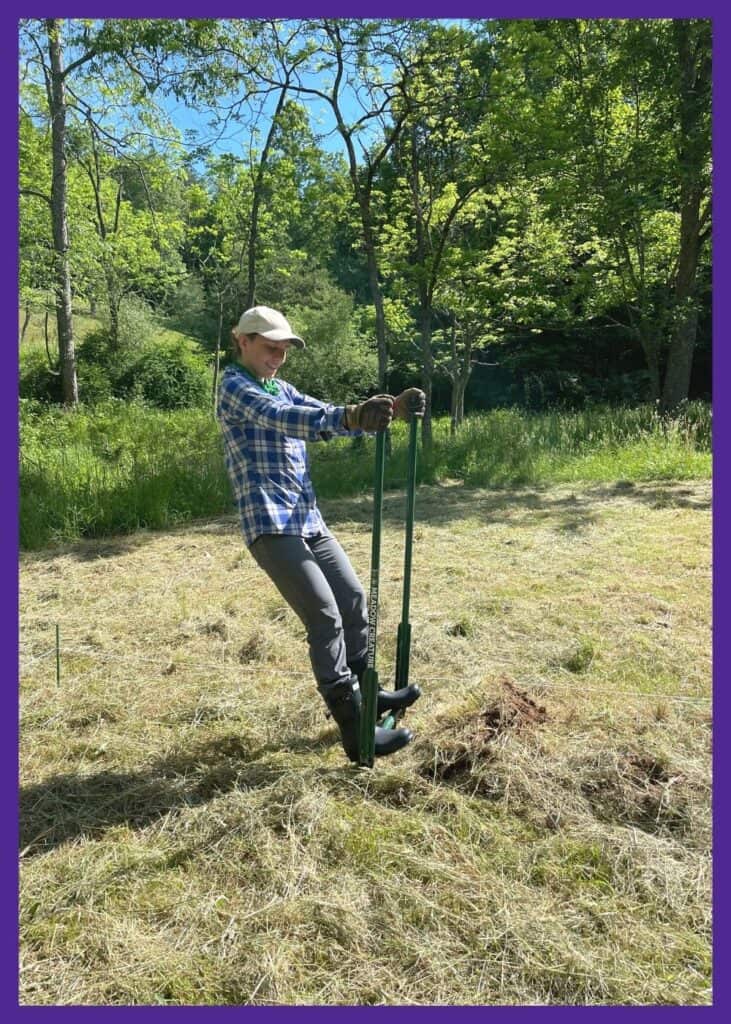 I'm generally a fan of no-till practices and avoid disturbing my soil whenever possible. That being said, every garden situation is different – you know your garden and soil needs best. Although the book deals with commercial-scale agriculture, I recommend reading From Dirt to Soil if you want to know more about improving your soil health with cover crops, not tilling and purchased inputs. It's an enlightening, but easy, read that will open your eyes to the destructive nature of modern agriculture.
Sale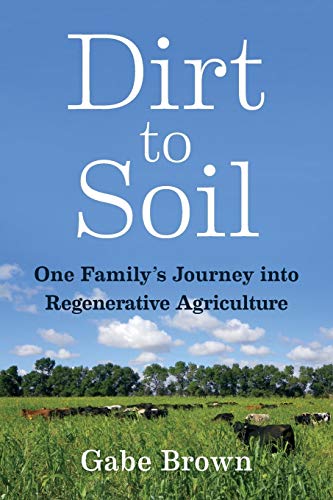 Sow borage seeds about ¼" deep, covering them with soil and gently pressing them in. Water the area where your seeds are and watch for them to sprout in about 5-10 days.
When your seedlings get several inches tall, thin them to a spacing of 12-16". The seedlings in the photo below are ready to be thinned: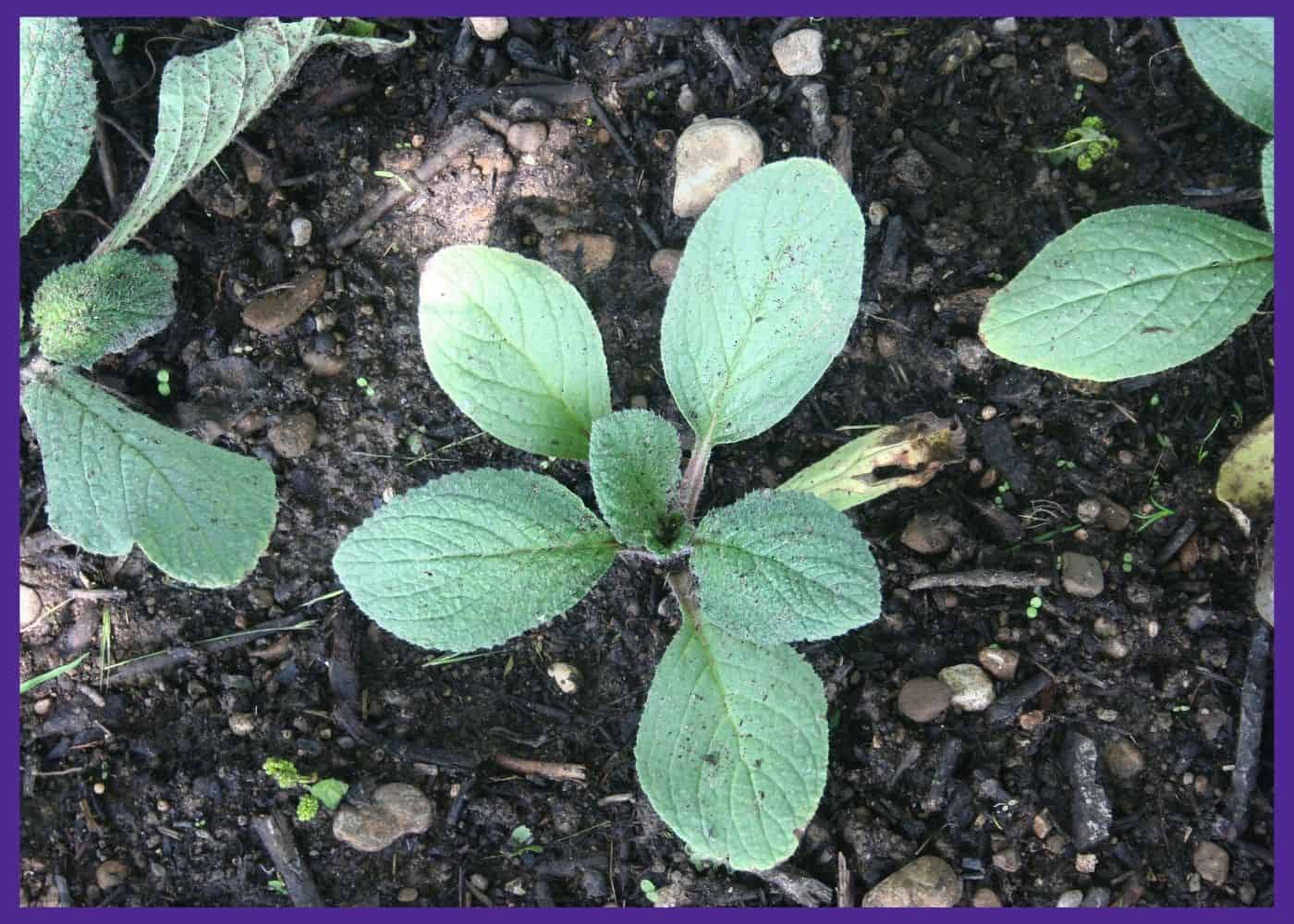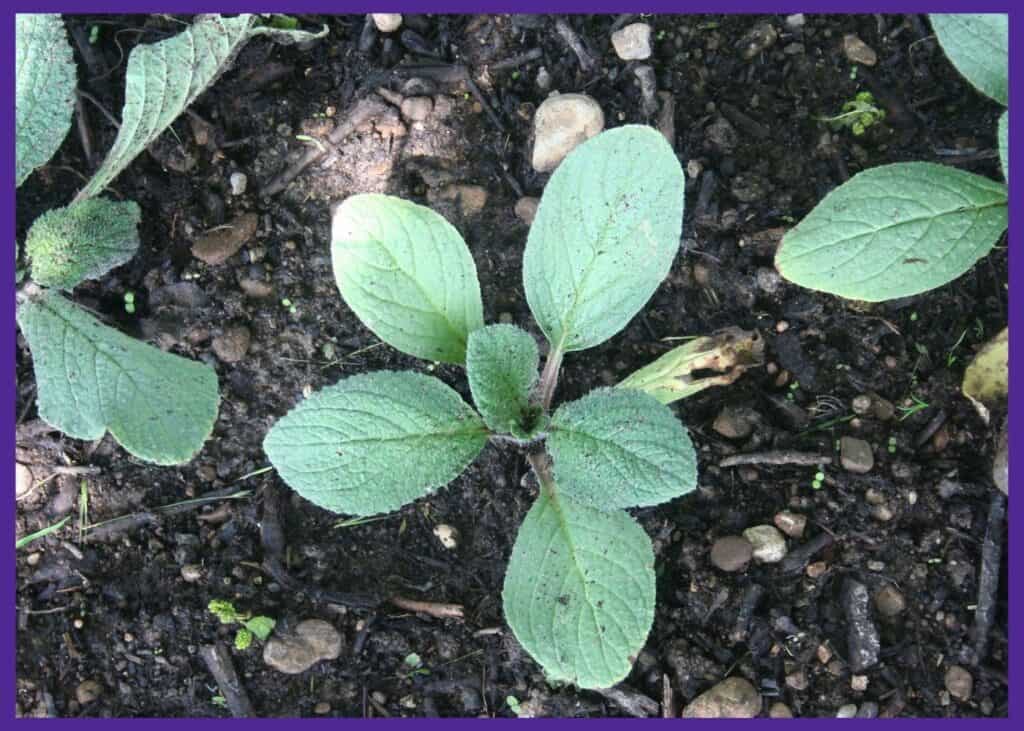 Remember to water your seedlings as they grow! Use a watering can or a watering wand with a gentle stream to avoid damaging your seedlings. Because they have a taproot, they do not deal well with soil disturbances when they're young and delicate. The photo below does not show borage seedlings (they're radishes), but it demonstrates how easy watering wands are to use. Discover the best watering wands, including the one we use, in this post.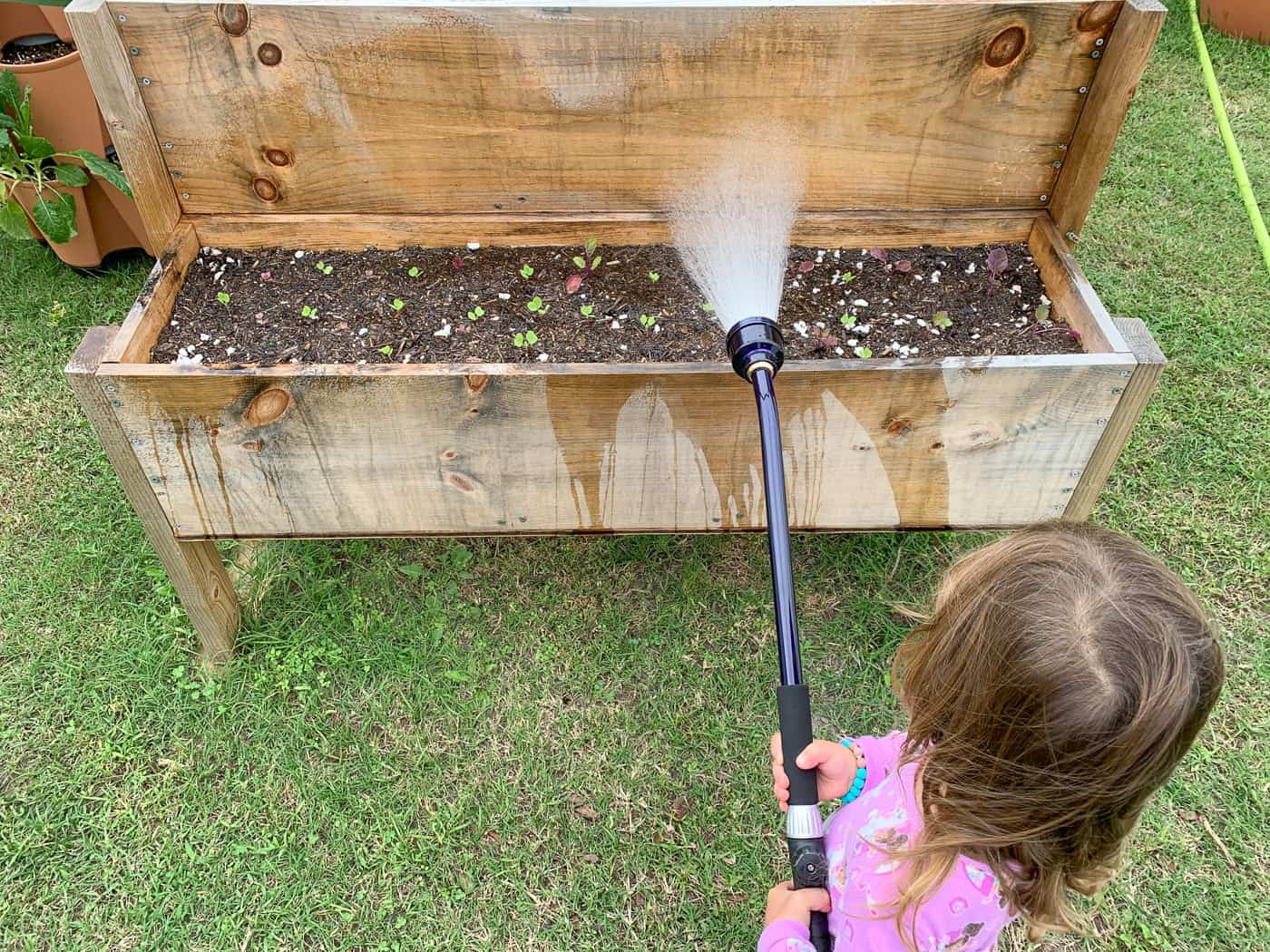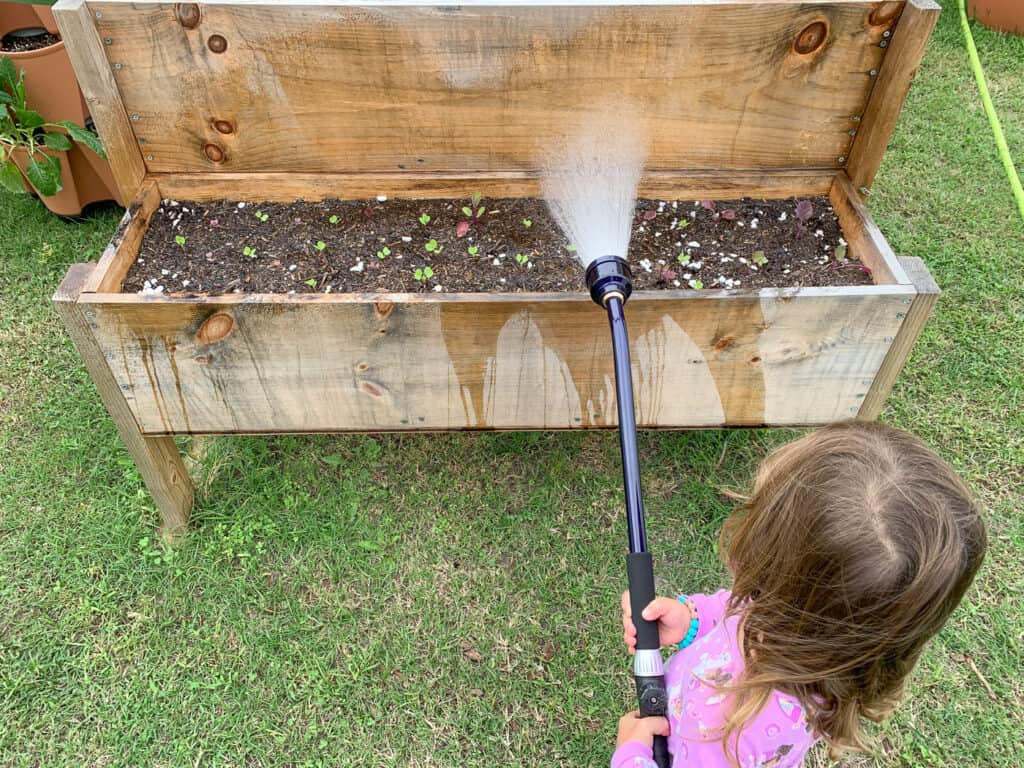 Starting Borage Seeds Indoors
Borage seedlings don't always transplant successfully, but you can get good results by growing borage from seed in biodegradable pots. Start the seeds 3-4 weeks before your last average frost date in the spring.
Starting seeds indoors will give your plants a headstart and means they will bloom more quickly after the season starts. To have borage blooming all summer in your garden, start the first round of seeds indoors, and then plant 1-3 more rounds outside every 3-4 weeks.
To get your seeds going, fill biodegradable pots with a high quality seed starting soil that has been mixed with enough water to get it damp. Sow one seed per pot at a depth of ¼".
Once your seeds sprout, place the pots under grow lights or by a very sunny window. Water the soil (not the leaves) before it dries out and use a fan to improve air circulation a few times a day. I use this inexpensive USB clip on fan for my seedlings. It's from 2019 and still working fine.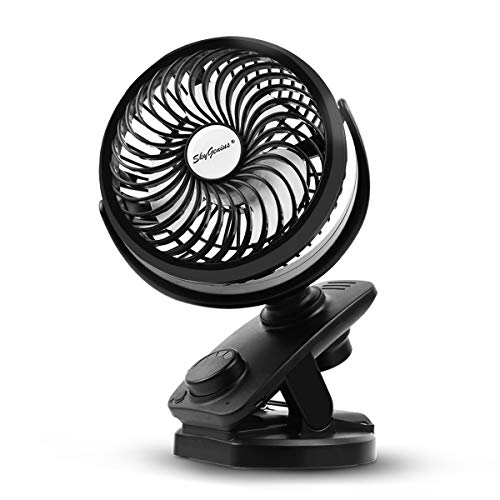 SkyGenius Battery Operated Clip On Oscillating Desk Fan, Portable...
Longer Working Time & Fast Recharge: Built-in 5000 mAh rechargeable battery, large capacity and long working hours. 5V/2A adapter is recommended for...
Desktop/Clip on Design & Auto Oscillation: Can be put or clip on anywhere you want, can clip on objective of thickness within 1.3inches. 350 degree...
Powerful & Stepless Speed Regulation: High quality brushless motor, max wind speed 10.5ft/s, high speed and lower noise (≤40dB), the speed can be...
Most windowsills don't get enough light to grow healthy seedlings. If your seedlings are looking leggy, use a grow light. A clip on LED grow light is great for seedlings and easy to position pretty much anywhere. I have both a purple clip on light and a white LED grow light. I haven't noticed a difference in growth. The white light appears brighter in the room, but the purple light looks a little funky.
Sale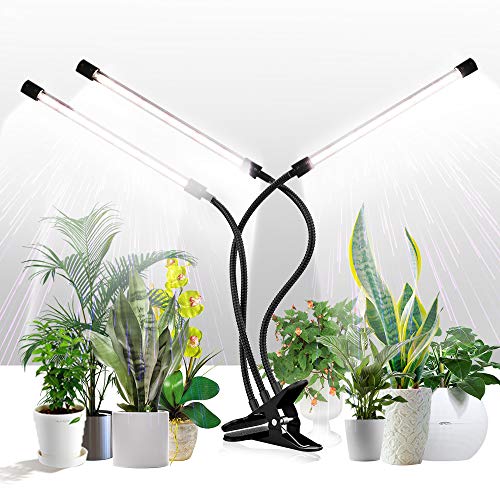 GHodec Grow Light for Indoor Plants,6000K 126LED Clip Plant Lights with...
【Sunlight White + Red LEDs】Eqquiped with 5 Red+37 Sunlight White LEDs in each bar,which is similar to the sunlight at noon,and ideal for all sorts...
【Timing Function & Versatile Settings】 Indoor plant lights offer 3 timing options-4H/8H/12H lighting time everyday. Auto on/off and no more...
【Sturdy Gooseneck & Strong Clamp】with anti-slip clamp and 360-degree adjustable gooseneck,it allows you to place the plant light in any direction...
After the last frost of spring, your seedlings can be hardened off and planted outside. Carefully rip the bottom off the pot to allow roots space to grow. Many biodegradable pots can easily last a growing season . Leaving them intact can stunt your plant's growth.
When and Where to Plant Borage
Borage plants are hardy in many ways, but they are sensitive to frost. Make sure the danger of freezing temperatures has passed before you plant your seedlings in spring. Always make sure to harden off your seedlings. Not sure how it's done? Discover this post on how to prepare your seedlings for transplanting.
For the strongest plants and the best blooms, plant borage in full sun. It will also do well in partial shade, although flowers will likely be fewer, and your plants may get a bit leggy.
Borage can adapt to almost any soil type, although it will do better in well-drained soils than water-logged ones. It even tolerates soil that is low on nutrients, but your plants will do much better if you can add some compost to your soil before planting. Worm castings are another great choice. They are naturally gentle and slow release so they feed all season.
Space seedlings 12-16" apart when you plant them to give them enough room to grow.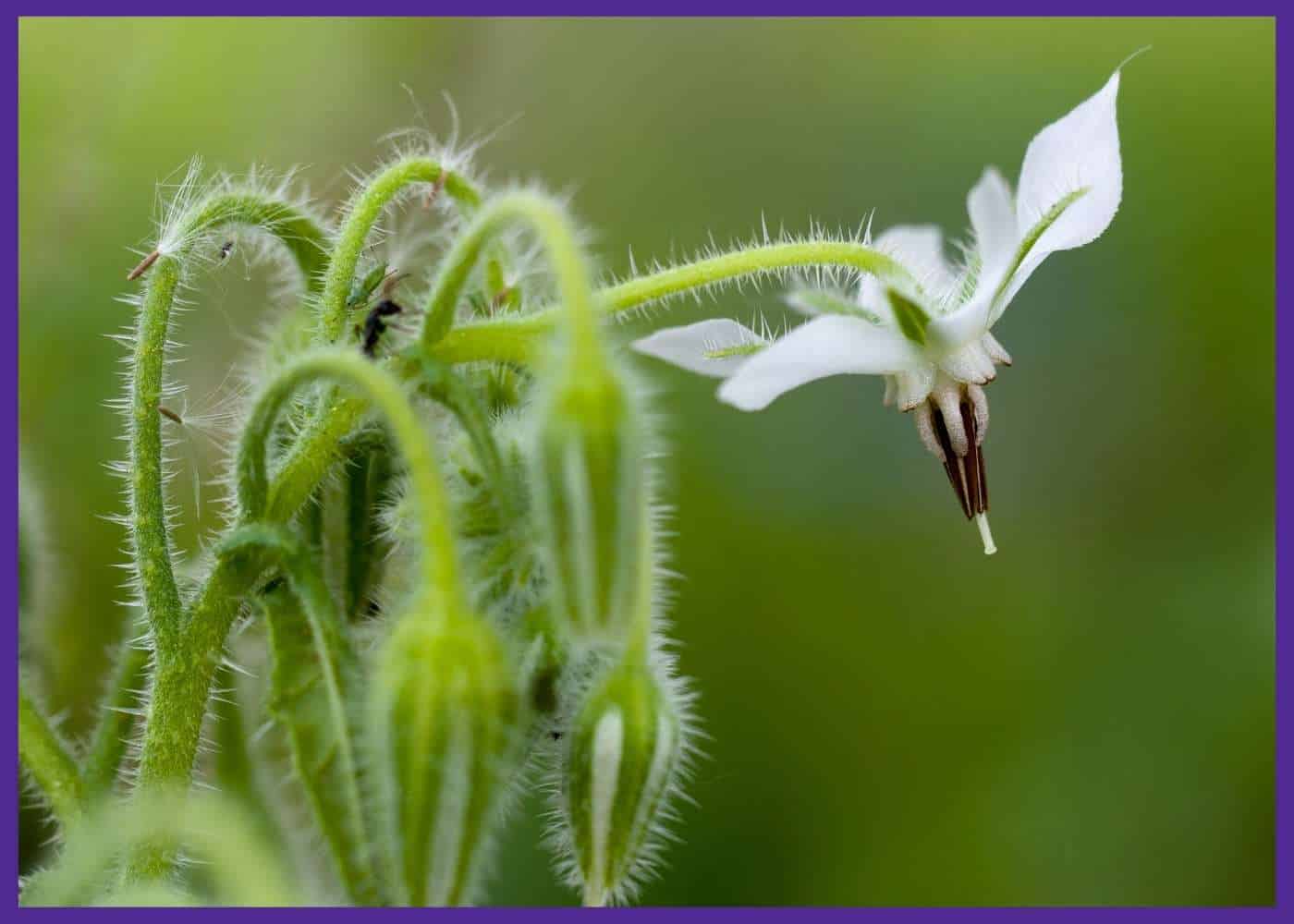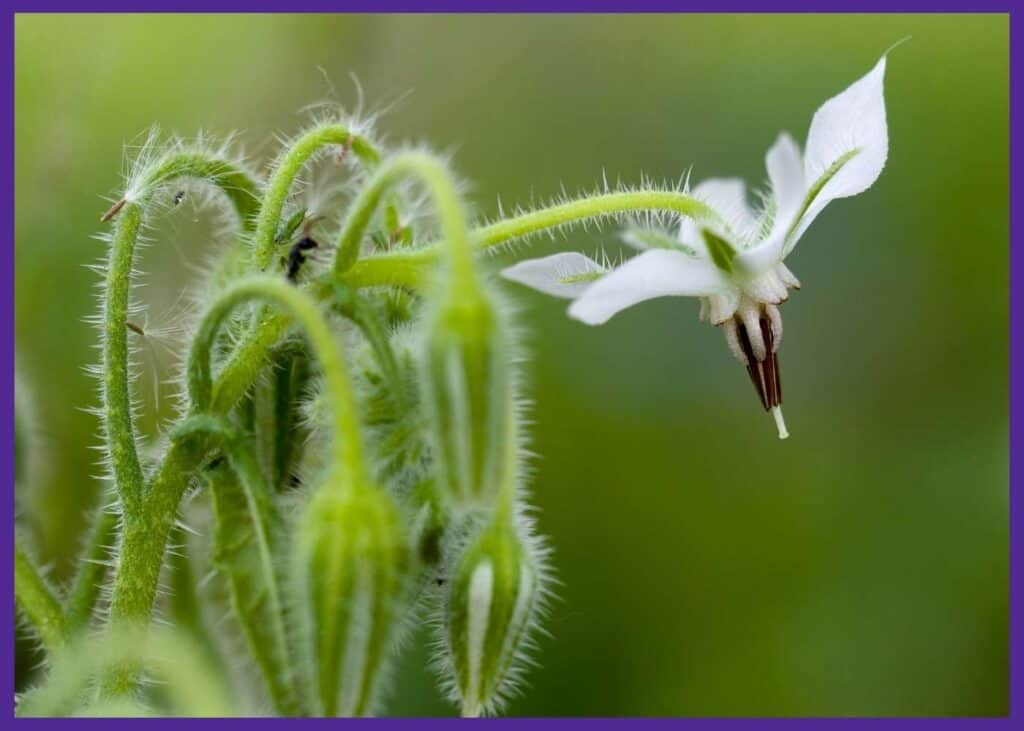 Growing Borage in Containers
If you'd like to grow borage in pots rather than in the garden, choose containers that are at least 12" deep (or deeper). Make sure they have drainage holes in the bottom or drill your own. Like its relative comfrey, borage has a substantial taproot that needs ample room to grow.
Fill the containers with a good quality potting soil. Many potting soils already have a slow release fertilizer or compost added to them so adding more compost or nutrients isn't necessary. A 5 or 7 gallon grow bag works well. Grow bags breathe, which prevents borage roots from becoming waterlogged.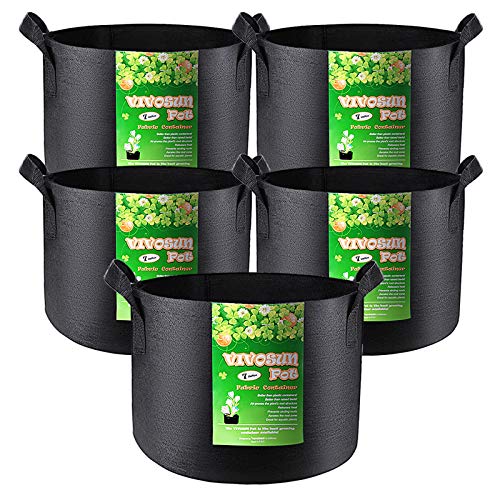 VIVOSUN 5-Pack 7 Gallon Plant Grow Bags, Heavy Duty Thickened Nonwoven...
Sturdy Fabric Material: Made of 300g of thickened nonwoven fabric, these pots are moderately permeable, and BPA-free
Great Drainage: Nonwoven fabric means the pots do not retain excess water, allowing your roots to breathe for healthier, more vigorous growth
Durable, Reinforced Handles: While the competition uses flimsy handles that are merely strips of the same fabric the pot is made from, we use serger...
It's best to plant just one borage per pot because this herb tends to get larger than most herbs do. But if you have very large pots (like a half barrel or something similar), you can get away with planting 2-3 per pot.
Place the containers where they will get lots of sunshine and be sure to water them before the soil dries out completely. This will happen more quickly than in the ground.
Borage Plant Care
Your borage plants will mostly be happy on their own. They have lower water needs than most plants, but be sure to regularly water your seedlings until they get their root systems developed. Borage planted in containers will also need to be watered consistently.
Borage doesn't need to be mulched. In normal soil, it won't need to be fertilized, either. However, if your soil is on the poor side, applying an all-purpose fertilizer every few weeks will help your plants grow better.
The main care task with borage is deadheading, but even this is optional.
Deadheading is mainly done to extend bloom time. It can also help prevent self-seeding. If you regularly clip dead flower heads off of your plants, they will continue blooming for many weeks in the summer. You can pinch blossoms off or use a small pair of snips. I personally use Fiskars Micro Tip snips. They're small, sharp, and perfect for cutting off flowers without damaging the plant. Another option is to cut borage back by half in midsummer (after it has finished blooming) to promote re-blooming at the end of summer.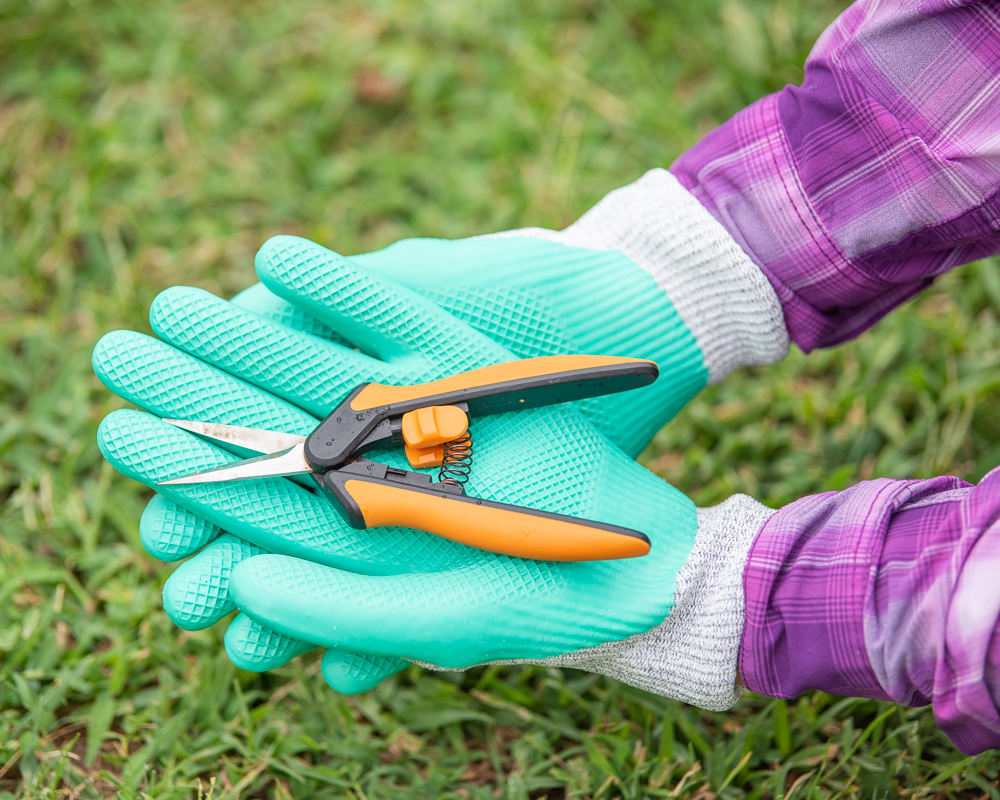 Sale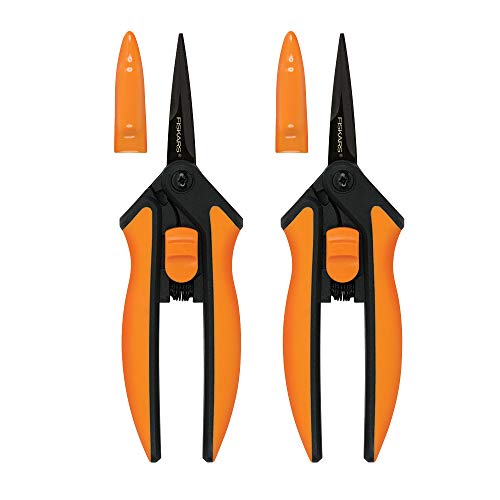 Fiskars Micro-Tip Pruning Snips Garden Shears - Plant Cutting Scissors with...
Fiskars Non-stick Micro-Tip Pruning Snips feature precise blades that cut all the way to the tip for clean, healthy cuts on plants in tight spaces
Non-stick blade coating helps reduce jamming and resin build-up when cutting through sticky plants
Awarded the Arthritis Foundation's ease of use commendation for a design that's ideal for those with arthritis or limited hand strength
(Yes, I pretty much always garden in one of my brightly-colored plaid shirts. They're lightweight and perfect for summer wear. They keep bugs and scratchy plants off my arms.)
Common Pests and Problems
Borage typically has few to no pest or disease problems, which is another great reason to grow it. Even deer and rabbits are usually deterred by the fuzzy, somewhat prickly leaves and stems, although it's still a good idea to put up protection when plants are small.
In wet conditions, borage may develop fungal problems. Space properly and plant in well-drained soil to prevent this.
The biggest pest problem you may have is borage itself. The plants are most definitely not invasive, but they do self-seed readily. This can either be welcome or annoying, depending on how you feel about volunteers sprouting up in your garden next year.
If you want to avoid self-seeding, deadhead or pull up plants before the seeds drop.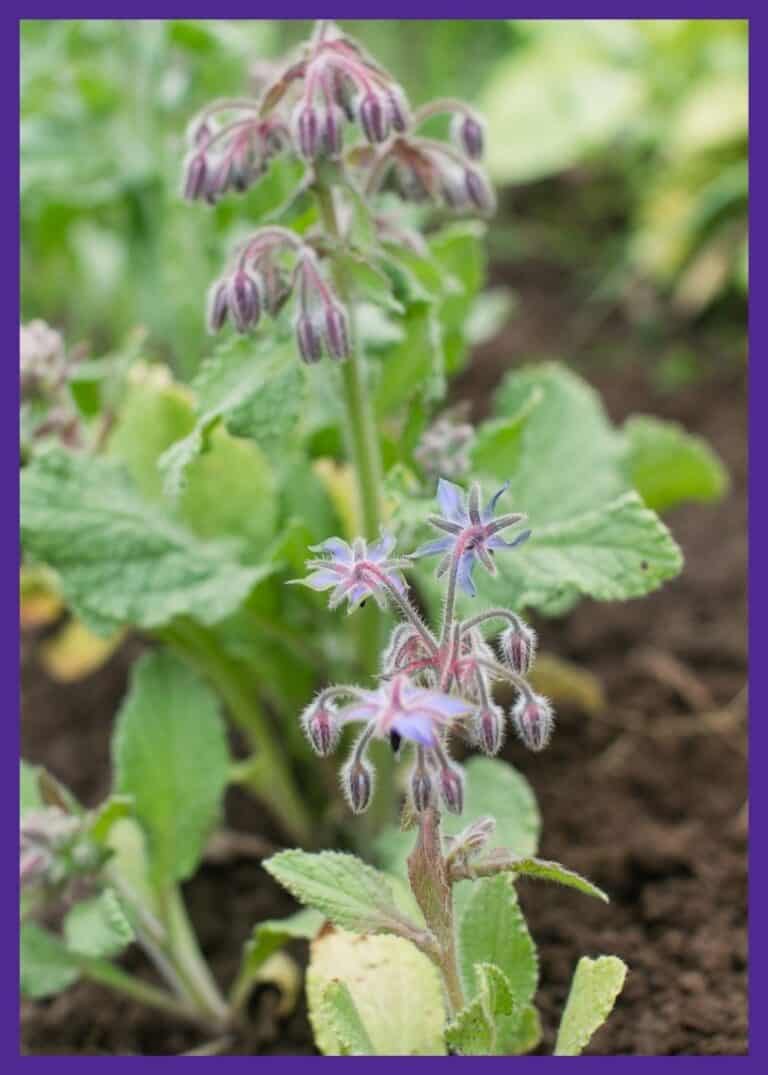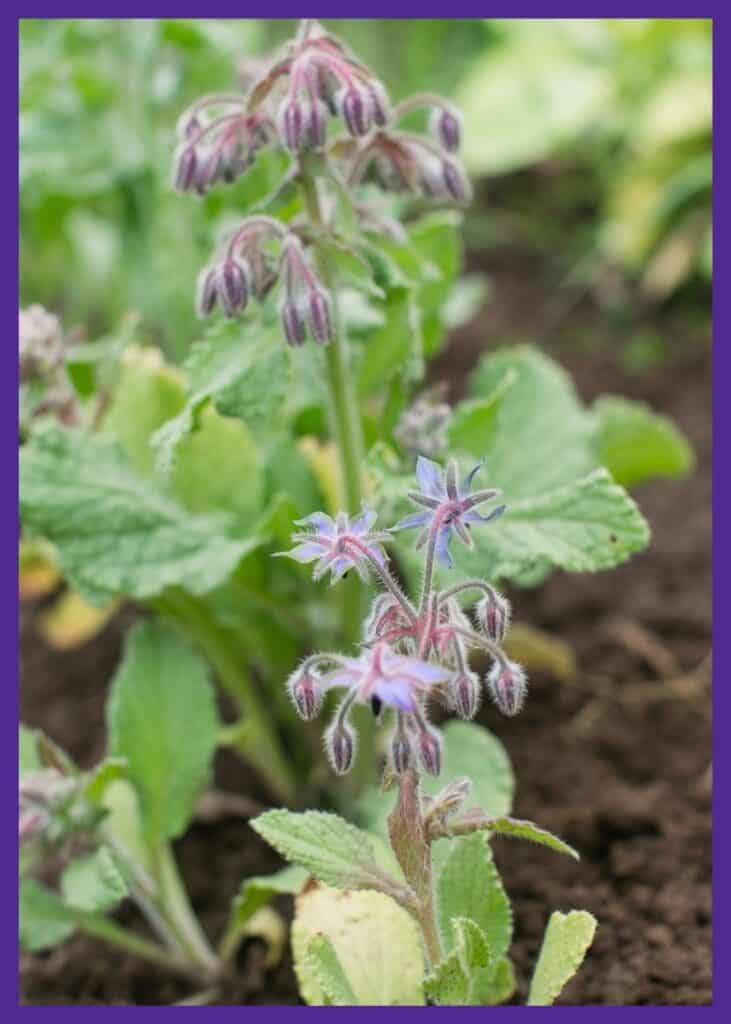 How to Harvest Borage
There are many ways to harvest borage, depending on what you want to use it for.
If you want to harvest the leaves, they are best picked when young and small- before they get too prickly. The leaves have a mild cucumber flavor and are especially good when used raw. Larger leaves are still edible but benefit from being cooked before being eaten.
Flowers can also be snipped off when they have just opened, but remember to leave some for pollinators! They can be used as an edible garnish or added to salads, sandwiches, etc.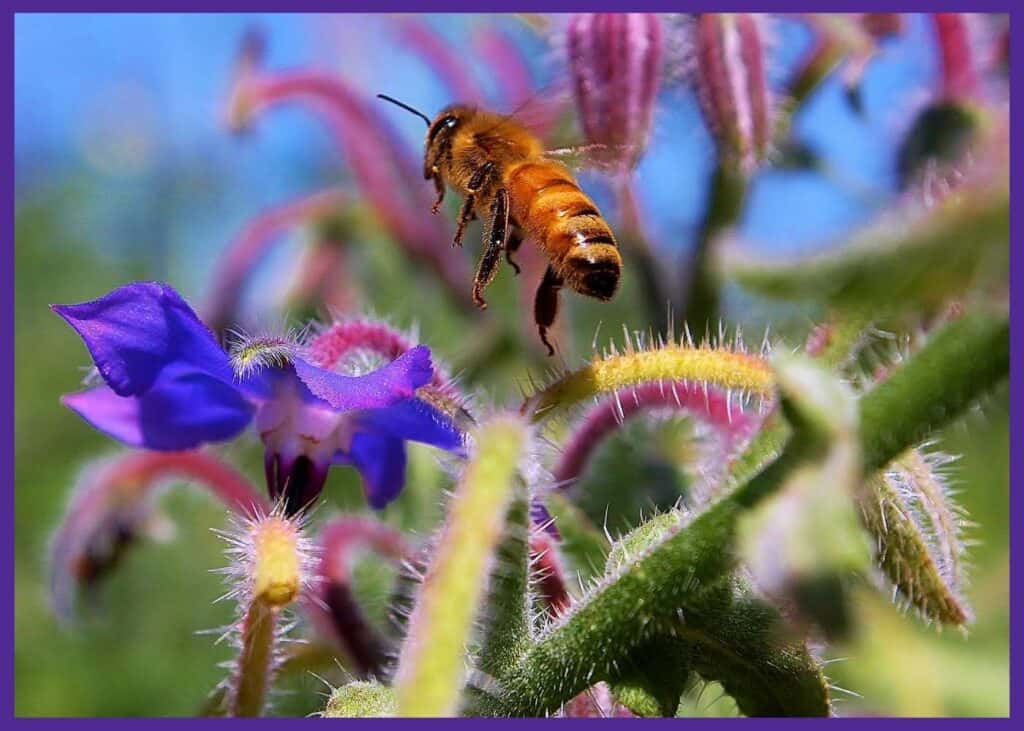 Even the stalks and stems of borage are edible and can be peeled and used like celery.
If you are growing borage as a cover crop, cut it down just before it flowers and turn it into the soil or let it lay on top as a mulch. You can also cut it down after flowering (for the benefit of pollinators), but the nutrient content will be a bit lower.
For small beds, a Japanese sickle works for a "chop and drop."
For larger areas, use a scythe. For more information about scythes and excellent Austrian scythes, check out One Scythe Revolution. We do not have an affiliate relationship with OSR, but are loyal customers and happily recommend them. Yes, we really do own, and use, a scythe: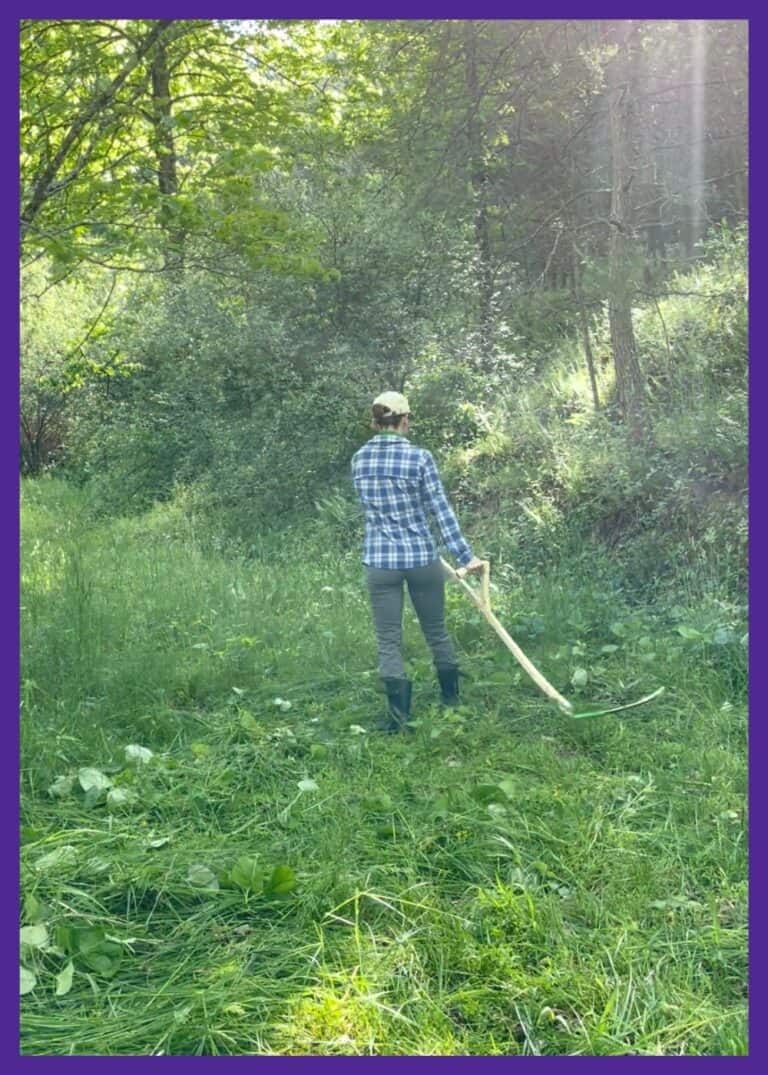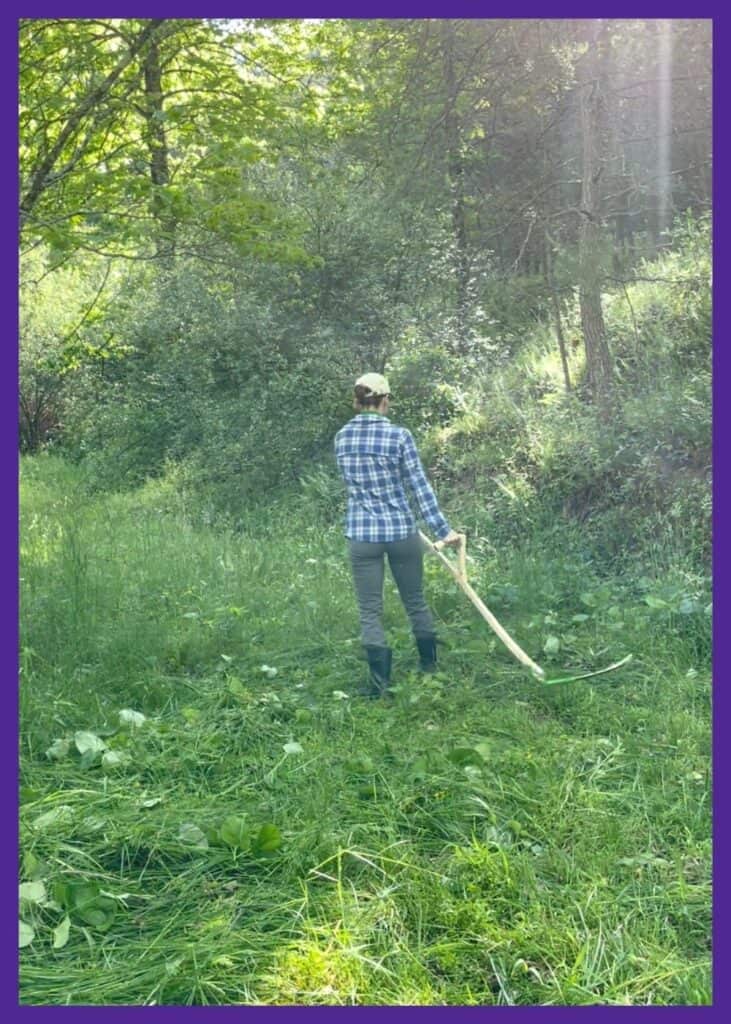 If you don't have a scythe, a blade attachment for a weed eater chops the stalks without shredding them. Not all weed eaters can take blade attachments, though.
You can also cut borage by hand with grass shears, cut them with a Japanese weeding sickle, or give them a whack with a grass whip. Grass whips need space to swing, so they don't work as well in raised beds. Learn more about grass whips in this guide to selecting and using a grass whip. You can also pull the plants up, but since they have large taproots this is 1) difficult and 2) damaging to the soil structure. You want that nice, thick root decomposing in your soil!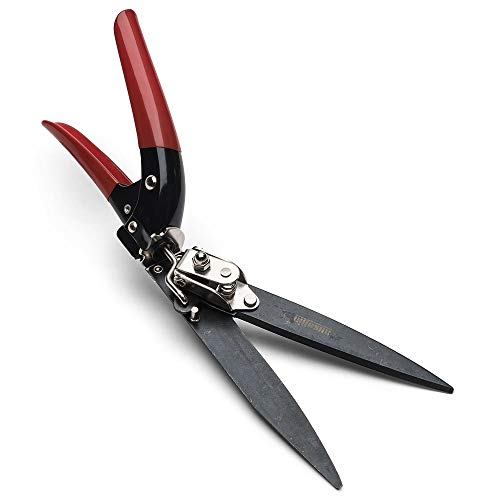 Kings County Tools Grass Trimming Shears | 5-1/4" Steel Blades | Rotating...
DELICATE LAWN WORK WITH EASE - This tool is most useful when manicuring the border of walkways and in other areas with grass growing right up to the...
ROTATING HANDLE – The ability to turn the shears 45 or 90-degrees, without contorting your wrist to reach corners or other areas not easily...
STRONG STEEL BLADES – These sharp blades will make lawn manicure job less arduous when using the 5-1/4 inch blades
As an alternative, you can also cut borage back by half right before it flowers to both use it as mulch/green manure and have it regrow to bloom later.
The Joy of Borage in the Garden
It's hard to find a more cheerful and easy-going herb than borage. It requires little effort beyond proper planting to grow and will grace your garden with edible leaves and lovely blue flowers in summertime.
Now that you know the best tips for growing borage, you can enjoy it for years to come if you allow the plants to self-sow and give you new seedlings each year!
Popular summer vegetables and herbs
Discover how to grow popular vegetables and herbs in your backyard garden or container garden with these in-depth vegetable growing guides.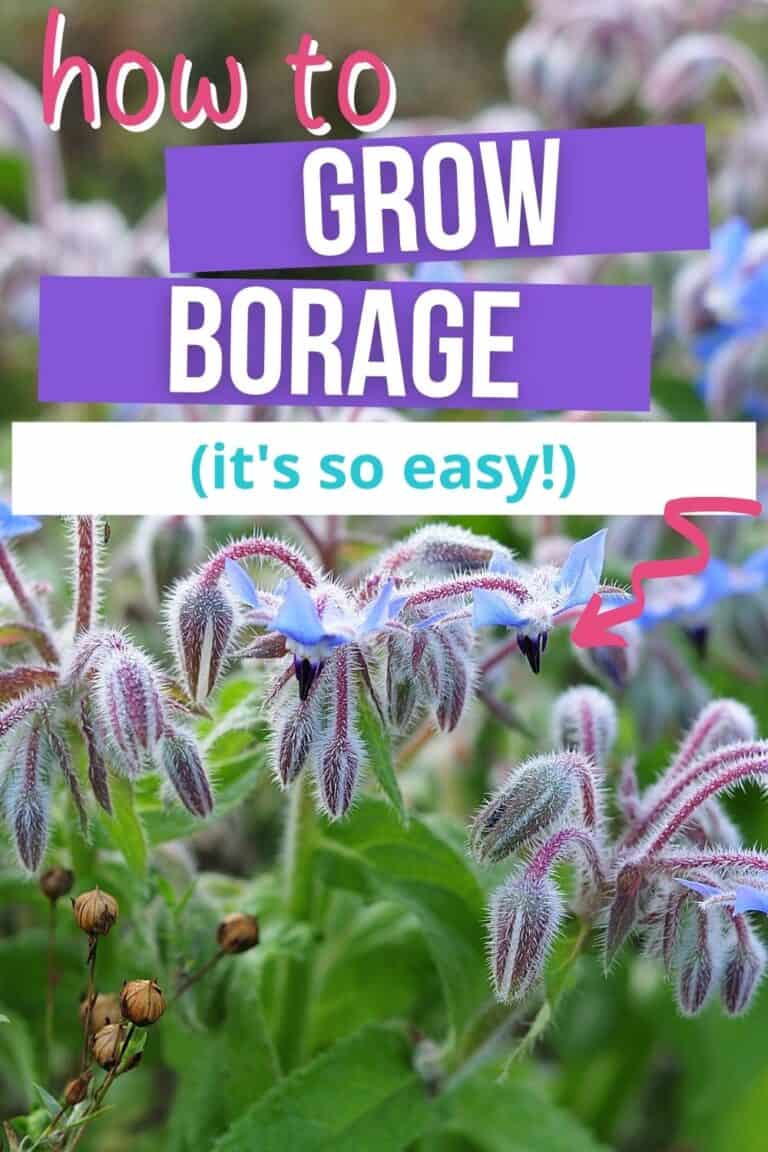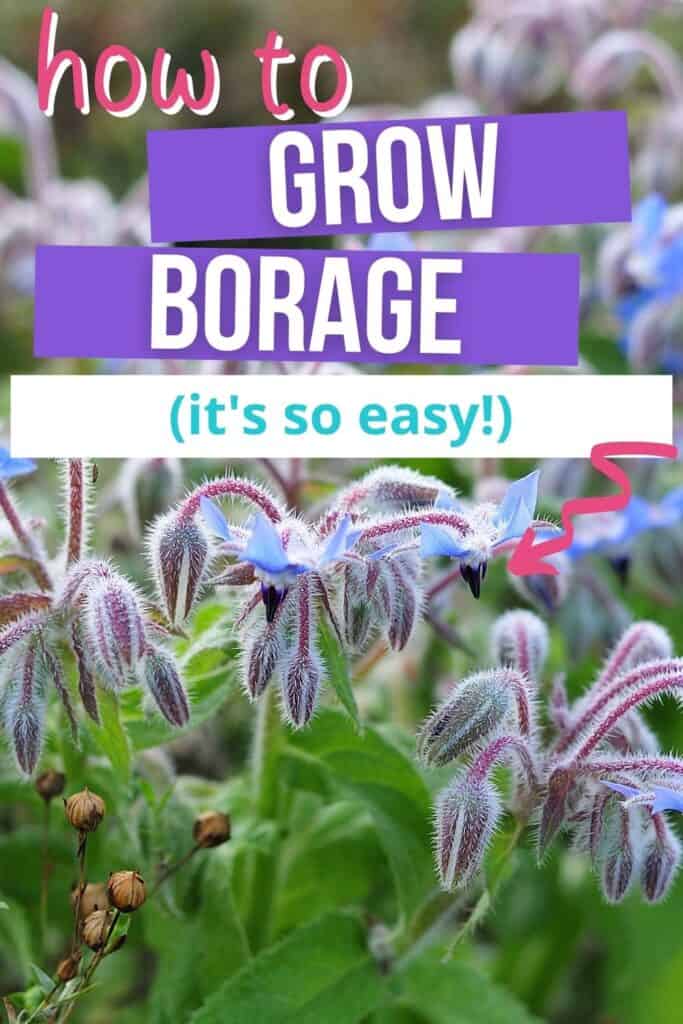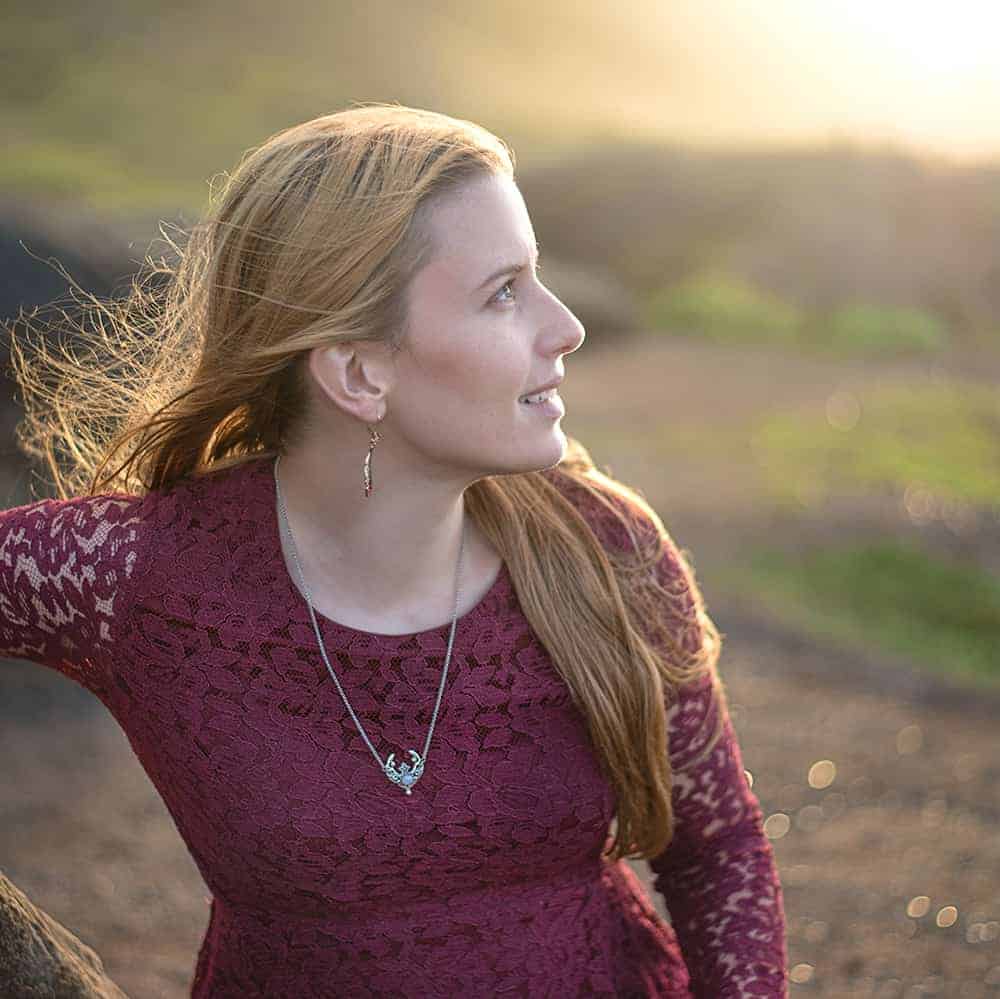 Natasha Garcia-Lopez is an avoid home-gardener and proud owner of 88 acres of land in rural West Virginia. She was a member of the Association for Living History Farms and Agricultural Museums for many years and is currently enrolled in the Oregon State University Master Gardner Short Course program so she can better assist you with your gardening questions.She holds a certificate in natural skincare from the School of Natural Skincare.