Are you sick of "quick" weed eating jobs that take half your day by the time you get the right fuel, mix it, prime your weed eater's engine, and finally get the darn thing started?
You need an electric weed trimmer!
Electric weed eaters have all the power of gas weed eaters without the mess or smell gas. Plus, there are no false starts. Forget priming and heating the engine up, just plug in the battery and start shredding.
There are quite a few different styles of weed eaters to choose from and there are a few things to know about them before you choose one for your yard.
Luckily for you, this guide breaks down the various types of weed eaters and their features so you can make an informed, confident decision and select the best weed eater for your needs.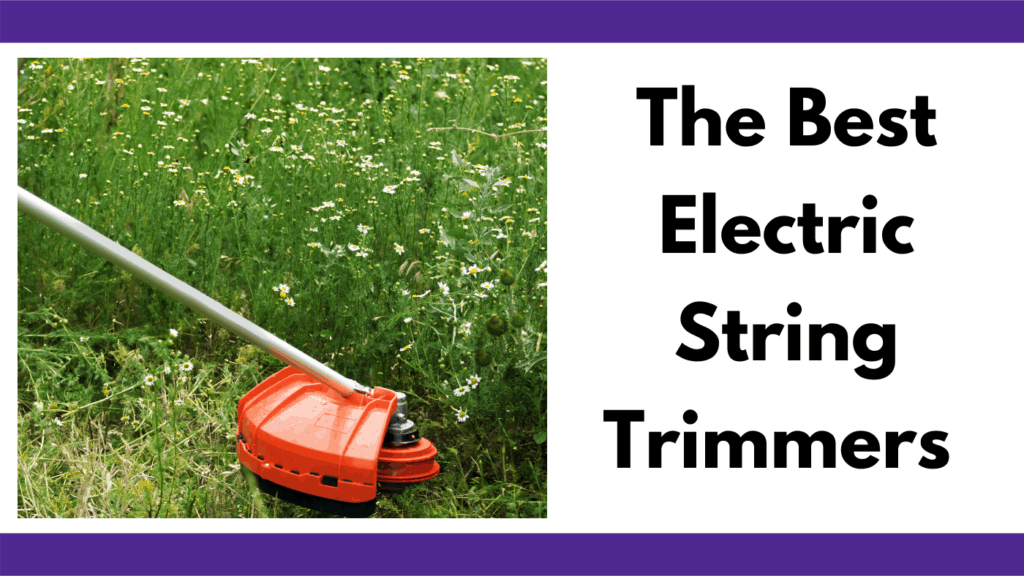 This post includes affiliate links, which means I may earn a commission on purchases made at no additional cost to you.
In a rush? Here are our top picks!
Best Battery Weed Eater
DEWALT 20V MAX* XR String Trimmer, 13-Inch, Tool Only (DCST920B)
Heavy Duty Weed Eater
Makita XRU15PT1 36V (18V X2) LXT® Brushless String Trimmer Kit with 4...
Best Corded Weed Eater
Toro 51480 Corded 14-Inch Electric Trimmer/Edger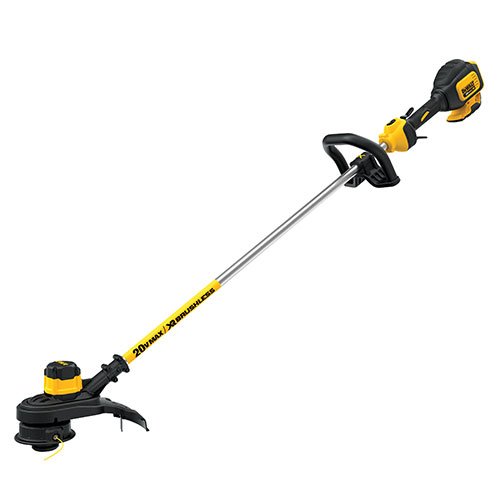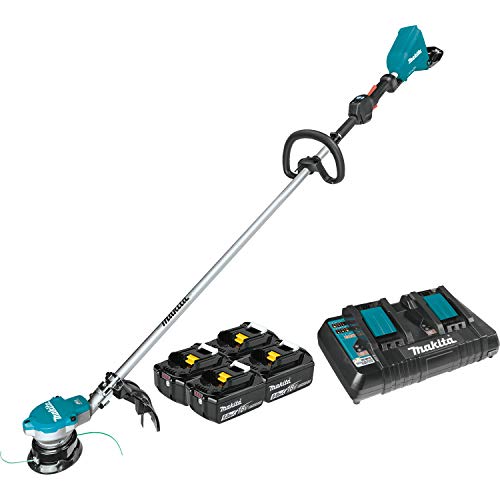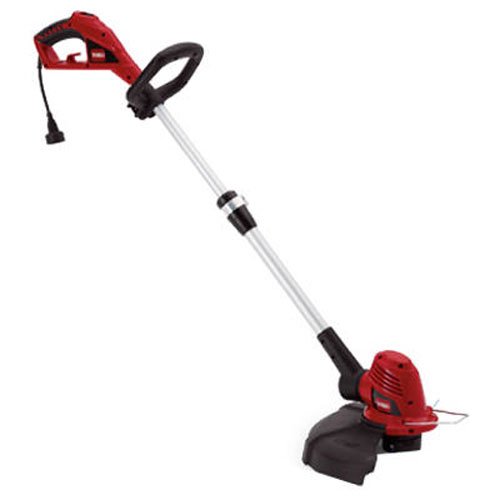 Best Battery Weed Eater
DEWALT 20V MAX* XR String Trimmer, 13-Inch, Tool Only (DCST920B)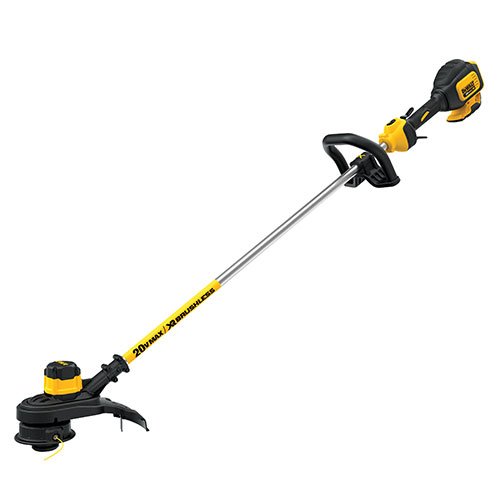 Heavy Duty Weed Eater
Makita XRU15PT1 36V (18V X2) LXT® Brushless String Trimmer Kit with 4...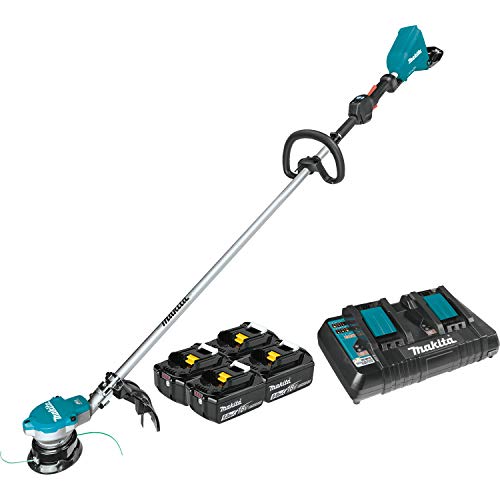 Best Corded Weed Eater
Toro 51480 Corded 14-Inch Electric Trimmer/Edger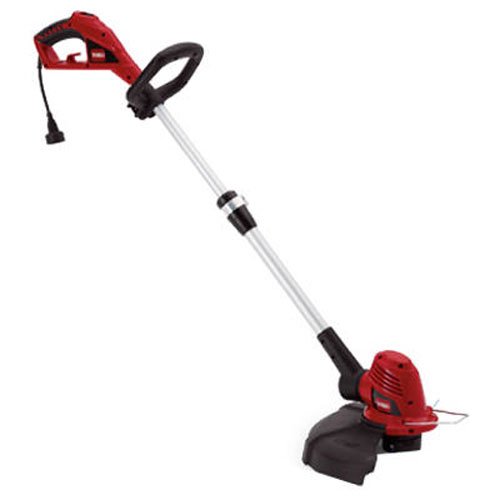 ---
If you've ever tried browsing for garden supplies, you may have been struck by analysis paralysis. What features do I need? Is this one worth the extra $27? My neighbor says this brand is no good and I need the other brand.
Studies have found that more options to pick from isn't actually better. In fact, increased choices decrease our happiness as buyers. It's hard to feel like you made the best choice when there are 57 different options! (source)
Picking the best tools can be exhausting, so we're here to help. Here are the best electric weed eaters on the market today.
Benefits of an electric weed eater
The greatest benefit of electric weed eaters is their lack of fumes and emissions.
Electric weed trimmers can also save you serious time. You also don't have to deal with adding gasoline, spending time driving to that gas station across town that sells ethanol-free fuel, or worrying about adding the correct oil for your mixed fuel.
Electric weed eaters are incredibly easy to start. Say goodbye to arm-jarring string yanking and feeling like you need to go back to school for a class on small engine repair. I have personally spent as much time starting my gas tools as I have using them. My mother-in-law frequently has me come over to her house just to get her gas weed eater or gas leaf blower started so she can use them!
Electric weed eaters start on demand. Plug them in and they are ready to go. Plus they are super quiet when not being used, because there is no combustion engine running on idle. Even when they're cutting, electric machines are far quieter than their gas counterparts.
This guide provides some topics you may not have considered before when looking at electric weed whackers. I hope it brings value to your shopping experience.
Cordless Weed Eaters
The WORX 20V String Trimmer is a great weed eater. It holds its own when it comes to quality, durability, and versatility.
This weed eater has plenty of features which allow you to use it in so many ways. The telescoping pole and adjustable handle allow for a comfortable fit for any sized person. I'm even considering it for my overly enthusiastic daughter who loves yard work.
Many electric weed eaters aren't very adaptable. They tend to have a set cutting angle and no ability to add attachments. However, the Worx electric string trimmer cutting head is easy to change angles, there is a spacer bar to preserve your weed eater string, and it transforms into an edger with ease.
One crazy benefit is WORX's commitment to supply you with free spools for life. Yep, even if you buy it through Amazon, you can request your spools for the rest of your life. You just pay for the shipping.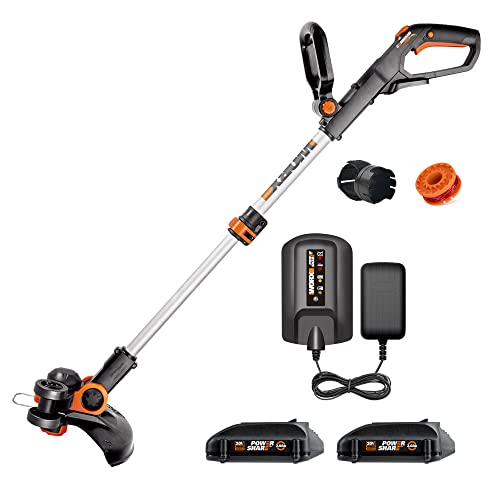 Worx WG163 GT 3.0 20V PowerShare 12" Cordless String Trimmer & Edger (2...
[TRIMMER & EDGER 2-in-1] Easily converts from a string trimmer to a wheel edger in just seconds
[INSTANT LINE FEED] Innovative push button Command Feed spool system for instant line feeding. Plus, Free Spools for Life
[DO IT ALL WITH THE SAME BATTERY] Worx Power Share is compatible with all Worx 20v and 40v tools, outdoor power and lifestyle products
The Greenworks 24V String Trimmer is another great electric weed eater. It can transform from a weed eater to a guided edger just by rotating the cutting head. There are a few adjustments you can make to increase your comfort. The handle is very easy to move up and down, so is the telescoping shaft.
The one downside is that this is a single line string trimmer head meaning it can be a bit of a let down when it comes to taking down thicker brush. This means the Greenworks trimmer is better suited to grassy situations like edging your driveway and cleaning up around your fence.
Check out this customer's review here who gives some details on using this weed eater, "This green machine – LOVE IT! It was easy to put together, light weight, battery stays fully charged for an hour. The power doesn't slowly start to get weak, when the battery is dead – it dies. Meaning, the weed eater can be used right until the battery is dead."
The ability of battery powered weed eaters to run at full power until they die completely is thanks to the "newer" lithium ion batteries. If you grew up with different style batteries, like lead acid and alkaline, you're used to tools losing power as the battery declines. Lithium-based batteries like LiPo and LiFe batteries deliver consistent power until they reach their shut off point.
Sale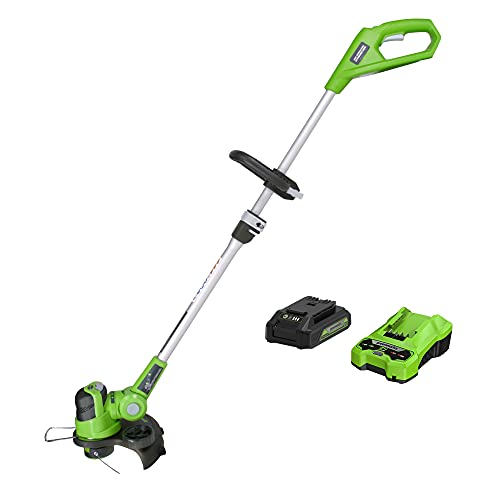 Greenworks 24V 12" Cordless String Trimmer / Edger, 2.0Ah Battery and...
24V STRING TRIMMER – Provides 20% more power and 35% more run-time to power through the toughest grass and weeds. Greenworks 24V battery powers 100+...
12" CUTTING PATH - .065" line, auto feed head for quick and easy line advancement
TRIMMER / EDGER (2-IN-1) – 90-degree rotating head with edging wheel. 3 position pivoting head for trimming at multiple angles, telescope shaft...
The CRAFTSMAN V20 String Trimmer is another great tool to add to your collection. It is highly versatile and super easy to use.
This tool is packed with easy to use feature which make weed eating really easy.
One of the major features is the push button to feed the string. Many weed eaters rely on whacking the head into the ground in order to feed string. This type head is called a bump head. A lot of people aren't comfortable with this method of feeding and either don't tap hard enough to feed more string or whack the head into the ground so hard that it becomes damaged. A push button feeder solves this problem.
You can also use one of two speed settings to cut through your brush. The low speed setting extends your battery life.
Check out this review of a customer who made the switch to Craftsman from his gas weed eater: "This is the best weed eater I've ever used. I have 2 3/4 acres, a lot of trees and landscaping, it usually takes me at least an hour or so to do with a gas trimmer, because of all the problems you get with gas trimmers, but with this trimmer I was done in half the time." Read the full review here.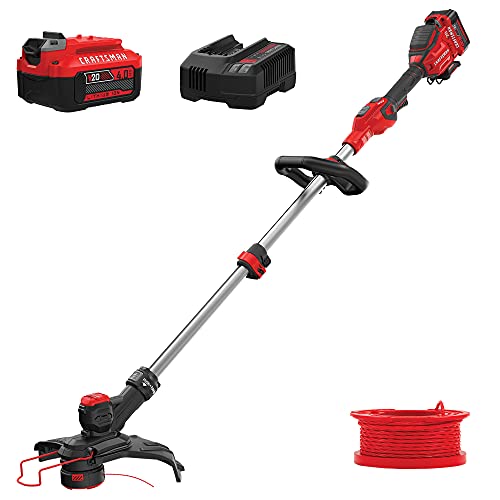 The DEWALT 20V MAX XR String Trimmer is our choice electric weed eater. This tool is highly versatile and easy to use. You can start trimming within 15 minutes right out of the box. Natasha quickly and easily assembled ours, even though our daughter was "helping."
This string trimmer was also designed with ergonomics in mind. The handle for your second hand can be adjusted up and down the length of the bar which allows you to adjust your grip. For our style of weed eating and height, we like to keep our handle pretty far down (around the mid-way point).
Our main complaint about this trimmer is that the guard size is pretty small. This makes it more lightweight, but also means it kicks up a lot of grass and debris. Your legs will get dirty when you use this trimmer. Make sure to wear boots and long pants.
The Dewalt 20V Max string trimmer is a fantastic choice if you already own Dewalt power tools. Because we already have multiple batteries and chargers, we were able to purchase the "tool only" option and save some money on our purchase. If you don't already have a battery (or two) and a charger, make sure to add them on or purchase the tool + battery package.
Make sure check out the DEWALT store for more options.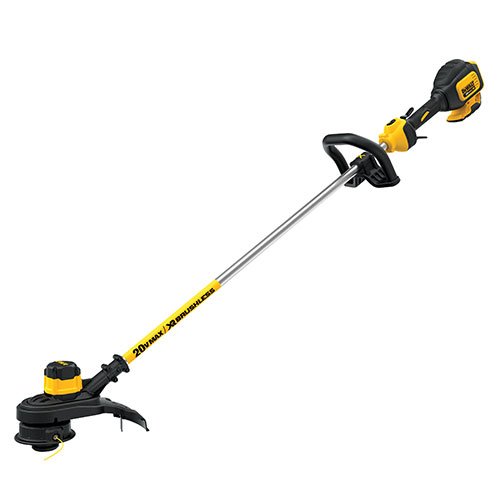 If you're new to Dewalt cordless tools, you may have trouble getting the battery to charge. You'll place the battery on the charger, see a light, and wander off. When you come back expecting a fully charged battery, you find…a battery that still isn't charged?!
If you simply place the battery in the charging cradle, the light will light up, but the battery won't charge. Instead, you have to push the battery in place until you feel and hear it click into place. Natasha made a quick video demonstrating what to do:
The Best Heavy Duty Electric Weed Eaters
Wimpy electric power tools are a thing of the past thanks to today's powerful batteries. There are many heavy duty electric weed whackers today that can cut through thick brush and even use brush cutter attachments.
The EGO Power 56-Volt String Trimmer is a workhorse of a string trimmer. With a massive 56-Volt battery, you can work through the toughest of brush. This weed eater is easy to use and has the key features of any weed eater like the adjustable handle and safety trigger.
This customer vouches for the weed eater's lightweight and also offers a solution to make the unit a bit more comfortable, "Amazing power, seems durable, weight of battery is slightly cumbersome but considering that my 75 year old mother was able to use unit on a steep hillside, I'd say it's light enough. A shoulder strap would be nice, I made my own from a piece of webbing." Read the full review here.
This weed eater does not sport some of the features other weed eaters have such as an edging guide because this tool is meant more for the heavy duty brush trimming. This is a heavy duty string trimmer.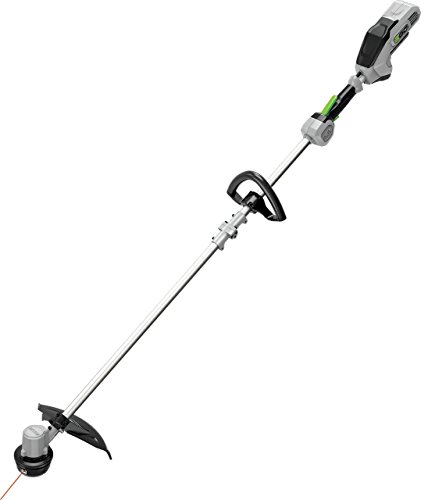 The Makita electric weed eater is a heavy duty tool. Makita is well known for top tier tools. There are tons of features packed into this weed eater. One which stands out is the their design of smart batteries which allow the battery and the tool to speak to one another to prevent the battery from damaging itself by overly discharging itself. It also includes 4 batteries to keep you going all day.
One of the major benefits of this weed eater is the ability to change out the cutting head. This is a big deal because now you can use all the great cutting heads which are normally only available to gas powered weed eaters such as this brush blade.
We love our brush blade for our gas powered Stihl professional weed eater. My mother-in-law didn't even change the brush blade off of her weed whacker for a year because she preferred it for thicker grass! If you have heavy brush to cut and want the ease and convenience of an electric tool, the Makita electric weed eater is the right choice for you.
The one downside is the big sticker price but it is totally worth it for this quality tool.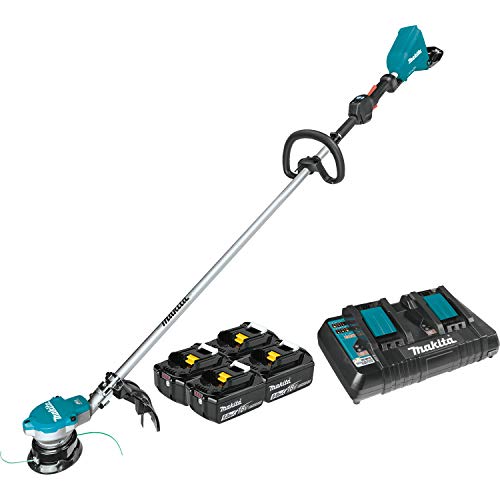 Makita XRU15PT1 36V (18V X2) LXT® Brushless String Trimmer Kit with 4...
Makita-built Outer Rotor BL Brushless Motor direct-drive system provides high power and increased torque
Automatic Torque Drive Technology mode automatically shifts from 3,500-6,500 RPM for extended run time or added power
3 speed options (Low: 3,500 RPM, Medium: 5,300 RPM, High: 6,500 RPM) for power management
Corded Weed Eaters
Corded electric weed eaters cost less than battery powered, cordless weed eaters. However, you do need to have a sufficiently long, heavy duty extension cord to use your trimmer around your property. Cords can be a tripping hazard while you work and can create a fire hazard if the wrong type of cord is used.
If you have a small area to trim, like a back patio or driveway, and already own a heavy duty outdoor extension cord, then a corded weed eater is an economical choice.
The BLACK+DECKER String Trimmer is a lightweight string trimmer for your yard. It features a super light frame weighing in at only 3.19 pounds. This the perfect string trimmer for those with trouble carrying larger yard tools around.
This weed eater also features an adjustable handle and telescoping shaft so it is easy to adjust for your comfort.
This customer is extremely satisfied with their weed eater, "Very impressed with it so far. Surprised on how well it cuts. Lightweight and easy to use. No shoulder or back pain after using for extended periods. The wheel makes edging a breeze. Easier to store since it collapses down." Check out their full review here.
Be sure to use a straight plugged extension cord since the prongs are housed in a circular casing which larger extension plugs will not fit. An extension cord like this, 16/3 vinyl extension cord, will work.
The Toro 51480 Corded Electric Trimmer is a great tool to have. It has all the benefits of some of the better battery operated weed eaters with the price of a corded string trimmer.
The features include an adjustable handle and telescoping shaft for ultimate ergonomic comfort. An edging wheel guide, a 14 inch cutting diameter, a standoff bar, and an auto feed trimmer head. This weed eater is totally worth having and would make a great addition to your shed.
A telescoping shaft makes it easy to adjust your weed eater so multiple different people can use the same trimmer with comfort and ease.
Sale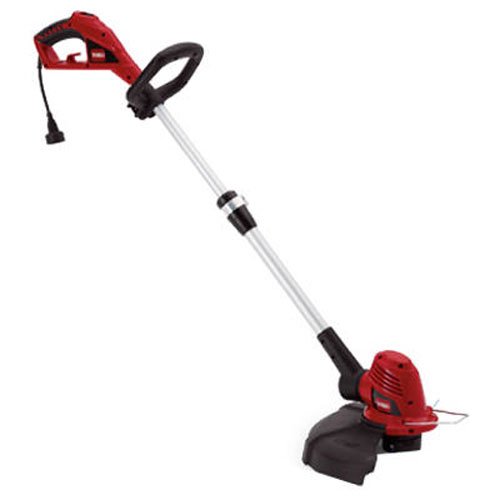 Toro 51480 Corded 14-Inch Electric Trimmer/Edger
Corded 14-inch electric trimmer/edger with a powerful 5 amp motor
Extra-wide 14-inch dual-line cutting head gets the job done faster; auto-feed trim line
One-step walk-behind edging--switch from a trimmer to an edger in seconds
Electric Weed Eaters Buyer's Guide
Corded vs Cordless Weed Eaters
CORDLESS (BATTERY) ELECTRIC WEED EATER
Battery operated tools are obviously way more portable than a corded tool.
Battery life is the first thing to come to mind when we think of electric yard tools such as weed eaters. Luckily, today's batteries have a decent amount of life that you can get a sufficient amount of work done before you need to recharge. Even electric chainsaws can last over 2 hours.
The ability of battery powered weed eaters to run at full power until they die completely is thanks to the "newer" lithium ion batteries. If you grew up with different style batteries, like lead acid and alkaline, you're used to tools losing power as the battery declines. Lithium-based batteries like LiPo and LiFe batteries deliver consistent power until they reach their shut off point.
However, with increased battery life comes more weight. To add those extra Amp-hours into the battery requires the battery to be larger and therefore adds weight to the tool.
Battery powered weed eaters can weigh from 5 to 10 pounds where corded weed eaters are usually around 5 to 7 pounds. That doesn't seem like a big difference, but after an hour of weed eating, a pound will easily feel like 20. Fatigue with a weed eater can be dangerous. Make sure you are able to hold the weight and are well rested before using power tools.
If you're shopping in store, examine the box to make sure it hasn't been previously opened if you're purchasing a tool & battery combination. Large batteries are expensive. We recently purchased a Dewalt battery powered push mower. Three out of four boxes in the store had been cut open (two had the tape cut, one had a hole punched through the side of the box) and the batteries stolen.
CORDED ELECTRIC WEED EATERS
The first thing to consider for corded weed eaters is accessibility. Can you reach all the areas you are trying to trim?
Most corded electric weed eaters draw about 5 amps of current meaning you can use a light duty outdoor extension cord. A 14 gauge outdoor extension cord like this will help you get the job done. Be sure to choose a length that will help you get around obstacles.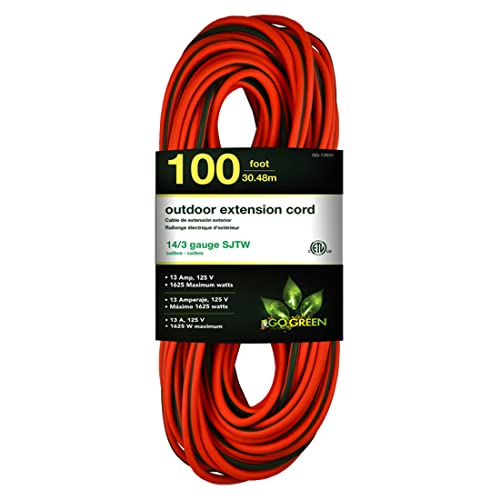 GoGreen Power (GG-13800) 14/3 100' SJTW Outdoor Extension Cord, Lighted...
Extension Cord: The GoGreen Power (GG-13800) is a contractor grade 14/3 SJTW extension cord.
100 Foot Extension Cord: The powerful extension cord is 100 feet long. It is also moisture resistant, abrasion resistant, and durable, even with...
Molded Plug Extension Cord: The heavy duty extension cord has molded plugs which gives it a sturdy build and makes it easy to use.
The biggest concern with with corded weed eaters is the electrical cord. It is very easy to cut right into the cord you are using to power the tool with especially if you are using one which blends in well with the ground. Using a brightly colored electrical cord can help.
Always be aware of your surroundings so that you don't accidentally cut into something important.
Another benefit of a corded electrical weed eater is that you can work for as long as you'd like. Battery life is not an issue, the only restriction you will have is the amount of string your string trimmer has.
The cost of a corded weed eater is usually about half the price of battery operated weed eaters. If you are on a budget an need a solution now, corded is going to be your best bet.
Things to Consider
Handle Placement
The handle location and placement are a big deal. If the handle cannot move up and down the collar of the tool, consider purchasing a different model with an adjustable handle. It is similar to sweeping the floor with your hands at the very top of the broom stick, you won't get much leverage and it will be hard to maneuver. The more you spread your hands apart, the more control you have over the broom. This same concept applies to any weed eater.
Telescoping Pole
A telescoping pole makes a difference for those of us who are vertically challenged. Both of us are 5'2″ and have found that many lawn and garden tools are designed for larger, taller people.
A super long weed eater is difficult for shorter people to maneuver because the cutting head is too far from us resulting in a slightly upward tilted cutting head. A telescoping pole allows you to pull the cutting head further in to level the head to the ground.
On the flip side, short tools are difficult and painful for tall people to use. If you have a too short tool, you end up hunched and bent over. This quickly causes backaches.
Also, some of these are great introductory tools for young kids. Out daughter loves it when we use our electric weed eater, she just can't wait to use it herself. We had to buy her a toy weed eater to keep her happy until she can use a real one.
Weight
Luckily, most electric weed eaters are under 10 pounds. If weight does become an issue, you can always try a weed eater strap to help to help keep the weight off your hands.
Natasha highly recommends a weed eater strap. She finds that even a relatively lightweight battery weed eater becomes annoying to hold after just a few minutes.
Sale

Safety considerations
Always remember that electric weed eaters are still dangerous. We recommend wearing appropriate PPE whenever you use a power tool.
At the very least, wear eye protection and hearing protection. I use molded Dewalt face goggles while weed eating to make sure stray clippings don't get in my eyes.
You may also want to wear cut resistant gloves, chaps, and/or a face shield. For lots of tree work, a forestry helmet with built-in earmuffs and face shield is convenient. It's way easier to get an all in one solution than try to wrestle separate goggles, shield, and helmet in place. A pair of high quality gloves is way cheaper and more convenient than a trip to the ER. See our in-depth review of the best cut resistant gloves.
And remember to get a pair or safety gear for your little ones. too. My little girl was absolutely terrified of our lawn equipment because of the loud noise. After getting her these ear protection headphones she gladly sits outside and enjoys the day with us as we finish our yard work.
Final Thoughts
Electric weed eaters are great tools to have. Gas weed eaters are becoming a thing of the past and even landscaping companies are switching to battery operated weed eaters.
As always, the choice is yours on what weed eater you get. Try not to be lured by fancy brands and focus more on what your specific needs are. Solving your problems should be your primary focus. I hope you now feel confident in purchasing your next electric weed eater.
Yard Tool Reviews
Are you sick of your old, broken down lawn tools from a yard sale 10 years ago? Discover these yard tool reviews so you can save time and backaches on yard work day with a new, modern tool.
Angel is a Cuban immigrant who grew up with backyard chickens and a yard-loving abuela. He is our "gear guy" who can never have too many pairs of gloves or weed whacker attachments.