Fava beans, also called broad beans, are somewhat of a novelty crop in the U.S. but have been grown and enjoyed in many other countries for thousands of years. They're one of the world's oldest domesticated crops!
These large, almost meaty beans have a delicious nutty flavor with a slight sweetness and hint of bitterness. They end up with a creamy texture when cooked fresh and become a favorite of many gardeners. They are also an excellent cover crop for your green manure arsenal.
Whether they're an old favorite or a new discovery for you, here's how to plant and grow fava beans in your own garden so you can enjoy them for yourself.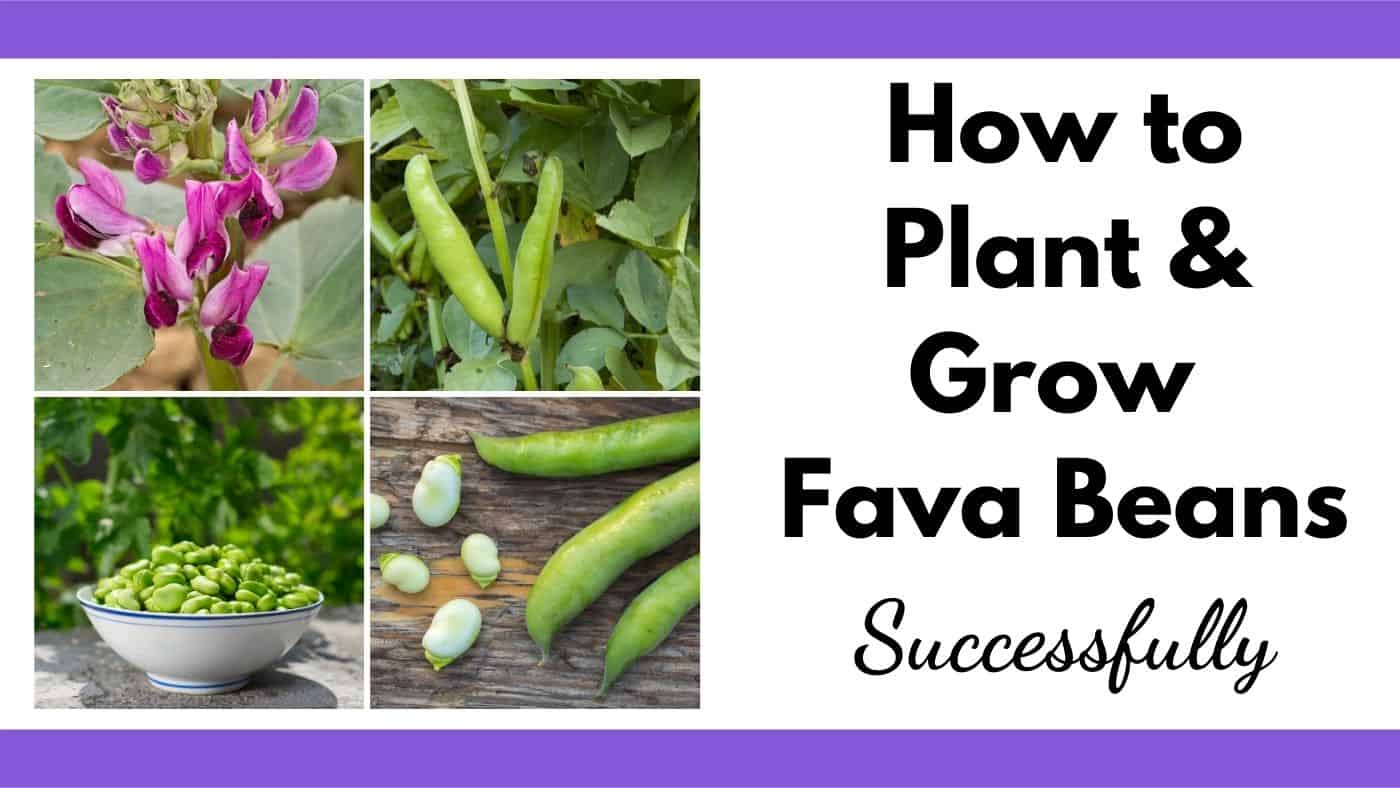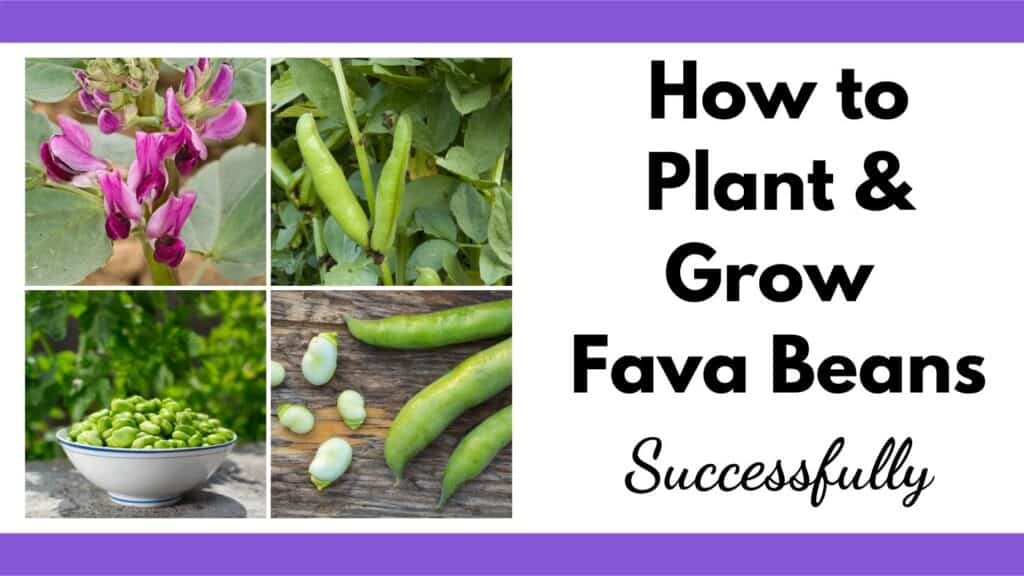 As an important note – some people should not eat fava beans. I haven't seen many other growing guides mention this important fact about growing fava beans. Individuals who are deficient in enzyme G6PD can suffer from favism, which can be fatal.
G6PD deficiency is more common in males because it is X-linked and recessive. It is most common in people of African, Asian, Mediterranean, or Middle-Eastern descent. You can learn more about D6PD deficiency and testing for it on the American Academy of Family Physicians website.
This post includes affiliate links. If you make a purchase using one of these links, Together Time Family will receive a commission at no additional cost to you.
All About Fava Beans + Growing Tips
Fava beans (Vicia faba) are a member of the bean and pea family. They are closely related to common vetch, which is a type of legume often grown as livestock fodder, but earned their name from their distinct bean-like appearance.
Native to areas of the Mediterranean and Asia, fava beans are a cool season annual. They do well as a spring crop in USDA zones 3-7 and can be grown over the winter in milder climates.
Because they're hardy down to about 15º F, most people in zones 8b and warmer can plant them as an overwintered crop or a winter cover crop. Some people also report success with overwintered fava beans in zone 7. Some vanities are more cold tolerant than others, so be sure to select a more hardy variety in a cooler zone or microclimate.
Overwinter is a technique that can allow you to harvest crops earlier in the spring. You plant in the fall, allow the plants to be mostly dormant over the winter, then watch them spring into life when the weather starts to warm. You can plant fava beans in October and November for harvest in April and May, long before your similar-looking but frost tender lima beans are ready to eat.
Most fava bean varieties grow about 2-4' tall. Their growth habit tends to be bushy, and they have rigid stems that don't twine like pole bean plants do. However, they still need some support during the growing season, especially when the heavy pods begin to develop.
Fava beans can be quite pretty when they flower with white or red blooms. These flowers will eventually form thick, waxy pods that can grow up to a foot long and contain the large beans.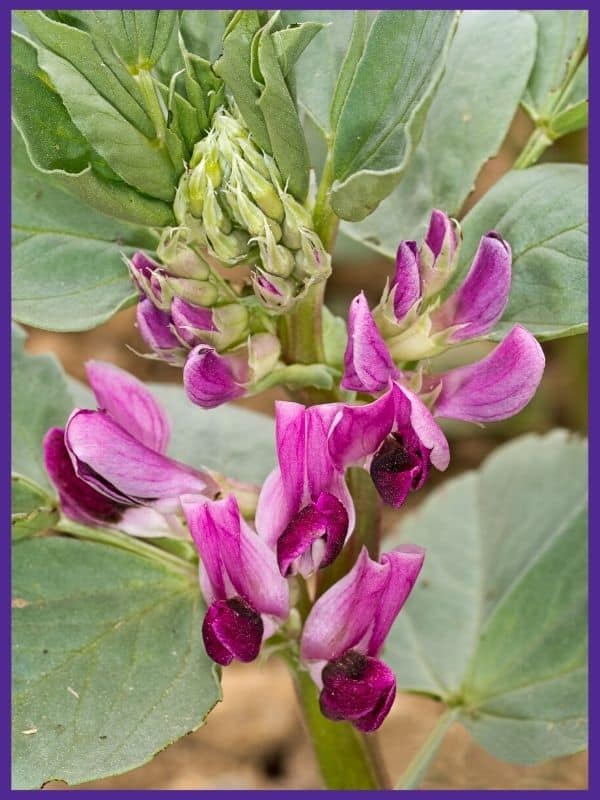 When it comes to how to plant and grow fava beans, you should approach them like peas – not green beans. They grow best in temperatures of 60-65°F and will not produce once temperatures get 80°F or above. This is quite a contrast from green beans and lima beans that are frost tender and crave warmth.
Most varieties mature in 75-90 days when planted in the spring. Make sure to time your spring plants so your fava beans are ready before hot weather hits. Fava beans can take over 200 days to maturity when planted in the fall!
Fava Bean Varieties
If you have a short window for growing fava beans, choose a fast-maturing variety. Otherwise, I recommend selecting for whatever factor is most important to you, such as the size of the plant or the flavor of the bean.
Here are some top choices:
'Windsor'– Classic English fava bean with 5-6" pods and great flavor.
'Vroma'– Good production and heat tolerance. They are also more sturdy than Windsor beans and are less likely to get blown over.
'Express'– One of the fastest maturing for gardeners with a short growing window.
Karmazyn – Pink beans with a compact, bushy plants.
'Crimson Flowered'– Highly ornamental red flowers and tasty beans.
'Sweet Lorane'– Excellent flavor but small beans.
'Aquadulce'– Heirloom Spanish variety with fantastic flavor. Many people consider Aquadulce Claudia, also just called Aquadulce, the fava bean for fall planting.
'The Sutton'– Dwarf variety perfect for small spaces and even containers.
Fava Bean Varieties to Try
Give these easy to grow, cold hardy legumes a try in your garden as an edible crop or a cover crop!
How to Plant and Grow Fava Beans
Fava beans are easy to grow from seed, which is good news because it can be difficult to find plants for sale. Simply pick out the variety you're interested in and follow the planting advice that suits your climate.
When to Plant Fava Beans
When to plant fava beans depends a lot on the region you live in.
If you live in a location with mild winters where temperatures don't drop below 15°F, your best time to plant is in the fall or early winter. This allows the beans to grow over the cool of winter and mature in the spring. You are the best expert on your own exact microclimate, but generally gardeners in 8b and warmer can overwinter fava beans.
You can typically sow seeds anytime between late October and February. Keep in mind that your plants will grow very slowly over winter, so you shouldn't expect a crop until springtime.
If you live somewhere with cold winters, your ideal planting time is in early spring. In this case, you'll want to get your seeds in as soon as the soil is workable to ensure that plants have enough cool weather to grow in.
This can be anywhere from February to April, depending on how far north you live. For reference, fava beans should go in at about the same time as green peas.
Where to Plant Fava Beans
Fava beans grow best in full sun. They will tolerate partial shade, but you may notice a decrease in productiveness.
It's a good idea to plant them in an area sheltered from high winds because the stems can snap once they are loaded with bean pods.
As far as soil goes, fava beans aren't very picky, but they do prefer soil that isn't soggy for long periods of time. They grow well even in low-fertility soils because they fix their own nitrogen, but adding in some compost before planting will give you a better crop.
Planting Methods
To give your fava beans a head start indoors, you can plant the seeds in biodegradable pots several weeks before your last average frost date. Most beans are not great candidates for transplanting and tend to suffer from transplant shock. Fava beans are more amenable to transplanting than most beans, but do best with direct seeding.
Instead of transplanting, consider using covers to either plant fava beans earlier in the spring in pre-warmed soil or covers to protect them overwinter in colder climates. Niki Jabbour's book Growing Under Cover is an excellent resource for anyone who wants to explore growing with covers. She gardens outside year round…in Canada! If she can do it, so can you.
Sale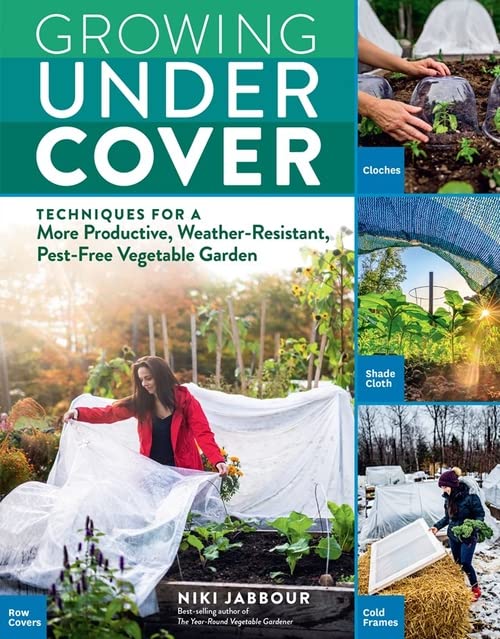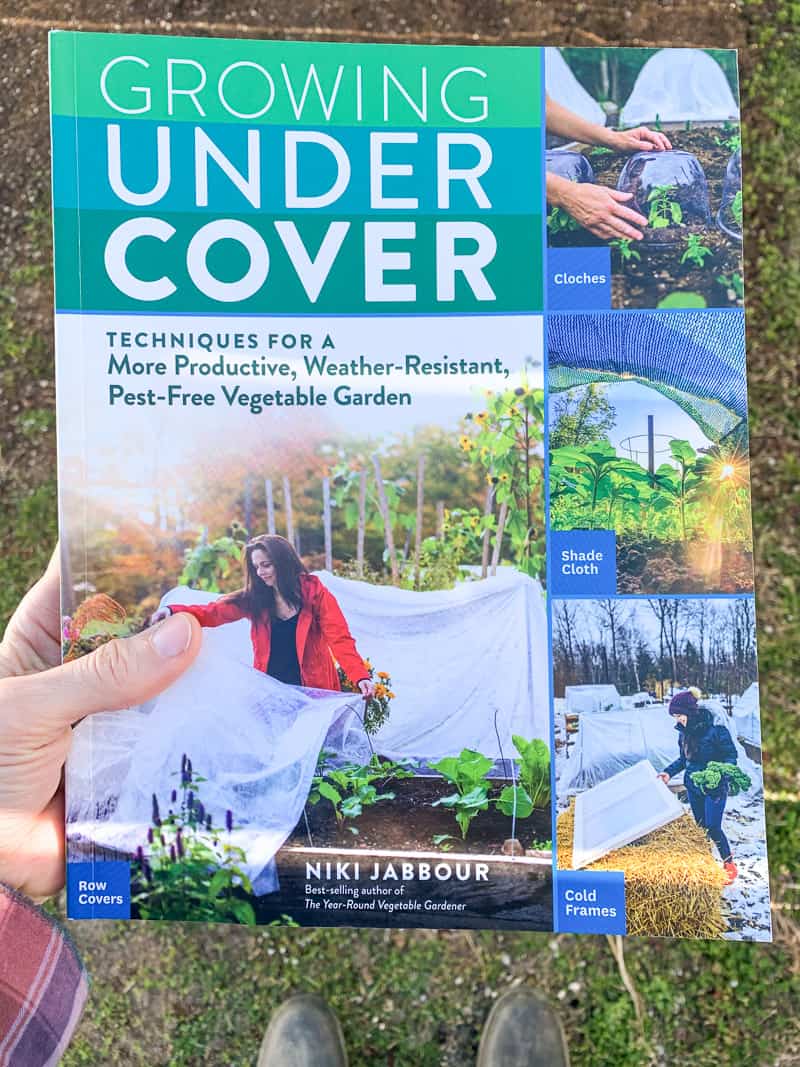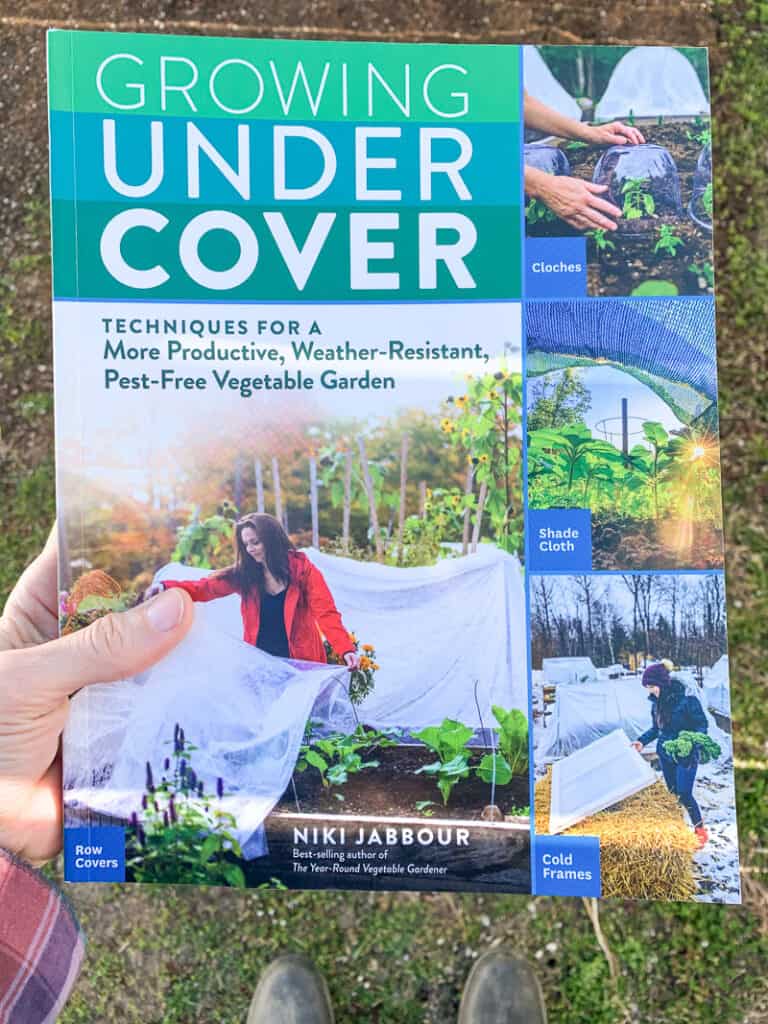 Fava beans prefer to be direct seeded, either a few weeks before your last frost date or after the weather cools down in the fall, depending on your zone. Some areas are lucky enough to be able to grow fava beans spring and fall, but many gardeners have to pick one or the other.
For outdoor sowing, you can either plant fava beans in rows or in mounds.
To plant in rows, sow seeds about 2-3" deep and 4-6" apart.
To plant fava beans as a cover crop, you can broadcast seeds or gently till them in. If you want to plant fava beans individually for cover cropping, aim for one plant per square foot (source). Make sure not to leave widely spaced rows for cover cropping.
For greatest success, sow fava bean seeds with the dark spot down, the opposite of what is shown in the photo below. The dark spot is the radical, which is where the root will emerge. This is different from "regular" beans, which have their radical on the side.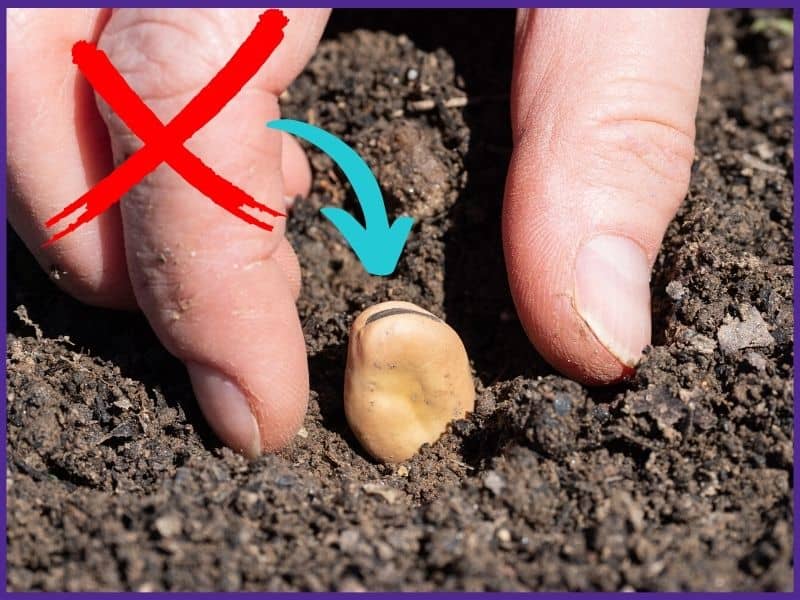 Once your seedlings are up and have grown 3-4" tall, thin them to a spacing of 8-12" to ensure good airflow between plants.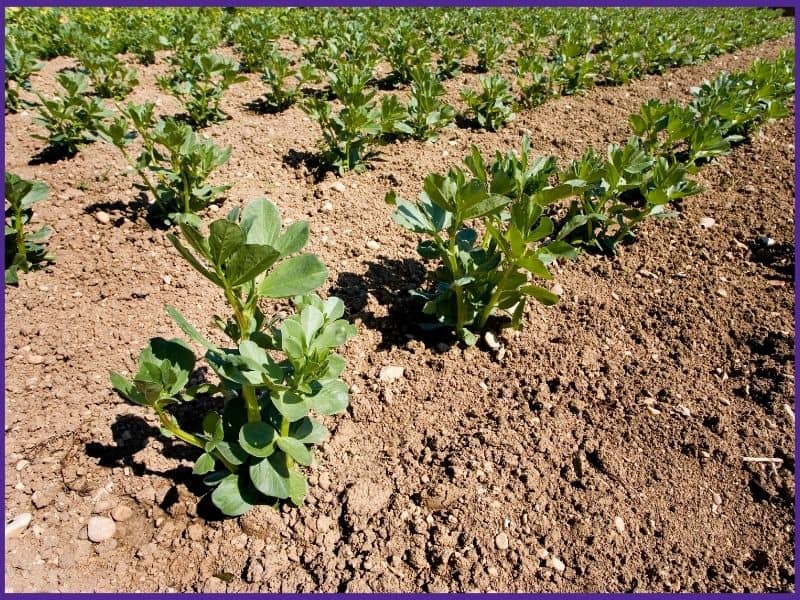 If you'd rather plant in mounds like you would peas or green beans, make wide and shallow hills spaced 3-4' apart. Plant 5-6 beans per hill and train them up a central support system as they grow.
Be sure to water your seeds after sowing them in the spring. Use a watering wand with a gentle stream to keep from blasting seeds and seedlings away. Nature will take care of the watering if you did a fall planting.
Watering wands are awesome and easy to use. (The seedlings in the photo below are radishes, not fava beans.) Stop by this guide to discover the best watering wands, including the one we personally use.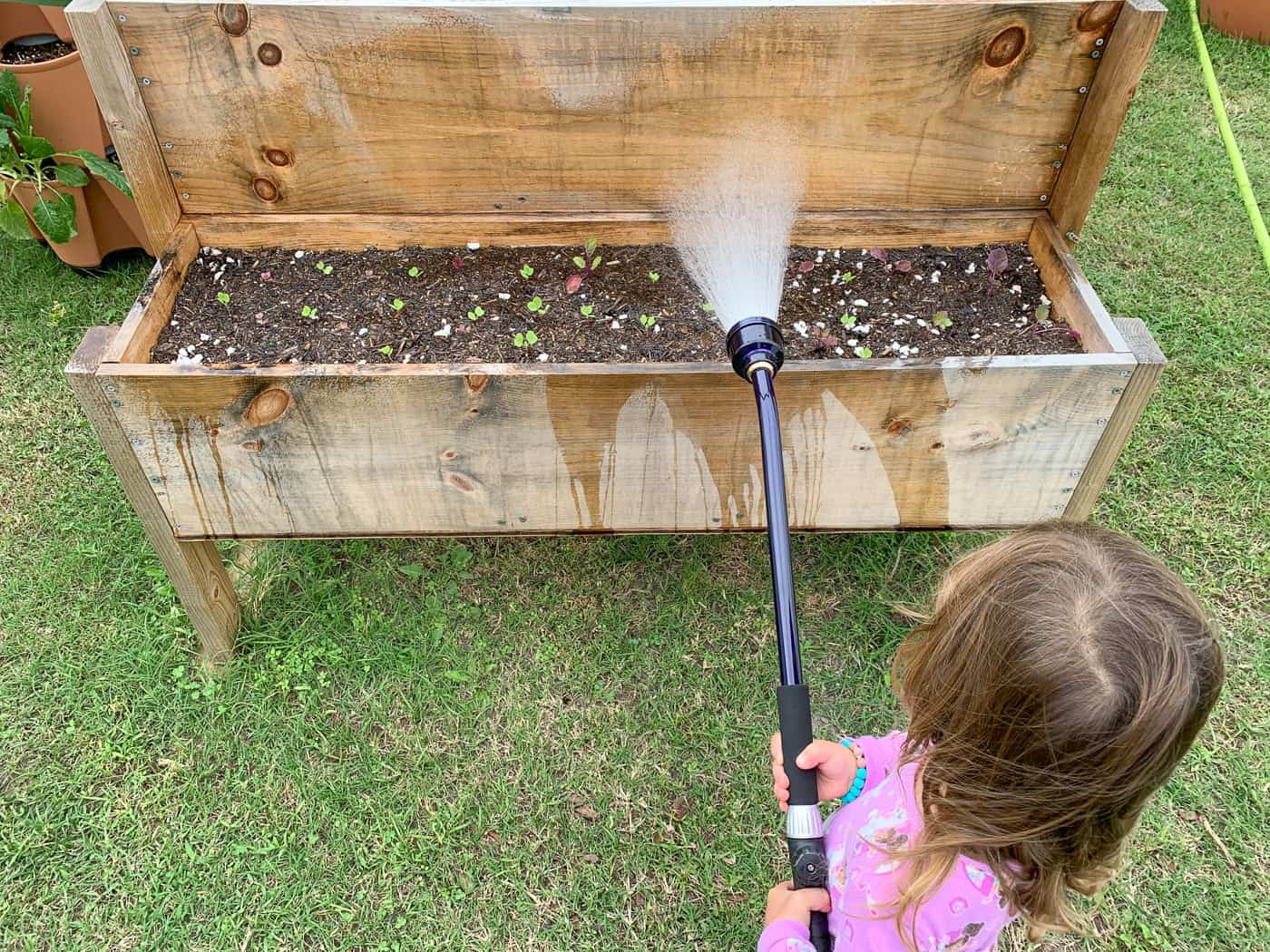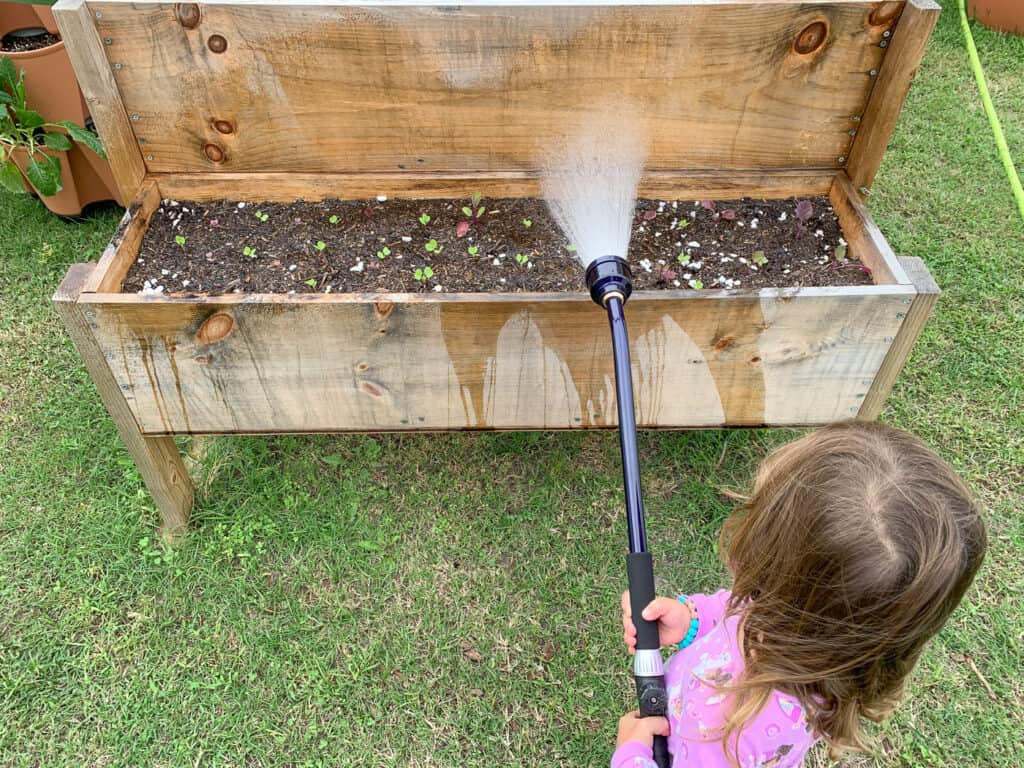 Germination usually takes around 10 days, although it will be slower in colder soil.
Using an Inoculant to Improve Your Crop
Fava beans, like all legumes, are nitrogen fixers, which means they manufacture nitrogen "fertilizer" from the air and fix it in the soil. This process happens naturally, but some gardeners use an inoculant on their fava bean seeds to improve it.
An inoculant is simply a natural preparation of beneficial bacteria that attach to the roots of legumes and encourage nitrogen-fixing.
The benefits of using an inoculant include better nutrient absorption, better resistance to disease-causing microbes, and overall better yields. It's completely optional but is an easy way to get a bigger crop with the same number of plants.
Just look for a legume inoculant, and coat your seeds with the powder before planting them. Mountain Valley Seed Company is one trustworthy brand that sells legume inoculant. I use a lot of their seeds – they're one of my go-to companies whenever I'm looking for seeds.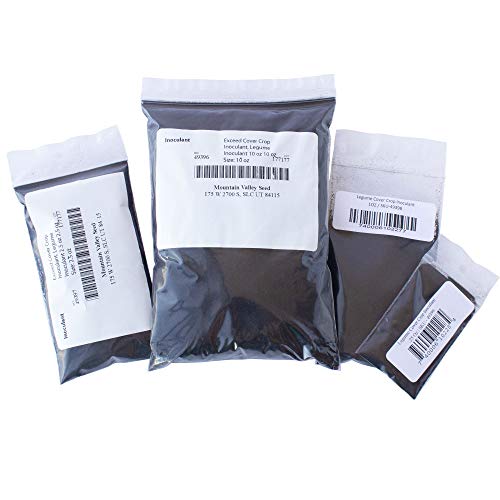 Legume Powder Inoculant - Cover Crop Seed Inoculant for Legume Seeds - .25...
POWDER INOCULANT FOR LEGUME COVER CROPS - Mountain Valley Company powder inoculant for legume and cover crop seeds to boost future harvests, yields,...
LEGUME INOCULANT FOR PEA, BEAN, FAVA, LENTIL - Mountain Valley Seed Company powder inoculant is a specialized blend of rhizobia bacteria for cover...
BENEFITS OF LEGUME COVER CROP SEEDS - Cover crop seeds are grown year-round to repair soils for future sowing. Legume cover crops seeds convert...
Fava Bean Care Tips
Fava beans need watered regularly, though spring weather does most of the work for many gardeners. Weeding is also important, especially when plants are small. Many people use organic mulch for weed suppression and to keep the soil cool for spring plantings.
Because fava beans are planted deeply, you can weed with a hand weeder or even a hoe. Discover the best hand weeders in this guide.
The biggest care task is providing support for your fava bean plants. They tend to flop over once they get to full height, particularly when the large bean pods form, and can sometimes snap.
If you planted in rows, the easiest support method is to put wood stakes, bamboo poles, coated rods in the ground at either end of a row and wrap string or twine around them.
Start when plants are small and add 1-2 more levels of twine as they grow. I like the fiberglass coated metal rods because they have little bumpy bits that make it easy to tie twine in place and have it actually stay. They can also last for several seasons.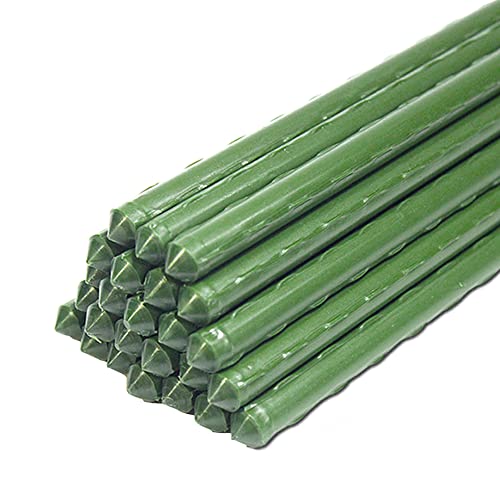 Wood stakes, like you see in the photo below, are more economical for the time being, but can cause more aggravation and need to be purchased more frequently. Bamboo is typically the least expensive and easiest to instal, but also the flimsiest.
To keep plants from getting too tall, many gardeners will pinch out the central growing tip once beans begin to form on the lower part of the plant. This forces the plant to focus all its energy into developing pods, rather than growing taller.
Common Pests and Problems
Knowing how to plant and grow fava beans is only half the battle. You also need to protect them from pests.
For the most part, fava beans will grow through cool weather with no pest or disease problems. The one exception to this is mice, which like to dig up the bean seeds and eat them before they germinate. Start seeds indoors if this is a problem for you.
Once the weather starts to warm, other pests can become a problem, particularly aphids and other small insects that feed on the leaves. They can usually be controlled by pinching off the affected part or by blasting off aphids with a strong hose spray. Be sure to read our guide to the best high pressure hose nozzles so you can blast away in confidence!
Aphids are also susceptible to neem oil spray. I recommend blasting with a hose first, then treating with neem oil if you continue to have a problem. Because of the unique way aphids breed, a single female aphid can create an entire new infestation. Keep a vigilant eye out for aphids and blast them with a hose or neem as soon as you see them to keep the problem under control.
Many people like to go straight to neem oil and spray plants once a week to help keep bug problems from developing. Neem oil is a natural insecticide that works well on soft-bodied insects like aphids. It's also a natural fungicide.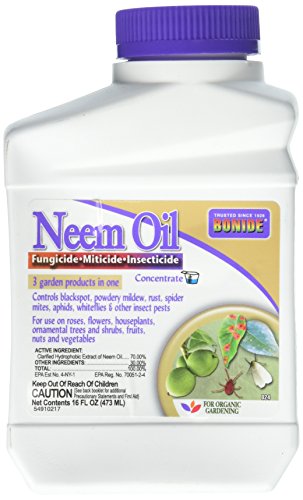 Some gardeners report that pruning out the tops of the plants (where aphids tend to gather) is also very effective. I haven't personally tried this. My daughter loves blasting things with a hose, but she's too young to prune plants safely. Involving my daughter with growing our garden is important to me. I try to let her participate in tasks as much as possible.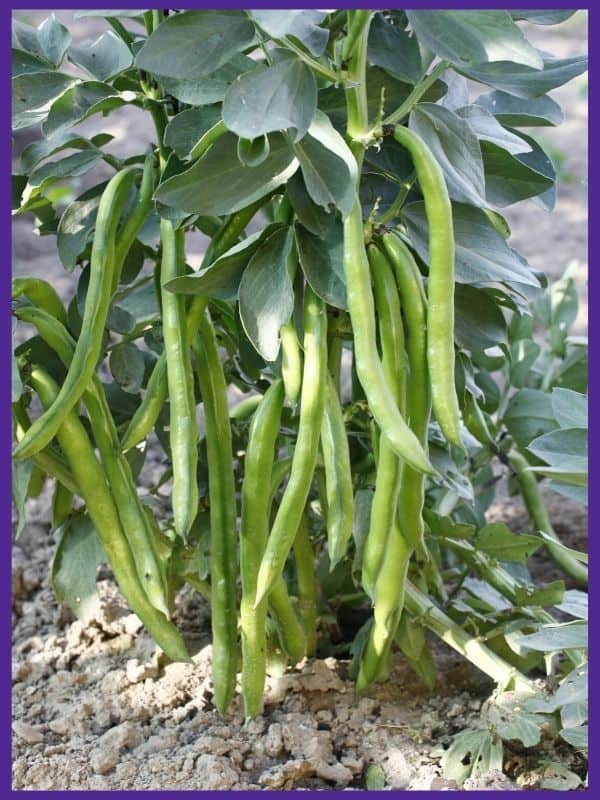 Harvesting Your Fava Beans
When to Harvest Fava Beans
You can harvest fava beans at a few different stages.
Immature pods can be harvested when they are about 3" long and thinner than your finger if you want to cook them pod and all. This would be similar to pea pods used in stir-fries.
More often, fava beans are harvested at the shelling stage. This is when the pods feel plump and full, but the beans inside are still soft. You can simply shell and cook the beans after harvesting.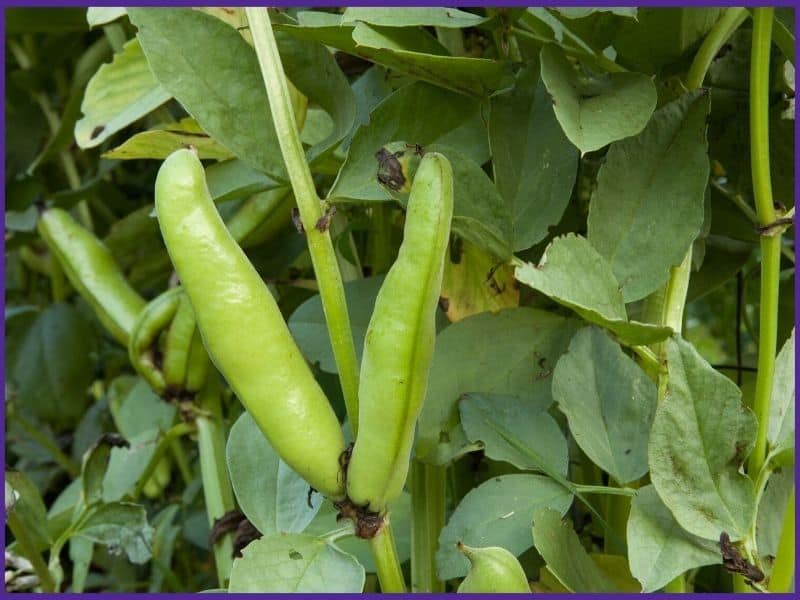 Another option is to harvest fava beans as a dry bean. This is the best option if you want to store them long-term or plant them as seeds next year. Just wait for the pods to turn dry to the touch before harvesting and finishing the drying process indoors.
How to Harvest Fava Beans
Fava beans can be harvested like any other bean. Simply go through and snap off any pods that are ready to be picked, holding the plant with your other hand so you don't break the stem.
Be prepared to harvest every few days once the pods start maturing.
Fava Beans as a Cover Crop
If you're using your fava beans as a cover crop, turn them in 2-3 weeks before you want to plant your main crop in the same bed.
Storing and Enjoying Fava Beans
Fresh fava beans can be kept in the refrigerator about a week but are best eaten or frozen soon after harvest.
The beans do have a thick skin that needs to be removed before you cook with them (it's edible but unpalatable, like those gigantic limas beans you gagged on as a kid). You can do this by blanching them and "popping" them out of the skin.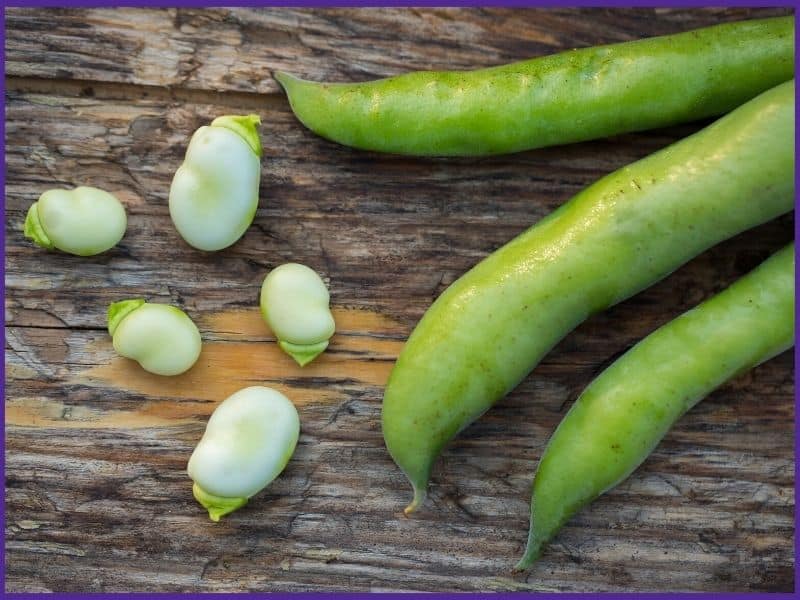 How to Blanch Fava Beans
Blanching fava beans is simple:
Boil a large pot of water.
Prepare a large bowl of ice water.
Place your fava beans in the boiling water for one minute.
Carefully dump the beans into a colander in the sink. Rinse with cold water.
Transfer the favas to an ice water bath for 3-5 minutes.
Drain the fava beans again.
Remove the fava beans' shells. There will be a little "cap" portion at one end. It's easiest to break through the shell at this point. Rip open the shell and tear it off or pop the bean out.
Congratulations! Now you have a bowl of ready to cook fava beans: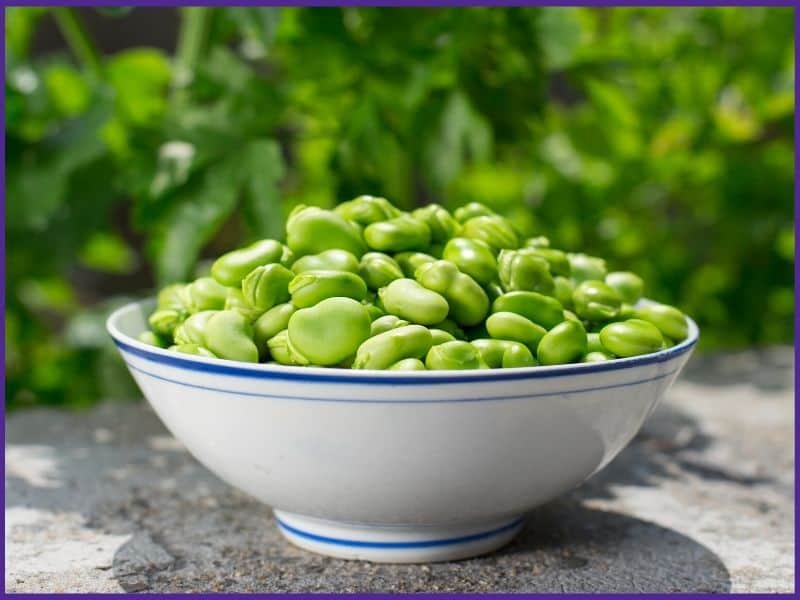 To freeze them, simply shell the beans and store them in a plastic bag, or blanch and peel them before freezing.
Dry fava beans can be stored in a cool, dark location for 10-12 months and sometimes longer.
However, you choose to cook them or store them, fava beans are one crop you might find yourself hooked on! They are ready to be harvested early in the growing season and will provide you with a bumper crop once you get experienced growing them.
Popular summer vegetables and herbs
Discover how to grow popular vegetables and herbs in your backyard garden or container garden with these in-depth vegetable growing guides.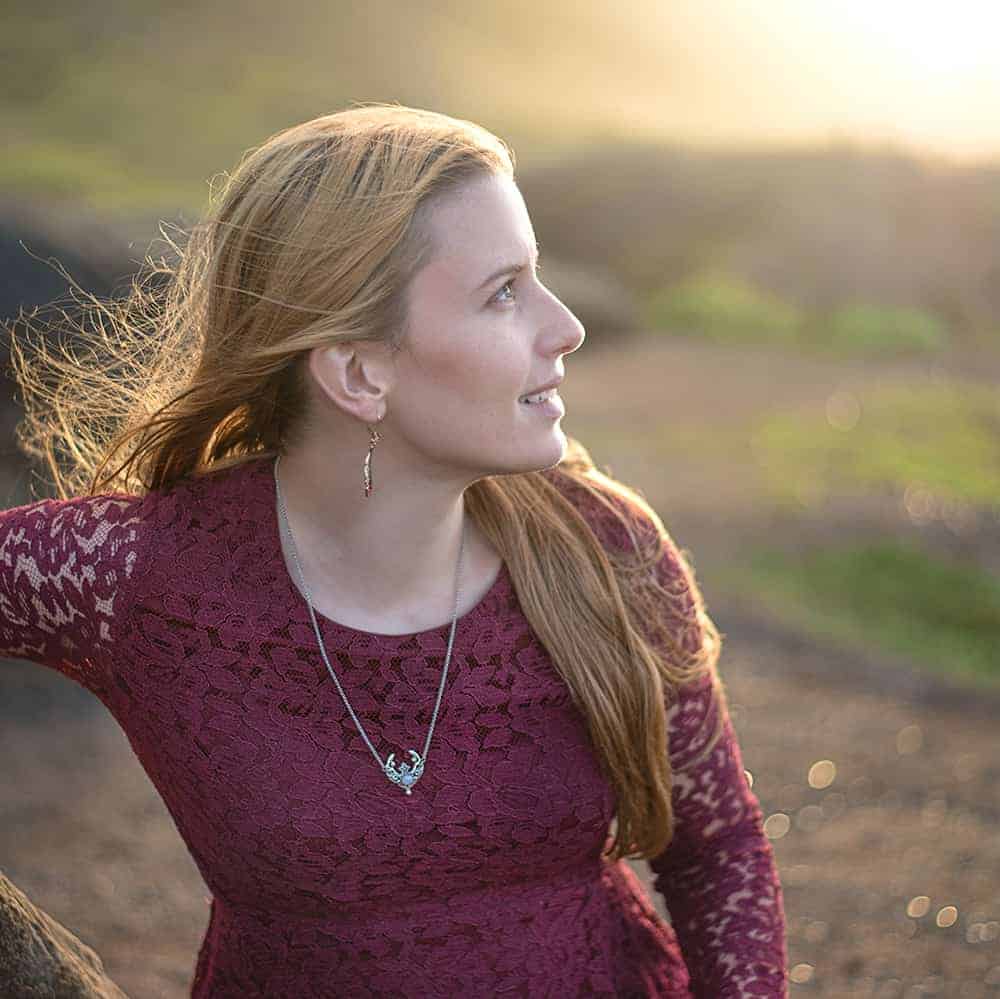 Natasha Garcia-Lopez is an avoid home-gardener and proud owner of 88 acres of land in rural West Virginia. She was a member of the Association for Living History Farms and Agricultural Museums for many years and is currently enrolled in the Oregon State University Master Gardner Short Course program so she can better assist you with your gardening questions.She holds a certificate in natural skincare from the School of Natural Skincare.