Growing your own carrots is rewarding and fairly easy, even in a container garden. The hardest part of growing carrots is waiting for the seeds to germinate and keeping them clear of weeds until they're established.
Carrot seeds are tiny and famously slow to sprout. It's important to know what carrot sprouts look like so you can tell what's a weed that needs removing and what is, in fact, your long-awaited carrot seedling.
Let's take a look at carrot sprouts, how to identify carrot sprouts, and what to do with your carrot sprouts after they start growing. For a complete guide, please see this post on how to grow carrots.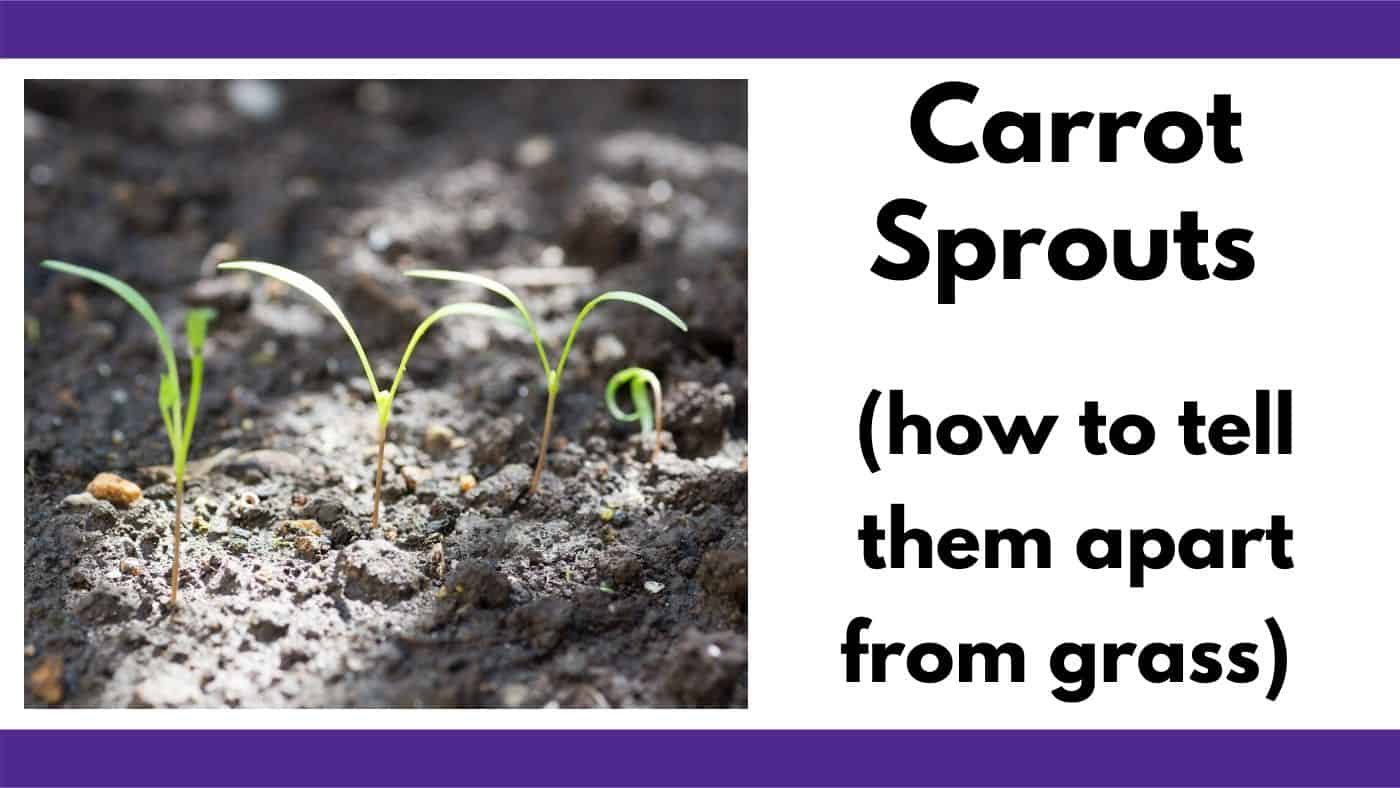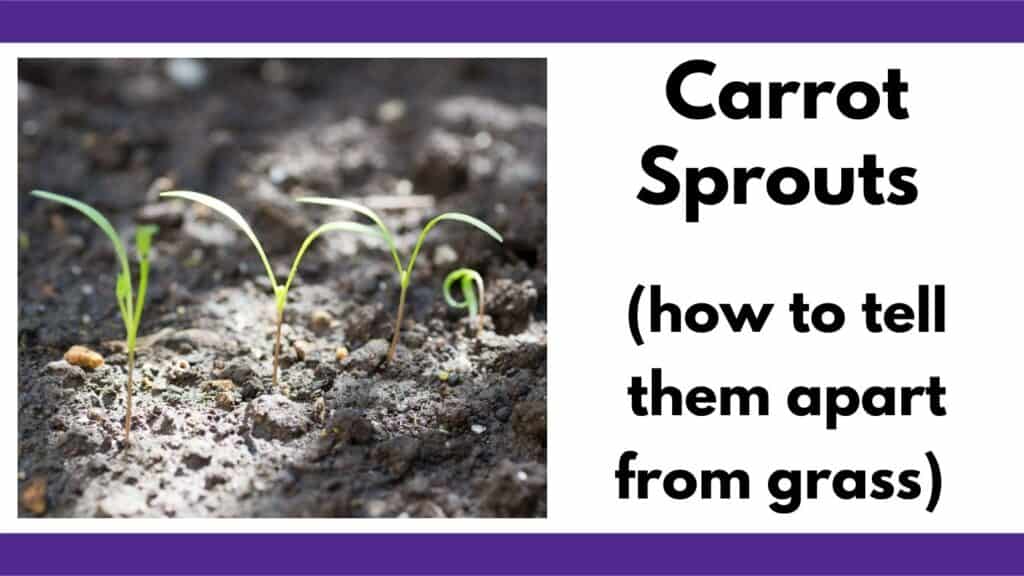 This post includes affiliate links. If you make a purchase using one of these links, Together Time Family will receive a commission at no additional cost to you.
How long to carrots take to germinate?
Carrots are notoriously slow germinators. While they can germinate in as little as a week, 14-21 days is normal for carrot seed germination. (source) This is a major reason I caution against them in my post on the 7 easiest vegetables to grow for beginners.
Carrots have tiny seeds. It's common practice to over-plant carrots, see how many sprout, then thin out any extra seedlings so the rest of the carrots have adequate space to develop.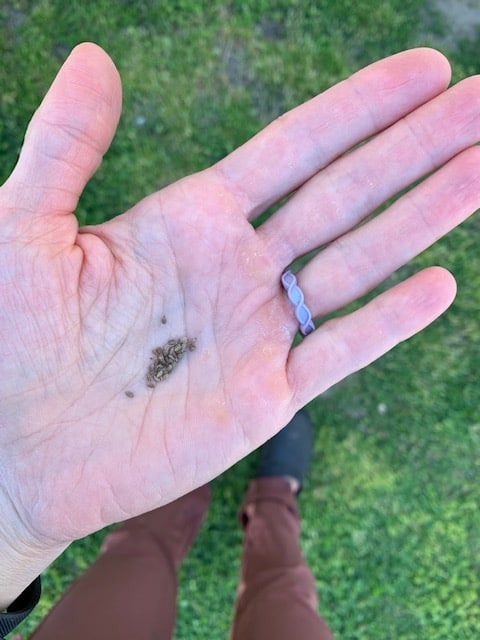 This means you need to keep a careful eye on your carrots after planting. Use a watering wand to keep the soil moist until the seeds have sprouted and your seedlings are about an inch high. A watering wand's more gentle stream helps keep you from blasting the tiny seeds out of the soil or disturbing their roots.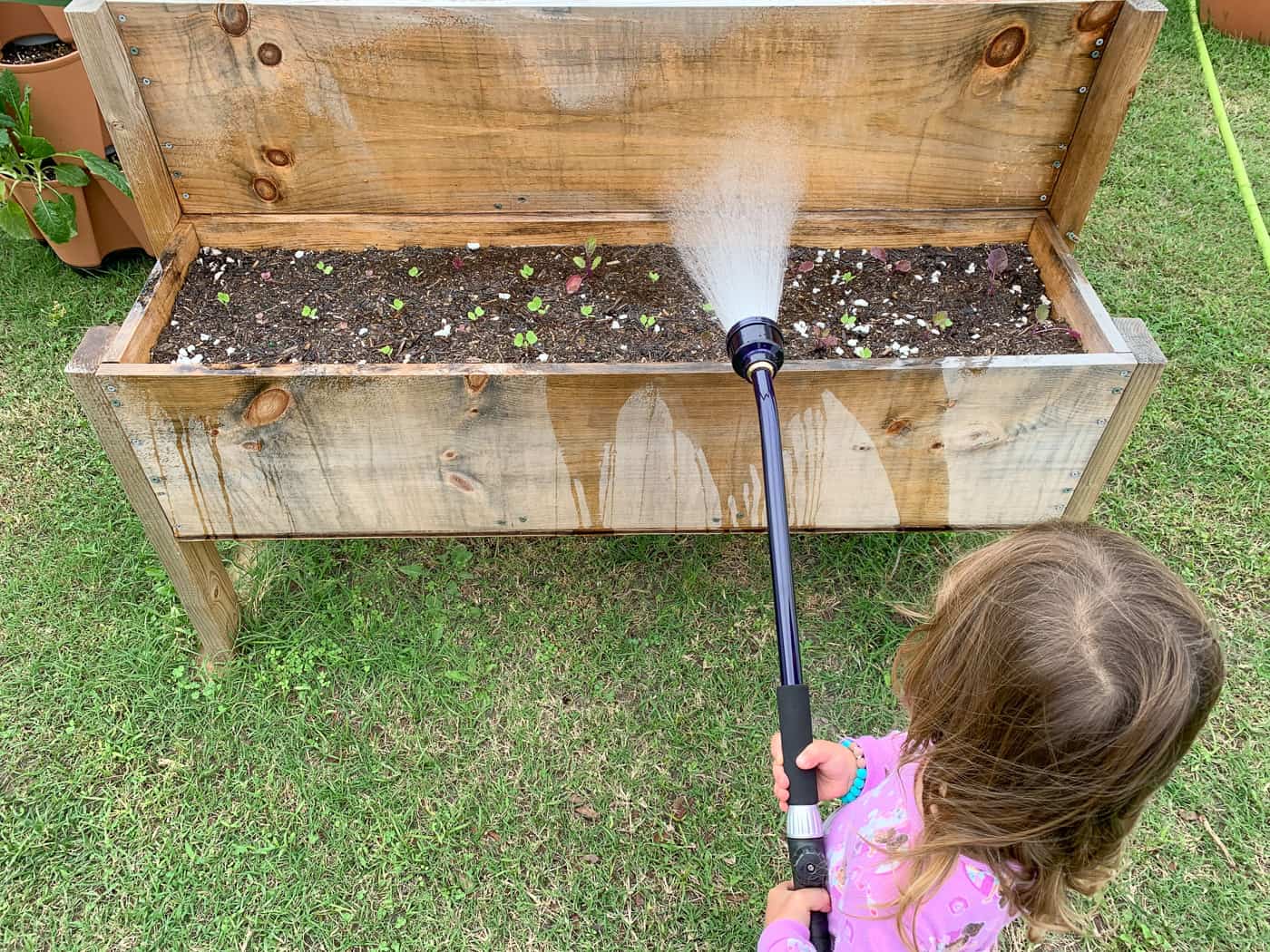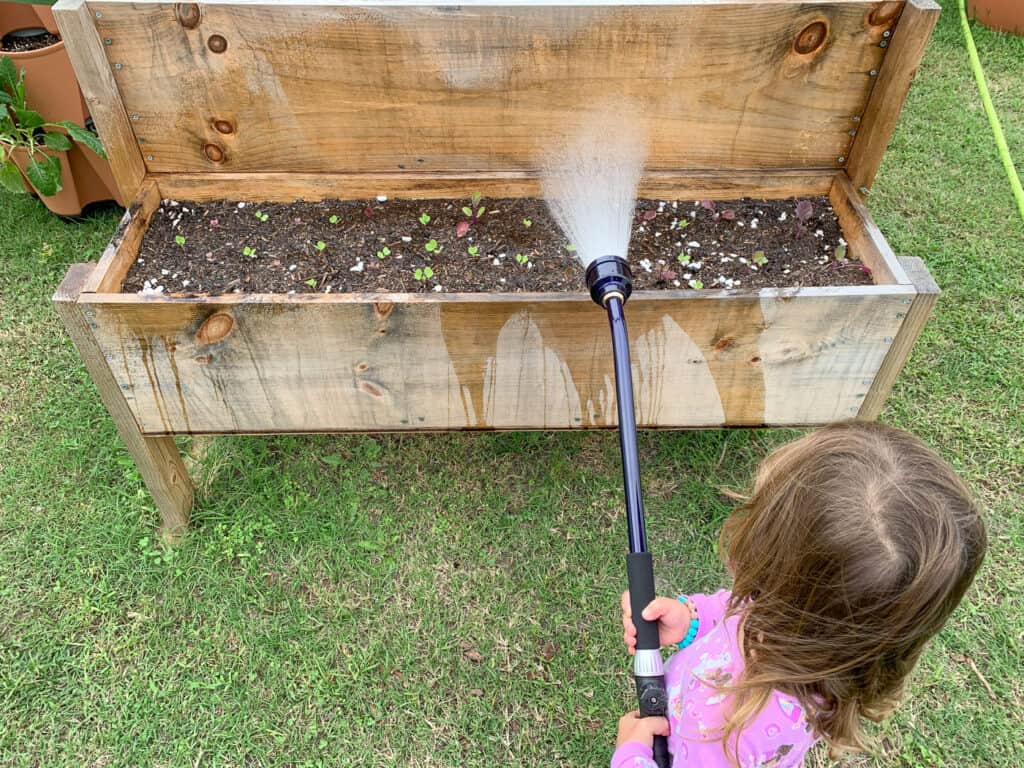 Identifying carrot sprouts
A seed's first leaves are called cotyledons. These embryonic leaves, commonly called seed leaves, usually don't look like the mature plant leaves.
Mature carrot leaves look kind of like a lacy cilantro, celery, or parsley leaf. They are all part of the Apiaceae family, also called the Umbel family.
When your carrot seeds first sprout, the carrot sprouts will look like thin blades of grass. A pair of narrow, blade-like seed leaves will emerge. At first, the tips of the leaves may still be held together by the seed coat. This seed coat will fall away soon and the cotyledons will open up.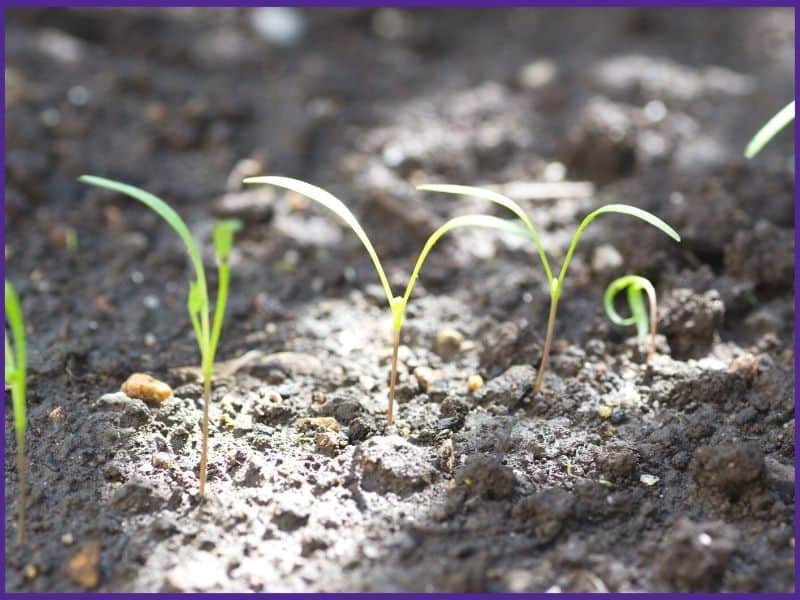 Although carrot leaves do look a bit like grass, they grow differently. Grass is what's known as a monocot, which means it only has one seed leaf. Carrots are a dicot, which means they have two seed leaves. This article from the USDA has a great overview of the differences between monocots and dicots.
Carrot leaves grow as a pair across from one another on a single stalk. This is different from the way grass grows: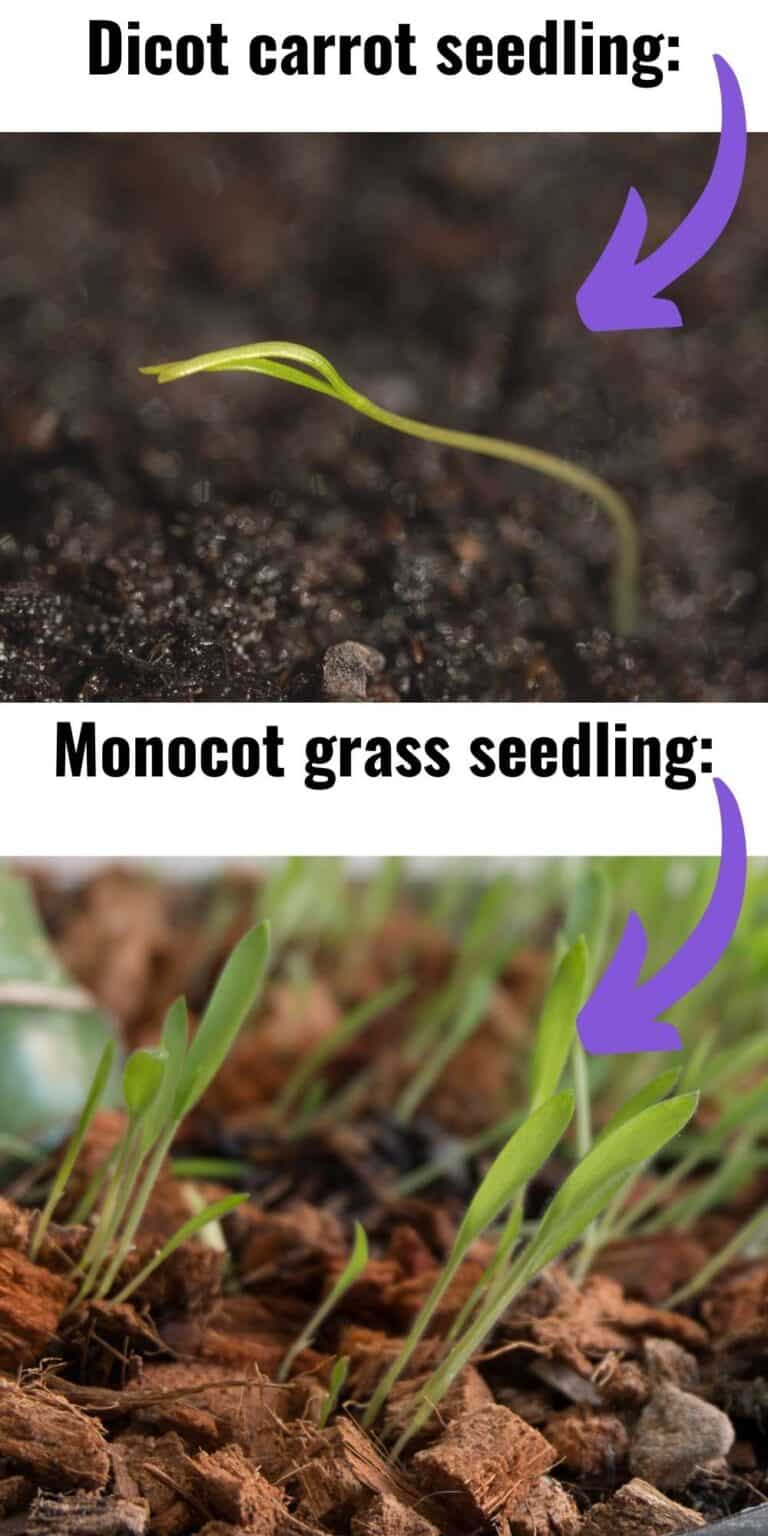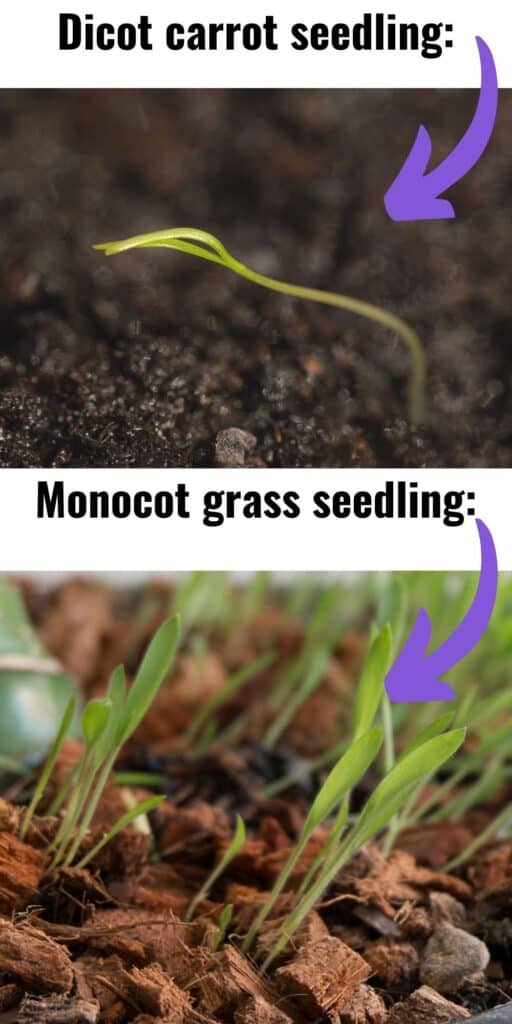 Smelling carrot sprouts
If you've squinted at your sprouts until you can't see straight and you're still not sure if you're seeing a carrot, smell them. Carrot seedlings actually smell like carrots. Brushing the seedlings lightly with your hand can help stir up the scent.
Mature carrot leaves
Once you become familiar with your carrots' seed leaves, you'll be able to easy tell them apart from any interloping grass. If you don't feel confident, wait a few more days until the carrot's first set of "true" leaves emerge.
Carrot leaves look similar to parsley, celery, and cilantro. If you've ever seen one of these popular plants, you'll recognize the relationship as soon as your carrots sprout real leaves.
The carrot seedling in the photo below has a couple pairs of true leaves. Te leaves will become even larger as the plant grows, but the first few baby true leaves will look very thin and lacy.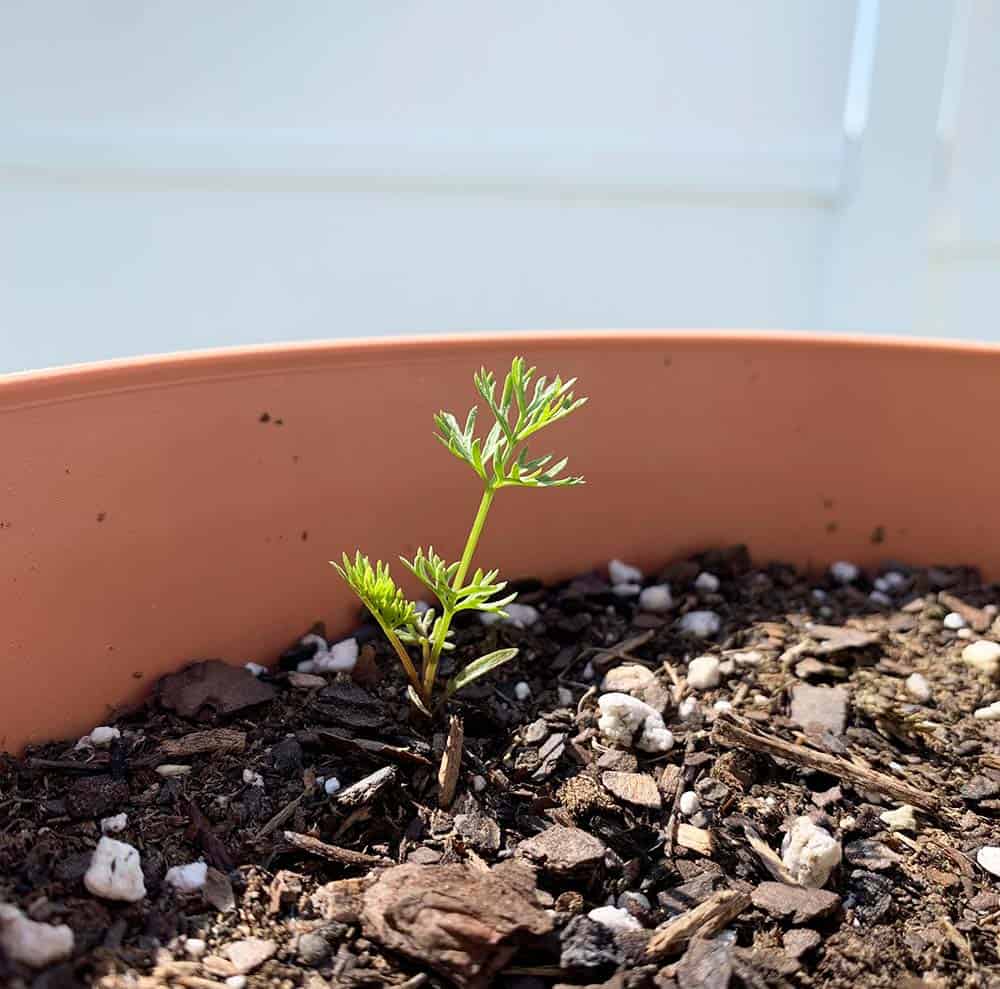 Once your carrots have true leaves, it's time to get out your sharp, clean garden snips and start thinning. Carrots must be adequately thinned in order to develop their delicious roots.
Carrot spacing varies depending on the variety and the stage of growth. In general, thin young carrot seedlings so they're 1/2″ apart. Snip the extra seedlings off with small garden snips (I use Fiskar's Micro-Tips, as shown in the photo below) to avoid damaging roots from the plants you are keeping.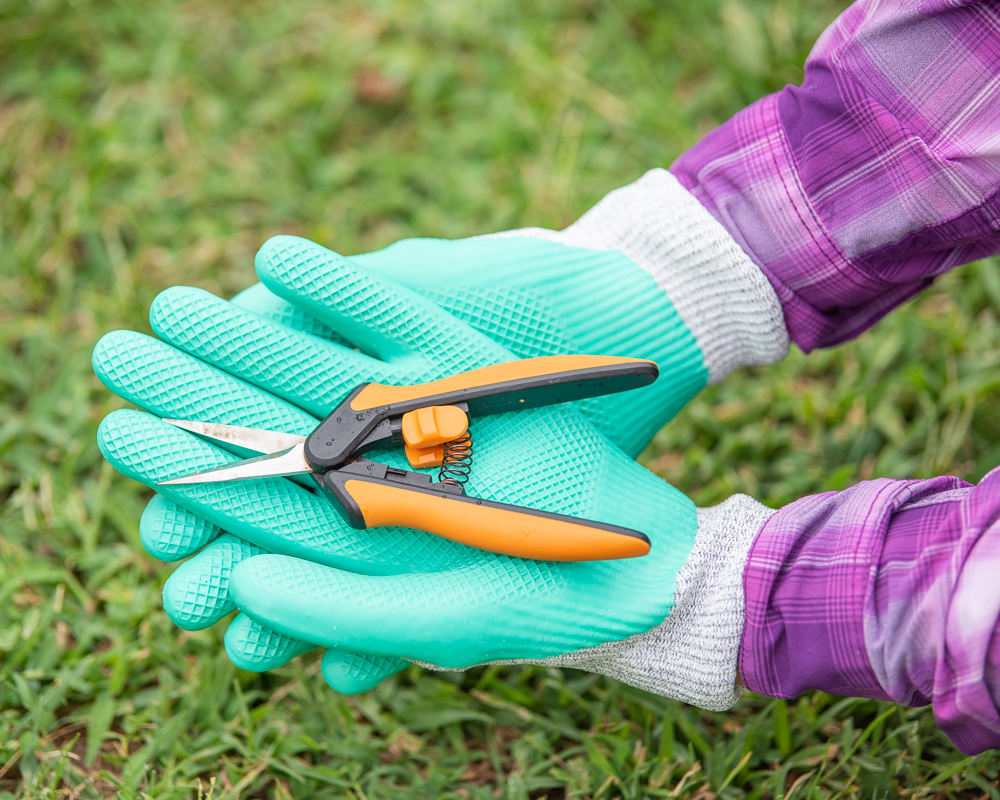 Sale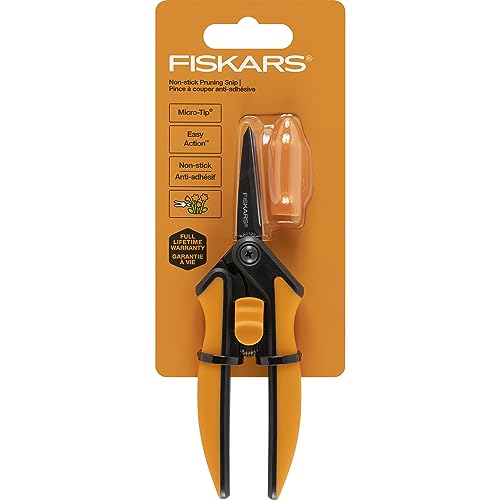 Fiskars Micro-Tip Pruning Snips - 6" Garden Shears with Sharp...
GARDENING ESSENTIAL: Stainless steel blade plant shears ideal for a variety of pruning tasks like cutting flower stems, maintaining your herb garden,...
POWER AND PRECISION: Micro-Tip blades cut all the way to the tip for clean, healthy cuts on plants in tight spaces; Low-friction blade coating makes...
LONG-LASTING AND RELIABLE: Stainless steel blades stay sharp through heavy use and provide excellent durability for lasting value; Fiskars pruning...
As the carrots grow and need more space, then your carrots again so they have at least 1″ of space between plants. Shorter, wider varieties need more space space to develop properly. For example, Parisian Oxheart carrots do well with up to 3″ of spacing. (These shorter, wider carrots are great for container planting.)
When thinning carrots to their final spacing, carefully pull them out of the soil. They'll probably be big enough to eat.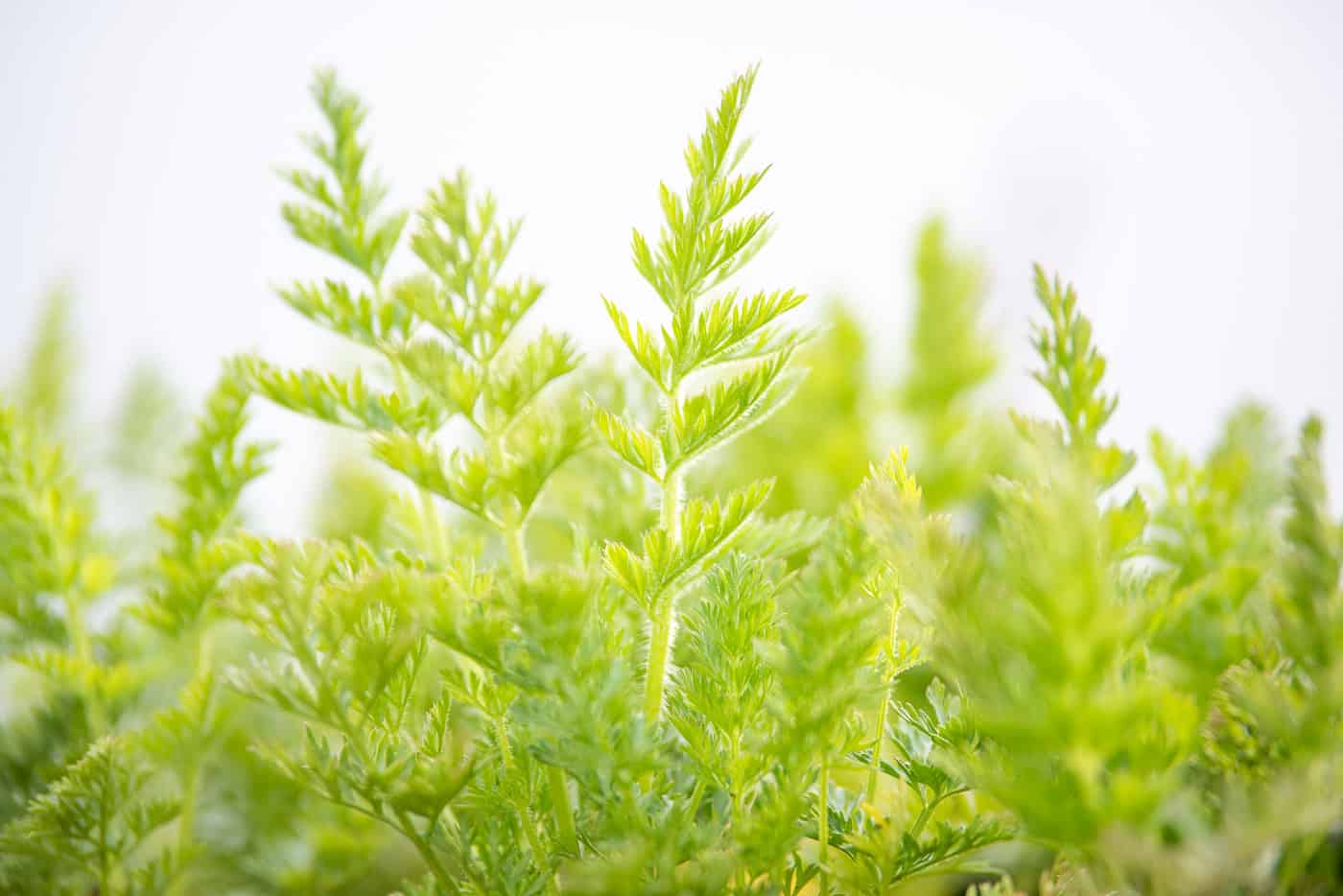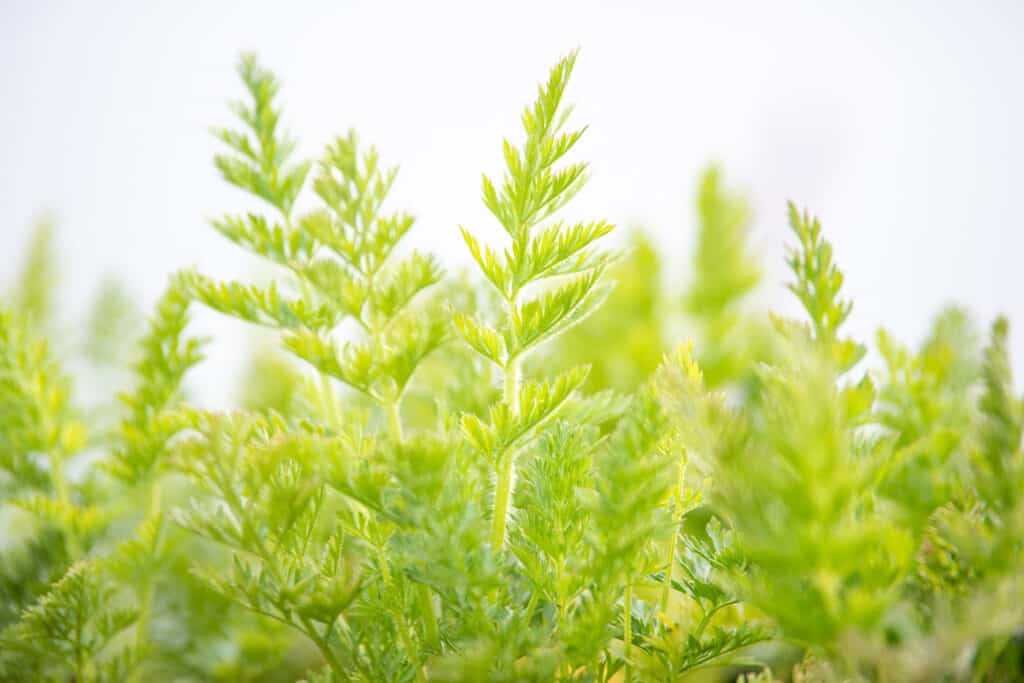 Because carrots need loose soil that's free of rocks and sticks, they're a great candidate for container gardening. My favorite "container" for growing carrots is a Greenstalk Grower planter. The original design has 11″ of growing room, which is more than enough for almost any carrot. (They now also have a shorter pocket that's great for growing shallow-rooted plants like lettuces.)
The Greekstalk is a fantastic option for vertical gardening and it's made in Tennessee by a family-owned company with fantastic customer service. My mom saw mine and ordered two for her own garden!
The carrots shown below are not sprouts or seedlings – they were ready to harvest (and enjoyed for supper just a few hours after this photo was taken).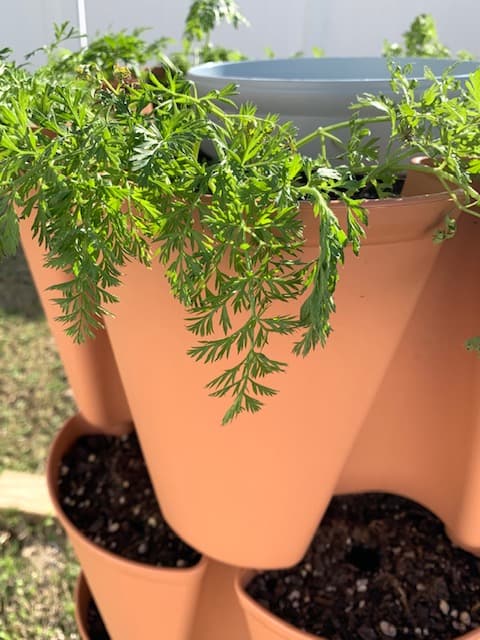 I hope you find this guide to carrot sprouts and how to tell carrot sprouts apart from grass helpful. For a complete growing guide, be sure to see this post on how to grow carrots. Happy gardening!
Popular summer vegetables and herbs
Discover how to grow popular vegetables and herbs in your backyard garden or container garden with these in-depth vegetable growing guides.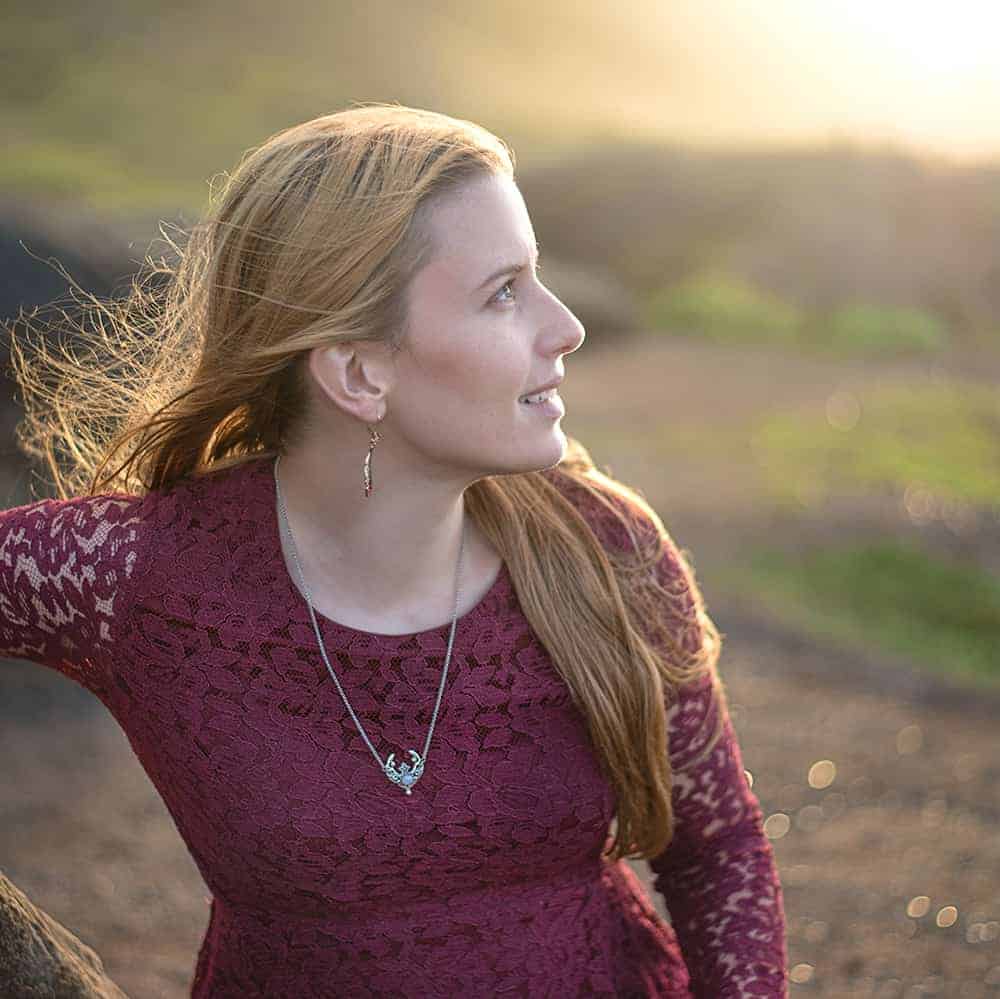 Natasha Garcia-Lopez is an avoid home-gardener and proud owner of 88 acres of land in rural West Virginia. She was a member of the Association for Living History Farms and Agricultural Museums for many years and is currently enrolled in the Oregon State University Master Gardner Short Course program so she can better assist you with your gardening questions.She holds a certificate in natural skincare from the School of Natural Skincare.