A grass whip is a golf club styled cutter that you swing back and forth to cut down the tough grass, weeds, or brush. It's a manual alternative to gas weed eaters and lawn mowers. Plus, you can practice your golf swing with a grass whip.
Because grass whips is a manual, handheld tool, there's no mixing fuels or worrying about charging up batteries.They can be surprisingly effective, especially when you keep yours sharp. Even with dull blades, they are still an affordable, effective way to cut down weeds and trim up small yards.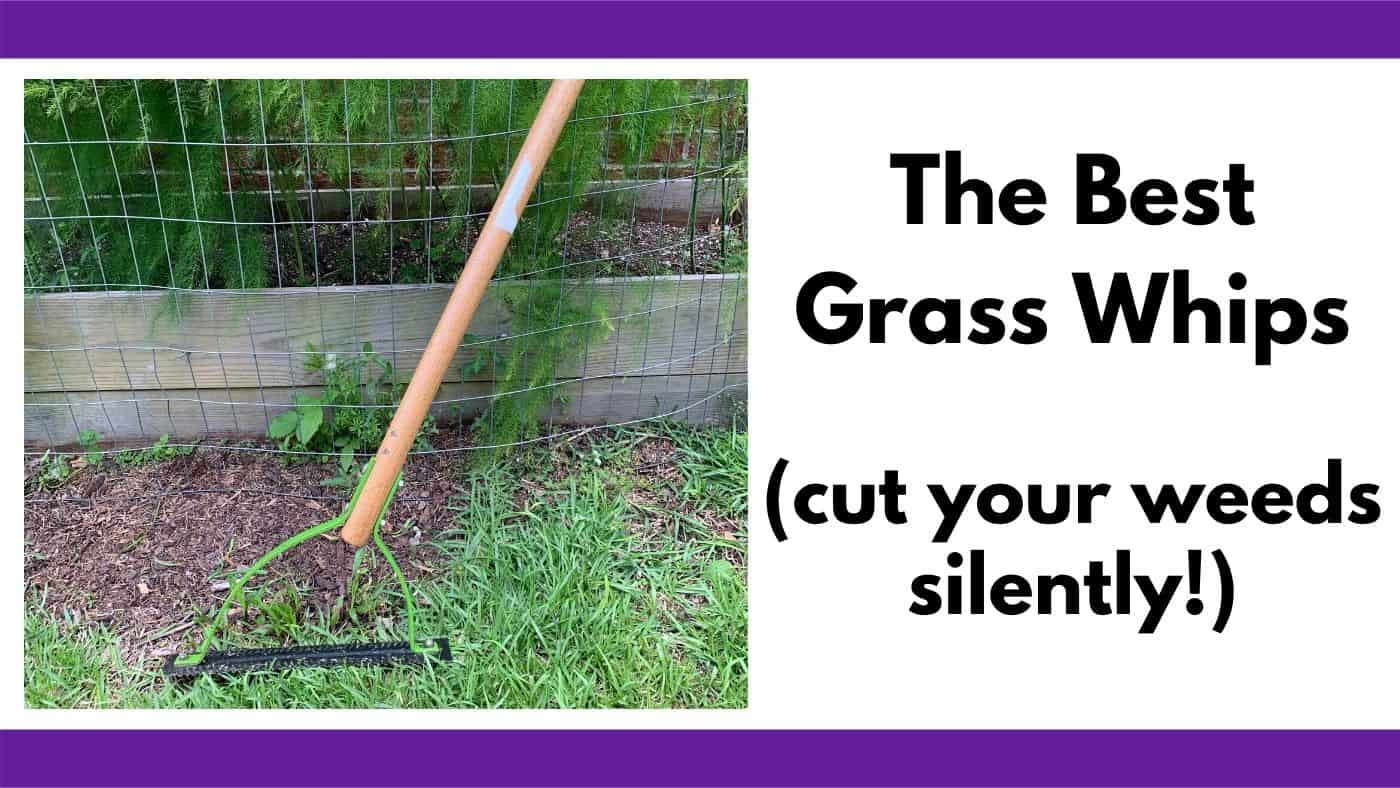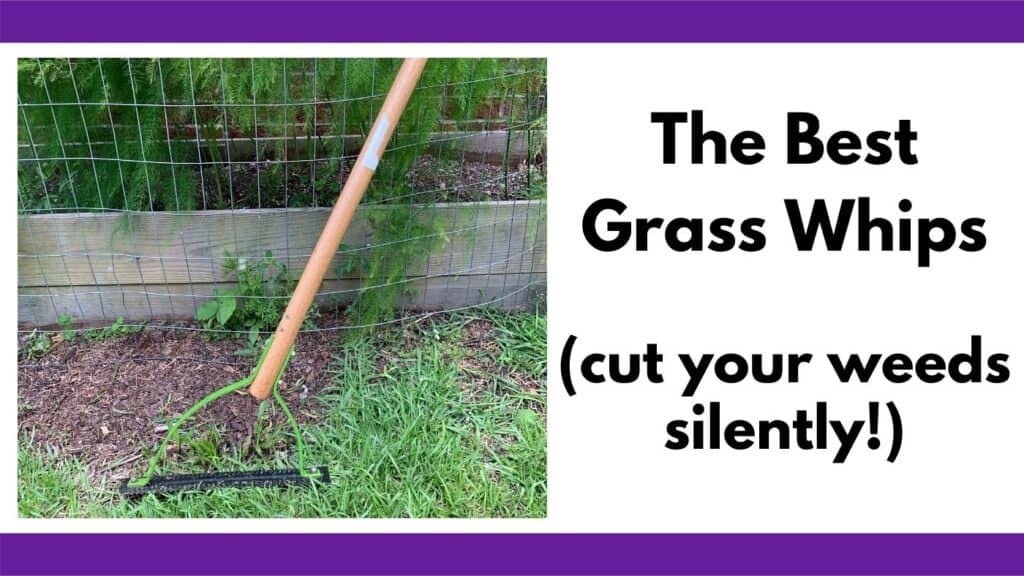 Of course, grass whips are not the only style of manual grass cutting tools around. There are plenty around such as scythes, sickles, and other not so well known tools. In this post we will stick with tools closely related to grass whips.
This guide breaks down the various types of grass whips so you can make an informed, confident decision and select the best grass whip for your needs.
This post includes affiliate links, which means I may earn a commission on purchases made at no additional cost to you.
What is a grass whip?
A grass whip, also called a sling blade, looks sort of like a comb on a long stick. They can have a single blade or double-edged blades attached to a handle. The handle can be at one end, like a scythe, or the blade could be attached in the middle.
Most versions of this simple garden tool have a wooden handle. Wooden handle tools are great because it's typically easy to replace wood handles instead of buying new products.
The Ames grass whip, one of the most commonly available brands, has the handle attached at an angle to make skimming the ground with the blade easier: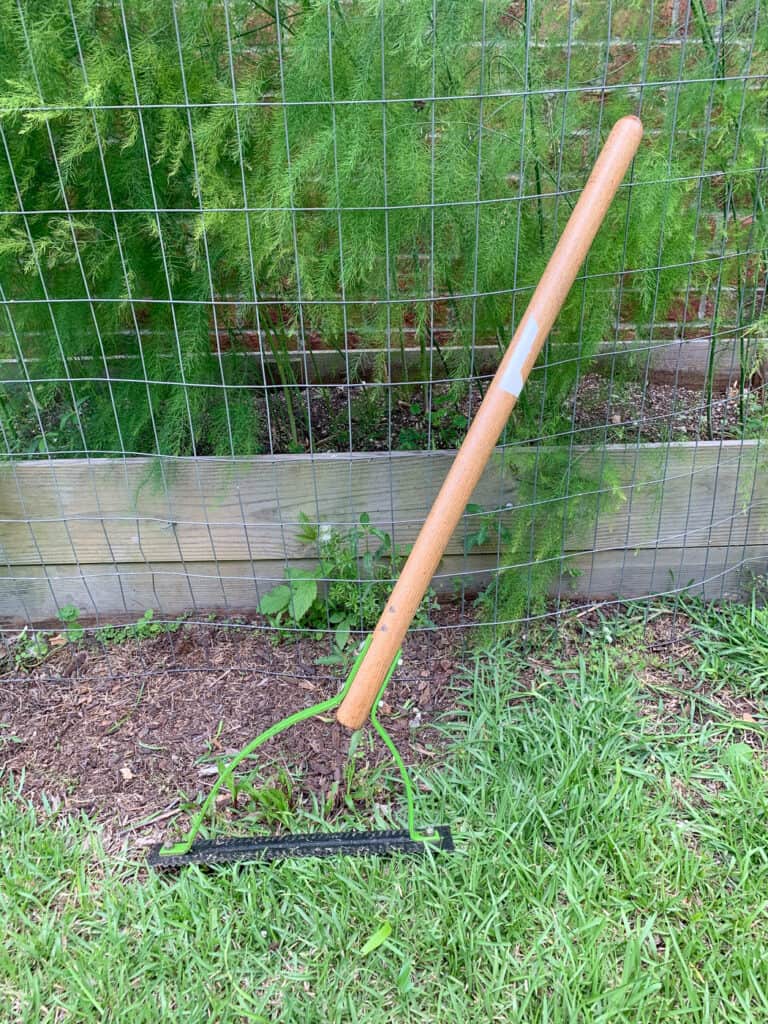 Grass whips are perfect for clearing weeds from trails and paths so you don't have to resort to manual pulling. They're also pretty much silent (except for the noise of grass being cut), which means you can do yard work without terrifying your kids and dog.
Yet another bonus: they cost a lot less than most weed eaters. (Not sure if you want a weed eater, instead? Check out this post for the best electric weed eaters.)
I recommend wearing gloves to protect your hands if you're clearing weeds for more than a few minutes. The smooth wood handle can become sweaty and make your hands raw, or even raise blisters, after extended use if you're not accustomed to working with your grass whip.
Can you sharpen a grass whip?
Sharpening your garden tools helps them last a long time. You should even sharpen your hoes and shovels for best performance! For ease of use, sharpen your grass whip periodically. If you notice trouble cutting through tall weeds or grass, it's probably time to sharpen.
Grass whips work surprisingly well, especially if you sharpen them. Check out this quick clip showing how quick and effective the grass whip can be at clearing weeds:
You can sharpen your grass whip with a Dremel tool or file. No matter how you sharpen it, you'll probably want to remove the head from the handle for sharpening. This video shows you how to sharpen the blade with a triangular file. I've marked it to the place where he actually starts filing.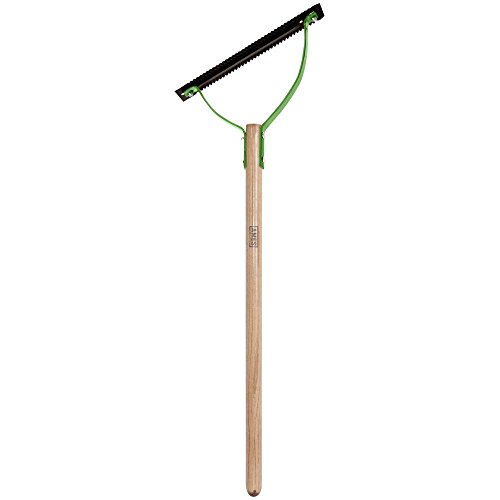 In a rush? Here are our top picks!
Easy to Use
AMES 2915300 Double Blade Weed Grass Cutter with Hardwood Handle, 30 Inch
Simple Design
True Temper 2942600 Grass Whip with Double-Edged Serrated Steel Blade with...
Great for Clearing Concrete Growth
Nisaku NJP2520 Long Sidewalk and Garden Weeder-and-Sweeper, Authentic...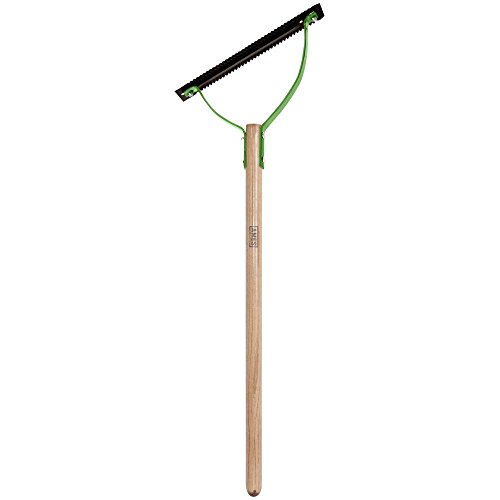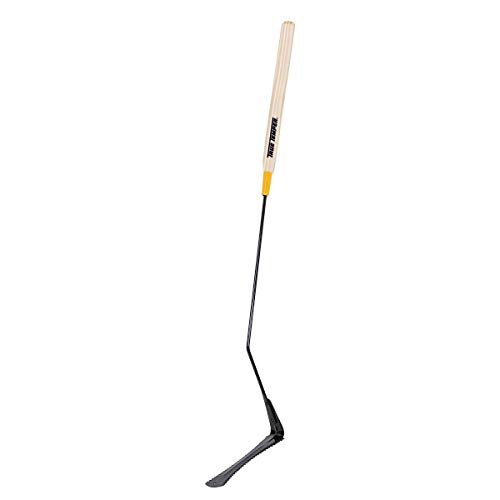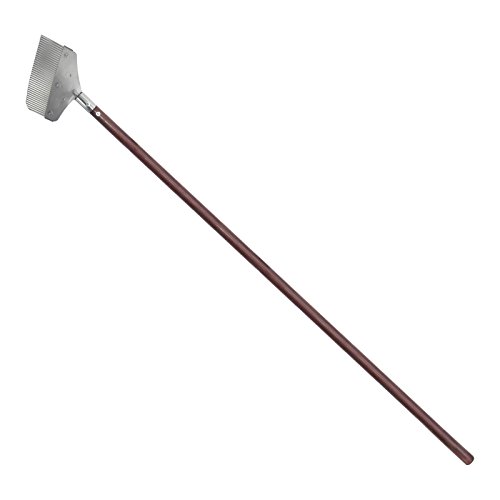 Easy to Use
AMES 2915300 Double Blade Weed Grass Cutter with Hardwood Handle, 30 Inch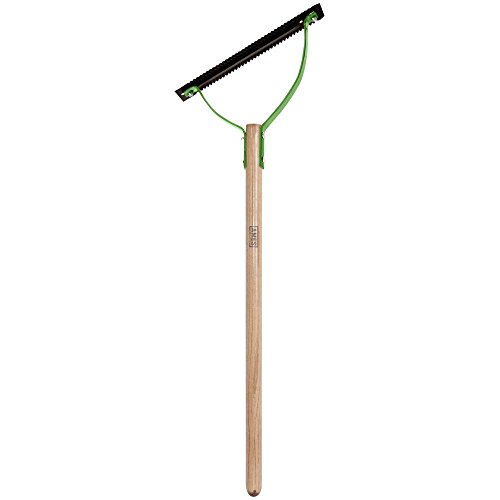 Simple Design
True Temper 2942600 Grass Whip with Double-Edged Serrated Steel Blade with...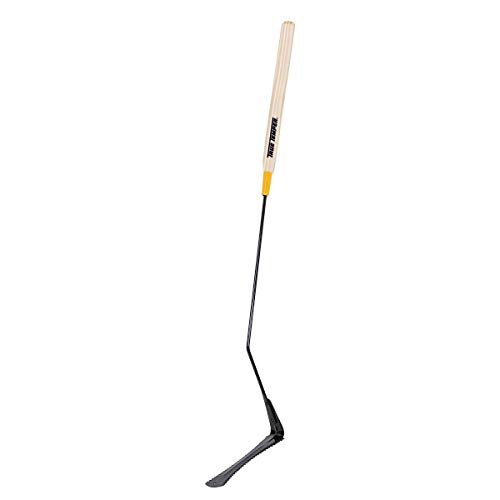 Great for Clearing Concrete Growth
Nisaku NJP2520 Long Sidewalk and Garden Weeder-and-Sweeper, Authentic...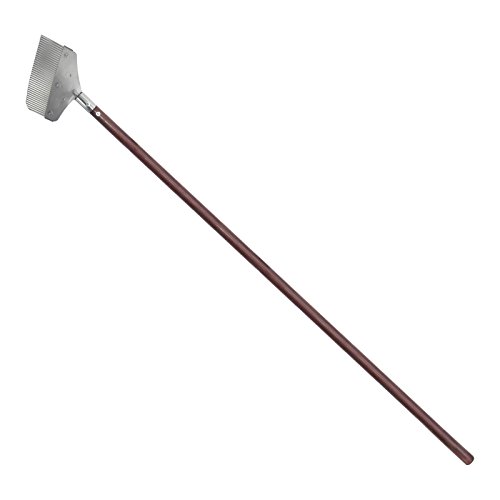 ---
If you've ever tried browsing for garden supplies, you may have been struck by analysis paralysis.
Picking the best tools can be exhausting, so we're here to help. Here are the best grass whips on the market today.
The AMES Double Blade Weed Grass Cutter with Hardwood Handle is a simple grass whip. Despite its simplicity, the tool is very effective and fun.
It is very good at removing weeds. The cutting head has serrated ridges which grip weeds and remove them without destroying your grass. If you also want to remove the grass, just swing harder to also cut the grass.
Here's a closer look at the blade of the Ames grass whip:
You are obviously not going to mow a whole field with this simple tool. It is very useful for clearing paths and weeding your yard. It can handle high grass and overgrown weeds without the noise, expense, and hassle of a gas trimmer. The grass whip's long handle is easy to hold and is super light so you can take it on a hike to clear the way for others going after you.
This grass whip is virtually silent to operate so you can get yard work done without wearing sweaty ear protection.
The True Temper Grass Whip is a traditional styled grass whip. The bent neck on the shaft is easy to cut the grass level. The blade is also serrated meaning it will start by cutting whatever it can grip on to first, like weeds. The harder you swing, the finer the material it will catch and cut, such as grass.
This Amazon customer loves his grass whip: "Oh yeah, the True Temper Deluxe Weed Whacker. I love this thing. There are times when bringing along a gas powered trimmer is too much effort. I find the weed whacker has no problem on ferns and generic weeds. Huckleberry … can be a show stopper, depending upon how thick it's gotten." Read the full review here.
Sale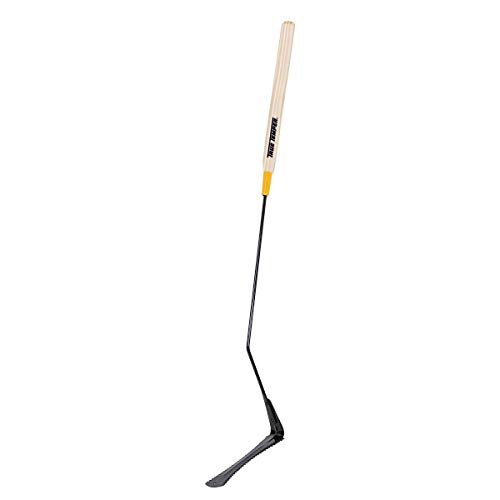 True Temper 2942600 Grass Whip with Double-Edged Serrated Steel Blade with...
SERRATED GRASS WHIP: Serrated steel blade edges cut tall grass and overgrown weeds in wide areas like ditches, forests and fields
EFFICIENT GRASS REMOVAL TOOL: Double-edge blade serration increases efficiency by cutting tall growth with each swing
HARDWOOD HANDLE: 38-Inch hardwood handle for wide reach with each swing
The Truper Tru Tough Grass Hook is not quite a grass whip but it is closely related because of the motion and similar design. One major difference is the blade style. This grass hook is a straight blade meaning it is actually meant for cutting and not tearing like with a serrated blade.
It is still great for clearing weeds and over grown areas of paths and trails. The lightweight design allows you to take it into the woods without too much trouble. You can even trim down the median if your local government doesn't do so like this customer did: "I had to get a tool to cut the grass blocking my view and this one did the job I needed done." Check out the full review here.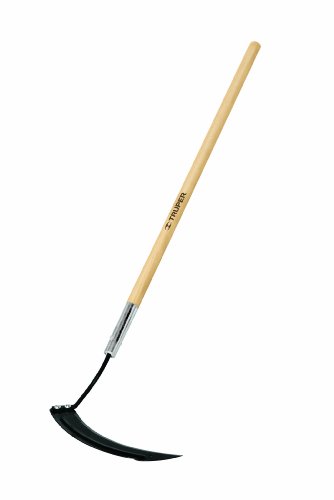 Nisaku Garden Weeders are not quite grass whips but they are included here because of a similar function. With these weeders, you use a serrated blade to remove weeds by combing them out of the ground.
Weeds that grow between the cracks in your driveways can be a real pain to remove. These tools make removing these annoying driveway weeds much easier. You'll also avoid the nuisance of using a weed eater and ruining the trimmer line because the concrete eats up trimmer line so quickly.
Because of how the blade is constructed, you can cut weeds off and cut out moss growing between your driveway cracks and patio bricks. I don't know of anything more effective for getting rid of driveway moss. Please stop pouring bleach and vinegar on your moss to kill it – just use a Nisaku weeder, instead!
Conveniently, the hand tool model has replacement blades available so you don't have to spend your time sharpening.
There are plenty of happy customers who bought this weeder. Here is the review of one which caught our attention: "I got this and it works. Not only did I get the weeds but the blade cleaned the earth out of the grooves of the cement so they should not come back. It also edged. I showed my husband how it worked and he used it. We cleared hours of work in under 30 minutes. I LOVE it." Check out the full review here.
Why you need a grass whip
Grass whips are great exercise
Often, golfers will recommend getting a grass whip to practice their golf swing. Consistent strokes are the key to a good game and a great lawn. (No joke – this popular YouTube golf trainer has a video all about using a grass whip as a golf training aid!)
They are quiet and family friendly
My daughter is absolutely terrified of our weed eater. If you have children or pets, a grass whip is a great choice. They don't make noise like gas powered tools do and you can stop at any moment and tend to your kids.
Easy to take with you, highly portable
Grass whips are obviously portable, this means you are not limited by cord length or weight. Just pick it up and carry the grass whip with you into the forest to clear some trails. Since most of these weigh about 2 pounds, it won't break you back to take it with you.
Grass whips are easy to maintain
Even the best weed whackers need maintenance. Gas power tools have a spark plug that can go bad, fuel filters, and fuel that needs mixing. Battery-powered trimmers frequently can't handle trough weeds and they need expensive batteries or long extension cords.
There are no oil changes and no gas refills with sling blades. The most you'll need to do is wipe it down after use and sharpen it.
Grass whips are an easy, fun, and virtuous way of keeping your yard grass down. Be sure to choose one which suits your needs. Remember to keep good care of your tools by cleaning and storing in a dry place after using.
If you want to have a better yard and garden with less work this year, be sure to check out our additional yard and garden tool reviews:
Yard Tool Reviews
Are you sick of your old, broken down lawn tools from a yard sale 10 years ago? Discover these yard tool reviews so you can save time and backaches on yard work day with a new, modern tool.
Angel is a Cuban immigrant who grew up with backyard chickens and a yard-loving abuela. He is our "gear guy" who can never have too many pairs of gloves or weed whacker attachments.