Sage has the distinction of being a culinary herb, a medicinal herb, and an ornamental plant. Its botanical name Salvia comes from the Latin word salvare, which means "to heal" or "to save", a tribute to its health-boosting properties.
Frequently used in meat dishes and stuffing, sage actually helps your body break down fats for better digestion, making it both flavorful and beneficial. It's also an easy and rewarding herb to grow, attracting beneficial insects and giving you lots of fresh leaves to harvest.
Here's what you need to know about how to plant and grow sage, plus care tips and a harvesting guide.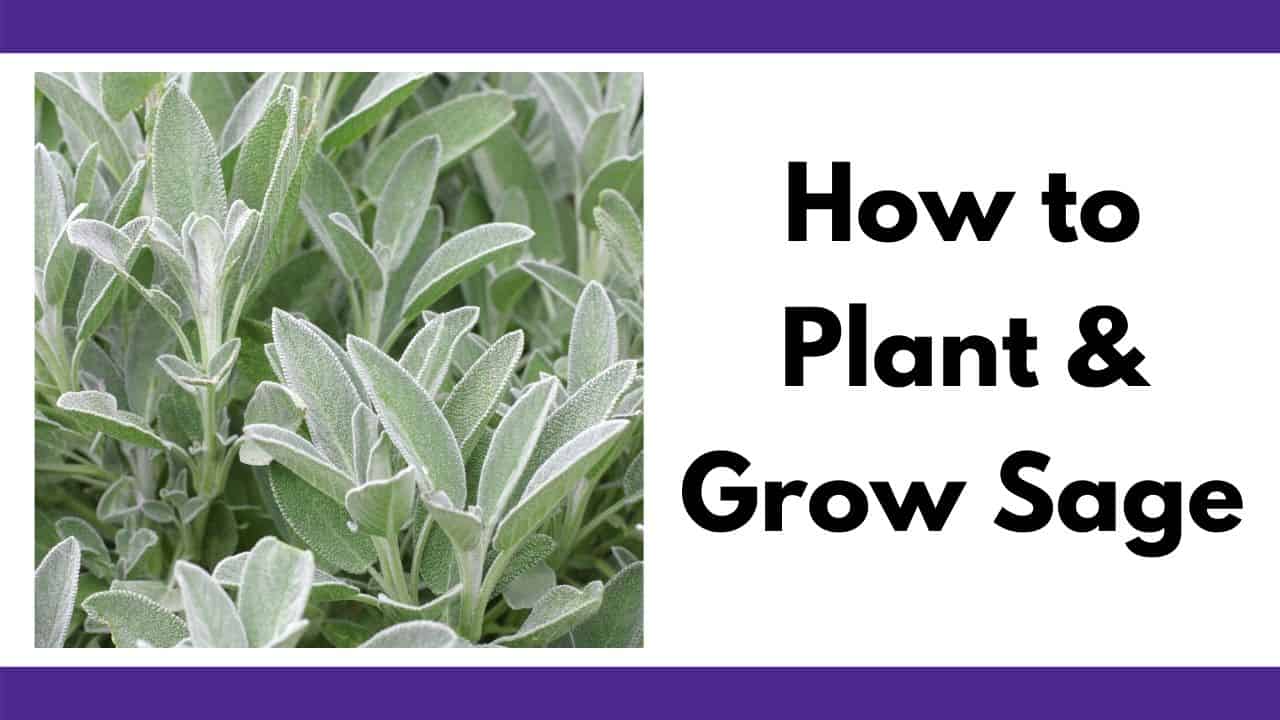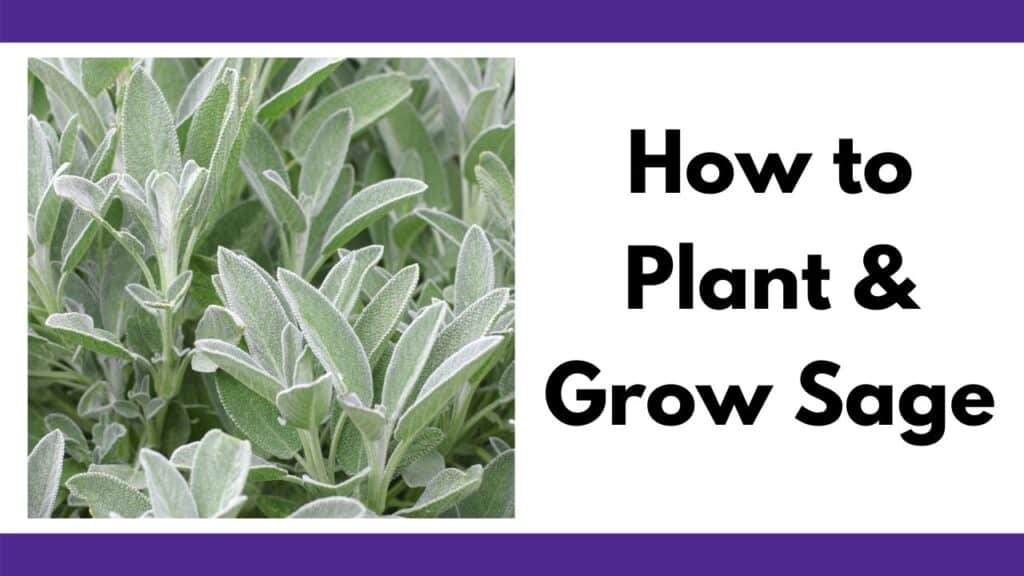 This post includes affiliate links. If you make a purchase using one of these links, Together Time Family will receive a commission at no additional cost to you.
All About the Kitchen Herb Sage
Although there are hundreds of types of ornamental and edible sage, culinary or garden sage (Salvia officinalis) is still the most popular to grow as a kitchen herb.
Sage hails from the Mediterranean and grows best in sunny, dry conditions. It's typically hardy to USDA zones 5-10, although gardeners in zone 4 can get it through the winter with a little help. Zone 9-10 gardeners may have more trouble with mildew and fungus due to high humidity.
As a perennial, sage will return to your garden each year, but it tends to be short lived. Plants get very woody and become unproductive after three or four years.
The leaves of common sage are grey-green and have a soft, almost wooly, feel. They are evergreen or semi-evergreen, depending on the climate, and packed full of antioxidants and strong essential oils. Sage leaves and seeds have been used in traditional medicine, as well as in staple foods (source).
Though grown for their leaves more than their flowers, sage plants attract pollinators and other beneficial insects when they bloom. Most sage flowers are a lovely bluish-purple. Their silvery foliage and colorful flowers make sage a lovely addition to flower beds and ornamental gardens, not just culinary gardens.
If you're interested in growing your own culinary herb garden, The Cook's Herb Garden is a fantastic resource. Many herb books focus on herbalism – it can be challenging to find an in-depth herb gardening book focused on culinary herbs and their uses.
Sale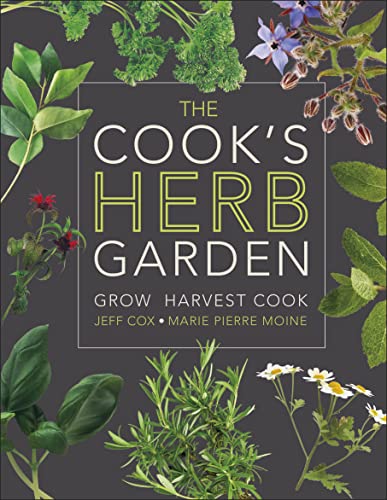 Sage Varieties to Grow
If you want the classic sage flavor, plant a traditional variety of common sage. 'Holt's Mammoth' is an especially vigorous and productive cultivar for a large harvest.
Sage Plants & Seeds
There are many lovely sage varieties with various colors of leaves and flowers, different sizes, and slightly different habitat preferences. Sage is so beautiful and beneficial for pollinators that you may have a difficult time picking just one variety to grow in your garden! Here are a few of the most interesting and beautiful varieties.
If you want to branch out, try one of these more difficult to find varities:
'Tricolor'– Green-grey leaves are marbled with purple, pink, and white.
'Icterina' or 'Aurea'– Both are varieties of golden sage with yellow-green leaves. Only hardy in zones 6-9.
'Purpurascens'– A variety with purple leaves that mature to silvery-green.
Pineapple Sage (S. elegans)– Showy red flowers and pineapple-scented leaves. Annual.
Fruity Sage (S. dorisiana)– Unique variety with scented leaves reminiscent of peaches, pineapple, nectarines, and melons.
Growing Sage from Seed
If you want to try a colored or novelty type of sage, it's best to buy seedlings to plant, if you can find them. However, common culinary sage can easily be started from seed, though it does take a little patience. Seed supplier West Coast Seeds describes sage as "easy but slow," which sums it up pretty well.
Here's how to plant and grow sage from seed.
Indoor & Outdoor Sowing
To give your plants a good head start, sow them indoors 6-8 weeks before your last average frost in the spring. Use seed trays filled with a good quality seed starting mix. Seed starting mix is typically a soil-less growing medium that has been sterilized to reduce the likelihood of diseases like damping off.
Sow one seed in each cell about ⅛" deep, covering with just a light layer of soil. Water your seeded trays and place them somewhere warm, around 65-70°F. Keep the soil just damp, but not soaking wet, while the seeds germinate.
You don't need this many sage seedlings for your own personal use, but it's a good illustration of sage seedlings in a seedling flat: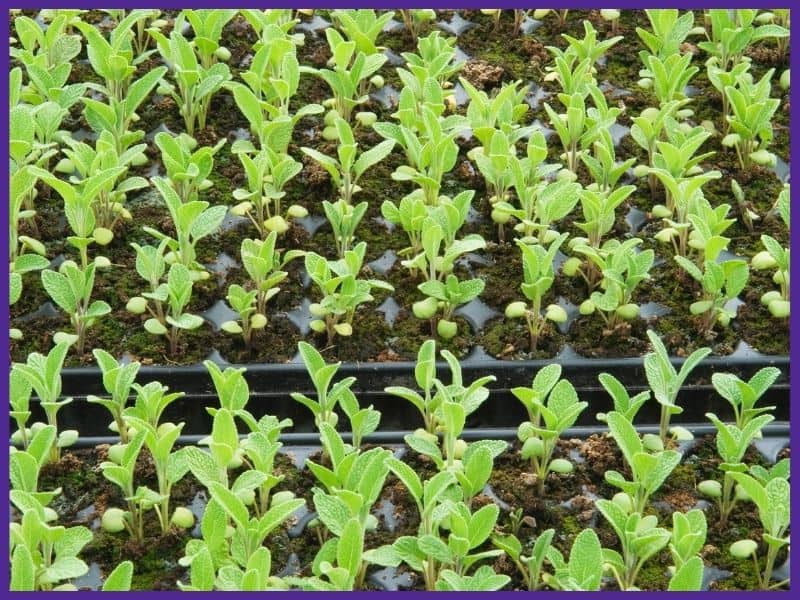 Sage seeds usually take 2-3 weeks to germinate. Once they do, give your seedlings plenty of light as they grow, and water just before the soil dries out. Harden off plants 1-2 weeks before transplanting to your garden.
Make sure to follow a hardening off process to acclimatize your sage seedlings to their new lives outdoors. Not sure what that means (or why you should bother)? Discover how to prepare seedlings for transplanting.
You can also start seeds directly in the garden after the danger of frost has passed.
Prepare your garden bed by weeding, clearing out debris, and raking the surface smooth-ish. Sow your seeds ⅛" deep and keep the area damp as they germinate. Once seedlings are 3-4" tall, thin them to a spacing of 18-24".
I'm not longer obsessed with raking everything perfectly flat after reading The Resilient Gardener. The author, Carol Deppe, notes that imperfectly raked soil holds water better. Although established sage is drought tolerant, it does need moisture to germinate and as a seedling. Why not save yourself time raking and watering by doing a "good enough" job of leveling your soil instead of a perfect one?
How to Plant and Grow Sage
Whether you bought sage seedlings or started your own indoors, planting them in the right spot is key. Here's what to do (and what not to do) at planting time.
When to Plant Sage
Seedlings are more susceptible to cold temperatures than established plants, so it's best to plant sage after the danger of frost has passed in the spring.
More ornamental varieties like golden sage and pineapple sage are even more sensitive to frost, so wait until the soil temperatures have warmed a bit to plant these types.
Where to Plant Sage
Sage needs lots of sun and well-drained soil to be at its best. Afternoon shade in zones 8 and up is usually okay, but otherwise make sure plants get full sun.
If you have clay soil, it's best to amend it before planting sage to improve drainage. You can also make use of raised beds or containers. Just remember that soggy soil is one of the few things likely to kill sage plants.
Mix some compost into your soil before planting for extra nutrients, but don't add any fertilizer beyond compost. Sage actually grows better in soil with low fertility.
Sage Planting Tips
Most varieties of sage grow 1-3' tall and wide, although there are some dwarf cultivars available if you only have a small planting space. This means you'll want to space most plants 18-24" apart to ensure they get good air circulation.
Sage makes a good companion plant for other Mediterranean herbs like thyme, oregano, and rosemary. It can also repel cabbage moths and the carrot rust fly, so plant it in or around your vegetable garden if you have one. Discover more about planting herbs together for a successful kitchen herb garden.
The one plant to keep sage away from is cucumber, which is sensitive to some of the aromatic chemicals sage gives off.
Once your seedlings are in the ground, be sure to water them if the weather is dry for the first few weeks while they get established.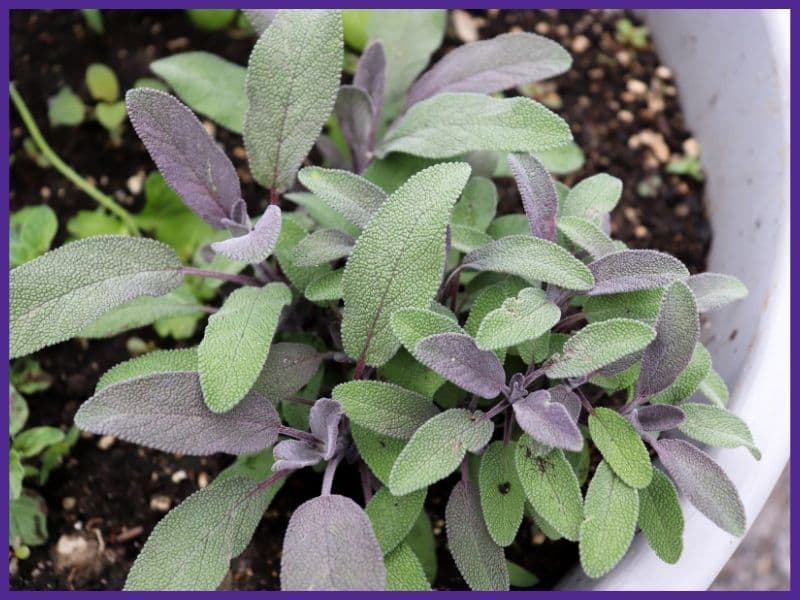 Caring for Sage Plants
Once planted and established, sage has few maintenance tasks. This herb prefers dry soil, so you won't need to water mature plants unless they are grown in containers.
Sage becomes more and more woody as it ages. Woody sections don't produce many leaves, so it's best to prune some of them off in early spring.
Do your pruning after the danger of frost has passed but before plants put out a lot of new growth. Cut off about a third of each plant, clipping off woody stems where they meet a main stem to keep plants clean and healthy.
You can do a second pruning in midsummer after the plants have flowered, although this won't be necessary if you've been harvesting frequently throughout the season.
A study pair of bypass pruners is best for pruning sage. Sage stems can be very tough and woody.
Sale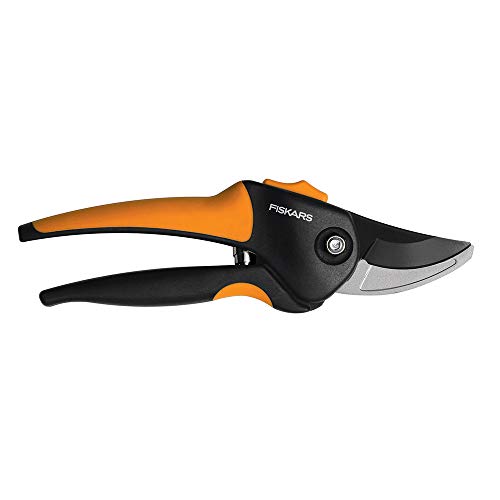 Fiskars SoftGrip Bypass Pruner 5/8" Tree and Branch Cutter - Bypass Pruning...
Bypass blade design is ideal for pruning green, living growth like ornamental shrubs and trees
Razor-sharp, precision-ground blade cuts with less resistance than thicker blades and stays sharp for lasting value
Low-friction coating resists rust, helps the blade glide through wood and prevents the pruner from gumming up with sap and debri
If you live in a borderline zone (mainly zones 4 or 5), give your plants some extra protection over the winter by mulching them with straw, leaves, etc.
Sage can grow quite large but typically needs replaced every 4 or 5 years because productivity starts dropping. You can take cuttings from 3 or 4 year-old plants to easily propagate new sage without buying more plants.
It's fairly easy to divide your sage plants and other perennial herbs like thyme. Dividing plants is a great way to get more plants for free and rejuvenate your older plants. You literally dig up your plant and pull it apart, like YouTuber Midwest Gardener shows in this video:
Common Pests and Problems
Sage repels most pests, although it can occasionally be bothered by insects like aphids, whiteflies, and spider mites.
The biggest problem you might run into is root rot or fungal diseases caused by poor airflow, high humidity, and wet soil conditions. You can prevent this by spacing plants properly and ensuring that the soil drains well.
Healthy sage is so effective at repelling pests that it's frequently used as a natural insect repellant. It's one of the best plants for repelling fleas, for example.
How to Harvest Sage
Now that you know how to plant and grow sage, the last major step is harvesting!
You can harvest from your plants during their first year of growth but only lightly. Mature plants can be harvested more heavily as long as you leave about ½ of the plant intact.
New leaves on green shoots will be more tender and flavorful than leaves on woody sections, so pick these first. You can harvest anytime during the season, but the leaves are at their peak right before the plants bloom.
Harvest by either pinching off individual leaves as needed or clipping off whole sprigs of sage. Let plants recover for a few days after a major harvest, and stop picking leaves in the fall so that your plants can store up energy for the winter.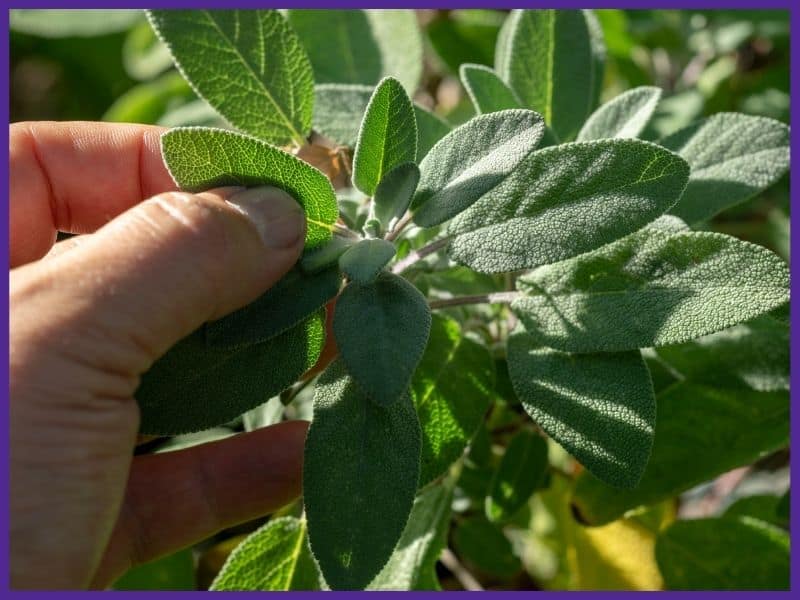 If you happen to live in a more mild climate where the leaves stay evergreen, you can harvest sage all year!
Preserving and Enjoying Your Sage
The most traditional way to store sage is to dry it. Bundles of the leaves can be hung up to dry, or you can lay out individual leaves on a wire rack. The herb should be crisp and crumbly in a few weeks.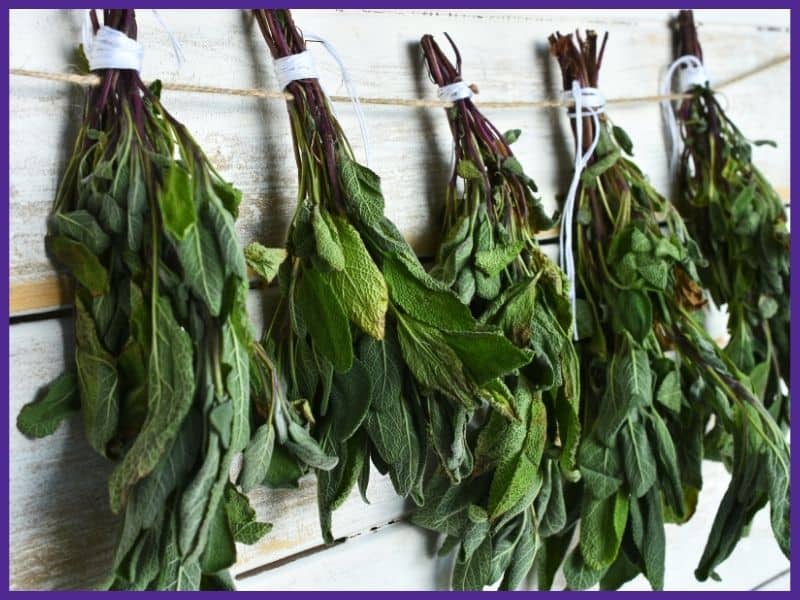 If you live somewhere humid (I do), use a dehydrator to dry your sage instead of hanging it. Hanging sage in a humid climate will lead to musty, mildewy leaves, not tasty ones. I own a basic Presto dehydrator that works fine for herbs on its lowest setting. My family has used an older model of the same dehydrator for about 20 years and it's still working!
Sale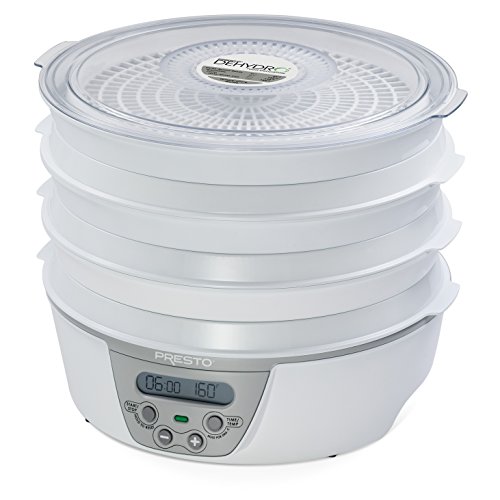 Presto 06301 Dehydro Digital Electric Food Dehydrator
Six-tray system for dehydrating foods at a fraction of the cost of commercially dried foods with no additives or preservatives.
Makes jerky from meat, poultry, and seafood includes sample packets of jerky spice and cure
Digital thermostat and timer for precise drying time and temperature choose drying temperatures from 90 to 165 degree f
Store dried sage in airtight glass containers. For the best flavor, keep the leaves whole and crumble right before you cook with them.
I store herbs in glass jars vacuum sealed with the jar sealer attachment for my Food Saver. Light can damage dry herbs – keep them somewhere dark and cool (if possible).
Sale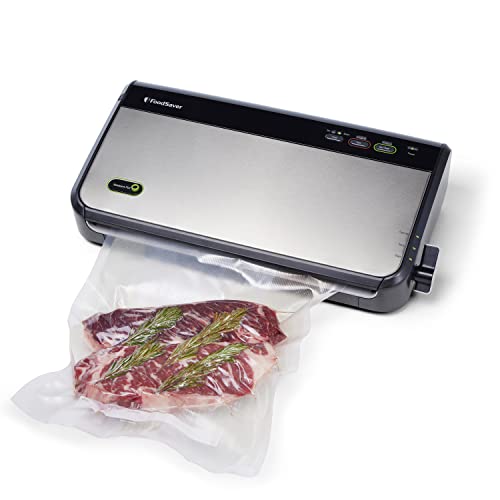 FoodSaver FM2435 Vacuum Sealer Machine with Bonus Handheld Vacuum Sealer...
Stretch your dollar: Meat preserved with the foodsaver system in the freezer can last upto 3 years and still taste fresh, flavorful, and freezer-burn...
Built-in roll storage & cutter: Create custom-sized bags without using scissors; Led light indicators then guide you through the vacuum sealing...
Even more consistent sealing: guaranteed to reach an optimal vacuum level and perform an airtight seal for upto 60 consecutive seals before needing to...
Another way to preserve the flavor of sage is by freezing it. Whole leaves and even whole stalks can be frozen in bags and taken out as needed.
However you choose to preserve or use your sage, it will have that fresh and powerful homegrown flavor, which is one of the major benefits of growing it in your own garden!
Herb Growing Guides
There are many herb growing guides here on Together Time Family.
Individual herbs all have their own light, soil, temperature, and water requirements. Discover what your favorite herbs need to thrive so you can enjoy a bountiful, healthy harvest.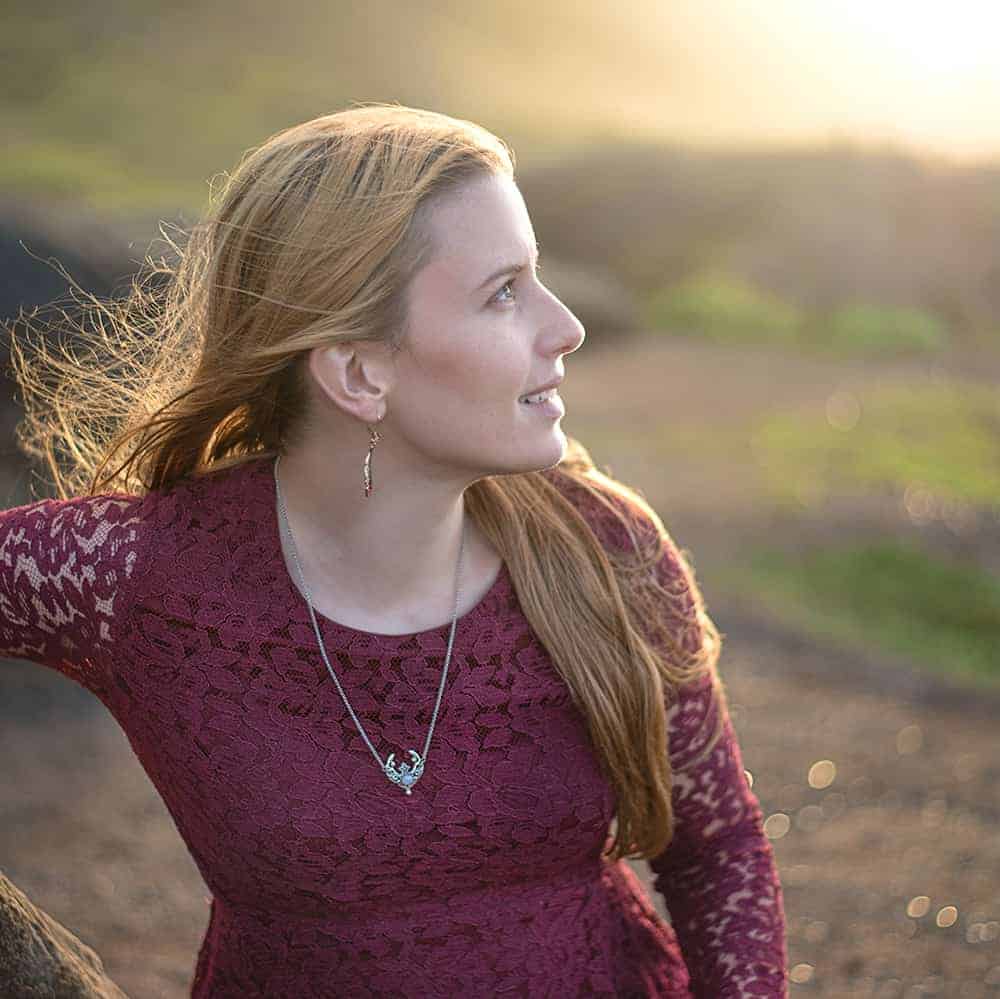 Natasha Garcia-Lopez is an avoid home-gardener and proud owner of 88 acres of land in rural West Virginia. She was a member of the Association for Living History Farms and Agricultural Museums for many years and is currently enrolled in the Oregon State University Master Gardner Short Course program so she can better assist you with your gardening questions.She holds a certificate in natural skincare from the School of Natural Skincare.