Coriander is a citrusy spice that's a key ingredient in curry powder and many world cuisines. It's used frequently in Mexican, Latin, Indian, and Spanish cuisine and pairs well with other spices like cumin and chili powder.
Coriander also happens to grow on the same plant as cilantro leaves. However, it has a completely different flavor than cilantro, so don't be scared away from it if you don't like cilantro.
If you're growing this spice in your garden, here's a guide to when and how to harvest coriander, plus how to store it.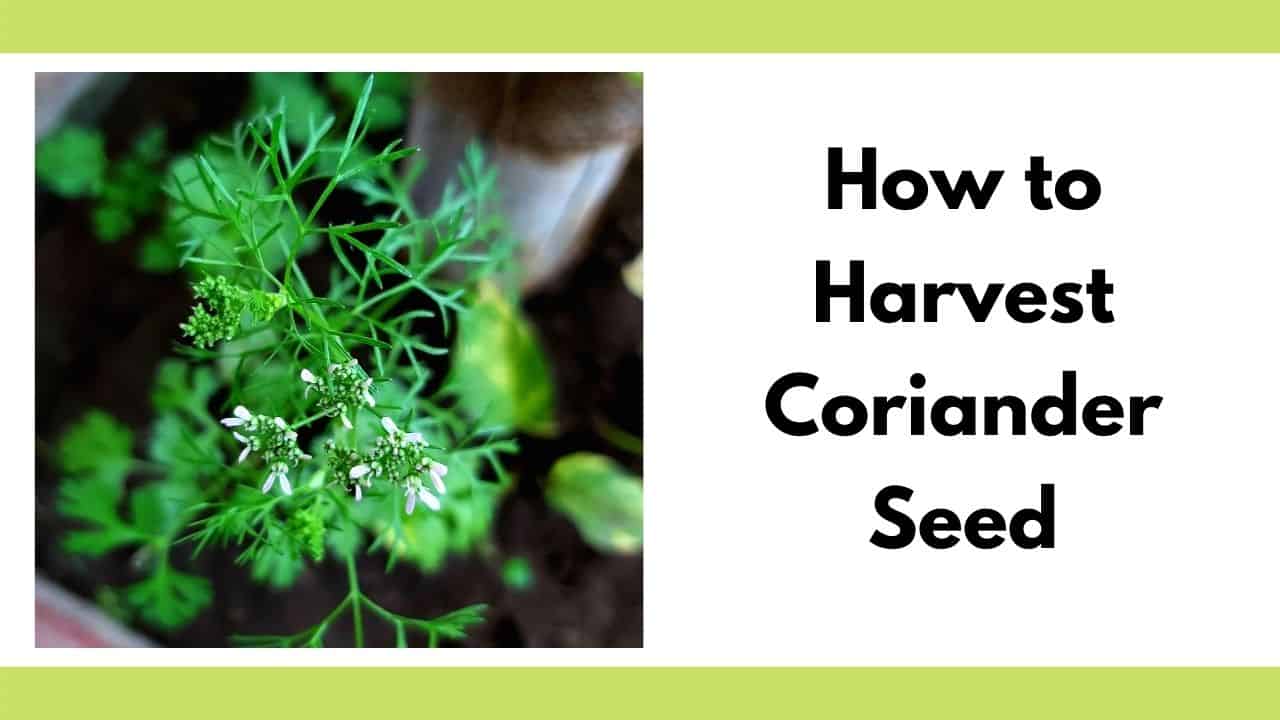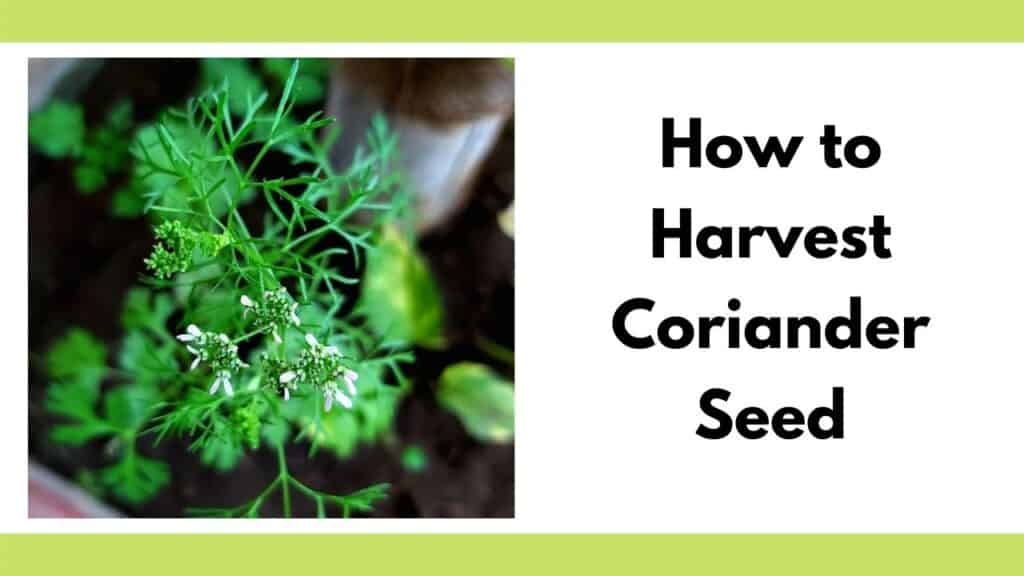 Tips for Growing Coriander Plants
This post includes affiliate links. If you make a purchase using one of these links, Together Time Family will receive a commission at no additional cost to you.
Coriander is an ancient spice. Its use dates back as far as 5000 BCE! (source)
As mentioned before, coriander and cilantro are the same plant. Both are known botanically as Coriandrum sativum. The difference between the two is that cilantro typically refers to the leaves of the plant and coriander refers to the seeds.
This means that you can grow one plant and harvest both an herb and a spice from it. Of course, if you don't like cilantro, you can also grow plants solely for the coriander seeds.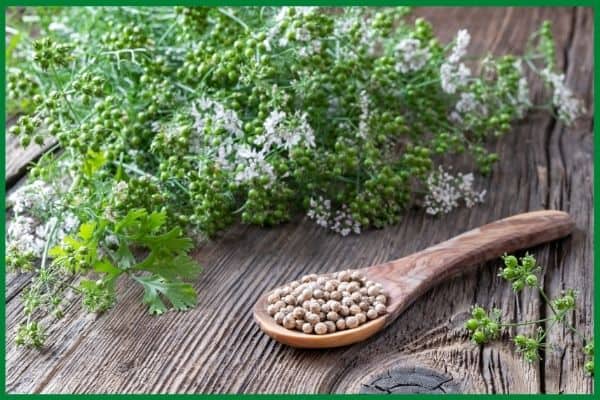 The biggest tip for growing coriander is that plants need cool weather to thrive. Grow them in the spring or fall, but try to avoid forcing them to grow during the heat of summer.
You can harvest cilantro leaves from your plants quickly, but you'll need to wait until after the plants flower to harvest coriander. Once they flower, plants set seeds that mature into the familiar coriander spice.
Another tip for harvesting coriander is to not go crazy picking cilantro leaves if you want to collect seeds later.
Your plants will set seeds either way, but keeping more of the foliage intact will give your plant more energy to focus on flowering and seed production. You may want to designate some plants for a cilantro harvest and others for coriander seeds.
Cutting your cilantro plant back can delay it going to seed, so not cutting it can allow the short-lived plant to complete its lifecycle more quickly and produce the coriander seeds you want to harvest.
For a guide on harvesting cilantro and intentionally maximizing your cilantro leaf harvest, please see this post on how to plant and grow cilantro.
Whether you plan to harvest leaves, seeds, or both, you need to start cilantro from seed. Cilantro has a deep taproot and doesn't transplant well. Luckily, it's one of the easier herbs to grow from seed.
Photo Credit: Photo from Southern Seed Exchange on www.etsy.com
These are my cilantro seeds of choice. Calypso is the slowest to bolt cilantro variety and the seller, Southern Seed Exchange, is top notch. They always mail very promptly and every seed of theirs I've used has germinated well.
Photo Credit: ZellajakeFarmGarden on www.etsy.com
Leisure cilantro is another standby heirloom cilantro variety.
How to Harvest Coriander
When to Harvest Coriander seed
Coriander seeds are usually ready to harvest about 2-3 weeks after the plants flower. The best way to tell they are ready is to keep an eye on their color.
Immature seeds will be a green color. You can actually harvest them at this stage and use them to cook with. The flavor of green coriander is sharper and more pungent than the mature seeds will be.
In the image below, you can see an assortment of white cilantro flowers, green seeds, and a few browning seeds (on the right edge).
This particular Calypso cilantro plant was grown hydroponically outdoors and grew so enormous I had to tie it to a trellis.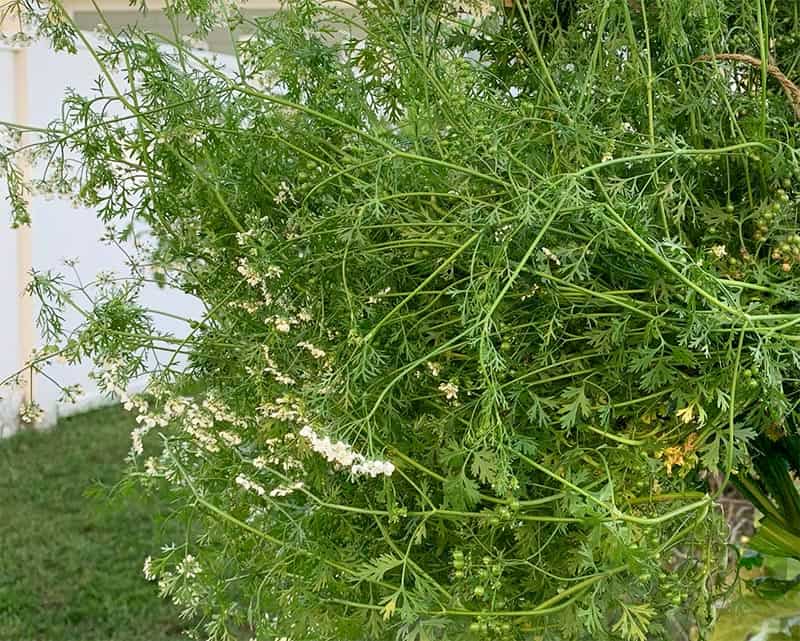 The only downside to picking green coriander is that you can't store it for very long. You'll need to use them right away or store them in your refrigerator for a few weeks.
To harvest coriander that will keep for months, wait until the seeds have turned a light brown color. Sometimes, the seeds won't ripen at the same time. If this is the case, just wait until more than half have turned brown before harvesting.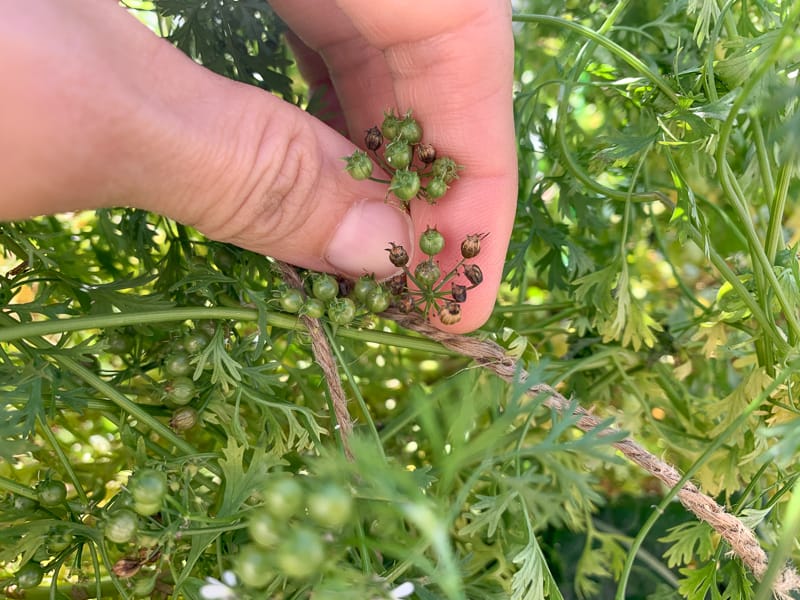 Coriander/cilantro will readily self-seed, so collect as much of your seed as you can before it drops off the plant if you don't want volunteers next year. Alternatively, you can allow your coriander to self-seed and replenish itself next season.
Harvesting Coriander Seeds
Figuring out when to pick the seeds is probably the hardest part of how to harvest coriander.
Once they are ready, all you need to do is clip off the whole seed heads with a good length of stem still attached. Sometimes you can't get a very long stem because of how the plant has grown. That's okay. Get a stem as long as you can. You can clip branches with a pair of garden clippers or even sharp kitchen scissors. I use Fiskar's micro-tip snips.
Sale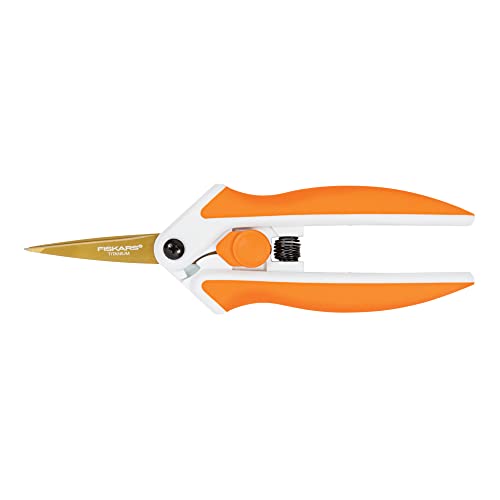 Fiskars Premier No. 5 Easy Action™ Micro-Tip®  Titanium Scissors  -...
Fiskars Scissors Titanium Micro-Tip Easy Action Scissors feature Micro-Tip blades for unmatched small sharp scissors cutting precision, especially in...
Ideal for scissors all purpose cutting details out of a wide variety of materials, including paper for craft scissors, denim, silk and multiple layers...
Easy Action spring-action design gently opens blades after each cut to help reduce hand scissor fatigue
If you are harvesting green coriander, you can simply separate the seeds from the stem and either use or refrigerate them.
If you are harvesting brown coriander seeds, follow the steps in the next section to dry and store them.
Drying and Storing Coriander Seeds
In my experience, there's the "ideal" way to dry and store coriander, then what's more likely to actually happen.
Ideally: After harvesting, gather the coriander stems together in small bundles. Fasten them together with a rubber band or some twine, and place a paper bag over each bundle. Put some slits in the sides of each paper bag to let air in.
Hang your bundles upside down somewhere that's warm, dark, and dry.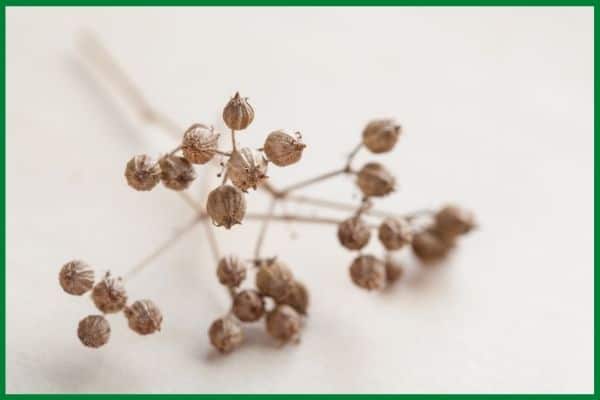 In actuality, you may not be able to trim stems long enough to hang. Or you may not have a space to hang bags. Or maybe you'll just get busy and forget. That's okay. I usually end up leaving my coriander seeds on a paper towel in a corner of the kitchen or in a cabinet until they dry out.
It should take about 2 weeks for the seeds to dry completely. Some of them will fall off into the paper bags (which is why the bags are there), but you'll need to separate the rest from the stems by hand.
You can try brushing the seeds off into a container with your fingers, or roll them gently in a paper towel to get the seeds to separate from the stem.
Once seeds and stems are separated, store your dried coriander in airtight glass containers. Check on them in a few days to make sure there isn't any condensation in the containers. If there is, you'll need to dry them more fully.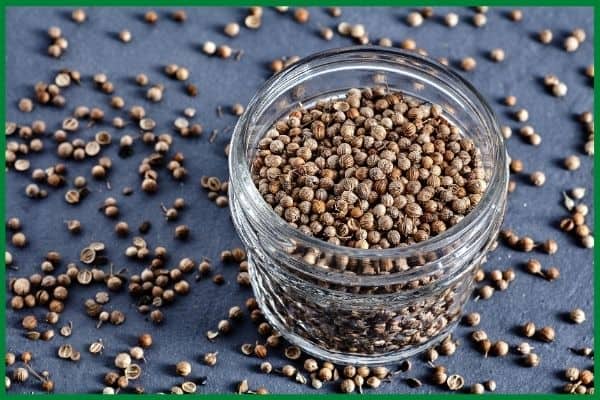 If you store coriander somewhere dark and cool, it will keep its flavor for several months and perhaps longer. Keep the seeds whole until right before cooking or using them.
I love using the jar sealing attachment for my Foodsaver to vacuum seal jars of herbs and spices. I keep a small quantity out in a spice jar, then vacuum seal the rest to keep it fresh. You need a Foodsaver model with a handheld attachment nozzle to use the jar sealer.
Toasting and Using Coriander
You may be pleasantly surprised at how much more flavor is in homegrown coriander seeds than the ones you buy at the store.
To bring out even more flavor, toast the seeds in a dry pan before using them. This enhances their unique taste, and you can then use them whole in recipes or grind them into a powder.
And don't forget that you can also plant coriander seeds in your garden next year!
If you dried and stored them properly, the seeds will be viable for at least one year and possibly 2-5 years. According to the experts at Johnny Seed, coriander has good gemination rates for 1-4 years in average good conditions. You can set some aside for planting and store them in a labeled paper bag or envelope.
A final way to use your coriander is for an upset stomach. You can simply chew on a dried seed any time your stomach feels out of sorts or between meals to keep your digestion happy. (source)
Discover Homegrown Coriander
Knowing how to harvest coriander yourself gives you access to the freshest version of this spice possible. Once you start growing herbs and spices at home, it may be difficult to go back to the less flavorful store-bought versions.
But if you plan it out right, you can not only harvest cilantro and coriander from the same plant, you can also save some seeds for a new harvest next year.
IF you want to know more about growing and harvesting cilantro, be sure to stop by this guide to planting and growing cilantro.
Herb Growing Guides
There are many herb growing guides here on Together Time Family.
Individual herbs all have their own light, soil, temperature, and water requirements. Discover what your favorite herbs need to thrive so you can enjoy a bountiful, healthy harvest.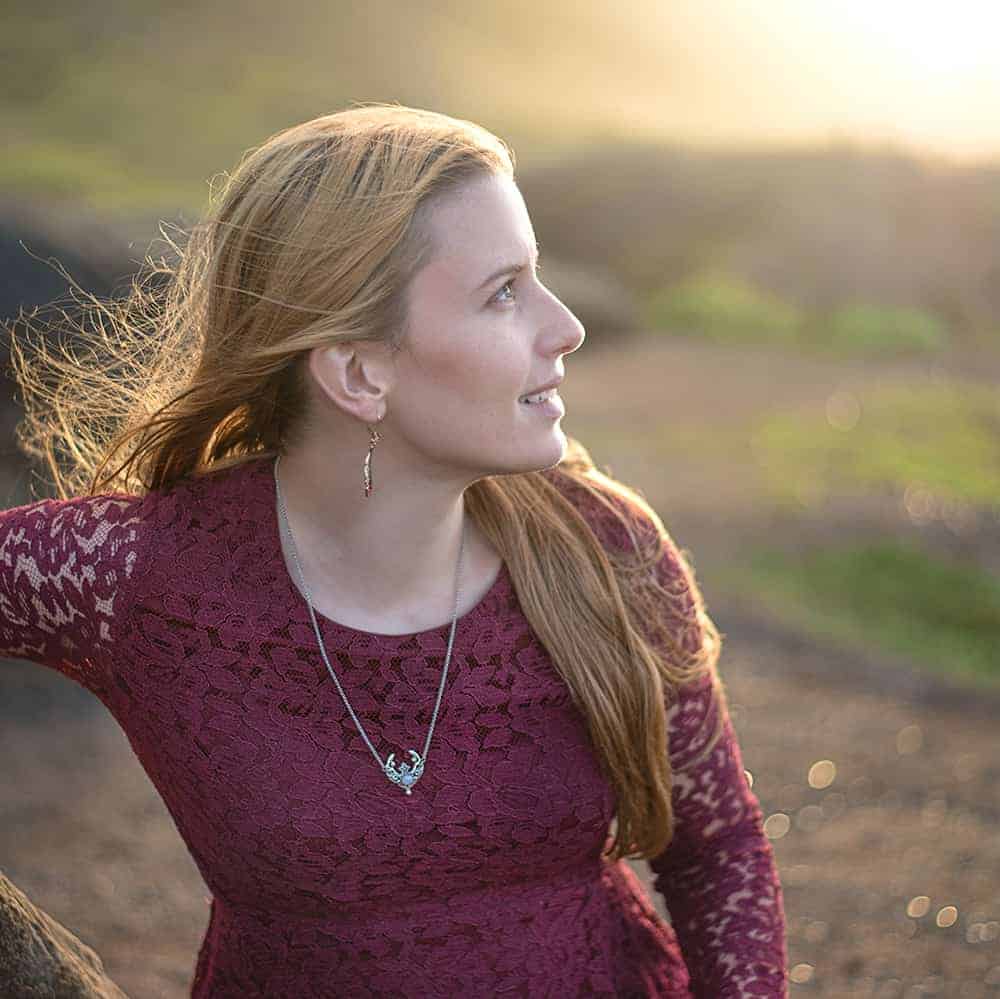 Natasha Garcia-Lopez is an avoid home-gardener and proud owner of 88 acres of land in rural West Virginia. She was a member of the Association for Living History Farms and Agricultural Museums for many years and is currently enrolled in the Oregon State University Master Gardner Short Course program so she can better assist you with your gardening questions.She holds a certificate in natural skincare from the School of Natural Skincare.