Tomatillos are a unique vegetable (or fruit, if you prefer) to grow. They have a tangy, citrusy flavor that stars in salsa verde and lightens up both cooked and raw dishes.
Literally meaning 'little tomato' in Spanish, tomatillos do grow in a similar way to tomatoes, but have a very different appearance when ripe and a different harvesting approach. Picking them at the right time can be a little tricky until you learn what to look for.
If you're growing these flavor-packed veggies this year, here's a guide on when and how to pick tomatillos for the perfect harvest.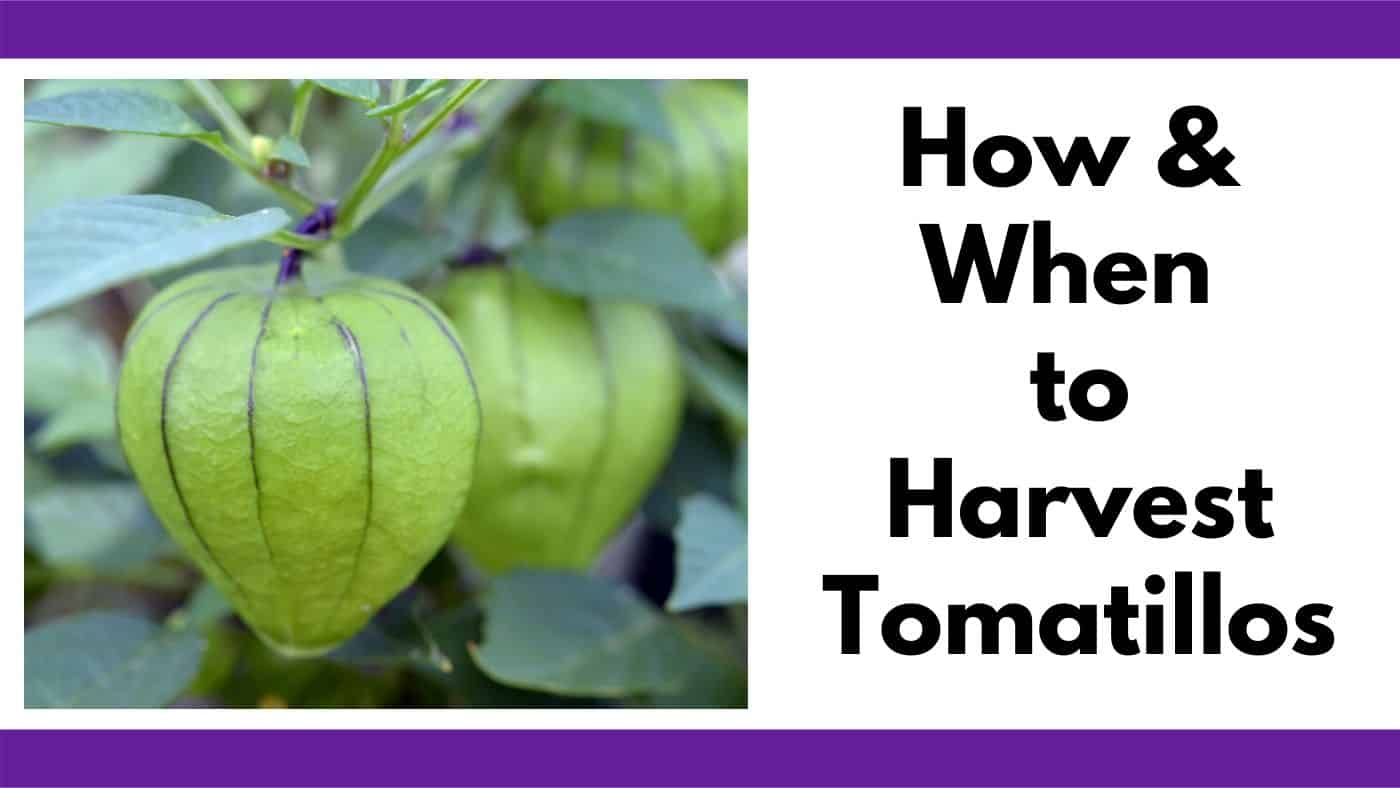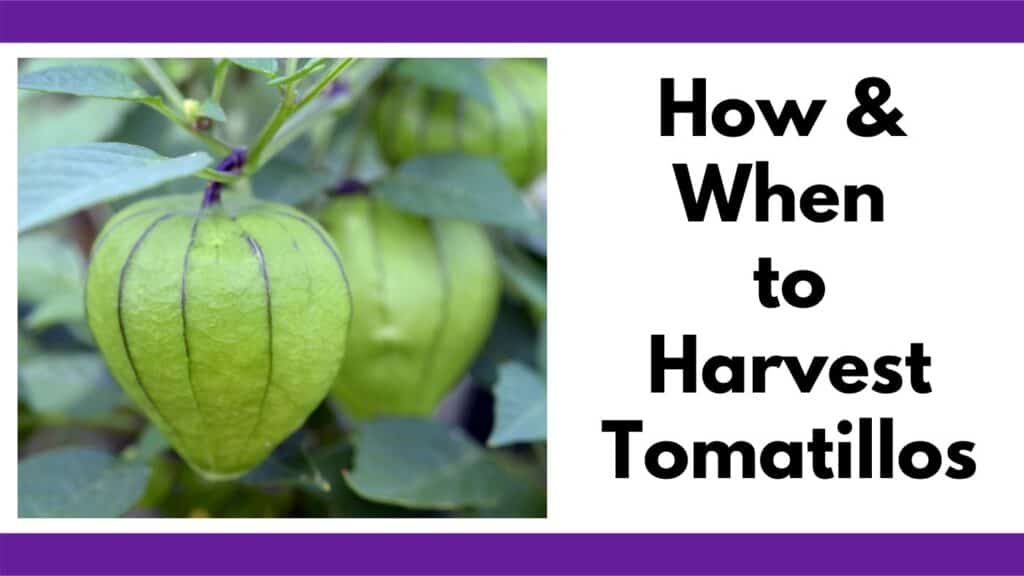 This post includes affiliate links. If you make a purchase using one of these links, Together Time Family will receive a commission at no additional cost to you.
How Tomatillos Grow
Tomatillos (Physalis philadelphica) belong to the nightshade family along with tomatoes, peppers, eggplant, and potatoes.
When harvested and removed from the husk, tomatillos do look a lot like small, green tomatoes, although they have a very different flavor. The tomatillo plants themselves look like a cross between eggplant and tomato plants.
What makes tomatillo fruits unique is the papery husk that grows around them, making them look almost like small lanterns hanging on the plant.
This husk prevents you from seeing the fruit itself, which is why gardeners often get confused about when to pick tomatillos. Normally, you'd check the color of the fruit for ripeness, but with tomatillos you need to go by the husk (as you'll soon see).
When and How to Pick Tomatillos
When to Harvest
Although it varies somewhat depending on weather conditions, tomatillos will be ready to harvest about 65-85 days, which typically means about 75-100 days from when you actually put the seed into soil. The exact days to maturity will depend on the variety you are growing and your specific growing conditions.
This means you should allow your plants a good 2-3 months of growing before you start to check for ripe fruit. Once the fruit starts to ripen, you'll be picking them for 1-2 months.
One plant can produce between 60-200 individual tomatillos, so be prepared for a large harvest once you get started!
When the husks start forming on your plants, you may be tricked into thinking it's almost harvest time because they puff out quickly. However, if you squeeze a newly developed husk, you'll notice that it's almost entirely full of air.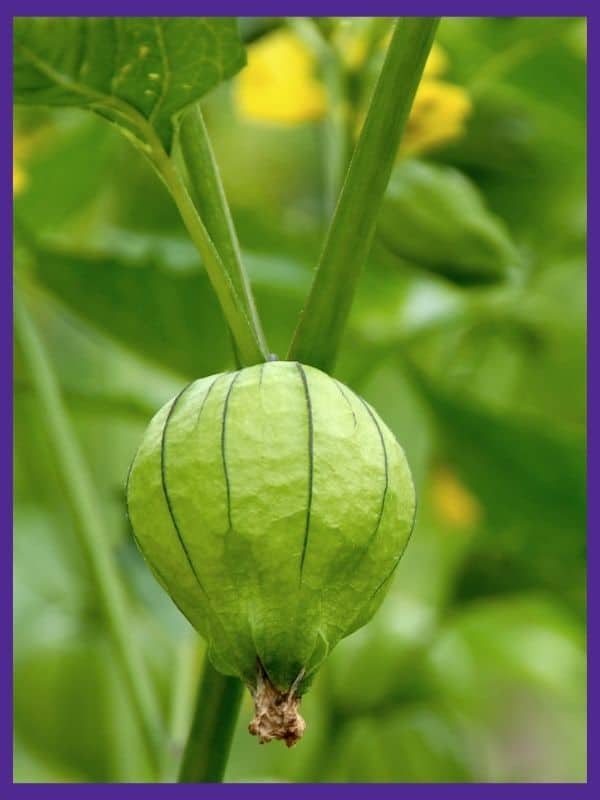 As the season goes on, you'll start to notice that the fruit is filling out the husk if you check on your plants regularly. This means they are starting to mature.
There are three main signs to look for that will tell you a tomatillo fruit is fully ripe:
The outer husk around the fruit starts to split, and you can see a little of the fruit sticking out.
The husk turns from green to brown and starts to dry out.
The tomatillos are falling off the plant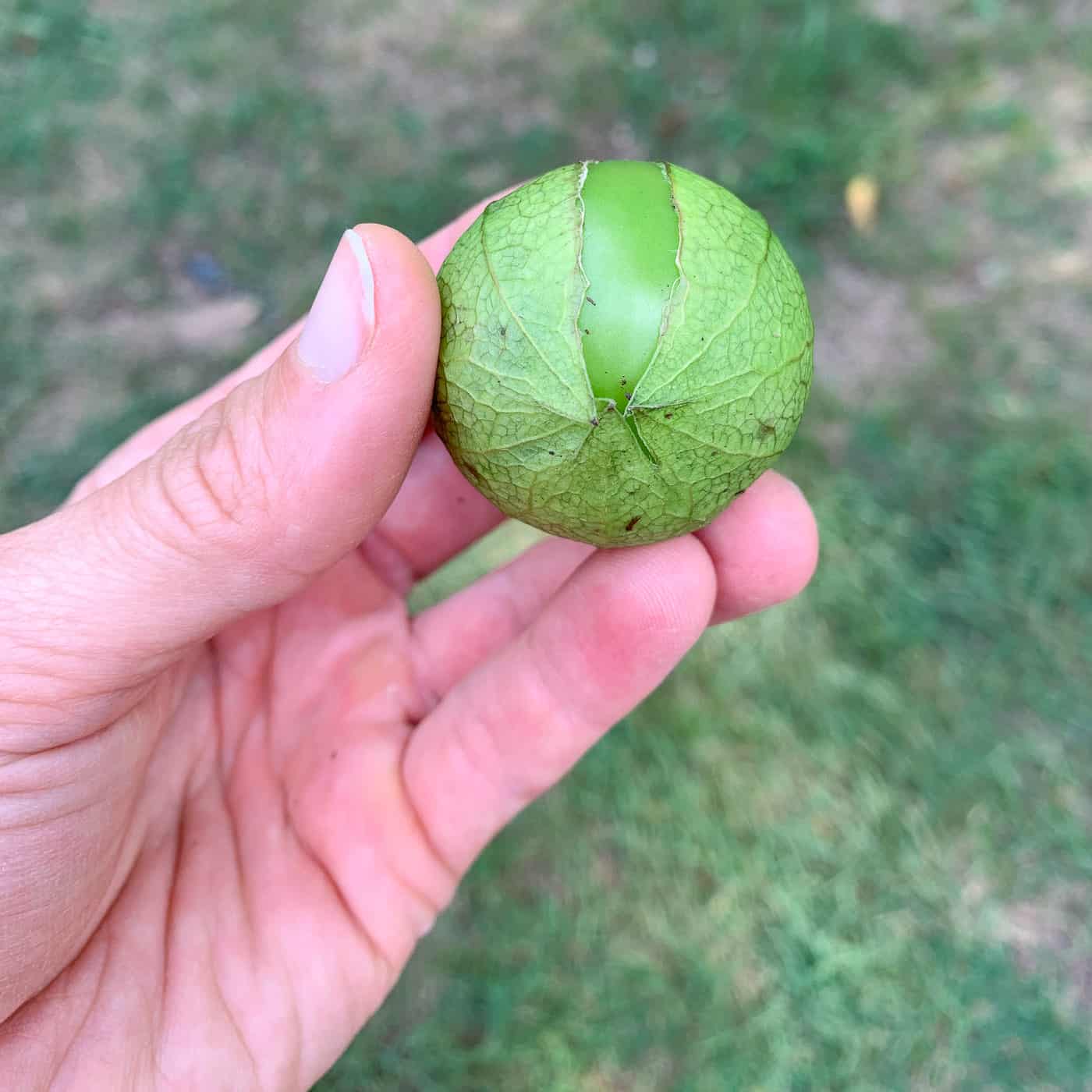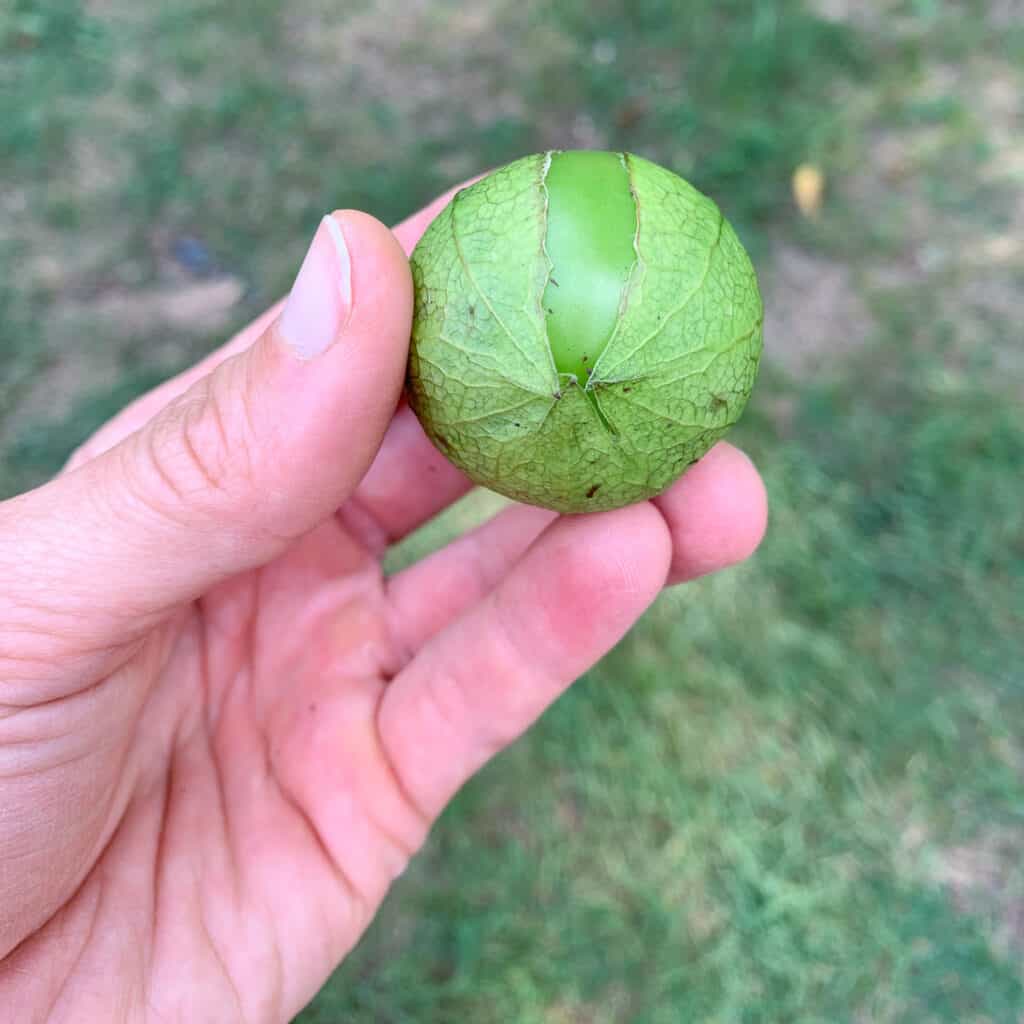 Tomatillos frequently fall off the plant before they're fully ripe. As long as the tomatillo has reached its full size, it will continue to mature once picked.
Don't wait for your tomatillos to fall off – pick them based on the husk and feel of the fruit. Ripe fruits should still feel slightly firm – very soft fruits are an indication of over-ripeness.
How to Harvest Tomatillos
The best way to harvest tomatillos is by using a sharp, clean pair of garden clippers (or scissors) to snip them off the plant. Make sure to read this post on the best garden shears to find out which garden snips are actually worth buying. If you don't feel like reading the whole guide, the Fiskar's Micro Tip snips are my top pick for smaller tasks like harvesting tomatillos.
Sale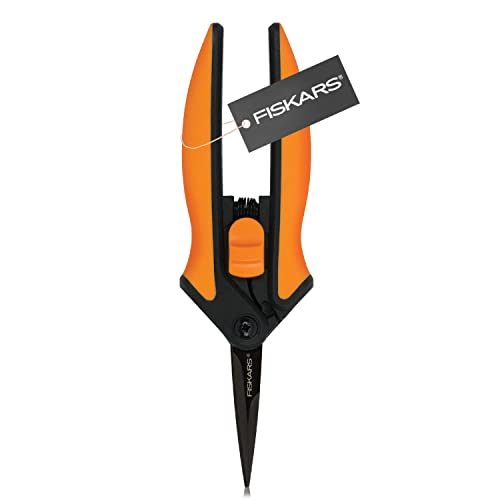 Fiskars Micro-Tip Pruning Snips - 6" Garden Shears with Sharp...
Quality Garden Tools: Designed to help you cultivate a better garden, Fiskars garden and yard tools are equipped with smart technologies and...
Maximum power and precision: Micro-Tip blades cut all the way to the tip for clean, healthy cuts in tight spaces and stay sharp through heavy use;...
Designed to reduce fatigue: Awarded the Arthritis Foundation's Ease of UseSM Commendation for a design that's ideal for those with arthritis or...
Cut tomatillos off with a little bit of stem left on, and place them gently in a basket or bucket as you go along. You can see this small piece of stem on several tomatillos in my hands in the photo below: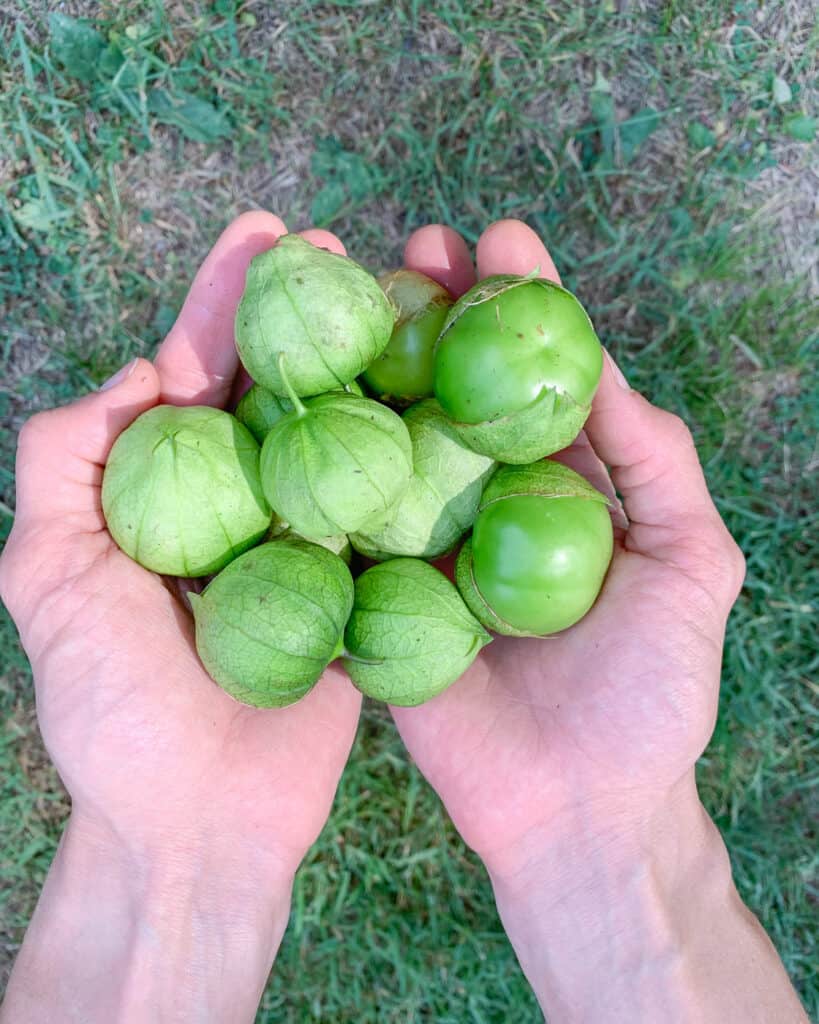 If you're caught without your clippers, you can also detach them by hand with a gentle twist. Most of the time, they will come off easily, but don't pull too hard or you may end up damaging the stem of your plant.
You'll want to keep checking your plants every few days for new fruits to become ripe. Once they get started, you may end up with a bucketful every harvest day.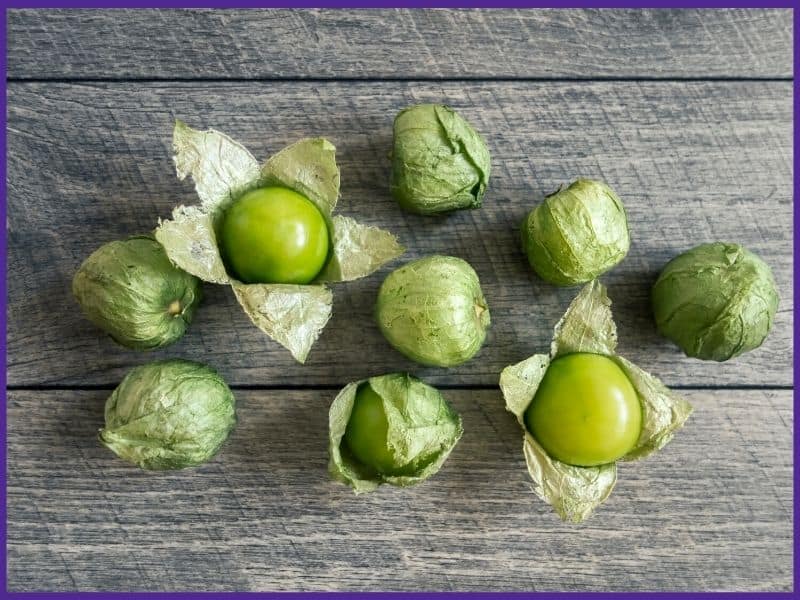 Last Harvest
Like tomatoes, tomatillo plants are very sensitive to cold temperatures and will be knocked out by a frost. The one major exception to the general guidelines of when and how to pick tomatillos is that you should harvest the rest of your crop before a frost comes through.
Underripe fruits are still edible, though they will be less sweet and flavorful than fully ripe ones. Try cooking them to soften up their texture. Any fruits that are really hard and inedible can be composted.
How to Store Tomatillos
After harvesting tomatillos, you can remove the husks if you plan to use them right away, or leave them on if you want to store them.
Tomatillos will feel slightly sticky or tacky when you peel them. This tackiness should wash off your hands fairy easily. Make sure to rinse your tomatillos throughly before eating them to remove any tacky residue. This tackiness is from an antioxidant phytochemical called withanolides. These substances help ward off pests and are antibacterial and anti-inflammatory (source).
Left in their husks, tomatillos can be stored in the refrigerator for about 2-3 weeks. Just put them in a paper or perforated plastic bag, and store them away from apples, bananas, and other ripening fruit.
For longer storage, tomatillos can be canned or frozen.
Freezing them is incredibly simple. All you need to do is remove the husks, wash and dry them, and freeze them in bags or containers. You can also freeze them first on cookie trays and place them in bags once they are solid to keep them from sticking together.
Tomatillo Varieties
Tomatillo Varieties
While you've probably already planted your tomatillos for this year, here are a few of the best varieties that can make next year's harvest more fun:
Enjoying Your Tomatillo Harvest
Now that you know when and how to pick tomatillos, all that's left is to find new recipes so that you can use up your harvest! They are very versatile and can be used in salsa, chili, soup, meat dishes, and many types of sauce.
Enjoy their freshly picked flavor and share some with your friends if you end up with a bumper crop (which often happens).
Popular summer vegetables and herbs
Discover how to grow popular vegetables and herbs in your backyard garden or container garden with these in-depth vegetable growing guides.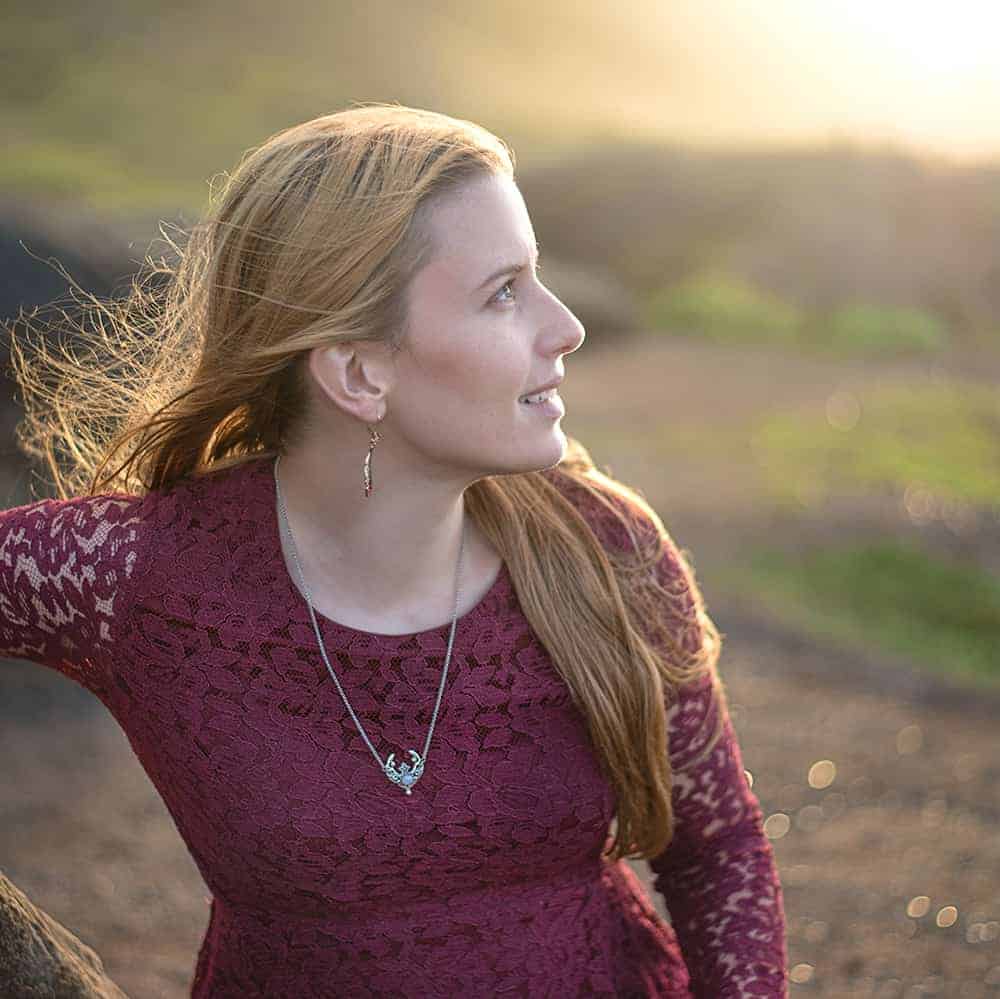 Natasha Garcia-Lopez is an avoid home-gardener and proud owner of 88 acres of land in rural West Virginia. She was a member of the Association for Living History Farms and Agricultural Museums for many years and is currently enrolled in the Oregon State University Master Gardner Short Course program so she can better assist you with your gardening questions.She holds a certificate in natural skincare from the School of Natural Skincare.