I'm shocked by how often I see a yard work team edging a lawn with a weed eater without a guard and no eye protection. Some people tend to believe that safety glasses are for people who are overly concerned with the "rules" or that it will interfere with their cool-ness. Many homeowners think that they're just doing a little bit of yard work, so surely nothing bad will happen to them.
This is silly, please do not let these biases prevent you from wearing eye protection. All it takes is one accident to change your life forever, and not in a good way. There are plenty of stylish designs which double as sunglasses and some which you could even use for reading with.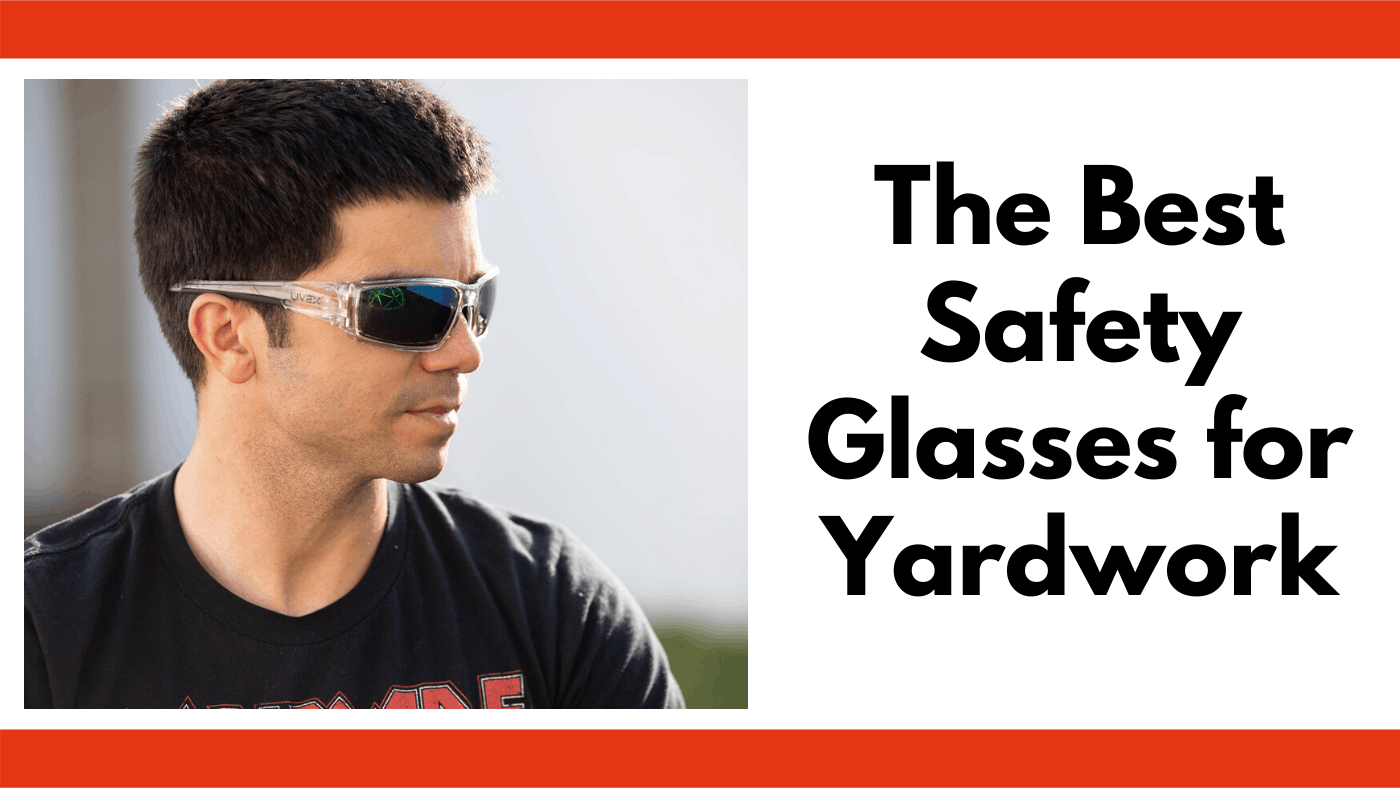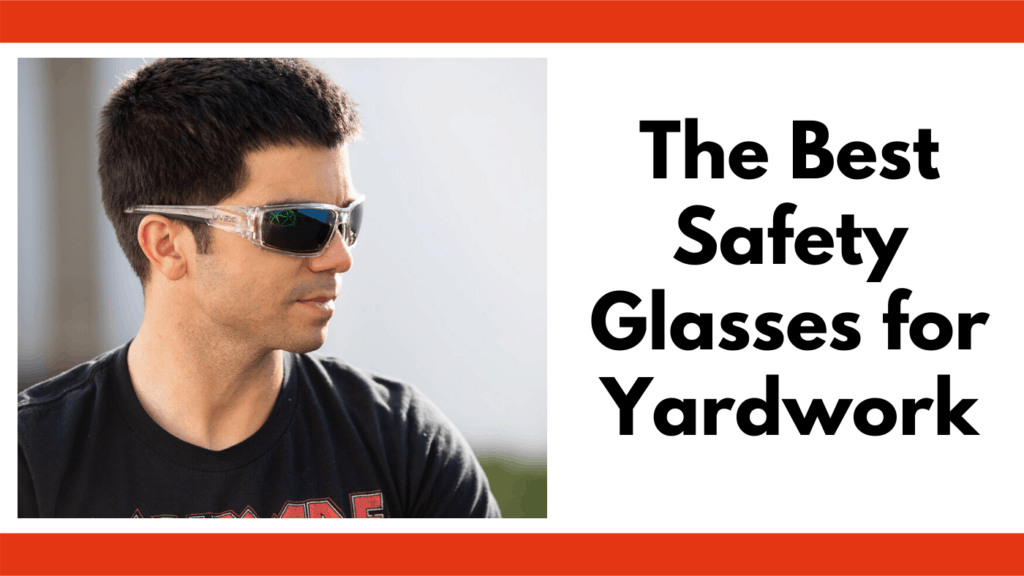 There are many safety glasses on the market today. Some are shaded others are clear, some are ANSI rated, and others have anti-fogging features. Keep reading to find out which is best for your needs.
This guide breaks down the various types of safety glasses so you can make an informed, confident decision and select the best safety glasses for your needs.
This post includes affiliate links, which means I may earn a commission on purchases made at no additional cost to you.
In a rush? Here are our top picks!
Best Overall
Uvex by Honeywell Hypershock Safety Glasses, Brown Frame with Espresso...
Best Budget
3M Safety Glasses, Virtua, ANSI Z87, 20 Pairs, Gray Hard Coat Lens, Gray...
Stylish
LeonDesigns Anti Fog Safety Glasses Blue Light UV Blocking Goggles for...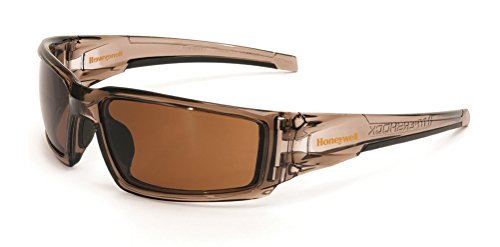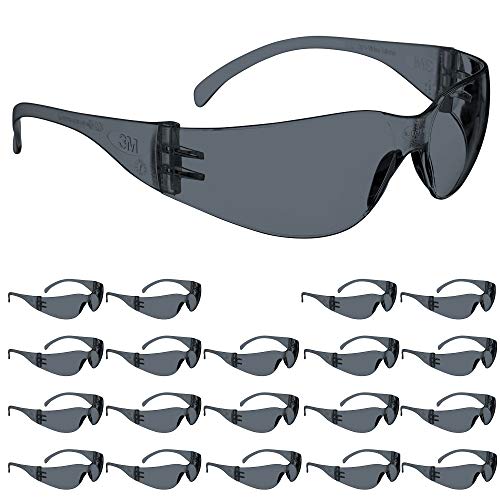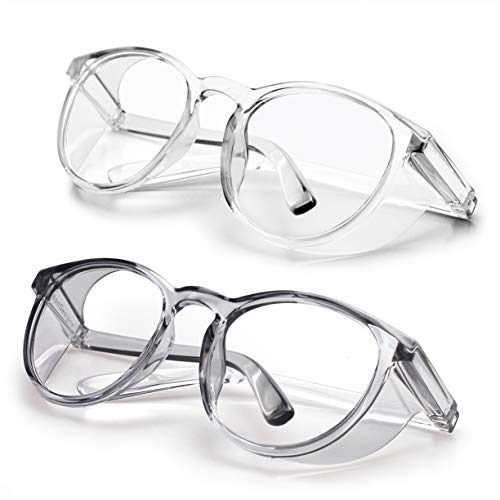 Best Overall
Uvex by Honeywell Hypershock Safety Glasses, Brown Frame with Espresso...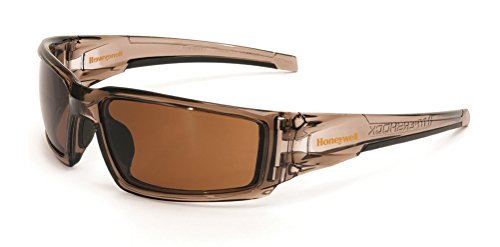 Best Budget
3M Safety Glasses, Virtua, ANSI Z87, 20 Pairs, Gray Hard Coat Lens, Gray...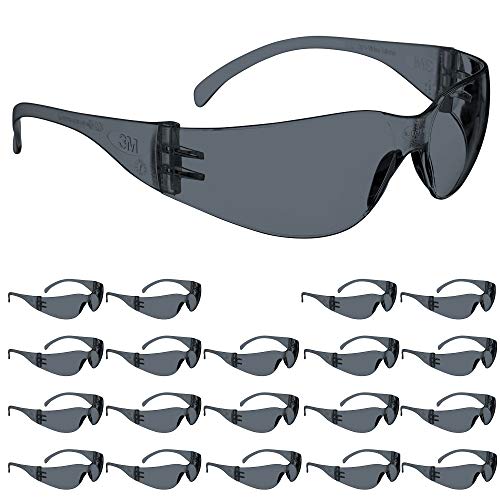 Stylish
LeonDesigns Anti Fog Safety Glasses Blue Light UV Blocking Goggles for...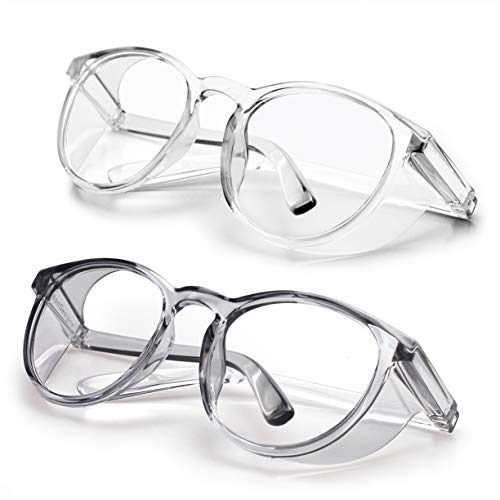 ---
If you've ever tried browsing for garden supplies, you may have been struck by analysis paralysis.
Picking the best tools can be exhausting, so we're here to help. Here are the best safety glasses on the market today.
The Uvex by Honeywell Hypershock Safety Glasses are the best safety glasses available today. They have an incredible selection of safety glasses to choose from, so you can find a pair that you'll actually want to wear.
There are over a dozen different glasses combinations to choose from. The frames are available in clear, black, and brown. You can choose from a variety of lens colors: clear, blue, espresso, reflective red, and many more. With so many choices, there is a style you will like. You may even replace your regular sunglasses with a pair of these. (My wife teases me, but I keep a pair of tinted safety glasses in the car and use them for sunglasses while driving.)
Some of the many features of these glasses is that they all meet ANSI safety standards, the lenses are coated with anti-fog solutions, and they are designed for comfort on your face with a nose molding and rubber temple grips. These also provide a decent amount of safety since they are a wrap-around style of safety glasses.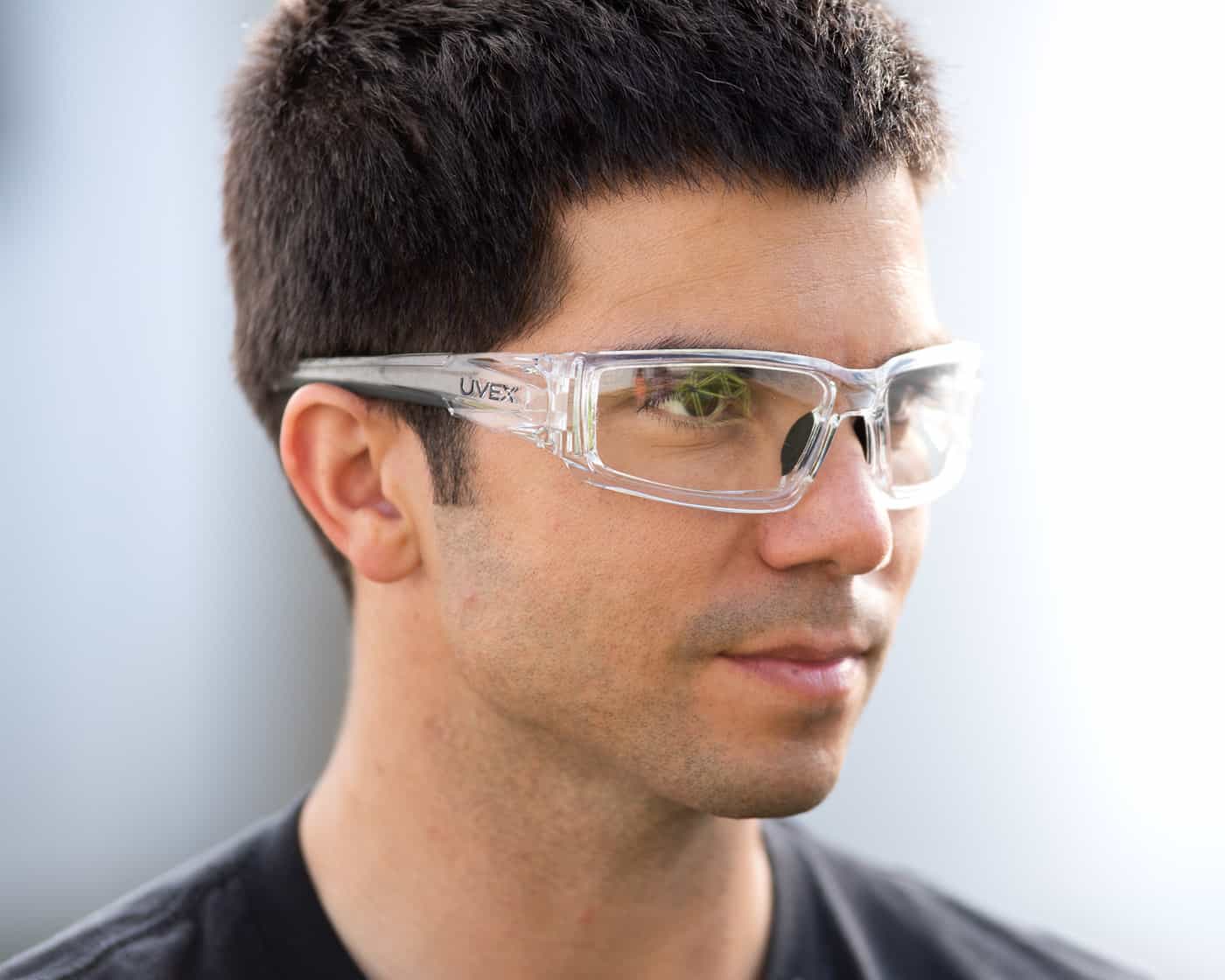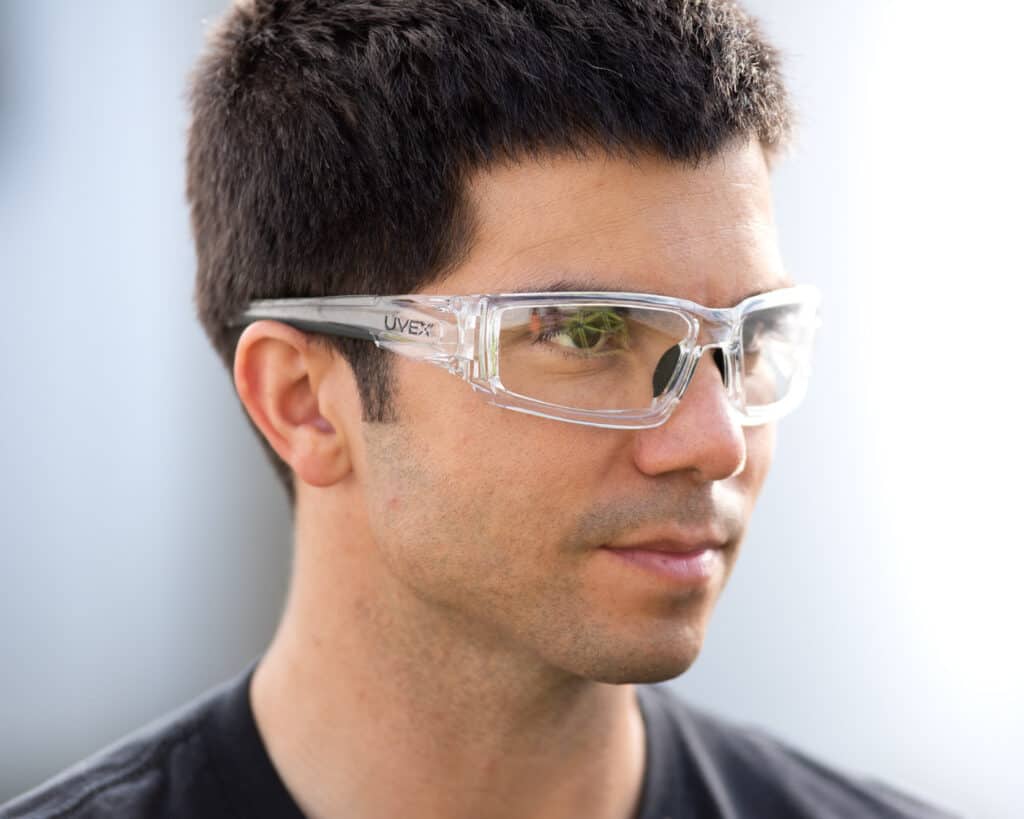 Debris can still makes its way into your eyes because these are not goggles. They fit pretty close to your face so you won't have this issue too often.
Here is a customer who uses his in some harsh conditions, "Am a master technician, have used for lil over a week grinding, cutting, torching had a socket fly off impact gun and hit glasses square in the lens…not a scratch yet. Really love them bought the clear now buying more for rest of my crew and some of the other lenses now as well. Fit like my oakley fuel cells and almost the same view as well." Read the full review here.
The DeWalt Dominator Safety Glasses are another great choice for safety glasses. They are not overly bulky and they sit close to your face providing ultimate protection from flying hazards.
Like any other eye protection worth mentioning, these are ANSI certified to keep your eyes safe from projectiles. They are also a wrap around style which protects your eyes from all angles. You can still get random debris through the small gaps but that is inevitable unless you wear goggles.
One downside is that some customers found the frame too small for their head. Over time the frame expanded to fit their head size and was still comfortable while wearing.
This customer makes a great point about using them as sunglasses, "Hands down the best "safety" glasses I own. I plan on buying more pairs in the future, maybe even using them as cheap sunglasses." Read the full review here.
These choices of eye protection from LeonDesigns Stylish Safety Goggles offer a unique design. These do not look like safety glasses but they are impact resistant.
The first thing you notice is the unique style of these glasses. These are available in a variety of colors which will help you feel proud to wear your safety glasses. These glasses also offer some great features like blue light blocking, anti fogging, and provide complete coverage around your eyes. The side shields are effective at stopping debris and projectiles from getting into your eyes.
The one downside to these are that they are not ANSI rated. We are not sure why they haven't gone the extra mile to get their product certified but do keep that under consideration if you are working in an extremely hazardous environment.
However, if you are not in a severe working environment, perhaps you can relate to this hairstylist who finds that style can help, "I can wear these all day without the back ear pain, or distorting my vision when it comes to seeing my colors and haircuts (this happens with some goggles). I work long hours and these goggles have been great so far to get me through the day. Plus I don't look AS scary to kids when I'm approaching them with scissors, a mask, and goggles." Read the full review here.
The DEWALT – Dual Mold Safety Goggle are a great choice of safety goggles. Though these don't seem like what you'd wear out for a Sunday afternoon drive, it is what you need for extreme yardwork.
These provide a great field of view and wrap around your whole face giving you 100% eye protection. Debris and flying projectiles will never make it to your eyes. They are also available in clear, for low light or indoor work, and dark smoke, for working outside in the sunlight.
One great feature which I love about this set of safety goggles is the elastic strap. The strap pairs well with over the ear hearing protection like these 3M WorkTunes hearing protection. ) Other safety glasses have a plastic leg which sits on top of your ear, these eye goggles have a thin elastic strap which doesn't squeeze even hard into your head. They're also incredibly adjustable – I can even tighten them down enough that they'll stay on my three year old daughter's face.
These are my go-to goggles for dangerous jobs: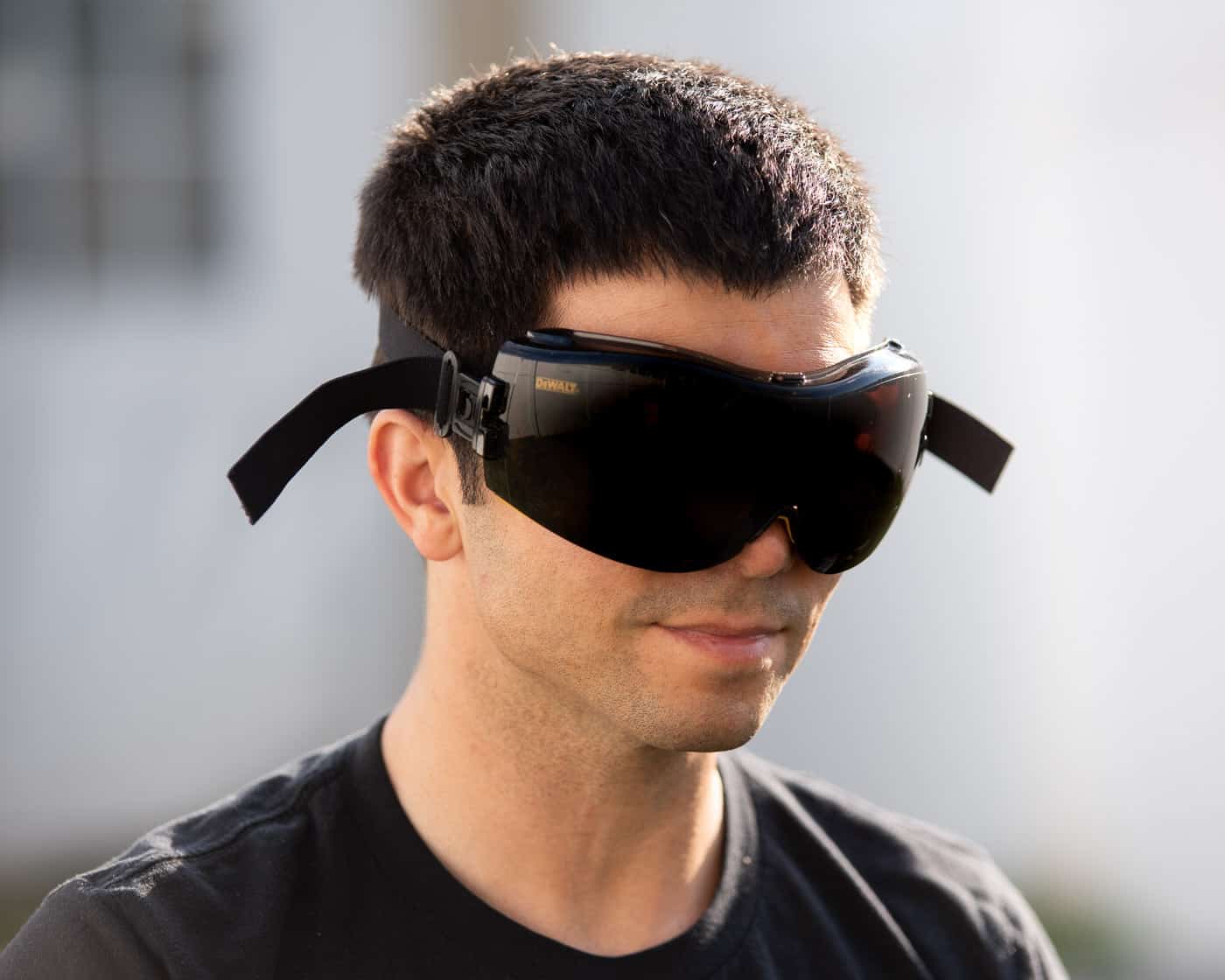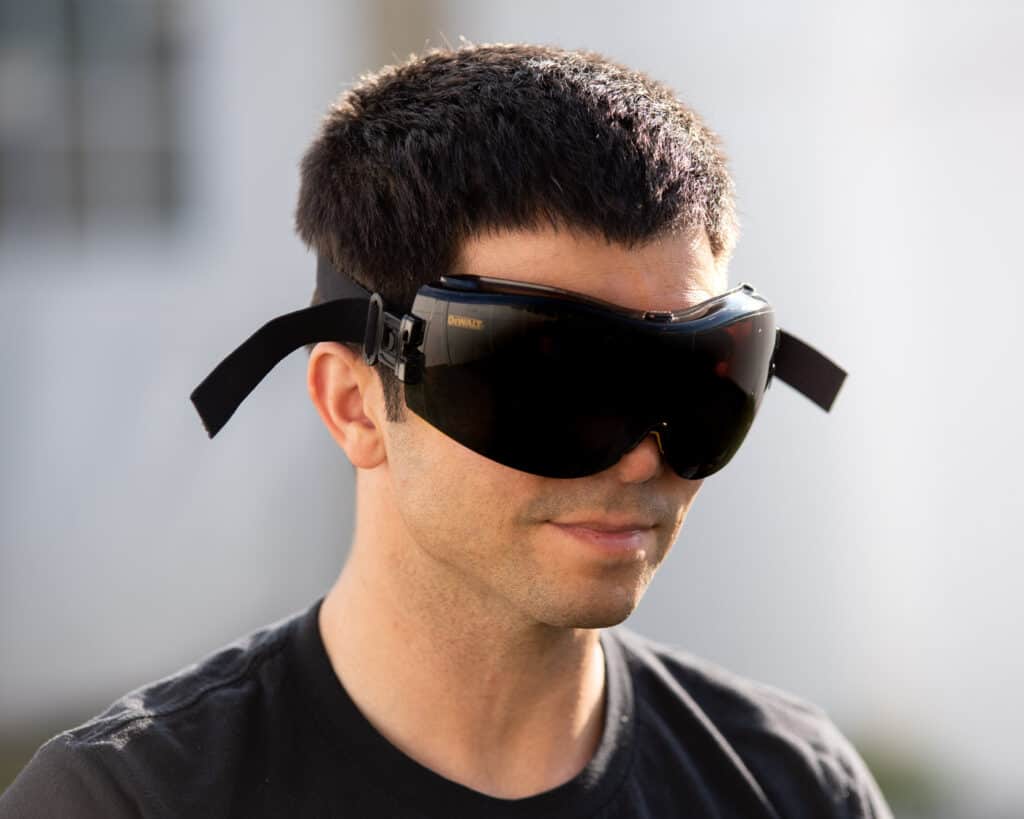 Because these goggles have such great eye coverage, this means they have poor ventilation, this results in some fogging up after a few minutes of work. Just make sure to buy some anti-fogging spray to keep these goggles clear.
There are plenty of happy customers who also use these goggles with their regular eye glasses, here is one such customer, "I wear wide glasses and they fit nicely over my glasses. I can't really feel any difference with or without my glasses on. The rubber or whatever it is that makes contact with your face is very soft and comfortable." Read the full review here.
Before you discount the 20 pack of 3M Safety Glasses, let me tell you about my terrible ability to leave all of my 20 safety glasses strung about in different places in my house, garage, and shed. Yes, the one major reason to get these is to avoid having to hunt down a specific pair.
These safety glasses are also stylish enough they could be mistaken as regular sun glasses. You won't feel awkward about taking them to the beach, park, or doing any outdoor activities with them. In fact, I often use these glasses on my bike rides to work. These are also ANSI certified so you can rest assured they will protect you even in the harshest of conditions.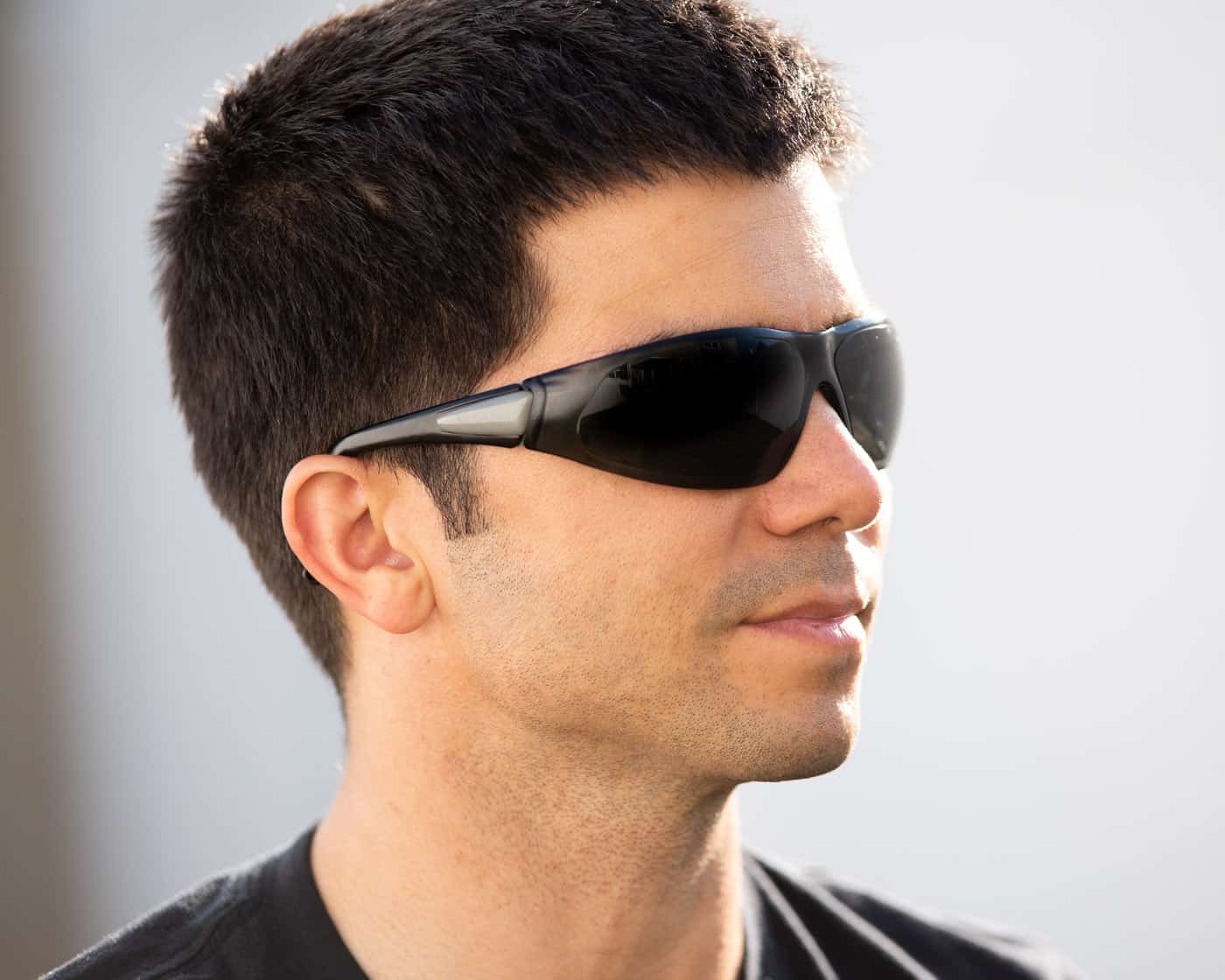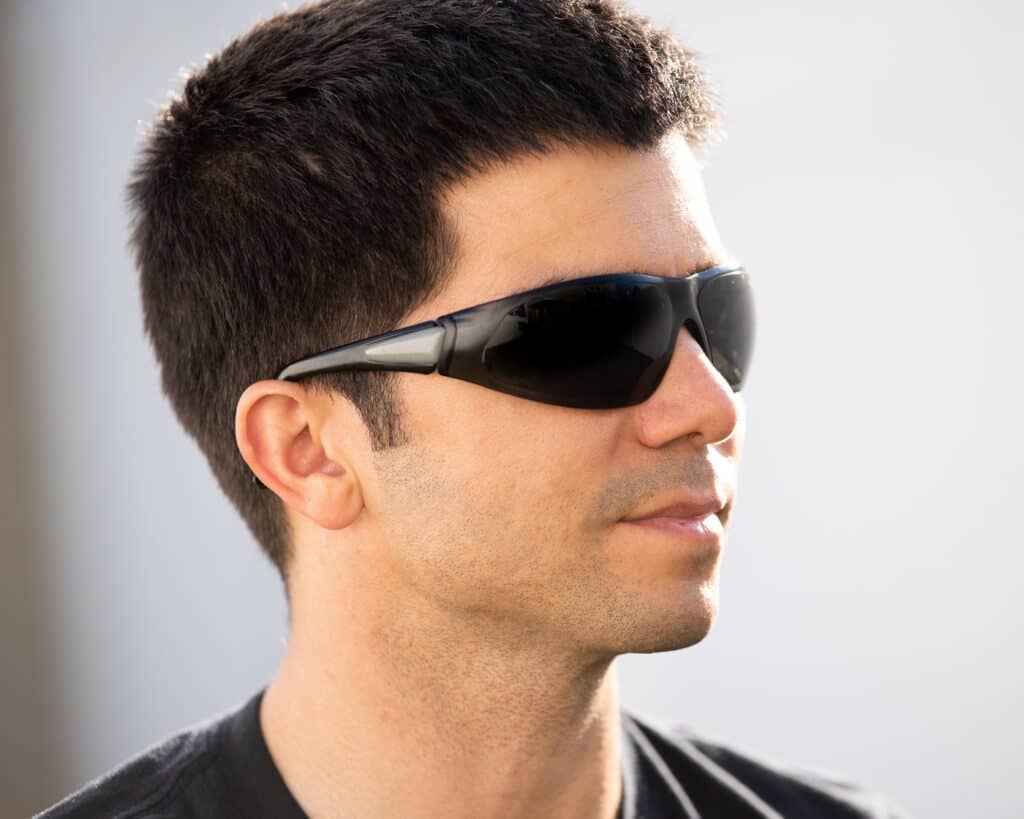 For the low price per unit, you'd expect a low quality item but these tend to hold up, "Each of these extremely-inexpensive pairs easily lasted 6 months until they finally got a scratch, I have had people stomp on these without a mark. I've even had the temple snap off and just popped it back on." Read the full review here.
How to Pick Safety Glasses
When we first hear about safety glasses we think about those bulky clear glasses which make us look a little silly. Thankfully, there are a few other options which help us keep our dignity and give us the protection needed to tackle any job confidently. Here are a few of the things you should take into consideration when shopping for safety glasses.
ANSI Rated
The American National Standards Institute (ANSI) develops standards for all sorts of safety equipment. The current standard concerning safety glasses is ANSI/ISEA Z87.1-2020. This certification guarantees the product you purchase is tested and meets the criteria set forth by the ANSI organization.
This is not a mandatory requirement. Simply because a product does not have the ANSI certification does not mean the safety equipment is flawed. Sometimes this could be an issue with funding or simply opting out of a formal testing process.
Then again, the ANSI certification can lead you to misunderstand what the safety glasses are capable of withstanding. There are plenty of safety glasses which crack if you sit on them, so how do you think they would hold up to other blunt trauma while on your face.
Take the ANSI certification with a grain of salt but do understand there is also some rigor into the testing process.
Clear or Shaded
Most safety glasses have a shaded version which is great for outdoor work. Be mindful if you use these in a professional setting because some organizations will not allow shaded glasses while working indoors. In this case you should look for a clear version to suit your eye protection needs.
Style
This is probably the most important feature yet. Style is extremely important because it makes the difference on whether you will wear them or not. Goggles are hard to wear for a prolonged period of time without feeling silly or getting goggle face like back in high school biology class. Your wear time will increase with a pair of stylish glasses.
If you are on the fence between ultra safe goggles and some stylish looking glasses, get the more stylish option because you will wear them more often and in the end they will provide protection when you least expect it.
Wrap Around
Projectiles can get in your eyes from any angle. Safety goggles have protection from all directions but safety glasses should wrap around your face and sit close to your eyes to minimize any gaps which debris can get into your eyes. On occasion, job sites will accept side shields to be used with your prescription glasses.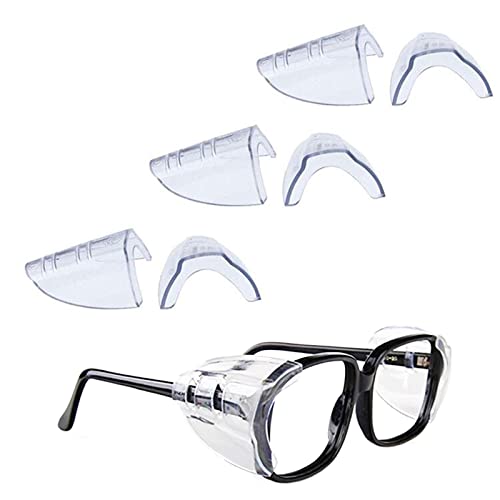 Korty 3 Pairs Compact Eye Glasses Side Shields, Flexible Slip on Side...
Material: Made of softness TPU,provide comfortable protection for glasses
Size:3 pairs small to medium size safety eyeglasses side shields,fit for eyeglasses bracket width is less than 10 mm
Function:Protect your eyes to injuries from wind blown particulates, minimizes injuries from wind blown particulates
Anti Fogging
Most Safety glasses claim they are anti-fogging. The anti-fog coating tends to wear off on most safety goggles. Give your glasses some help with this anti-fog spray to keep them clear and your vision un-impaired.
Gamer Advantage FogAway - Anti Fog Spray for Swim Goggles, Glasses, and...
SAY FAREWELL TO FOG: Our proprietary liquid solution delivers fog-free performance in just one spray. Fog Away prevents fog build up due to heat,...
SAFE & EFFECTIVE: FogAway is safe for use on all lens types, even those with an anti-reflective or super hydrophobic coating. Spray away foggy...
RIGOROUSLY TESTED & LONG LASTING: Our proprietary de-fogger is formulated and manufactured in Michigan and has been a trusted brand for first...
UV Protection
Plastic does not absorb UV radiation unless it is a specially treated. Make sure you look for UV absorbing or resistant on the set you purchase. Luckily, even cheap sunglasses will have some form of UV absorption and protection.
Pairing with Hearing Protection
If you are wearing safety glasses, you will probably need to also wear some sort of ear protection. I personally like to wear over the ear protection because of it's superior protection, however, this can be very uncomfortable if using the usual safety glasses because of their sturdy 'over the ear' plastic legs. There are some safety glasses which feature an elastic band which is more comfortable to wear with ear protection such as these DEWALT Safety Goggles.
If you want to have a better yard and garden with less work this year, be sure to check out our additional yard and garden tool reviews:
Yard Tool Reviews
Are you sick of your old, broken down lawn tools from a yard sale 10 years ago? Discover these yard tool reviews so you can save time and backaches on yard work day with a new, modern tool.
Angel is a Cuban immigrant who grew up with backyard chickens and a yard-loving abuela. He is our "gear guy" who can never have too many pairs of gloves or weed whacker attachments.