Lima beans are an easy and rewarding crop to grow in your garden. They grow in nearly an identical way to green beans but usually need a little bit more time to mature.
You can harvest lima beans at the shelling stage to cook and eat fresh or wait until they reach the dry stage. And although you may be most familiar with the standard green or white lima bean, there are quite a few varieties to choose from, each with their own unique flavor.
Here's a complete guide on how to plant and grow lima beans from seed to harvest.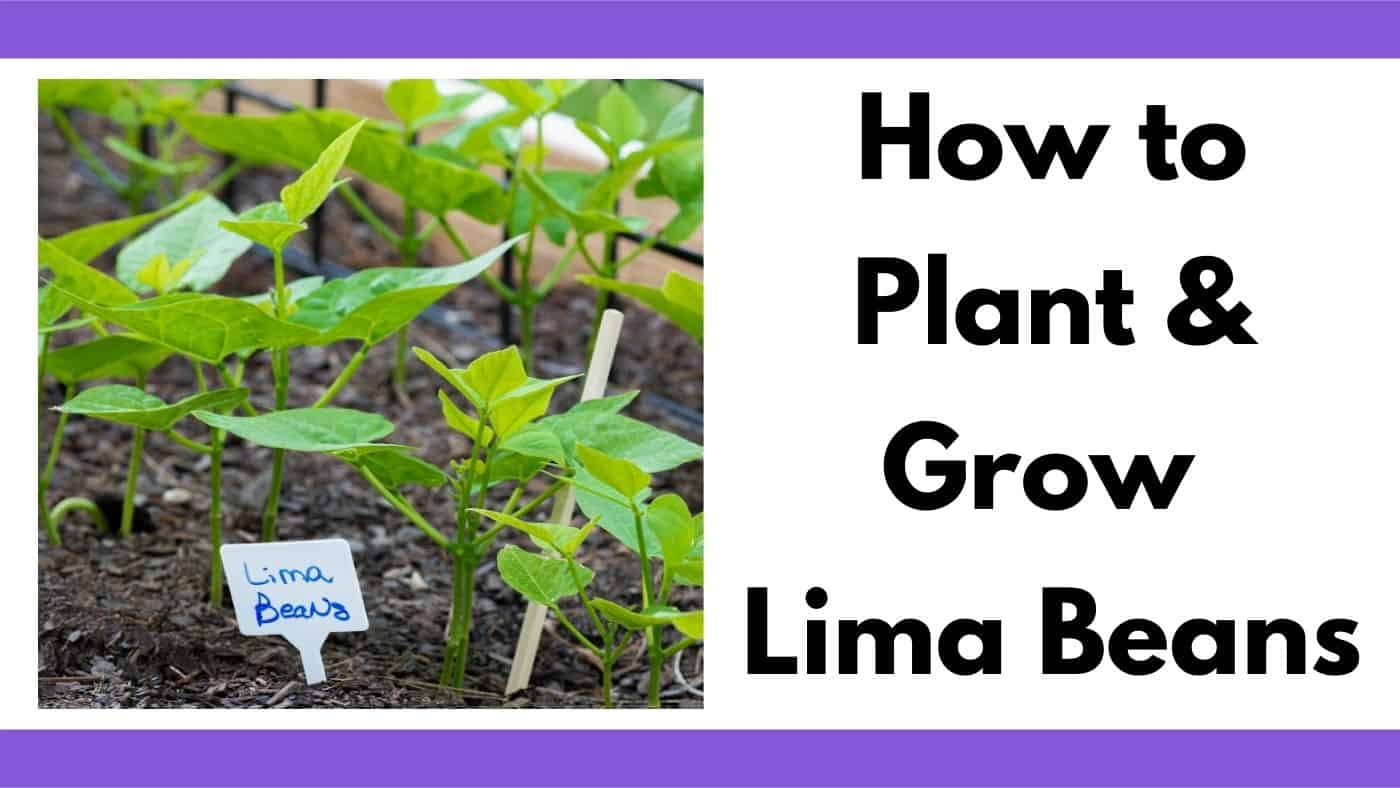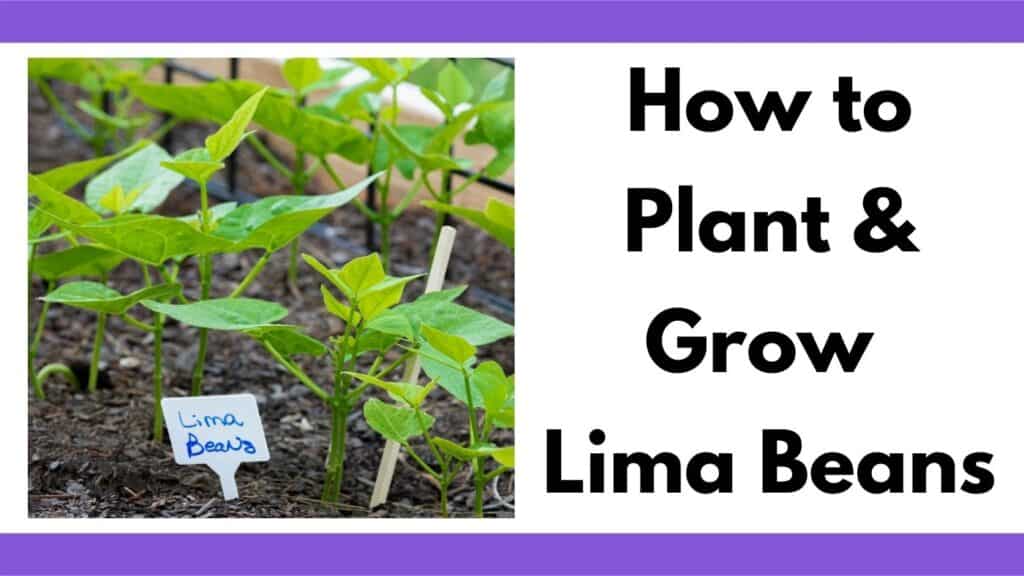 This post includes affiliate links. If you make a purchase using one of these links, Together Time Family will receive a commission at no additional cost to you.
All About Lima Beans
Lima beans (Phaseolus lunatus) are a warm weather annual vegetable. They are originally from Central America and are named after the capital city of Peru (Lima) where they have been grown for hundreds of years.
You'll also see several other names for lima beans: butter beans, sieva beans, Burma beans, and chad beans to name a few.
Because they come from Central America, lima beans need a warm growing season that's at least 2-3 months long. They are very sensitive to frost and cold temperatures but are otherwise extremely easy to grow.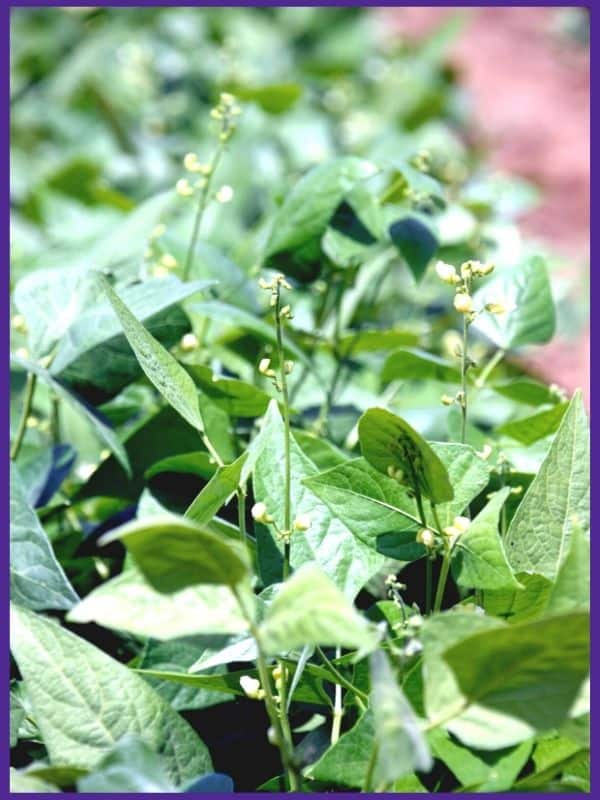 Types of Lima Beans
There are two main types of lima beans: bush varieties and pole varieties.
Bush plants usually grow about 2' tall and don't need any kind of support system. They mature more quickly than pole varieties but tend to produce smaller or "baby" beans.
Pole plants grow vines that get up to 12' long and do require some kind of trellis or pole system for support. These varieties tend to produce the large, easily recognizable lima beans that are frequently sold as dry beans.
You can grow either type in your garden or both for more variety.
Something to keep in mind as you're deciding is that bush lima beans tend to set their crop all at once for a harvest period of 2-3 weeks. Pole beans take longer to mature but produce a staggered crop that can usually be harvested for a month or two.
Bush beans are more convenient for canning and freezing because the crop comes ready all at once. Pole beans ultimately produce more food per plant.
For an ultimate guide to growing beans for storage, read Carol Deppe's The Resilient Gardener. She grows most of her staple food (corn, beans, potatoes, and squash) and is a wealth of information on growing beans. She's a Harvard-trained geneticist who's even done work with breeding her own squash, corn, and bean varieties. She knows what she's writing about!
Sale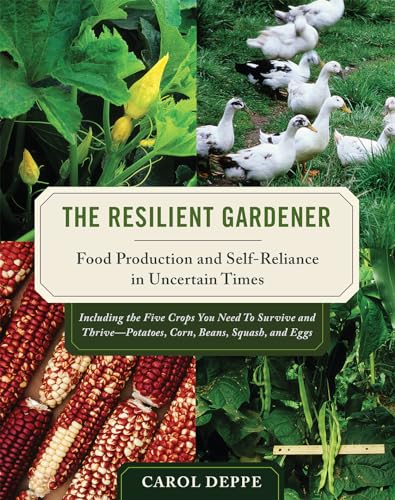 Lima Bean Varieties to Try
Choosing the right variety is an important part of how to plant and grow lima beans successfully. You want a cultivar that's suited to your region and personal gardening goals.
Bush Lima Bean Varieties:
Pole Lima Bean Varieties:
'King of the Garden'– Very large white beans produced on 8-10' vines. Heirloom, great for home gardeners. They're available from one of my favorite, trusted seed sellers – Southern Seed Exchange. They always mail seeds promptly and everything I've ordered from them as grown well.
'Carolina'– Small white beans with great flavor. Vigorous grower. Heirloom.
'Christmas'– Large burgundy and white beans with a rich, nutty flavor. Originally from Peru.
'Big Mama'– Huge beans that come in 8" pods. Beans are pale green and dry to white.
When and Where to Plant Lima Beans
Lima bean seeds and seedlings can go out in your garden 3-4 weeks after the last frost has passed in the spring. The soil should reach a temperature of at least 65°F for five days or more before planting.
Like other bean plants, limas need full sun to grow in. If you're planting the pole type, be sure to put it in a spot where it won't shade out other plants.
As far as soil goes, lima beans like well-drained soil but don't need it to be overly rich. In fact, soil with too much nitrogen will encourage leaf growth rather than fruit growth. Add compost to clay soil to improve drainage or make use of raised beds to avoid "wet feet."
Avoid planting limas in the same spot you had beans or other legumes growing in the past 1-2 years.
How to Plant and Grow Lima Beans from Seed
The easiest way to grow lima beans at home is from seed. They germinate easily and grow quickly as long as the soil is warm enough.
If you want to get a head start, sow lima bean seeds in biodegradable pots indoors about 3-4 weeks before you plan to transplant them to your garden. Make sure to gently rip open the pot when you transplant. Most peat pots and coconut coir pots actually take about a year to break down fully. Not ripping the pot can lead to stunted growth.
You can also sow them directly in your garden after the soil has warmed.
Lima bean seeds should be planted 1-2" deep (deeper for larger seeds and more shallow for smaller ones).
Outdoors, bush lima beans can be spaced 2-4" apart in rows that are about 2' apart. Pole beans can be grown in rows and spaced 4-6 inches apart, or you can plant them around a teepee or trellis.
Although I haven't grown lima beans in my Greenstalk Grower, I've had great success with several varieties of bush green bean in my Greenstalks. They're made in Tennessee by a family owned company with fantastic customer service. I highly recommend them to anyone who wants to try a vertical garden.
To grow bush beans in a Greenstalk, plant three beans per "pocket." You can see the prepared holes in the photo below. Because beans generally have a high germination rate, I've found it best to just plant one bean per hole so I don't have to thin later. Unless your seed is old, you should have a pretty good germination rate. Check your seed package for projected germination rate to make an informed decision for your garden.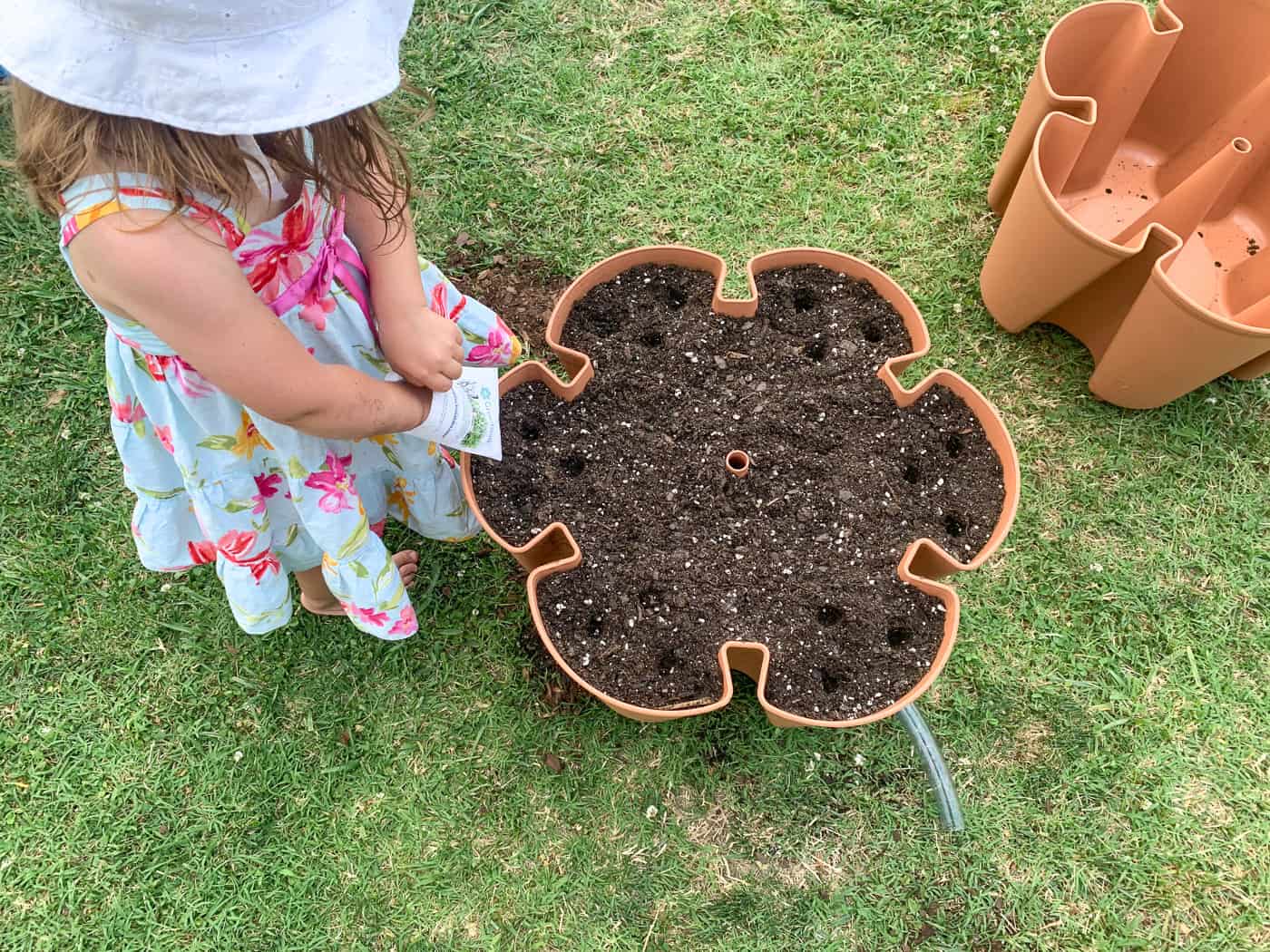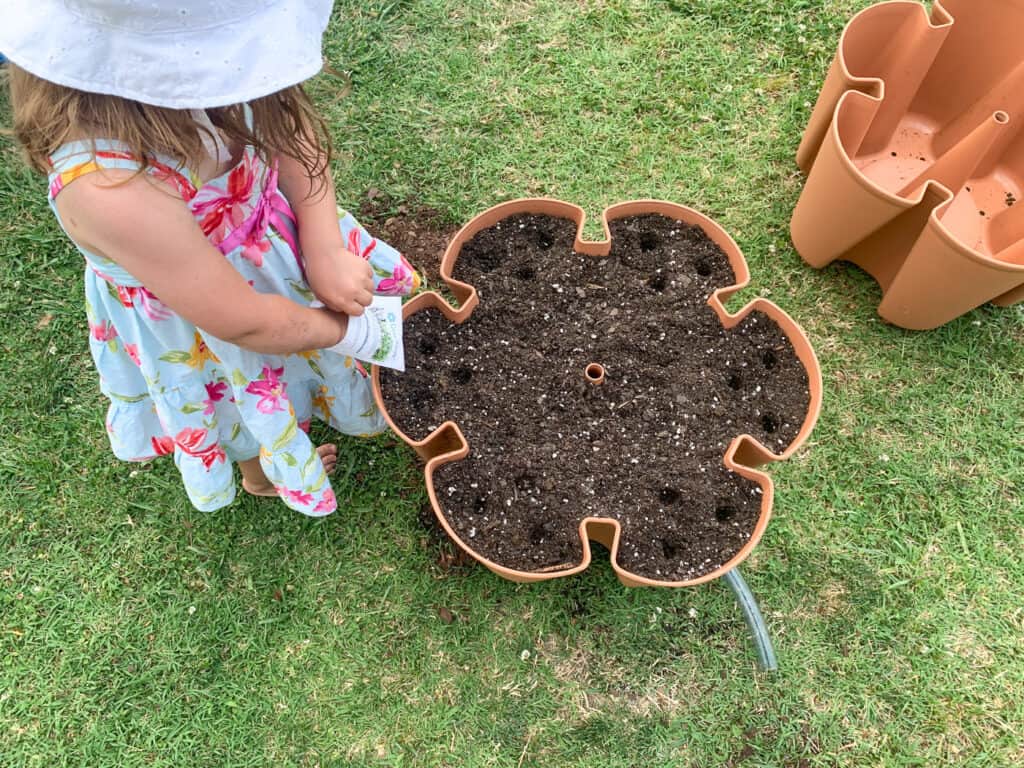 When planting bush beans in a Greenstalk, I've learned to limit myself to three tiers of beans. When I've planted four or five, the bottom rows haven't received enough light to reach their potential. I un-stacked my planter to make a three high stand and a two high stand and it helped.
Water the area where you planted your lima beans well and watch for them to germinate in about 7-14 days. Larger varieties, like Fordhook, make take up to three weeks, especially in cooler soil. Make sure to keep the soil moist, but not soggy.
Once your beans are up and growing, thin bush beans to a spacing of 4-6" by snipping off unwanted seedlings at the ground, if needed. I use my Fiskar's Micro-Tips to remove unwanted plants without damaging their neighbors.
Sale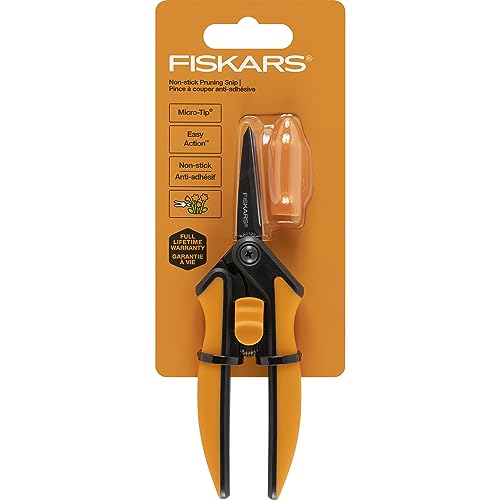 Fiskars Micro-Tip Pruning Snips - 6" Garden Shears with Sharp...
GARDENING ESSENTIAL: Stainless steel blade plant shears ideal for a variety of pruning tasks like cutting flower stems, maintaining your herb garden,...
POWER AND PRECISION: Micro-Tip blades cut all the way to the tip for clean, healthy cuts on plants in tight spaces; Low-friction blade coating makes...
LONG-LASTING AND RELIABLE: Stainless steel blades stay sharp through heavy use and provide excellent durability for lasting value; Fiskars pruning...
For a continuous harvest all summer, stagger your planting of bush beans so that seeds are going in every 3-4 weeks. Or plant a mix of bush and pole beans so they will mature at different times.
Here's my garden helper viewing the results of her bean planting: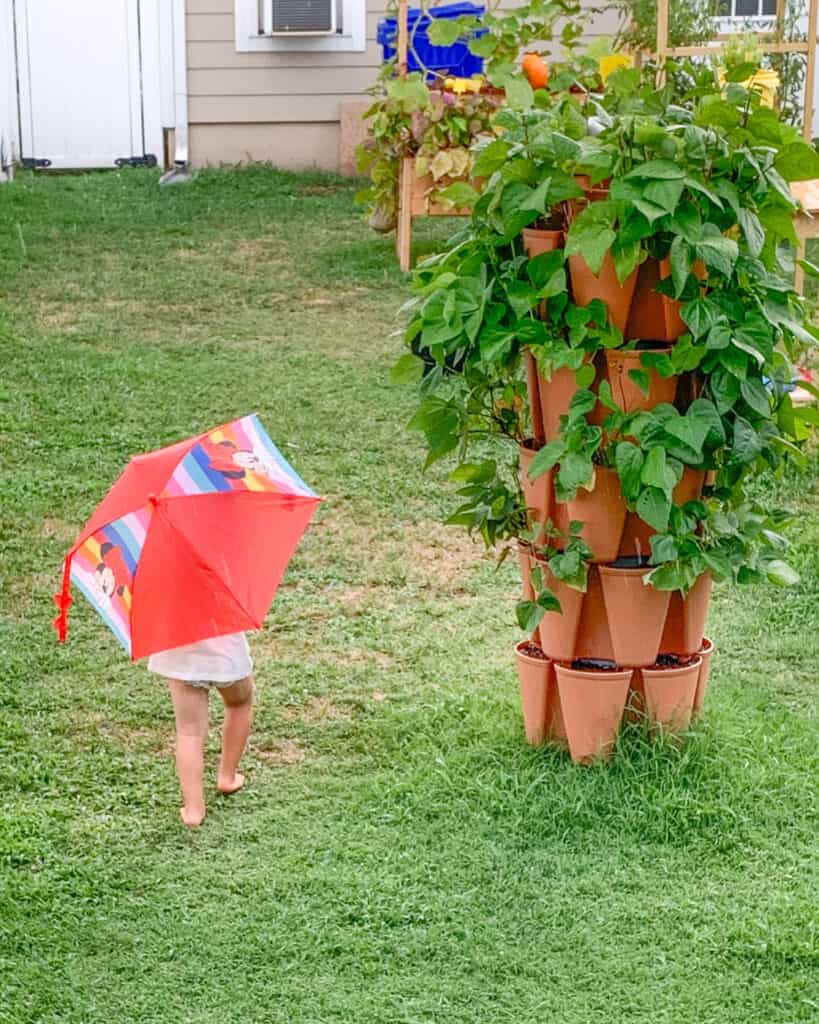 Lima Bean Plant Care
The first step to caring for pole lima beans is to put in a support system at planting time or shortly after. You can use poles to make a teepee, put up trellises, or make use of natural support like a fence. They can also be planted near a support structure to begin with.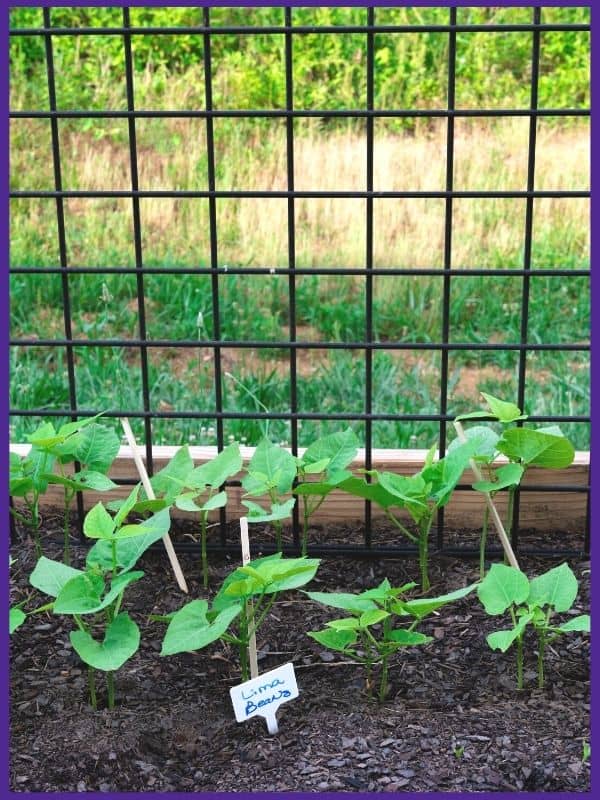 Bush beans don't need any support, although some gardeners will put poles at each end of a row and use wire or string around their beans to keep them more upright for an easier harvest.
Watering is a very important maintenance task for lima beans. They need consistently watered, especially during flowering and pod development, at a rate of about 1" of water per week. If they don't get enough water, flowers may drop without forming pods.
I use a watering wand for watering just about everything in the garden. A watering wand provides a more gentle stream than a hose nozzle so it doesn't blast your plants away. This is especially important for seedlings or if you have an enthusiastic garden helper who loves to water. Not sure what a watering wand is and how to use it? Check out this post with the best watering wands.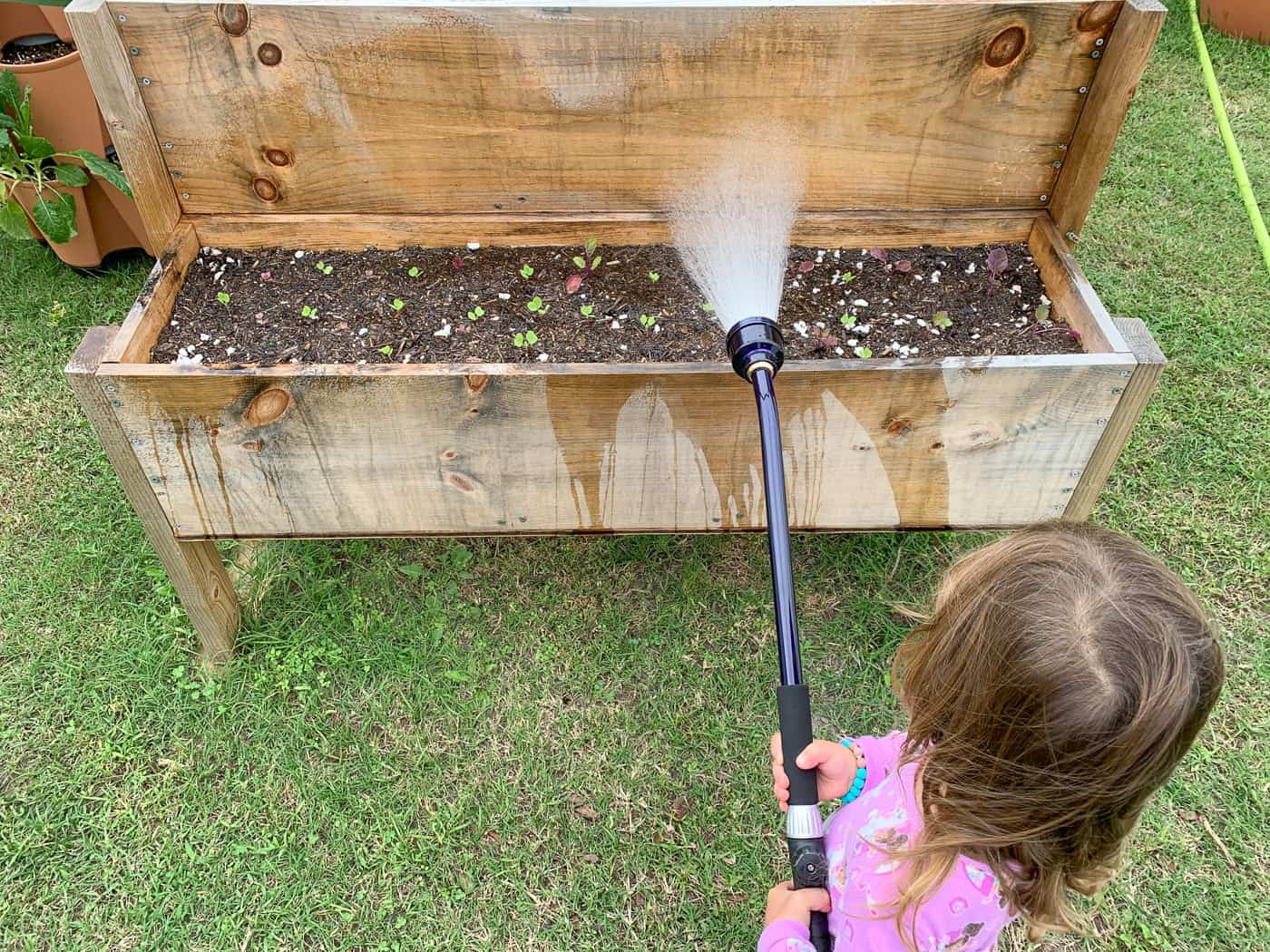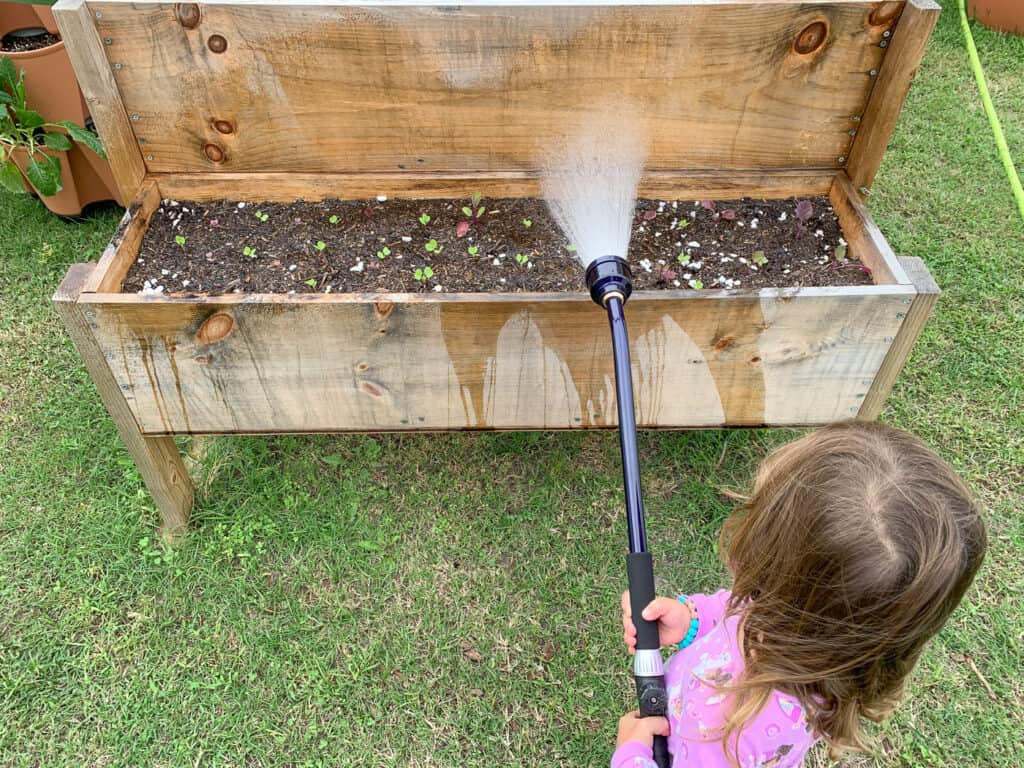 You can mulch around the roots of your plants to hold water in and keep weeds down. Wait until temperatures get around 70°F to mulch to avoid attracting slugs to your plants.
The best "fertilizer" for lima beans is a side-dressing of compost applied mid-season. Avoid using any high nitrogen fertilizers, including green manure. Nitrogen encourages leaf development. You want your beans to produce yummy bean pods, not excess leaves. Worm castings are another good choice. It's naturally mild and slow-release, so it won't overwhelm your plants and cause them to produce a burst of foliage (instead of pods).
Sale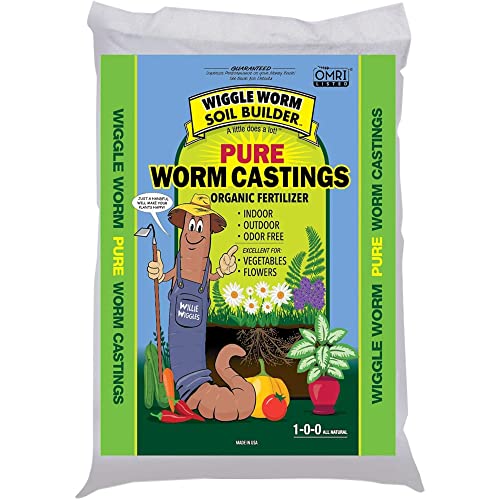 Wiggle Worm 100% Pure Organic Worm Castings - Organic Fertilizer for...
PURE EARTHWORM CASTINGS – Wiggle Worm Soil Builder is pure castings, not vermicompost, because of our special manufacturing and harvesting process....
IMPROVES SOIL STRUCTURE–Wiggle Worm Pure Worm Castings contain tiny, football-shaped particles that prevent packing to help improve plant soil...
INDOOR AND OUTDOOR USE – Wiggle Worm Pure Worm Castings are great for both outdoor and indoor gardens because it's odorless and non-toxic. Our...
Common Pests and Problems
Lima beans can suffer from common bean pests like aphids, Mexican bean beetles, cucumber beetles, and Japanese beetles. Most of these insects will do damage to bean leaves, although bean beetles will also eat through the flowers and pods as well. Adult cucumber beetles can transmit bacterial wilt, which further damages your weakened plants (source).
Damage from most of these pests occurs midsummer, so your best option is to get your beans in as early as the weather allows (or start them indoors) to get them large and healthy before the pests come.
You can handpick any of these insects off your plants and throw them in soapy water. You can also use yellow sticky traps to catch several garden pests, including fungus gnats and cucumber beetles. These traps are low-cost, easy to use, and do not contain chemicals.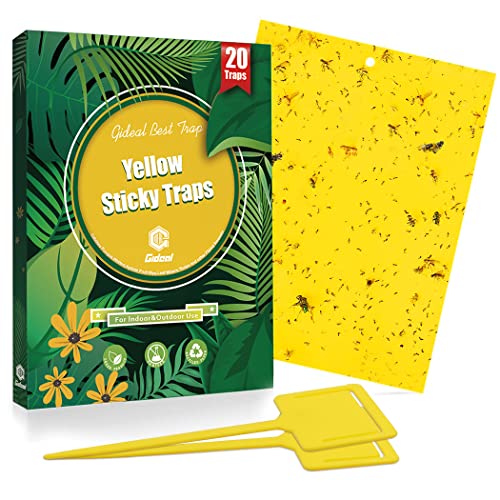 Gideal 20-Pack Dual-Sided Yellow Sticky Traps for Flying Plant Insect Such...
Effective 20 Pack Sticky. Specially designed for flying plant pests. Great for outdoor plant or houseplant.
Great for attracts whiteflies, fungus gnats, blackflies, thrips, fruit flies, midges and other flying insects.
Made of ECO friendly materials, safe and Non-toxic, product contain no pesticides and are safe to use indoors and outdoors.
If conditions are damp for long periods of time, fungal pathogens like powdery mildew and root rot can affect beans, although this is rare in warm and sunny weather. Be sure you practice crop rotation by growing beans in a different spot of your garden each year.
Larger pests like deer and groundhogs love tender, young beans and can do a lot more damage than most smaller pests. Be sure you put up fencing to protect your harvest!
I recently found an excellent book called Deerproofing your Yard and Garden. The author, Rhoda Massingham Hart, has an excellent understanding of deer. She communicates this knowledge well and offers practical advice on how to keep deer out of your garden. She offers evidence-based practices and evaluates the efficacy of popular "home remedies" for deer (like hanging up soap bars). Unless you live in Antarctica where there are no deer, this book is a must-read for anyone with a yard or garden.
Sale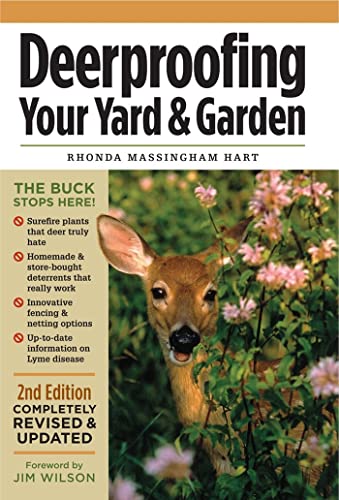 Deerproofing Your Yard & Garden
Rhonda Massingham Hart (Author)
English (Publication Language)
208 Pages - 04/15/2005 (Publication Date) - Storey Publishing, LLC (Publisher)
When and How to Harvest Lima Beans
Lima beans are ready to harvest when the pods feel full when you test them. They should feel firm, and some varieties will plump up. If you want to harvest lima beans as a dry bean, wait until the pods turn brown, papery, and dry.
Most lima bean varieties will be ready for harvest in 60-90 days. Bush beans are usually ready first, followed in a few weeks by pole beans.
Be sure to pick your beans every few days once they are mature. This encourages the plants to keep producing new flowers and pods and also keeps the beans from going past their prime. Pods will typically go from looking flat-ish…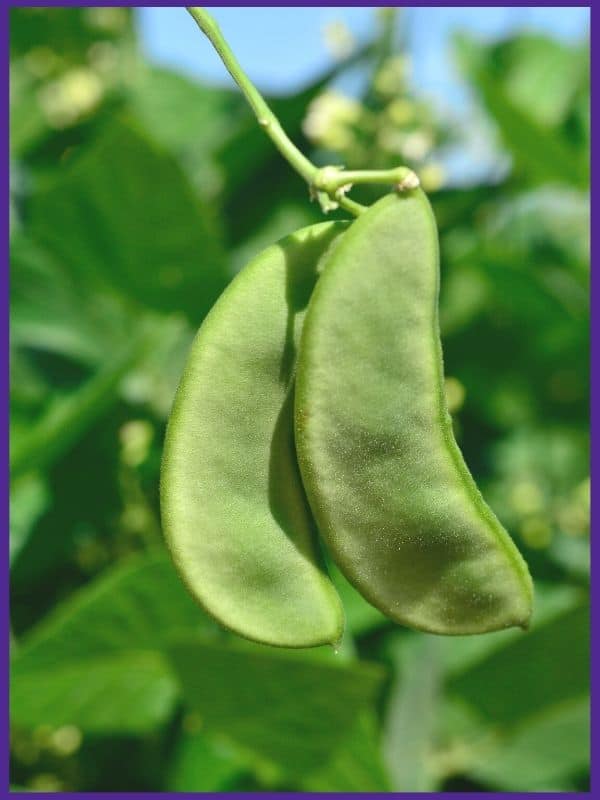 …To being more plump when they're ready to pick. Appearance will depend on your variety, so make sure to look it up. Some varities won't appear as plump.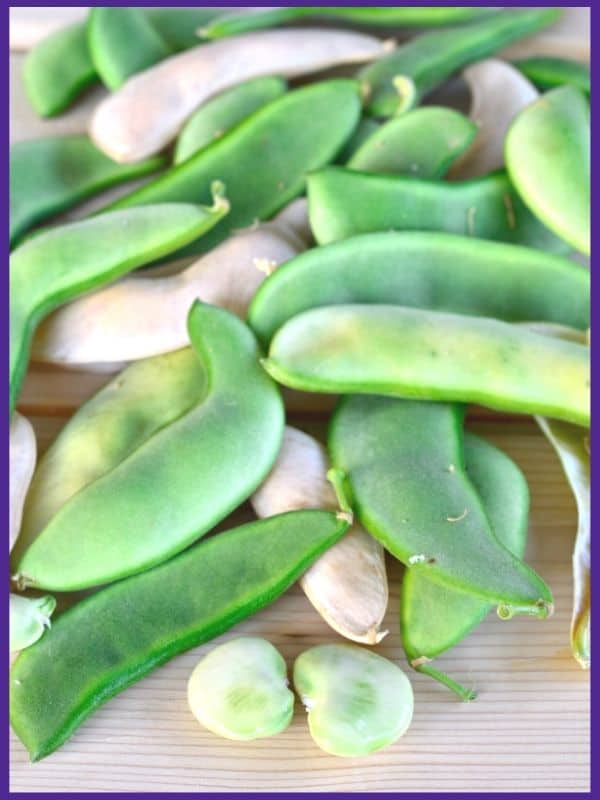 You can harvest by simply pulling pods off with your hand, just be sure to hold the stem with your other hand so that you don't accidentally rip out the vine.
Bean plants are covered little hair-like structures. If you have sensitive skin (I do), wear long sleeves and gloves to protect your skin. If I pick beans without protecting my arms and hands, my skin becomes irritated, itchy, and red. If you're looking for a new pair of garden gloves that actually fits, check out this guide to the best cut-resistant gardening gloves. There are several options in smaller sizes for women, and even kid's gardening gloves. These gloves are my current favorite for gardening. They do run a little large – I ordered small and they're still a tad big. Note my long sleeves in the photo below!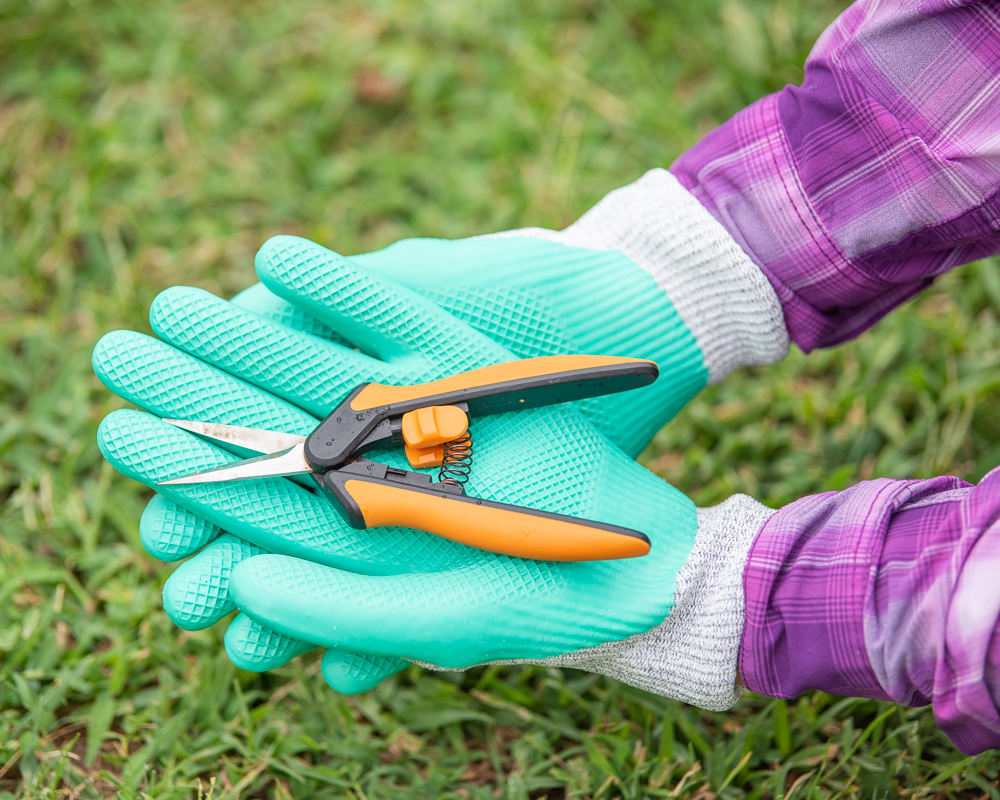 Fresh lima beans can be stored in the refrigerator (unshelled) and should be cooked or frozen within a week of picking them. Dried lima beans (shelled) can be stored in airtight containers for a few years.
Beans, especially more colorful ones like the Christmas lima beans shown below, look pretty in glass jars in your pantry: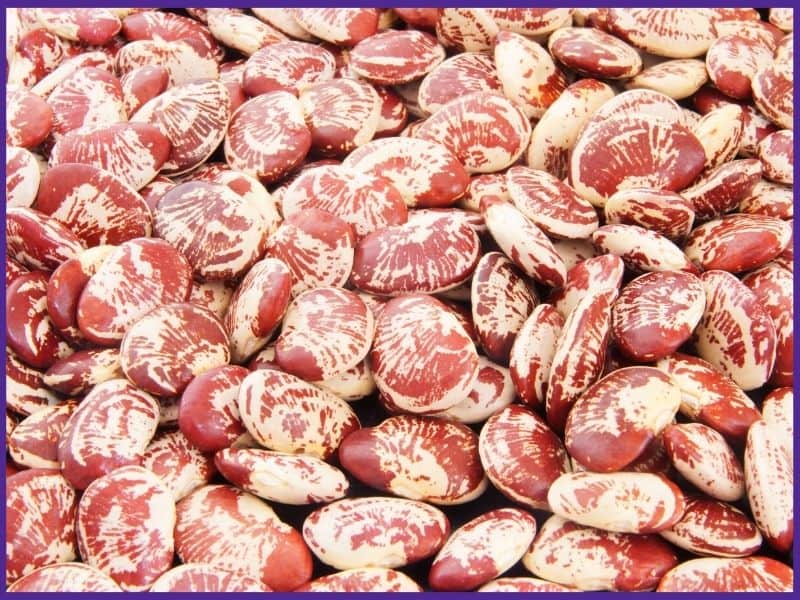 Growing Lima Beans
Now that you know how to plant and grow lima beans successfully, be prepared for a large harvest! In the right conditions, bean plants produce a lot of pods, and you may need to freeze some or share with your neighbors.
Remember that you can also store dried lima beans to plant in your garden next year. Or try some different varieties next year to see if you find a new favorite!
Popular summer vegetables and herbs
Discover how to grow popular vegetables and herbs in your backyard garden or container garden with these in-depth vegetable growing guides.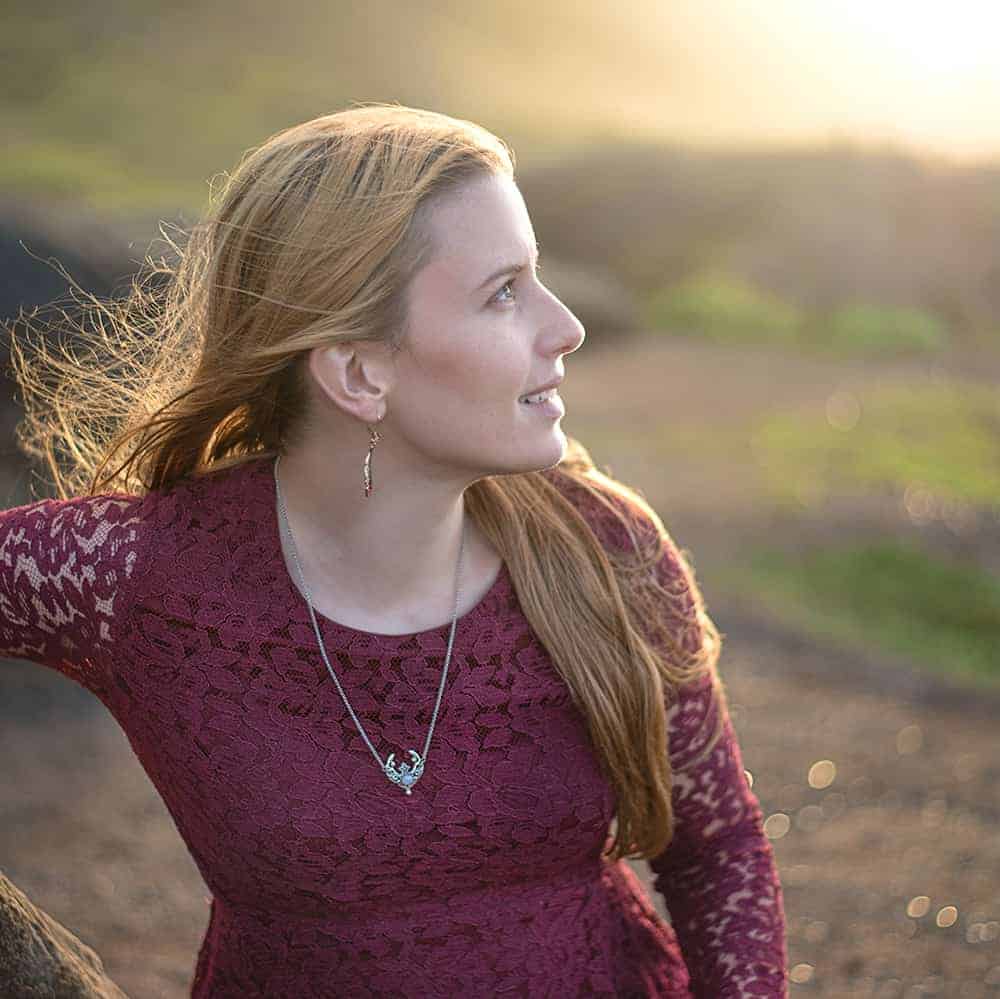 Natasha Garcia-Lopez is an avoid home-gardener and proud owner of 88 acres of land in rural West Virginia. She was a member of the Association for Living History Farms and Agricultural Museums for many years and is currently enrolled in the Oregon State University Master Gardner Short Course program so she can better assist you with your gardening questions.She holds a certificate in natural skincare from the School of Natural Skincare.