Holy basil, also known as tulsi, is a special type of basil with its own unique properties, fragrance, and flavor. It can be grown as an indoor or outdoor plant, though it thrives best with lots of warmth and sunlight.
If you want to grow it outdoors, tulsi is an annual herb, just like sweet basil. It's easy to grow and care for, and a few plants will reward you with a large harvest.
Here's a complete guide to growing tulsi basil, including how to start it from seed and how to prune and harvest tulsi.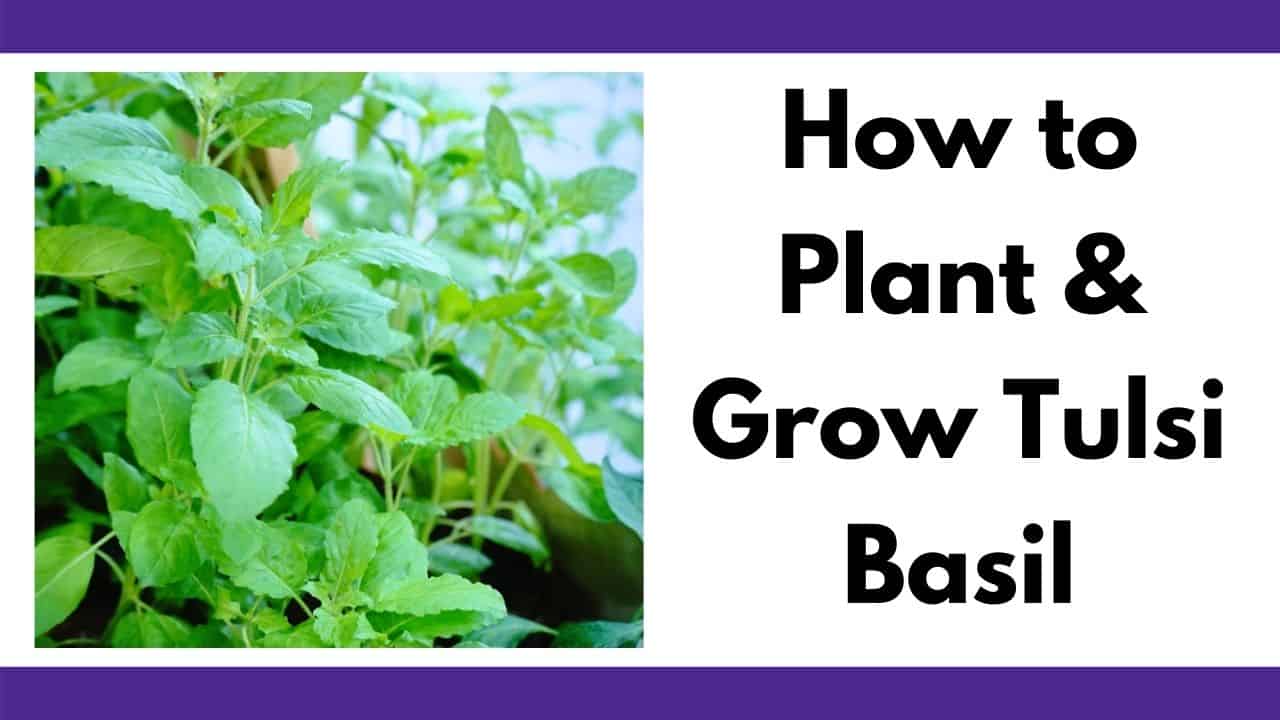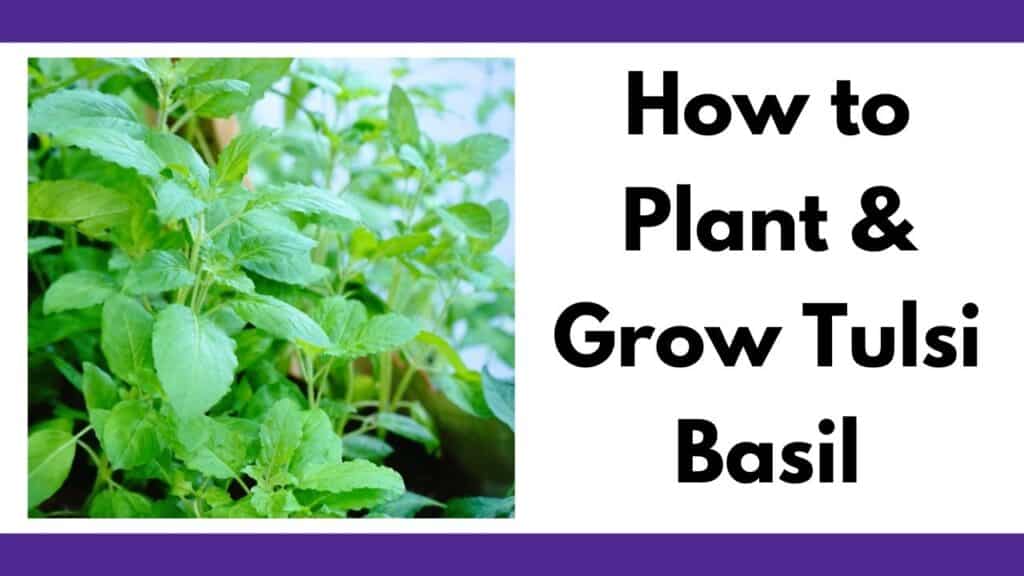 This post includes affiliate links. If you make a purchase using one of these links, Together Time Family will receive a commission at no additional cost to you.
What is Holy Basil?
Holy basil or tulsi (Ocimum sanctum, synonym O. tenuiflorum) is closely related to sweet basil (O. basilicum). It's originally native to India and remains a sacred herb in that country. In India, tulsi basil was traditionally seen as a manifestation of the divine and the embodiment of Lakshmi, the goddess of wealth and generosity (source).
Tulsi is most often grown as a medicinal herb. It has deep roots in Ayurvedic medicine and other eastern traditional medicinal practices.
Holy basil has also made its way to the western world where it's mostly used as an adaptogenic herb to ease stress and restore energy. You can use the fragrant leaves to make teas, tinctures, and a whole host of other preparations to support your mind and body. It can also be used for cooking, though it has a slightly different flavor from sweet basil.
In the garden, tulsi basil can be grown in the ground or in pots for convenient harvesting. Harvest time is typically from early or mid-summer until fall.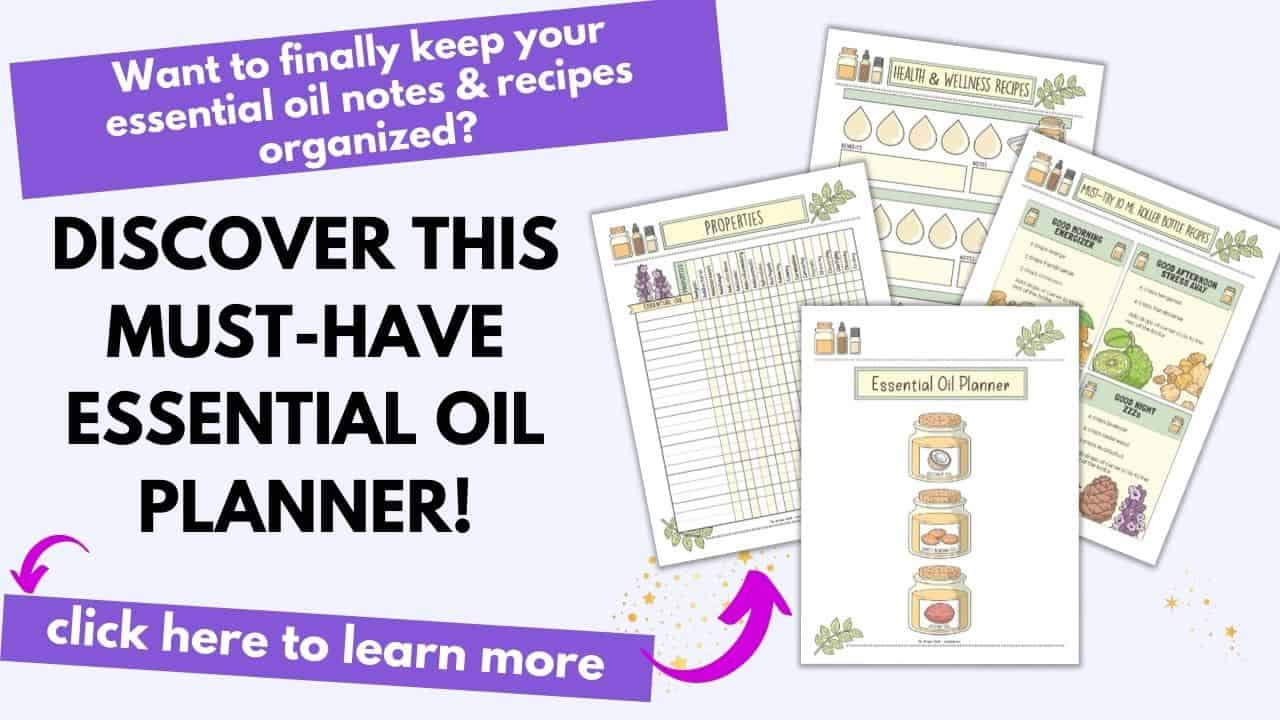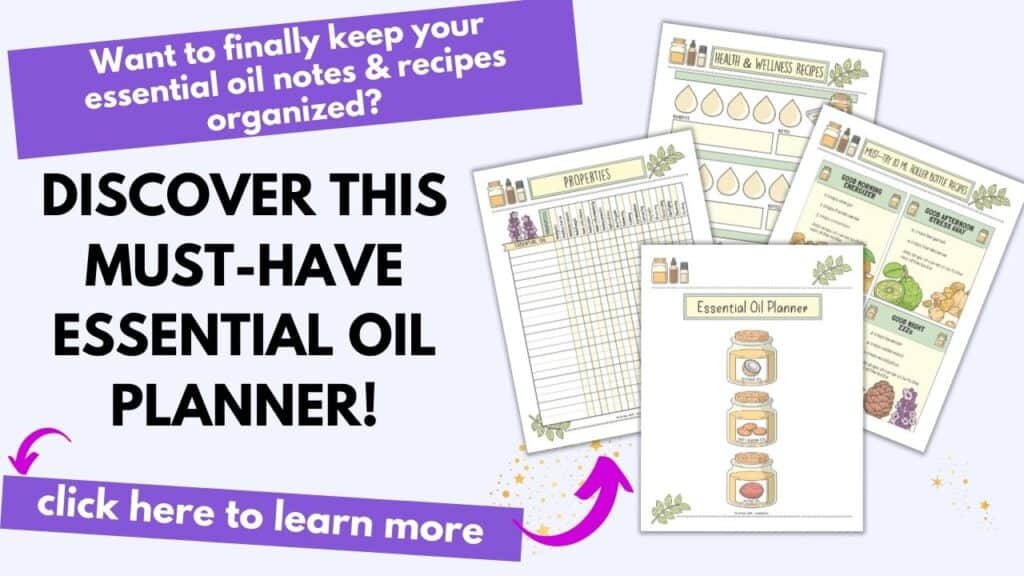 If you decide to check out the essential oil planner linked above, you'll be taken to a page on my printables blog. I don't want you confused and wondering what happened to the gardening blog you were reading when you see the url!
Growing Tulsi Basil vs. Sweet Basil
If you've ever grown sweet basil, growing tulsi won't be difficult. The two both thrive on heat and sunshine and have a very similar growth habit. The only difference is that holy basil may need a bit more attention and pampering than 'regular' basil. (Not sure what requirements basil has and what you can plant it with? Stop by this guide to planting herbs together.)
There are a few differences between the two as far as appearance and flavor.
Sweet basil has smooth, rounded leaves that tend to curl under at the edges. The leaves of tulsi are more jagged and come to a point, as shown in the photo below: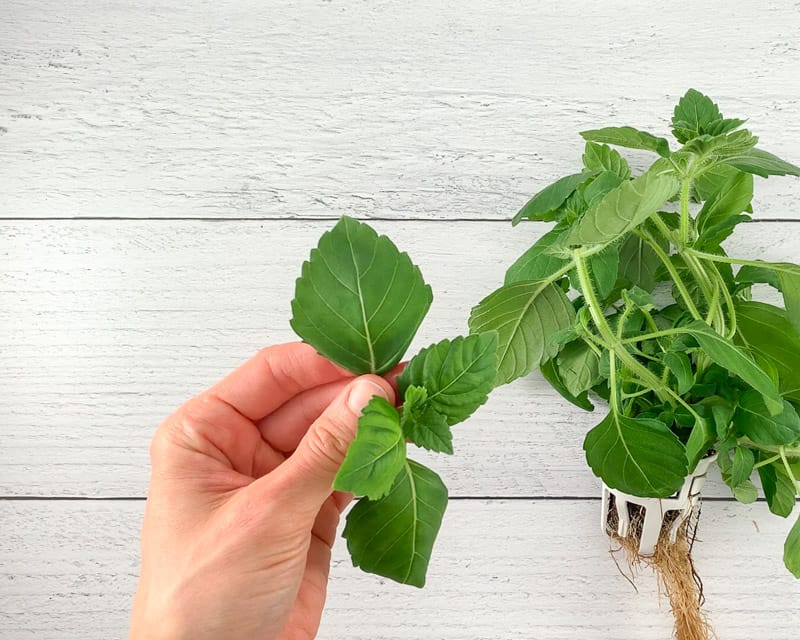 Tulsi basil has that familiar basil flavor but with hints of anise, citrus, and clove. You can use it in recipes like pesto, pizza, and sauce as well as herbal recipes like tea.
Different Varieties of Tulsi
There are several varieties of tulsi that each have their own unique flavor and different concentrations of essential oils. You can use them all interchangeably for health or culinary purposes, but you may want to experiment to find which grows best for you.
Here's a look at your options:
'Kapoor'– This cultivar is the most common, grows quickly, and has high yields. If your holy basil doesn't have a cultivar name, it's most likely 'Kapoor'.
'Krishna'– This cultivar has purple stems and leaves and is a favored medicinal variety in India. Lower yields and slower growth than 'Kapoor'.
'Rama' and 'Amrita'– These two have higher concentrations of essential oils but are harder to germinate and grow.
'Vana'– This cultivar is rich in eugenol, which is also found in cloves. Great tasting but harder to find.
I personally grow tulsi using these Kapoor seeds from Southern Seed Exchange. I am a happy repeat Souther Seed Exchange customer because their seed germinates and grows well and they always ship quickly.
Growing Tulsi Basil from Seed
Because tulsi basil can be harder to find as a plant than sweet basil, starting it from seed is the best option for most gardeners.
Basil is frequently a slow starter. The seeds I've ordered from Southern Seed Exchange germinate quickly, but then the plant is sloooow to grow for several weeks. I frequently see questions from people who are worried something is wrong with their basil because it hasn't grown much for several weeks.
Your tulsi basil will most likely sit there for several weeks with just one tiny set of leaves. As long as the leaves are green and healthy, don't stress. Your plant will start growing vigorously soon.
Start your seeds indoors 6-8 weeks before your last average frost date in the spring. This will give your herbs a head start when you plant them outside and give you a harvest as soon as possible.
Plant seeds ¼" deep in trays filled with a good quality seed starting mix. Water the seeds, and place the trays somewhere that's 70°F or warmer for the best germination. Seed starting mix is sterile and reduces the likelihood of damping off killing your seedlings.
For an even easier time starting seeds, follow the steps outlined below in the section on growing tulsi hydroponically and start your seeds in grow medium plugs.
Holy basil typically takes 7-14 days to germinate in warm temperatures. Keep the soil damp but not soggy during this period. Once you see sprouts coming up, place the trays under grow lights or by a very sunny window.
I've found these affordable clip on grow lights are good for seed starting. Basil is very cold sensitive, so if you're starting it early indoors it can be better to keep it away from windows until after it's starting to grow strongly.
Sale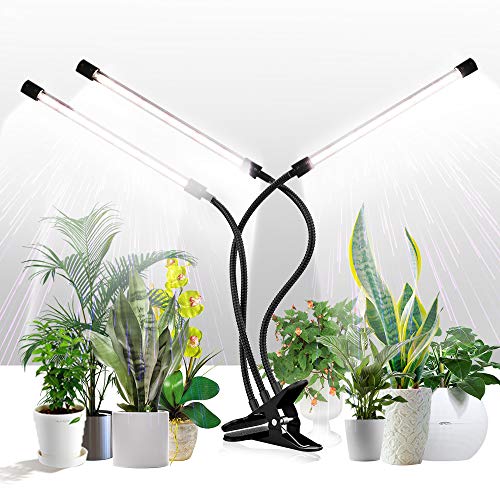 GHodec Grow Light for Indoor Plants,6000K 126LED Clip Plant Lights with...
【Sunlight White + Red LEDs】Eqquiped with 5 Red+37 Sunlight White LEDs in each bar,which is similar to the sunlight at noon,and ideal for all sorts...
【Timing Function & Versatile Settings】 Indoor plant lights offer 3 timing options-4H/8H/12H lighting time everyday. Auto on/off and no more...
【Sturdy Gooseneck & Strong Clamp】with anti-slip clamp and 360-degree adjustable gooseneck,it allows you to place the plant light in any direction...
Make sure you harden off your tulsi seedlings before planting them outside, but never take them out in temperatures that are 40°F or below. Not sure what hardening off is or why you should bother? Read this guide on how to prepare seedlings for transplanting.
Once the soil warms up outside, you can also direct sow tulsi basil seeds every 2-3 weeks to make sure you'll have a continuous harvest all summer long and into fall.
As long as you harvest tulsi the correct way, as shown in a section lower down in this post, just a few plants will give you a significant harvest. Make sure to keep reading to discover how to harvest tulsi!
Tips for Planting Holy Basil Outdoors
When to Plant Tulsi Basil
You can plant basil seedlings outside a few weeks after your last frost date in the spring. Don't rush it, though, because basil is very sensitive to cold temperatures!
Wait until temperatures don't drop below 50°F at night and the soil has warmed to at least 50°F. Without heat, your holy basil plants won't do much growing, so it's very worthwhile to have patience before planting them.
Where and How to Plant Tulsi
Tulsi basil can be grown in the ground or in containers. It will grow more quickly in pots, since the soil warms up faster. But for a large basil harvest, you'll probably want to set aside a section of your garden to plant.
Either way, plant your basil in a spot that gets full sun, which means at least 6 hours of sunlight each day.
Make sure your soil drains well before growing tulsi basil, since it doesn't like standing water. If you're using containers, choose ones with drainage holes in the bottom or drill your own. I prefer fabric grow bags because they're breathable and drain easily. The (very) large basil plant shown in this post on how to harvest sweet basil grew happily all season long in a five gallon grow bag. Bonus: grow bags fold flat to store over the winter and don't take up tons of space like clay and plastic pots. They're also lighter to carry.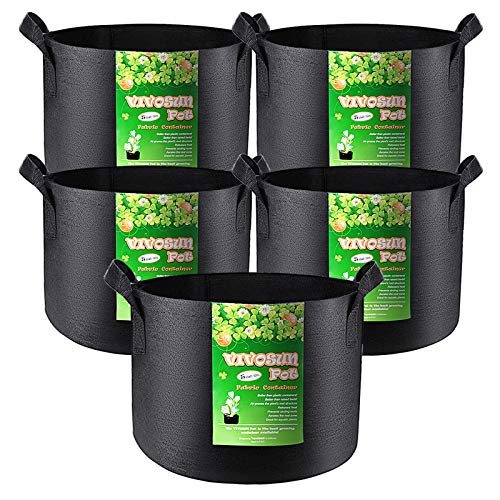 VIVOSUN 5-Pack 5 Gallon Grow Bags Heavy Duty 300G Thickened Nonwoven Plant...
Sturdy Fabric Material: Made of 300g of thickened nonwoven fabric, these pots are moderately permeable, and BPA-free
Great Drainage: Nonwoven fabric means the pots do not retain excess water, allowing your roots to breathe for healthier, more vigorous growth
Durable, Reinforced Handles: While the competition uses flimsy handles that are merely strips of the same fabric the pot is made from, we use serger...
Add compost, well-rotted manure, or another type of organic material to your soil before planting to keep your plants fed and happy as they grow.
Basil is a heavier fertilizer than most herbs, so it does benefit from occasional fertilizing.
A top dressing of worm castings, which are naturally slow release and don't burn the plants, is an easy "set it and forget it" way to fertilize. If you prefer to add a liquid fertilizer, Neptune's Harvest products are organic and provide micronutrients, not just macronutrients. When I don't feel like like mixing Neptune's Harvest because it has a fishy smell, I go with Fox Farms organic nutrients, instead.
Tulsi basil grows about a foot tall and should be spaced 8-12" apart. In containers, you can plant one seedling in each small or medium pot and 2-3 in large pots. Keeping them spaced out will help them stay healthy.
Growing Tulsi Basil Hydroponically
Tulsi can also be grown hydroponically, indoors or out.
The exact way you start and care for your hydroponic basil will depend on your system. This is primarily a soil based gardening website, not a site devoted to hydroponics, so I won't go into great detail about hydroponics systems here.
If you're curious about building your own hydroponics system, the book DIY Hydroponics Gardens is a great place to start. It gives instructions, with step by step photos, for building several hydroponics systems.
The simplest is the basic bottle hydroponics system with the plant stuck in an upcycled bottle. This simple system can work for basil, as long as you follow suggestions in the book (such as cleaning the bottle and switching out the nutrient solution periodically)
Sale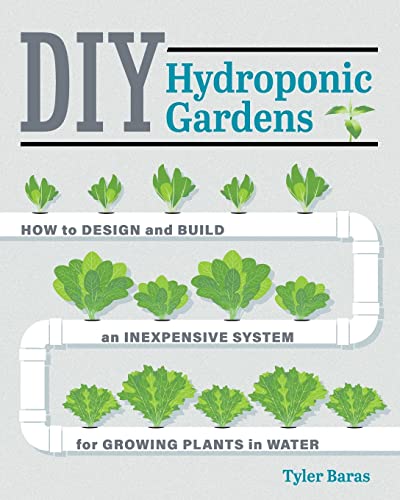 I personally grow tulsi from seed in my LettuceGrow Farmstand. It's a tight fit for basil under the light rings indoors during the winter, but I enjoy having fresh basil all year long.
To grow basil from seed for my Farmstand:
I start the seeds in Root Riot cubes. I place two or three seeds in each well-hydrated cube. I use smaller plastic trays that are easier to manage than the giant seedling flats.
Then I cover the trays until the seeds germinate.
After germination, I uncover them and place them under my small clip on grow lights.
I usually place the seedlings in the Farmstand before they develop true leaves.
If you use a grow plugs (Root Riot, Rapid Rooter, etc.) in your hydroponics system, you can follow a similar process. Because they're easy and convenient to use, I start many of my soil plants for transplanting in these grow medium cubes, too.
Tulsi Basil Plant Care and Pruning
Once established, holy basil won't need much care. Your biggest maintenance task is watering, especially if your herbs are growing in containers. Water just before the soil dries out, which may be once or twice a day in the hottest weather. When your plant is young and small, use a watering wand for a gentle watering that won't blast your plant out of the ground. Not sure what a watering wand is? Discover our guide to the best watering wands.
At the beginning of the season, cover or bring your plants inside if temperatures close to 40°F are called for.
If you added compost before planting, your basil won't need much supplemental fertilizer. However, a few applications of a balanced fertilizer or compost tea throughout the season can give plants a boost.
The one thing you should do is prune your plants once they get 6-8" tall and have at least three pairs of true leaves. Six pairs of leaves is even better, if your plant isn't already too tall by this point.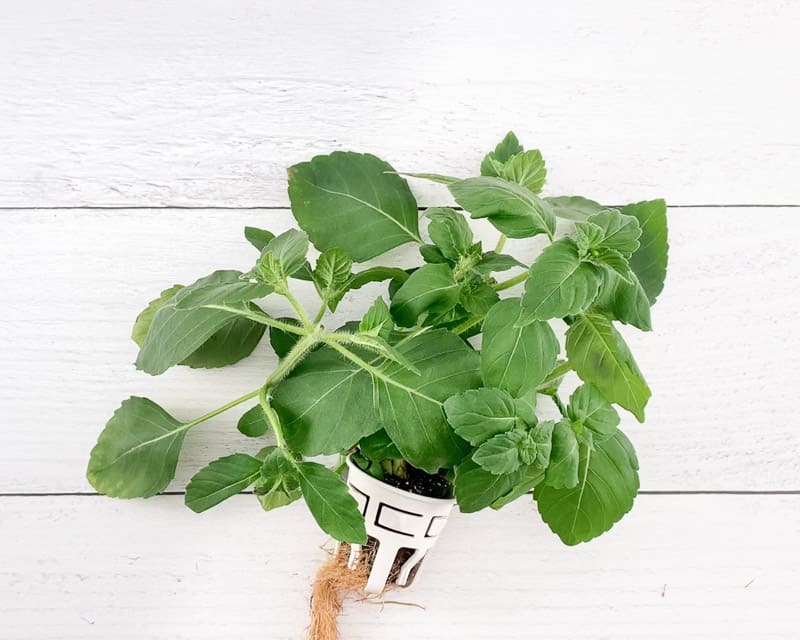 All you need to do is pinch or snip off the top one or two sets of leaves. Cut right above a node where you see a set of baby leaves coming out of the stem. I use my Fiskar's Micro-Tip snips when the plant is young.
At some point, you'll also want to pinch off flower buds as they appear. Tulsi doesn't get as bitter as other herbs when it blooms, but flowering will slow leaf production. Pollinators love basil flowers, so you may want to leave a few intact as the season progresses so bees have something to eat.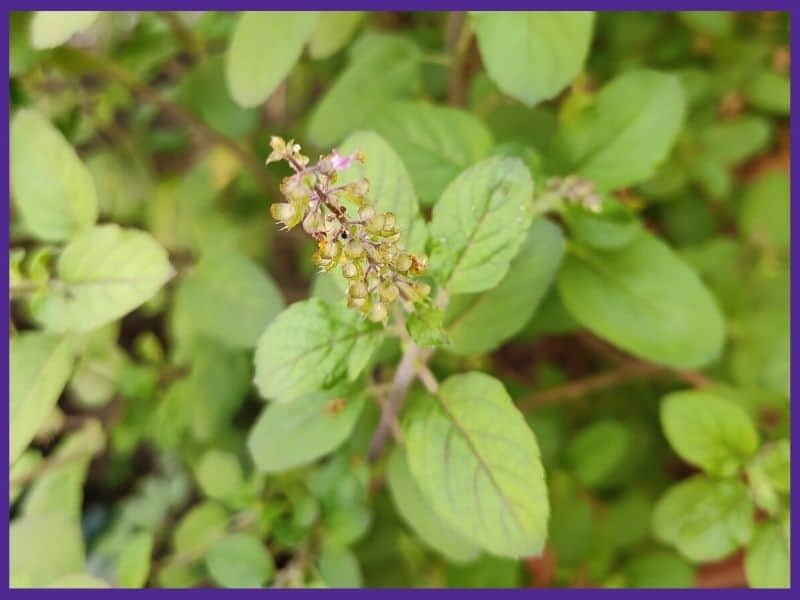 Common Pest and Problems
A great benefit of growing tulsi basil is that it rarely has pest problems. Occasionally, you may encounter aphids, slugs, or Japanese beetles chewing on the leaves, but they are usually easy to control. Basil is a flea repellant plant that tends to keep other insects away, too, with its strong scent.
Fungal diseases like powdery mildew or root rot can be a problem in very humid conditions or if your soil doesn't drain well. Space plants properly and plant in containers or raised beds to avoid this problem.
How to Harvest Tulsi Basil
You can start harvesting small amounts of basil as soon as plants get 6-8" tall. Pinch back the growing tips by one or two sets of leaves to prune your plants and harvest at the same time.
For a bigger harvest, wait until plants get about a foot tall and have bushed out. The herb does best with continual small to medium sized harvests, but you can pick up to half the leaves at any time.
To harvest stems of basil, use a clean pair of garden snips or sharp scissors. Snip off the length of stem you want, cutting right above a node (where you can see a tiny set of new leaves). These small new leaves will develop into new stems, making your plant sturdy and bushy instead of long and spindly.
I created a quick video showing how and where to cut tulsi basil for harvesting. The plant plant is a little smaller than what you might normally prune outdoors, but it was growing under short grow lights and needed to be trimmed.
Here's a close up of where the node where you should cut basil: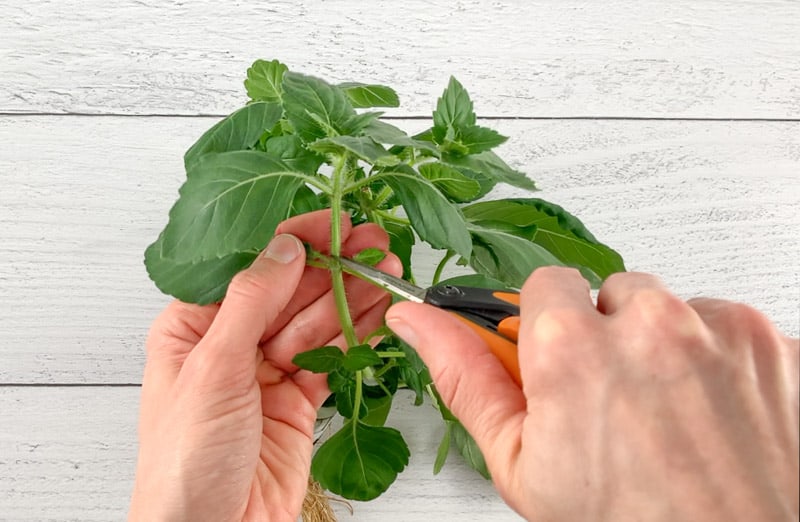 Holy basil is best used fresh and right after you harvest it. This is when the highest amount of essential oils and other plant compounds are still intact.
However, you can also dry or freeze tulsi basil to store it through the winter.
Tulsi should be dried gently using the lowest heat setting on your dehydrator. Trying to dry it in the oven will most likely cause the herb to cook too quickly and loose flavor and potency.
I use this simple Presto! food dehydrator. My family has used an earlier model for 20+ years (it still works!), but I loves the newer model in my kitchen. The trays can be stacked so they don't reach sky high during storage, which is a huge space saver.
Sale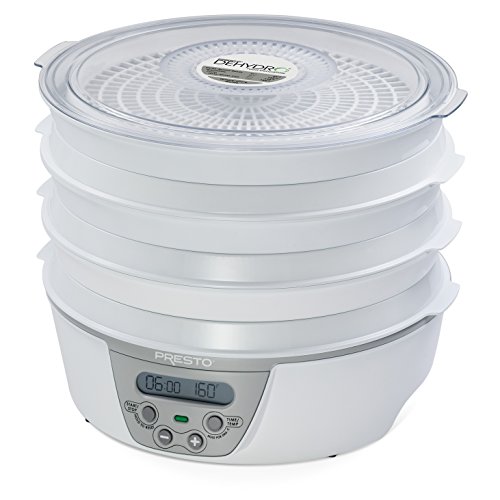 Presto 06301 Dehydro Digital Electric Food Dehydrator
Six-tray system for dehydrating foods at a fraction of the cost of commercially dried foods with no additives or preservatives.
Makes jerky from meat, poultry, and seafood includes sample packets of jerky spice and cure
Digital thermostat and timer for precise drying time and temperature choose drying temperatures from 90 to 165 degree f
Using and Enjoying Your Tulsi Basil
You can use tulsi basil in any recipe that calls for sweet basil, but most gardeners grow it for tea and other herbal preparations.
Holy basil blends well with many other herbs, including mint, lemon balm, nettle, rose petals, and adaptogenic herbs like ashwagandha. You can even make a calming tea using both tulsi and sweet basil. You might be surprised at how good it tastes! I personally enjoy a ginger and tulsi tea.
How to make fresh ginger tulsi tea
There are several ways to make ginger tulsi tea. This method is no-fuss and easy to modify based on your tastes.
Ingredients and materials:
1 cup of water
1/2 teaspoon of grated ginger or two nickel-sized slices of ginger. Use more ginger for a spicier flavor.
2-3 fresh tulsi leaves
Tea strainer, best choice for a more potent tea, or a tea ball/tea bag
A way to heat your water. I use a Pyrex cup in the microwave.
Your favorite tea mug
How to make fresh tulsi ginger tea
Boil your water. If you're not using a tea ball, it's easiest to use a pot on the stove or a Pyrex cup in the microwave.
Add your ginger and tulsi to the freshly-boiled water and allow it to steep for 5-7 minutes, or to taste. If you're using a tea ball, place the filled tea ball in your cup and pour the hot water over the tea ball. Allow to steep.
Pour the steeped tea through a tea strainer into your mug, or remove the tea ball from the cup.
Enjoy!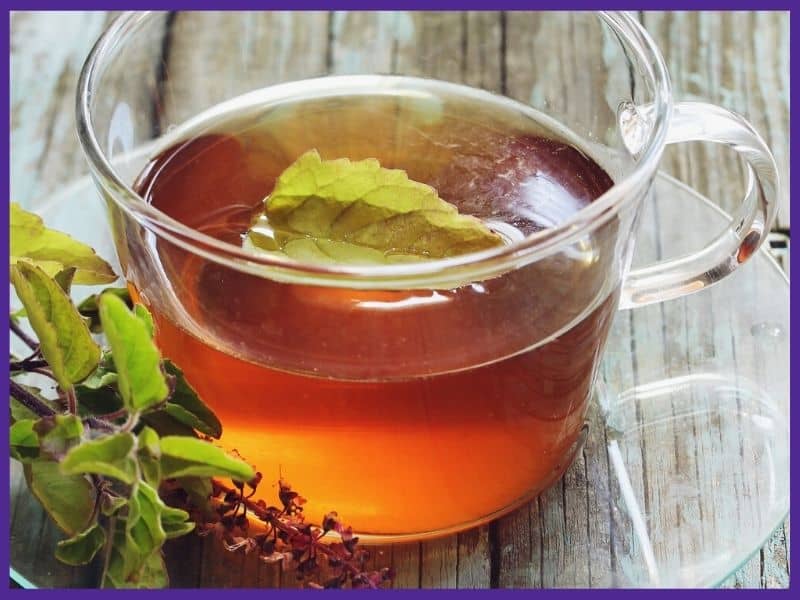 However you choose to use it, growing tulsi basil in a warm, sunny spot and keeping it watered will ensure healthy plants that reward you with a large harvest.
I hope you enjoy growing your own tulsi basil at home! Be sure to discover more herb planting and growing guides here on The Artisan Life:
Herb Growing Guides
There are many herb growing guides here on Together Time Family.
Individual herbs all have their own light, soil, temperature, and water requirements. Discover what your favorite herbs need to thrive so you can enjoy a bountiful, healthy harvest.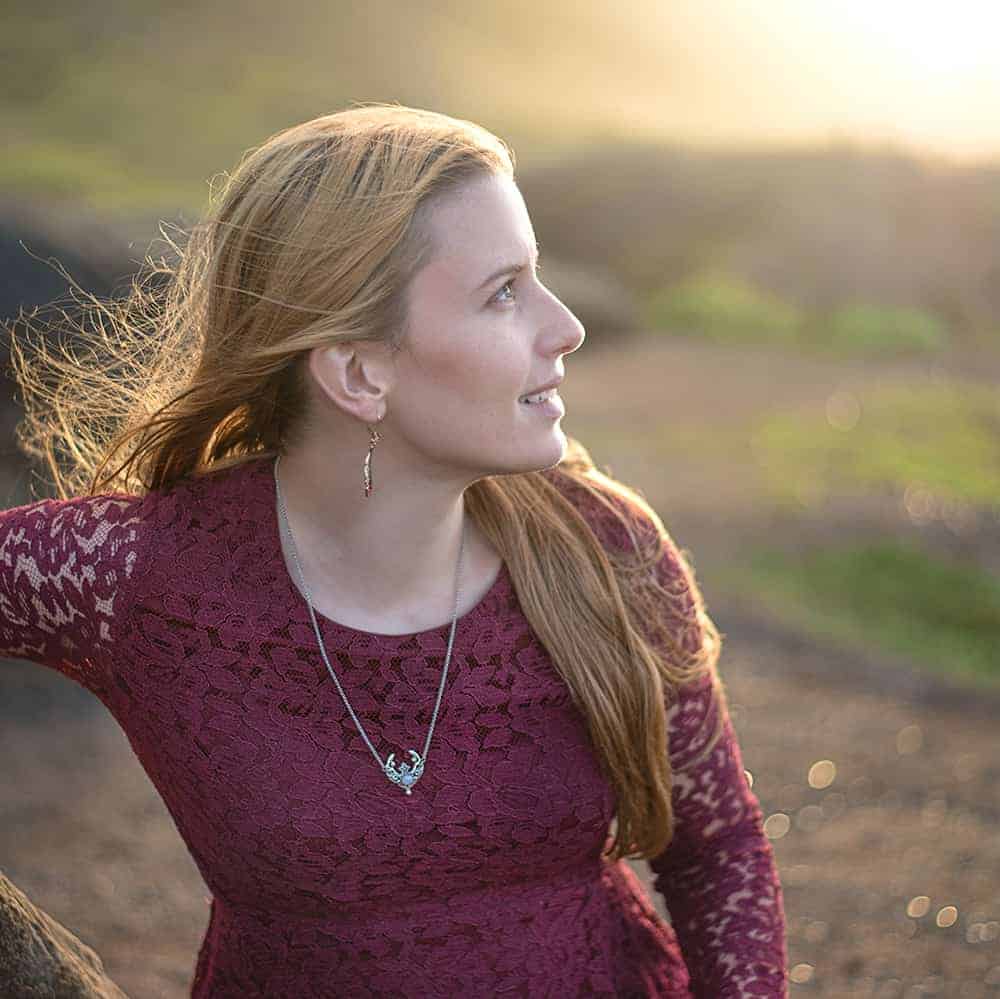 Natasha Garcia-Lopez is an avoid home-gardener and proud owner of 88 acres of land in rural West Virginia. She was a member of the Association for Living History Farms and Agricultural Museums for many years and is currently enrolled in the Oregon State University Master Gardner Short Course program so she can better assist you with your gardening questions.She holds a certificate in natural skincare from the School of Natural Skincare.