Cleaning up your yard is a tough job, especially if you've just felled a tree or a storm knocks down a few branches. You need enough cutting power to get the debris into manageable pieces. A quality set of heavy duty garden loppers is what you need.
There are many types of loppers on the market, but there are a select few which work especially well for tough jobs. Discover the best heavy duty garden loppers for tough branches so you stop wasting your time (and money) with flimsy loppers that won't make the cut.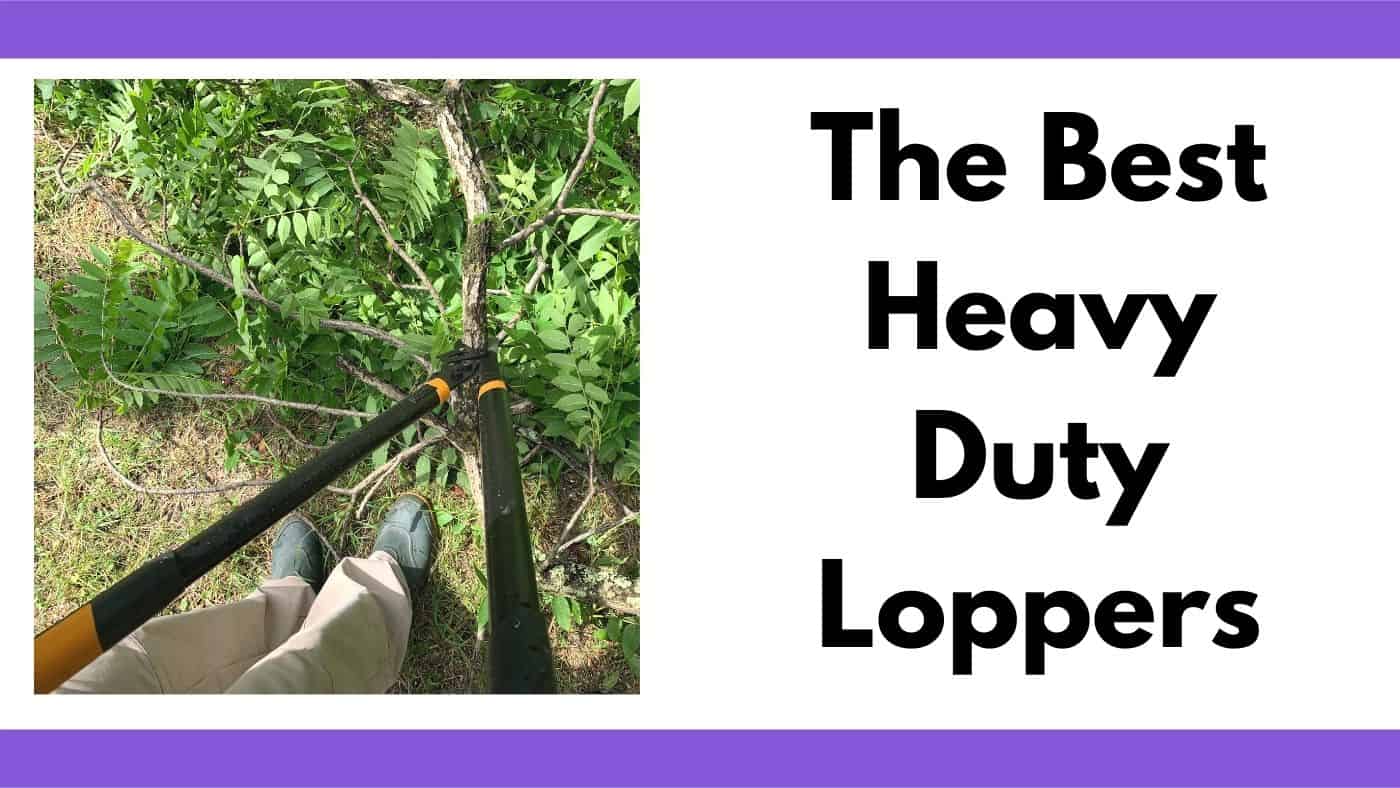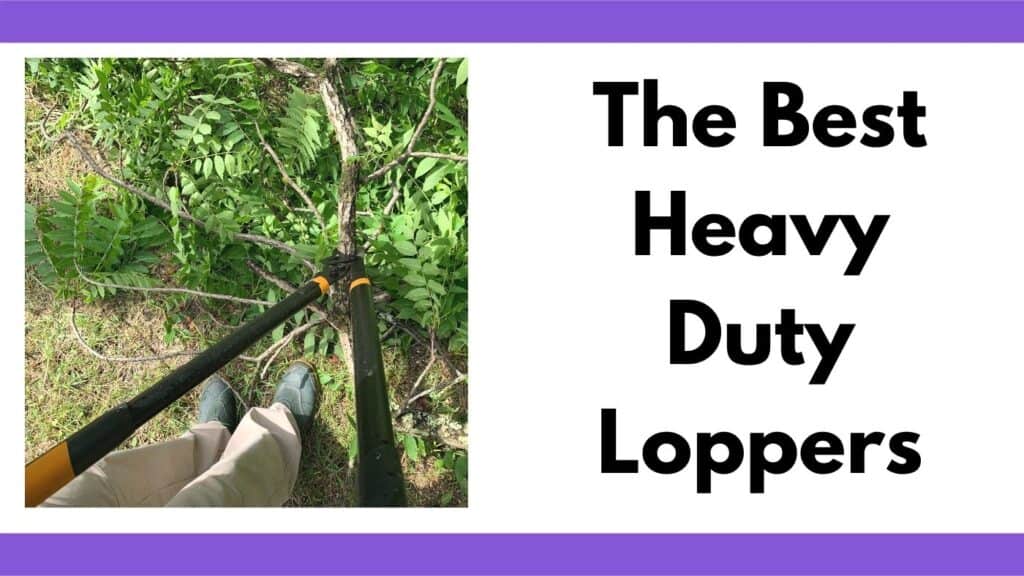 This post includes affiliate links, which means I may earn a commission on purchases made at no additional cost to you.
There are many garden lopper products on the market today. Heavy duty lopper types include bypass loppers, anvil loppers, and compound loppers.
This guide breaks down the various types of heavy duty garden lopper options so you can make an informed, confident decision and select the best heavy duty garden loppers for your needs.
In a rush? Here are our top picks!
---
Picking the best tools can be exhausting, so we're here to help. Here are the best heavy duty garden loppers on the market today.
Heavy Duty Garden Loppers
The Fiskars loppers are truly heavy duty. We personally took these to our felled walnut and maple trees to test them out. Walnut is one of the harder woods on our property and other "normal" loppers have significant trouble cutting these branches. As you can see in the photo, these loppers cut through nearly 3 inches of the black walnut wood. We have cut larger branches, but this is the exact piece cut in the video lower down: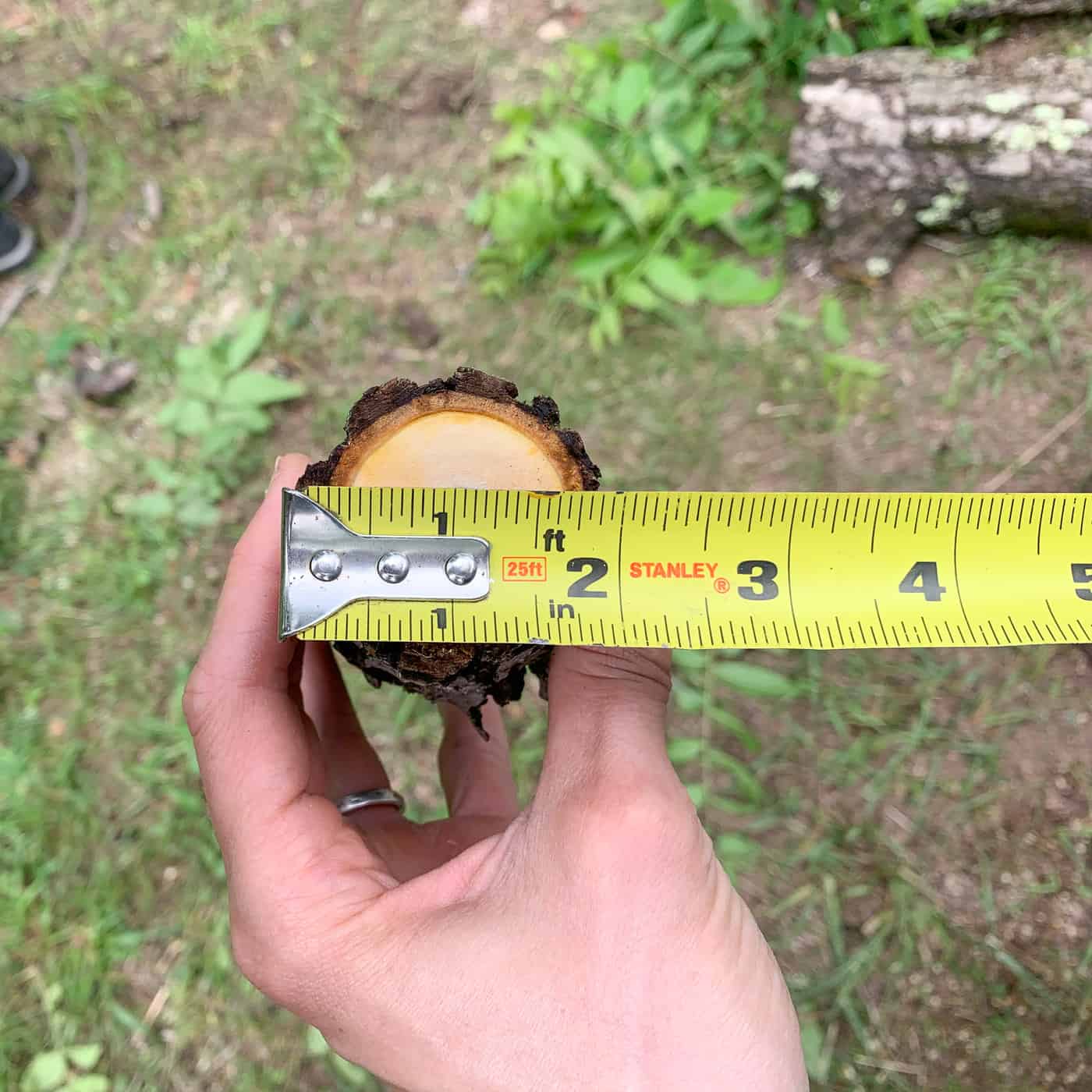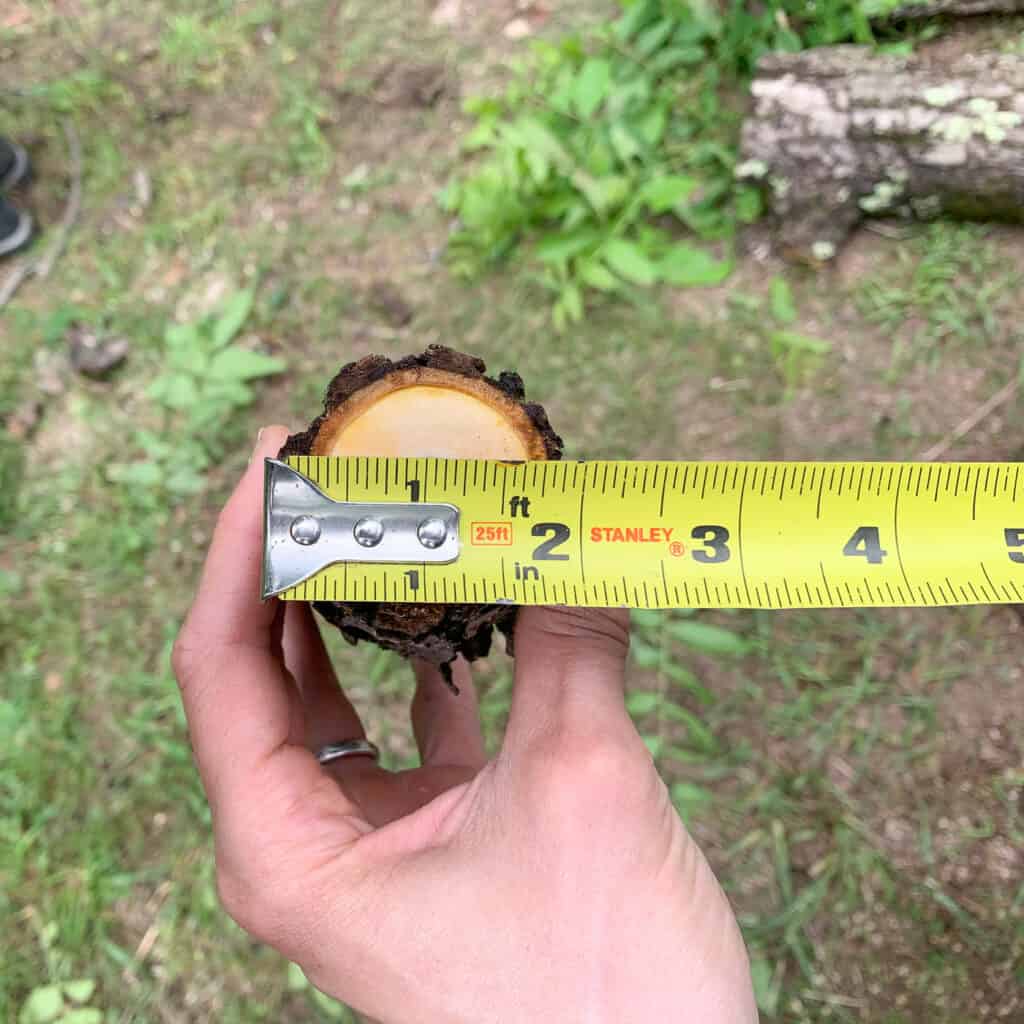 Natasha has also cut down dozens of small-ish pine trees with these loppers. She's found that, when it comes to a soft wood like pine, if the jaws can fit around it, the loppers can cut it.
Want to see these heavy duty loppers in action (and watch a pair of "regular" wood handeled loppers fail to cut the exact same branch)? Check out the short video clip below:
These loppers use a power gear mechanism which allows you to cut significantly larger branches. You'll notice that the arms of the loppers open to 180 degrees but the cutting head is only about a 60 degree opening. This means that there is a 3 to 1 conversion of your work done to cut the branch. Not only that, the arms are super long which allow you to really torque on the arms and exert a lot of force on the branches.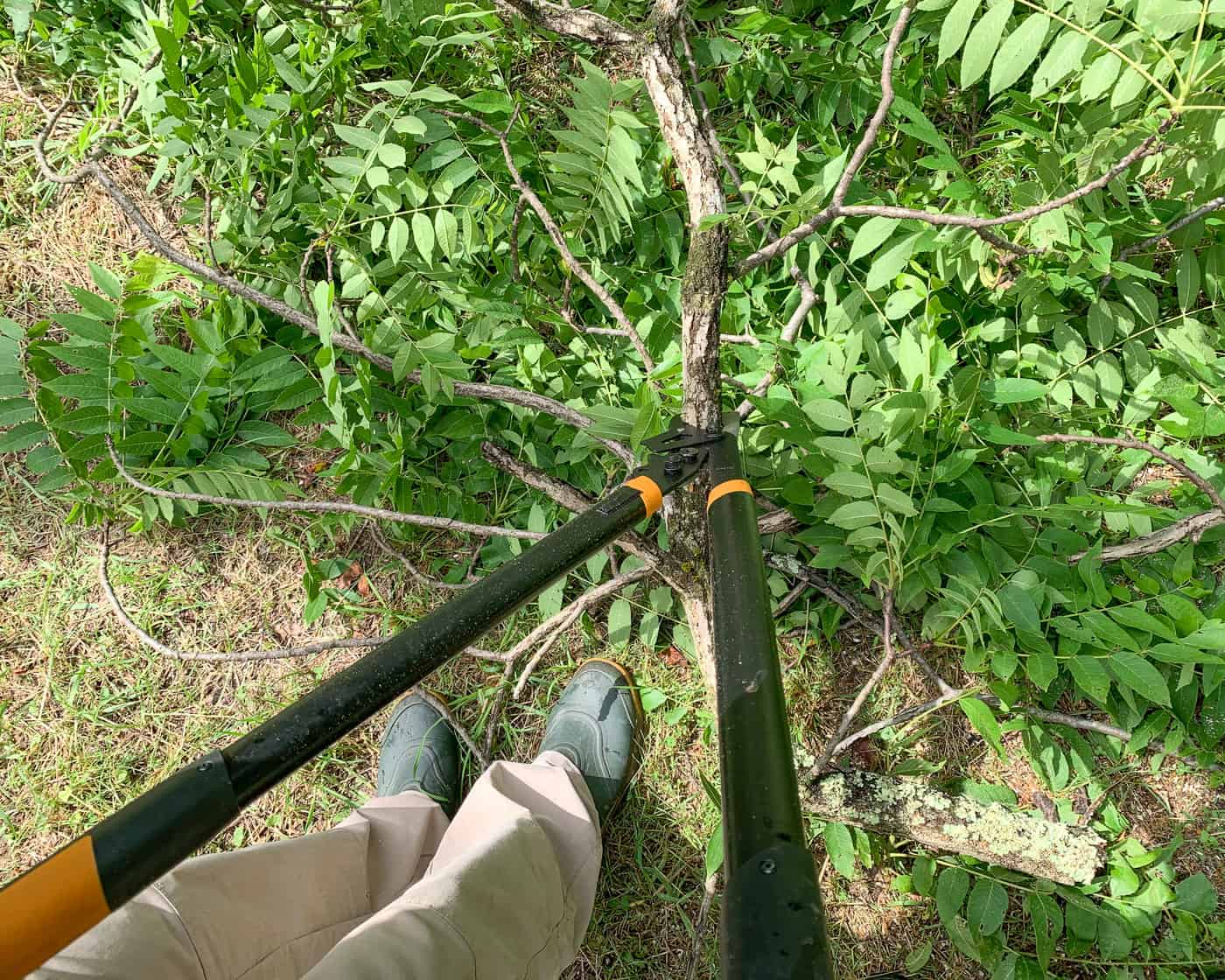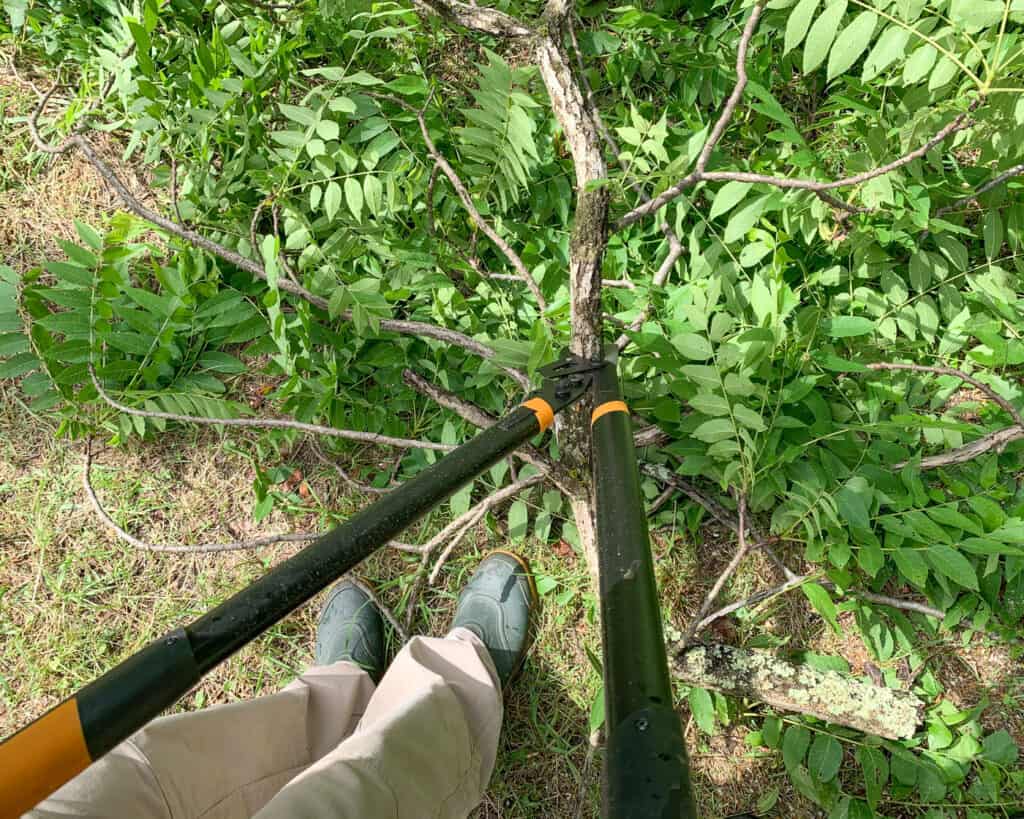 Be aware that there is an "updated" version of the loppers, but it frequently isn't on Prime. Whichever you choose, you'll still have the power gear driven mechanism.
The one "down side" to these heavy duty loppers is that, due to the way the blades are shaped, they do need to open a bit wider to get the branch in. It's easier to slip the branch inside the blades of standard bypass loppers. This means they can feel a little slow and cumbersome for small branches. For smaller branches, you may want to save time by shifting to a pair of hand pruners.
Don't take just our word for it – check out this excited customer's review: "I will NEVER buy wooden handled trimmers again and will NEVER buy another pair of trimmers that aren't Fiskars with this "power" cutting thing. I can cut anything that fits into the blades – without having a heart attack! YES – dead or green wood. I know – I am AMAZED!!!!" Read the full review here.
Sale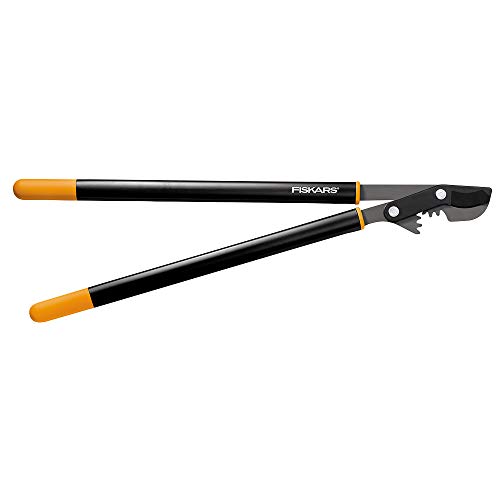 Fiskars 32" PowerGear Bypass Lopper and Tree Trimmer - Sharp...
IDEAL BRANCH TRIMMER: 32" steel blade garden bypass lopper that glides through up to 2" thick branches for easy cuts; Works well for trimming tree...
MAXIMUM POWER AND PRECISION: Corrosion-resistant, non-stick blade coating reduces friction to make cutting easier; PowerGear Technology offers 3x more...
LONG-LASTING AND RELIABLE: Sharp, precision-ground and fully hardened blade holds sharp edge longer; Fiskars pruning shears and tools are built to...
The Corona DualLINK Extendable Heavy Duty Loppers are a unique set of loppers which offer an amazing mechanical advantage when cutting tough branches. As with other heavy duty loppers, long handles obviously have a role to play. They allow you to exert extra torque when cutting branches.
When shopping for a set of heavy duty loppers, this set was second on our list. We own (and love) Corona hand pruners. The company has been in the lopper and pruner business since the 1920s. Unlike many random pop-up brands that populate e-retailers, Corona has experience and staying power. We ultimately purchased the Fiskars because we were able to get them more quickly, but these Coronas are a solid choice.
These loppers have extendable arms which give you the opportunity to exert even more force on a branch if needed. It can also make cutting easier if you have weak or arthritic hands like I do. Both arms extend independently so you can try different combinations to see which style suits you best.
The extendable arms are only one part of the mechanical advantage of this set of loppers. These also feature a compound action which also increases your mechanical advantage giving you a significant leg up on your yard work.
If the idea of extendable arms makes you nervous, Corona also makes a lightweight pair of lightweight high-performance loppers with fixed-length 32″ aluminum handles.
When there are moving parts, there is always the possibility for something coming loose, but these handles seem to stay in place. One customer states: "I can not emphasize enough how heavy duty and well designed this Corona Lopper actually is. The telescoping handles adjust securely and stay put. I also really like the shape of the blade whereas the limb can be placed either in the front or back for optimal small or large limb cutting." Read the full review here.
Sale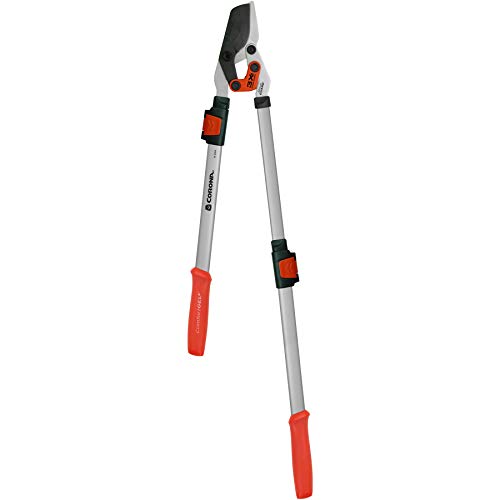 The GARTOL Heavy Duty Lopper is a heavy duty lopper for any yard. These loppers can cut up to 1 1/2 inch branches in one cut. You can change your approach angle while making multiple cuts to take down larger branches. This is half as wide as what the Fiskars can cut, but a better choice if you plan to only cut 1-ish inch branches.
Another great feature of these loppers is the blades. They are made of carbon steel which means they take much longer to dull that do stainless steel blades. This also means that if left out in the elements it will severely rust. You must also clean off any moisture after use to preserve the life of these blades.
This tool is meant for abuse. Check out this review from a customer who even took his loppers to an old hose, "Once I got started, I wanted to cut everything down (even an old garden hose that had been sitting outside for quite a while because it was too hard for me to cut up and discard.) It wasn't too hard for this heavy duty garden lopper! They made the job easy." Read the full review here.
Be careful with this listing. It often changes from one style to the other. Both products are great but you should pay attention to the style of lopper you are getting before making your purchase.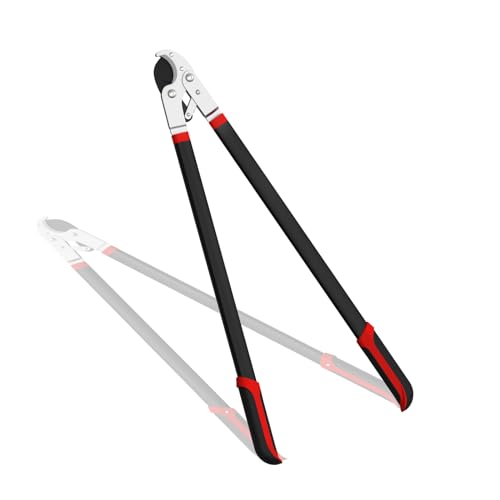 GARTOL Anvil Lopper with Compound Action 29 Inch Heavy Duty Tree Branch...
STURDY AND SHARP UPGRADED BLADE: GARTOL HA7934 anvil loppers high-carbon steel blade has been improved. The problem of easy blade breakage has been...
EFFORT LESSLY: GARTOL heavy duty lopper is designed and built for professional-grade applications and makes cutting up to 2 inches of greenwood...
DURABLE PROTECTIVE COATING: Coated with Ilaflon makes pruning lopper durable, not rust, easier to clean, and more beautiful.
The HomeHua Heavy Duty Loppers are another great set of heavy duty loppers at a great price. Most heavy duty loppers feature some sort of mechanical advantage mechanism, the one for this set of loppers is a compound action mechanism. This allows you to cut through thicker branches with ease.
The cutting diameter indicated is 1 3/4 inches but you can easily cut branches which are thicker than that by doing multiple cuts from different angles.
If you are worried about your loppers ever dulling, don't, the blade is made of hardened carbon steel coated in Teflon, meaning it will take way too many branches to ever dull this blade. The nonstick coating makes them easier to clean and less likely to gum up when you're cutting sticky woods like pine and maple.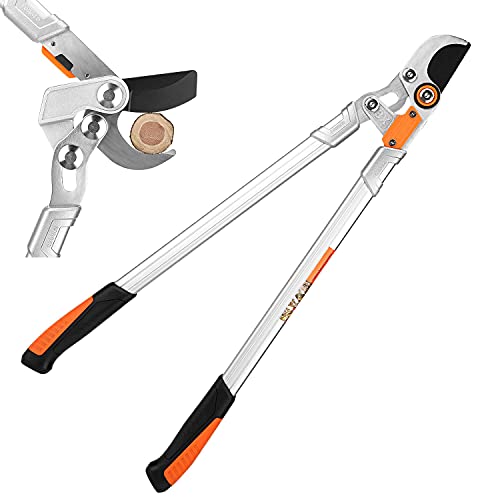 If you are looking to completely ditch the mechanical hassle of loppers then you should consider the CRAFTSMAN V20 Cordless Lopper. It's a cross between loppers and a small chainsaw in your hand. These electric loppers can cut up to 4 inches in diameter making them very useful.
Although they can cut through thick branches with ease, they are fairly heavy. Holding them up for a length of time can be a challenge.
Most loppers are limited to 2 1/2 and 3 inch branches. Though you could make multiple cuts to remove a 4 inch branch, they don't make it easy, especially in hard to reach locations. There are no manual loppers which cut up to 4 inches. These electric loppers are the only option if you don't want to break out a saw.
The price is also something to consider since these can be more than double the most premium loppers, but you can often find good prices on a used set linked directly from Amazon.
These loppers are super unique and present a great advantage but there are some things to consider. This customer's review brings up a few good points,:"These are not lightweight though. It's a good arm/shoulder workout, but a lot of work that can be accomplished in a short period of time. Very easy to use. I do not use the oiler. Oil the chain from an oil can. Battery life is plenty unless you're super human. My only complaint is the double triggers. I know they did this for some kind of safety reason, but really, it just gets in the way." Read the full review here.
Since these are a style of chainsaw, you will need to oil the blades or use the reservoir. You may want to read our post on electric chainsaws and jump to the oiling section to know what I'm talking about.
Sale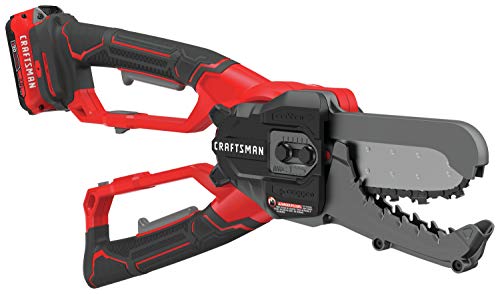 What to look for when shopping for heavy duty loppers
All of the terminology and lingo on lopper packaging can get confusing. Here is a quick guide to help you feel at ease:
Mechanical Advantage
There are several ways loppers provide a mechanical advantage to make cutting branches easier.
Geared Mechanism Loppers
A geared mechanism tends to provide a 3 to 1 leverage ratio when cutting. This is because it uses gears to transform the added distance your arms move into more force at the cutting blade. This style of cutting mechanism tends to have the largest cutting aperture because the handles can extend up to 180 degrees. An example of these is the Fiskars PowerGear Bypass Loppers.
Compound Mechanism
A compound mechanism is similar to a geared mechanism because of the different pivot point which the levers close on. It once again allows the blades to exert more force than what your arms are exerting on the handles. An example of these is the HomeHua Heavy Duty Loppers
Handle Length
A longer set of handles also makes a huge difference. The large arms allow you to exert more force and torque on the blades which multiply your force by a ratio of the handle length.
Materials
It can be difficult to figure out what your loppers is made because it isn't always listed on the package. If you can, find blades made of high strength carbon steel because these will stay the sharpest the longest. The one disadvantage is that you need to keep it clean and dry otherwise it will rust from the moisture. Always wipe down your lopper blades after use to keep them working well.
Stainless steel can be used for blades but it dulls fairly quickly when compared to a high strength carbon steel blade. On the upside, stainless steel doesn't rust as easily but you should still keep your tools clean.
We hope you've found this guide to the beast heavy duty garden loppers helpful! If you're working to keep your lawn and garden tidy and clean, be sure to check out our additional garden gear guides:
Yard Tool Reviews
Are you sick of your old, broken down lawn tools from a yard sale 10 years ago? Discover these yard tool reviews so you can save time and backaches on yard work day with a new, modern tool.
Angel is a Cuban immigrant who grew up with backyard chickens and a yard-loving abuela. He is our "gear guy" who can never have too many pairs of gloves or weed whacker attachments.