You really want to wash your car, but your child is throwing a tantrum because they want the hose so they can play in the sprinkler.
Or maybe you want to wash your car but your lawn (or garden) needs watering.
Or maybe you're just sick and tired of wearing out your hands disconnecting your hose every time you need to fill your watering can.
A hose splitter can help all these problems, save you time, and eliminate power struggles with your toddler (at least when it comes to who gets to use the hose…)
Hose splitters can also save your bare hands from wear and tear by removing the need to screw and unscrew hoses frequently from an outdoor faucet. This is particularly important for older gardeners and people with joint problems. Once a hose splitter is installed onto a standard spigot, it moves the hose attachment point away from your wall, which can help prevent cuts and grazes if your hoses bib is mounted on brick or cement.
Read on to discover the best garden hose splitters to save you time and hassle.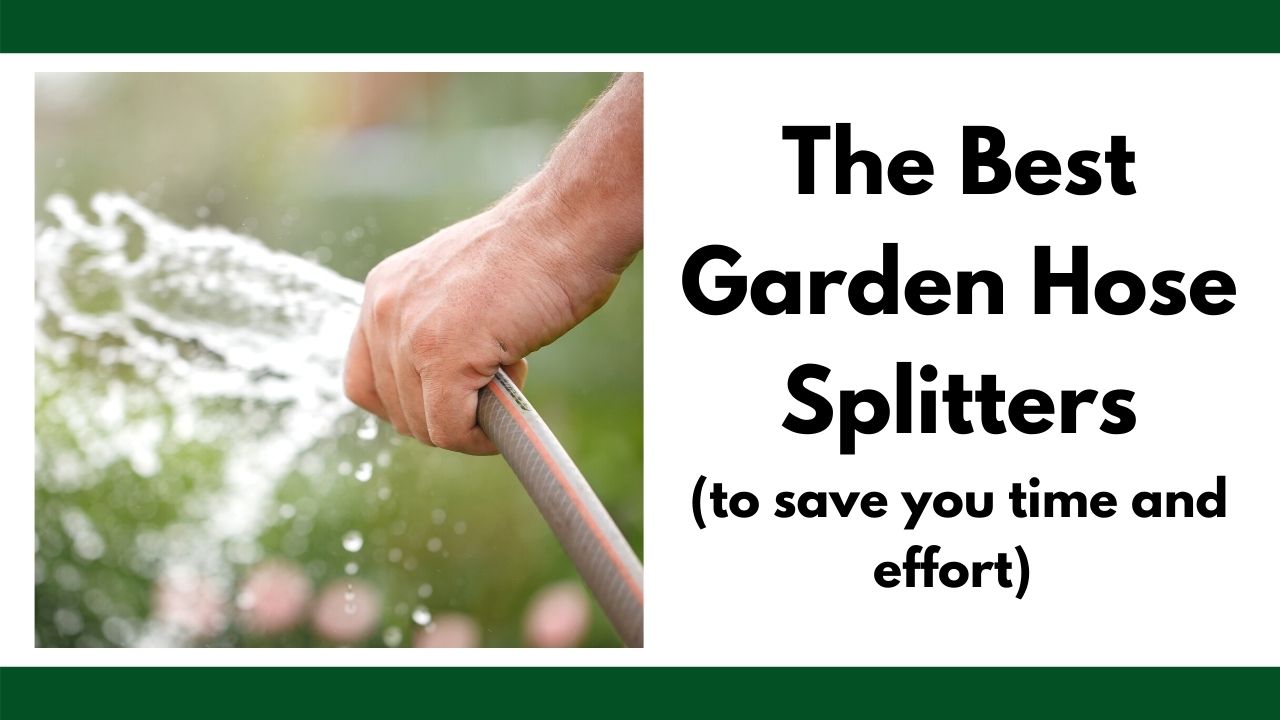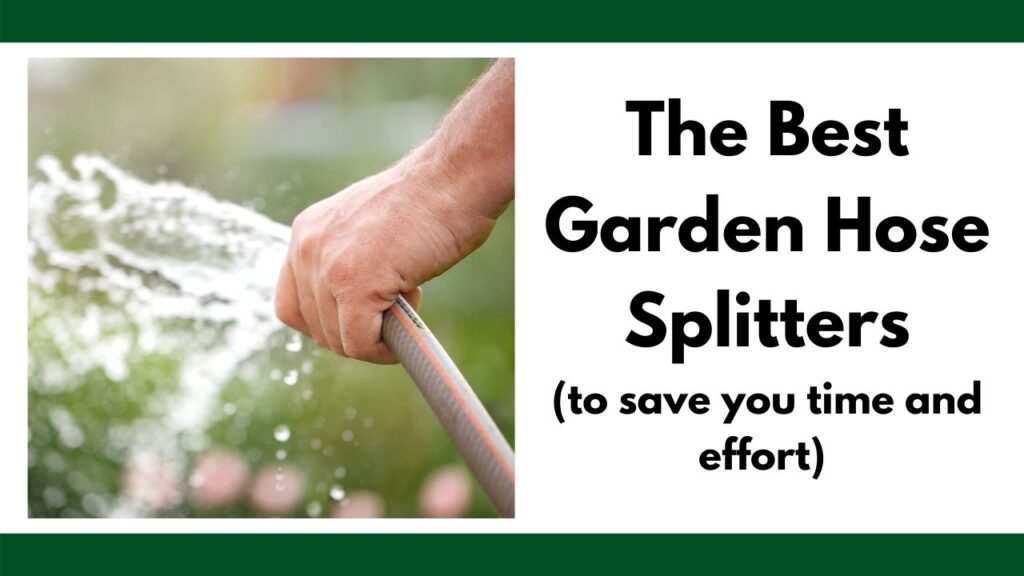 This post includes affiliate links. If you make a purchase using one of these links, Together Time Family will receive a commission at no additional cost to you.
Best Brass
Twinkle Star Garden Hose Splitter 2 Way Heavy Duty, Y Connector Brass...
Our Favorite
ELEY Garden Hose Splitter - Water Hose Splitter and Water Hose Adapter,...
Best 4-Way Splitter
Twinkle Star 4 Way Heavy Duty Brass Garden Hose Splitter, Hose Connector...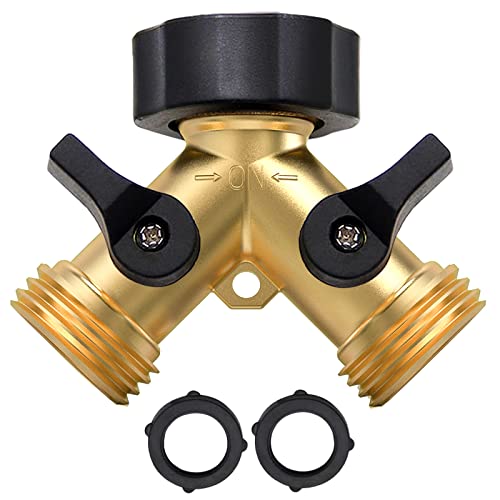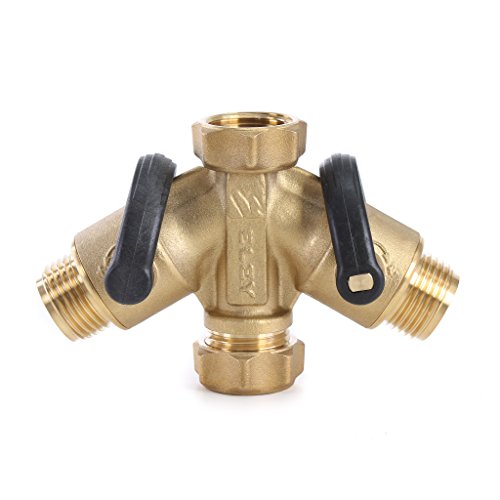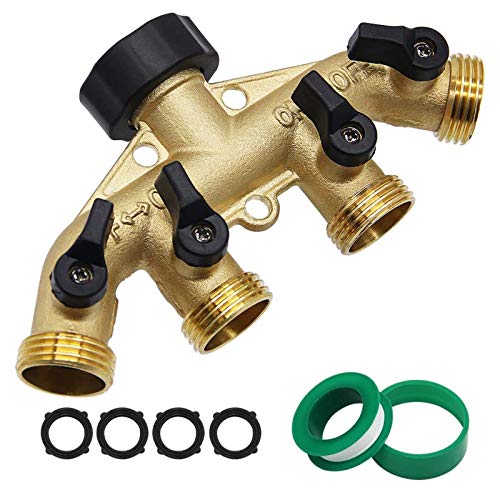 Best Brass
Twinkle Star Garden Hose Splitter 2 Way Heavy Duty, Y Connector Brass...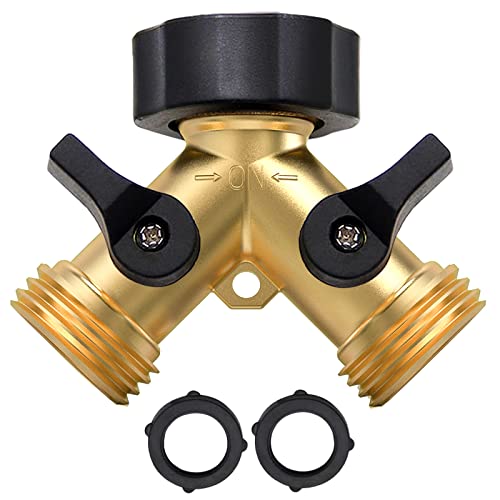 Our Favorite
ELEY Garden Hose Splitter - Water Hose Splitter and Water Hose Adapter,...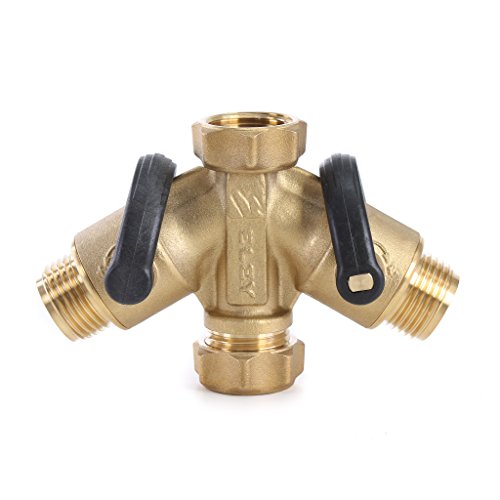 Best 4-Way Splitter
Twinkle Star 4 Way Heavy Duty Brass Garden Hose Splitter, Hose Connector...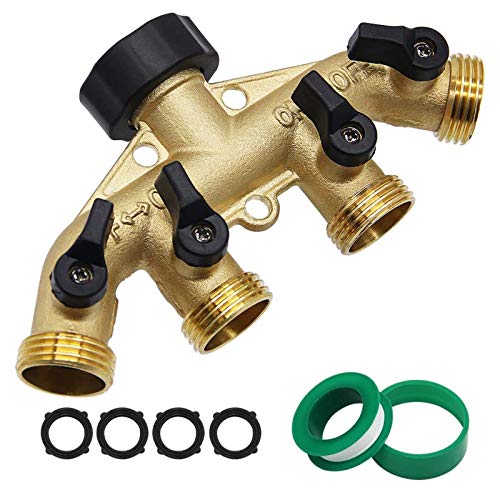 Why do I need a hose splitter?
Hose splitters save time. Having two hoses connected at once prevents the need to undo and re-connect the second hose.
Hose splitters also allow you to do two water-related tasks at the same time. You can wash your child's muddy feet off at the spigot without disconnecting your law sprinkler or you can wash the car while your child plays in the sprinkler.
Hose splitters are a necessity if you need a hose for a set purpose. For example, if you have a soaker hose for your garden or running to a utility sink a hose splitter removes the chore of undoing one hose, applying plumber's tape, and tightening the second hose in place (only to swap it back again later).
How do hose splitters work?
Hose splitters do what their name says: they split a single spigot into two or more usable ports. This does not draw anymore water from the tap. The extra tap is useful for having two or more hoses connected at the same time without having to re-attach the second hose.
A two-way splitter can be very handy in the laundry room if want to split the cold water line from the washing machine for an water source from that room.
They also have shut-off valves which allow you to control the water flow to one or all hoses at the same time.
You can secure water to one tap and leave it flowing to others or go all out and irrigate your lawn, fill your watering can at the spigot with ease, wash your car, and fill your child's kiddie pool…all at the same time.
Okay, so running all four hoses at one time will dramatically decrease your water pressure in each hose, but not having to undo and redo hoses constantly is a huge timesaver. If you plan on using multiple hoses at a time, make sure you have sufficiently high water pressure. A hose bib splitter saves your fingers and wrists from hurting and wasting water with leaks from improperly tightened hoses. We use a four-way splitters to control water to multiple gardening areas and an outdoor shower. Having extra water outlets is a good option to have.
The one downside to hose splitters is that because they make it easy to shutoff and remove and add water hoses, that rubber gaskets tend to fall out regularly, but that is a simple fix and you can but extra washers fairly cheaply. Check out our post on "how to replace a hose washer."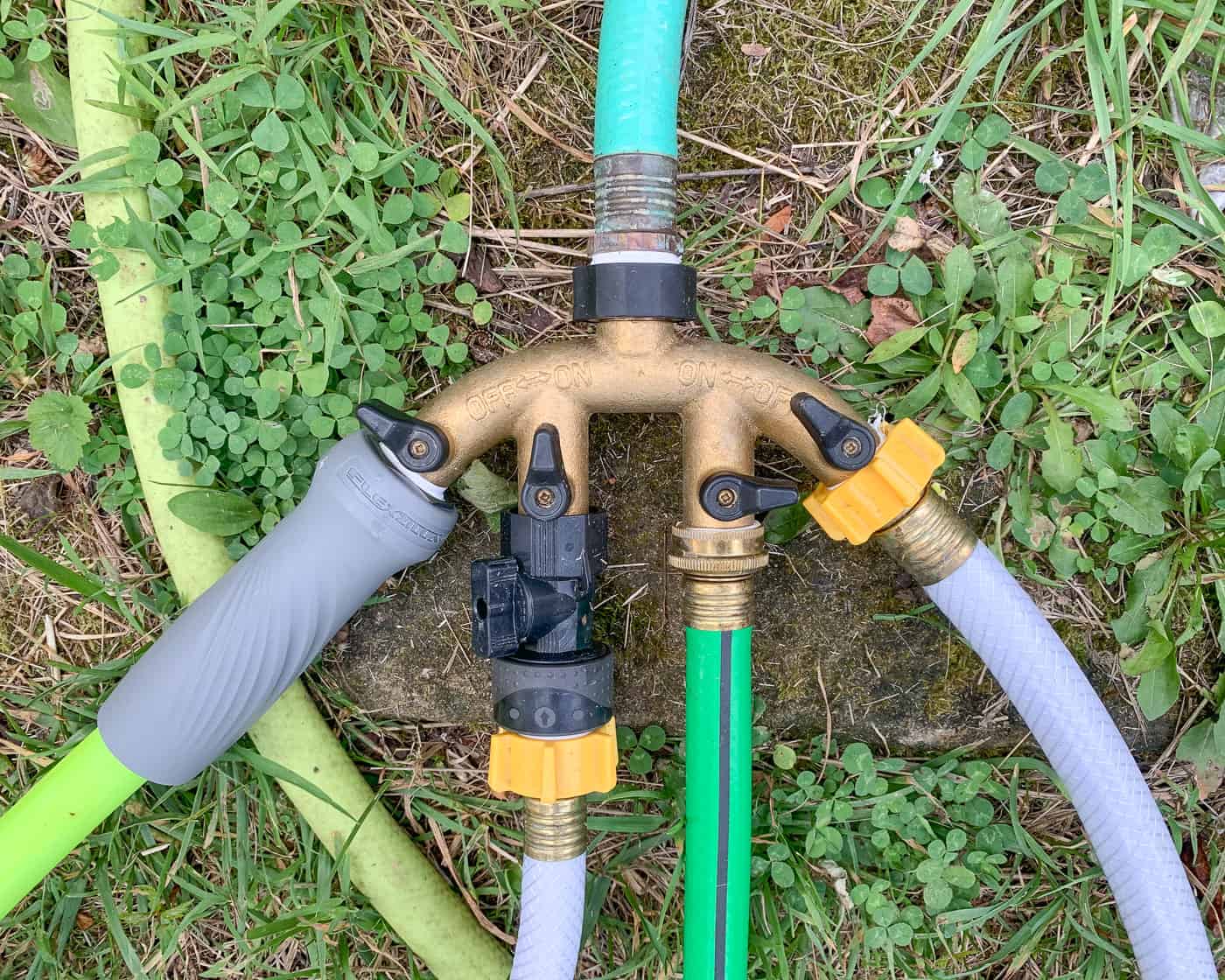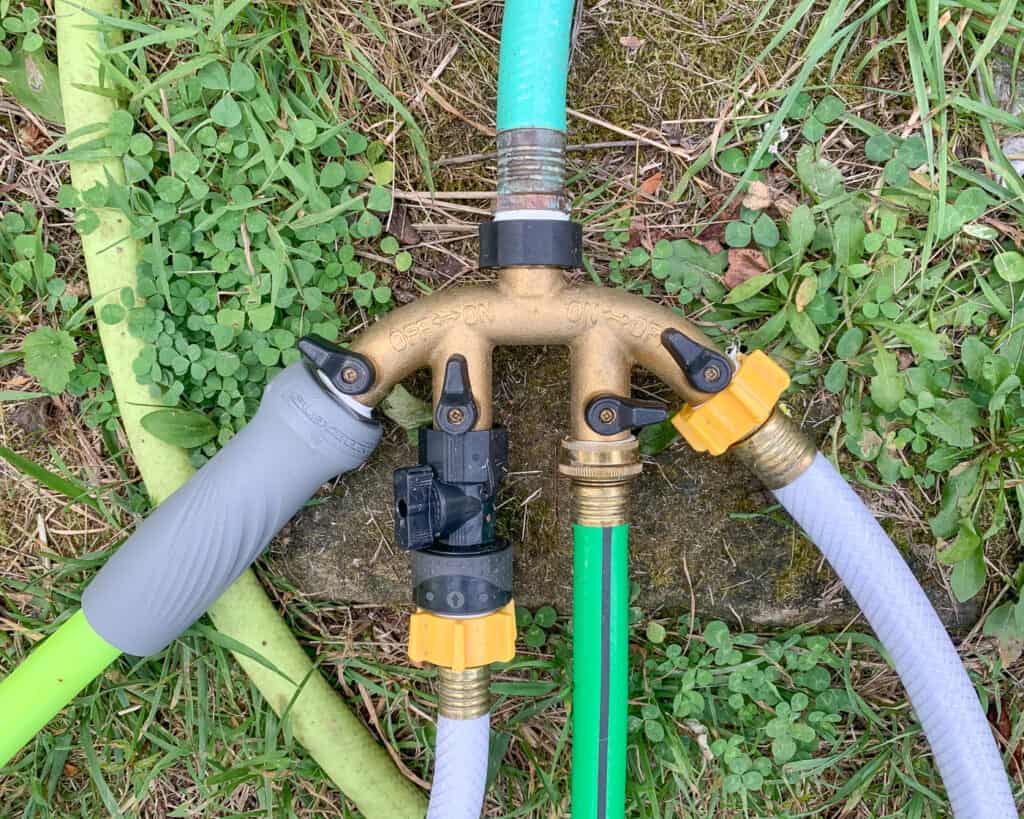 Lead-Free Hose Splitters
The concern for lead in our water supply systems is always a topic of discussion. The truth is that no matter the metal, there will always be trace amounts of bad stuff in there.
The good news is that most hose splitters are made of brass with very low concentrations of lead. Some even go as far as to claim a really small percentage of lead in the metal such as the 2Wayz All Metal Garden Hose Splitter, with only 0.0019% lead in their metal. Another option is to look for a stainless steel hose splitter, these are just as durable as the brass splitters and are rated for outdoor use.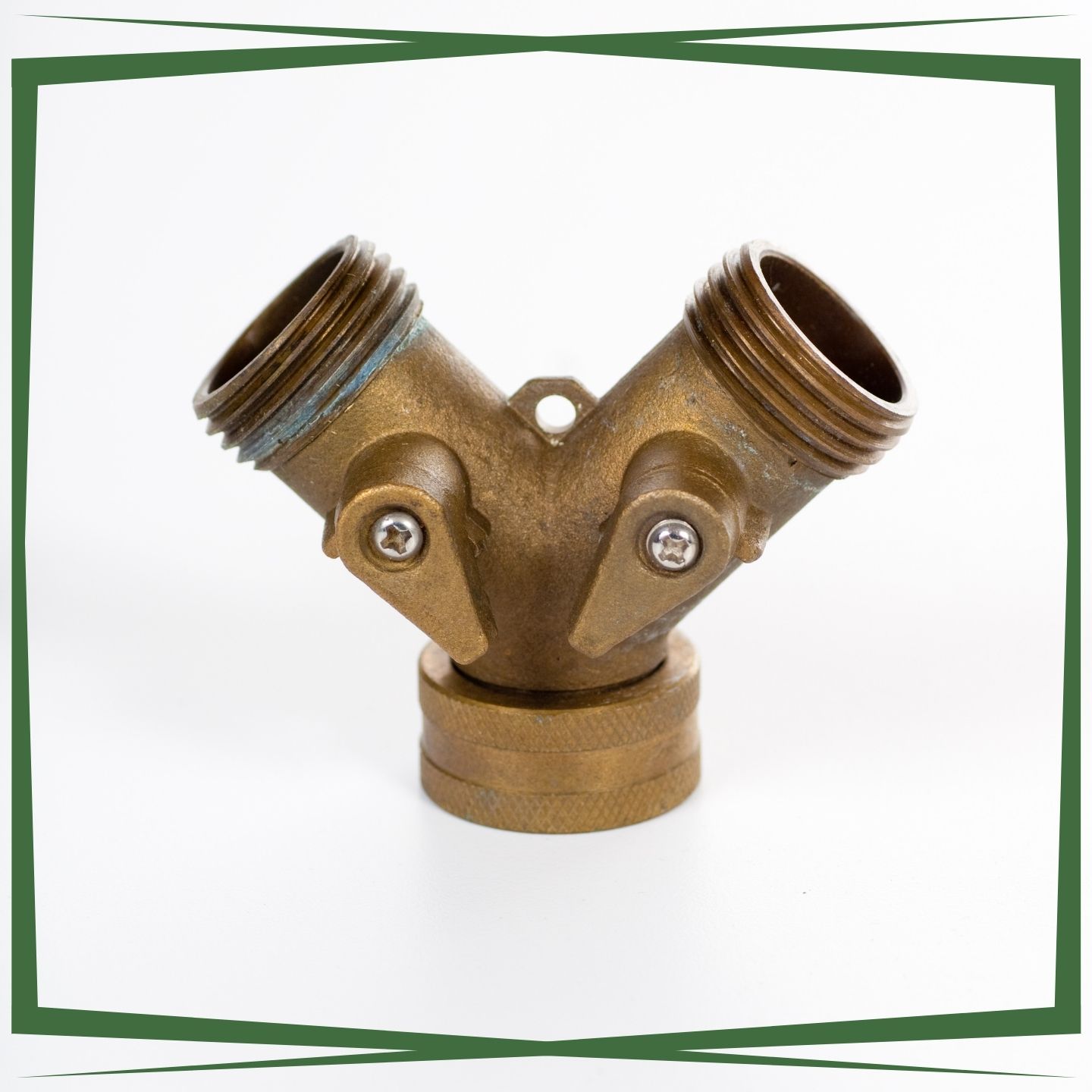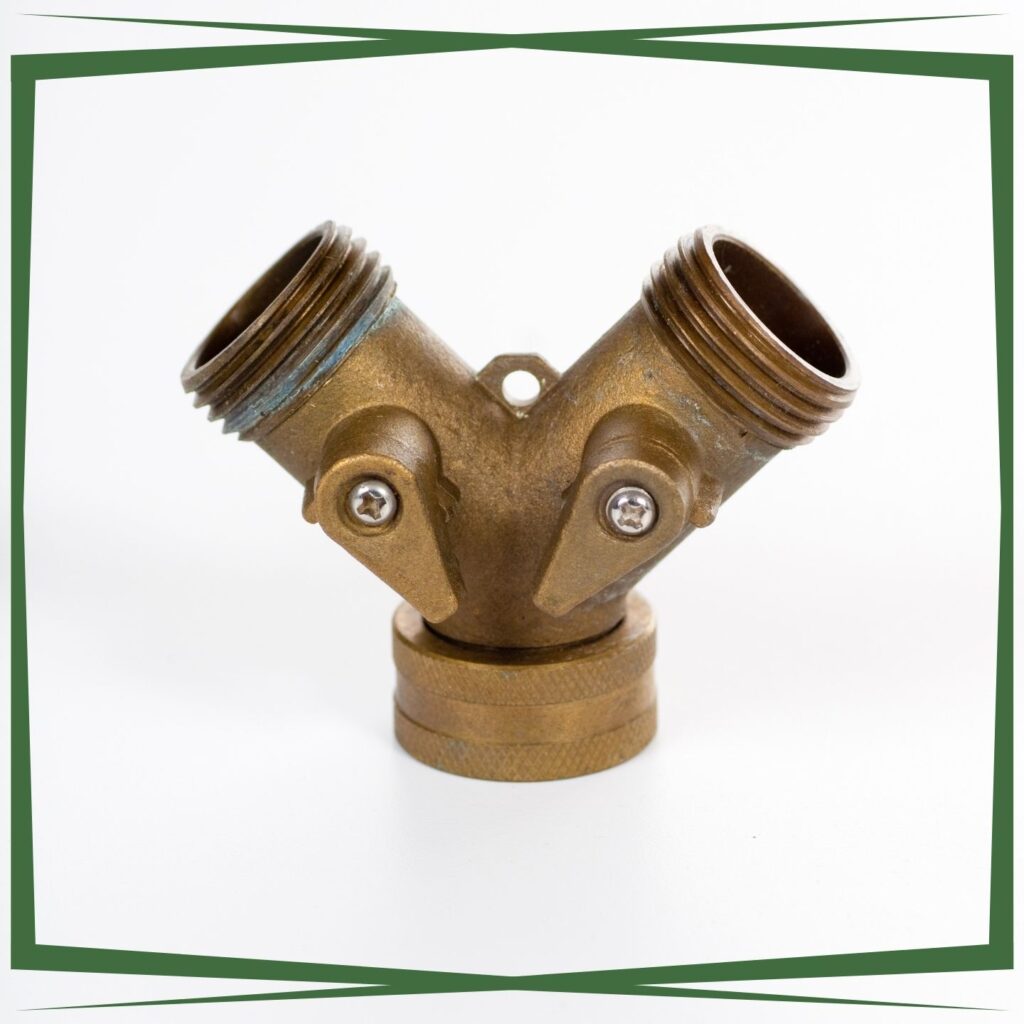 The best garden hose splitters
The 2Wayz Garden Hose Splitter hose splitter is easy to use and install securely, even if you don't have super strong hands.
The design blends the ease of use with functionality. Attaching is a breeze with the hand tightening collar. Just pre-wrap the spigot with some plumber's tape and then hand tighten the hose splitter. That should be all you need to guarantee no leaks.
The best part are the long handles. You can get an easy grip on the valves even for older hands, and you can tell which valve is open or shut from a distance. The adjustable flow control is great for an irrigation system too.
😃 Large handles for easy operation
😃 Redesigned in 2020 to eliminate plastic parts that were prone to breaking in older models
😃 Virtually lead free
😖 Older reviews complain of failing parts, but the hose splitter has been redesigned since then
UPDATE: Currently unavailable but try clicking through, it may show up as available for you.
The 2Wayz 4 Way Hose Splitter is a hose splitter for serious gardeners and people with irrigation systems. The main reason to have this is for soaker hoses for different zones.
We really like the lead free construction. This product claims 100% lead free construction. It does have hardened pvc parts and rubber components but at least the metal won't leach any lead if you are using it for drinking.
On the down side, several customers have had issues with leaking joints. It seems there are more internal unions than meets the eye, making it a likely candidate for serious leaks. It also does not do well with freezing temperatures, adding further to the leaks.
If you live somewhere with really winter temps, consider removing your hose splitter for the winter and storing it inside. This will protect your investment and ensure you can use your hose splitter again next year.
😃 Great for serious watering needs like irrigation systems
😖 More prone to leaks than 2 way splitters due to the extra joints inside. Remove the splitter for the winter to help prevent cracks and leaks.
The Twinkle Star Garden Hose Splitter 2 Way is a great hose splitter. We love the simple construction. There is no need to ever worry about leaks from failing plastic parts that can corrode in the sun because this is a brass hose splitter.
Installation is a breeze with the hand tightening knob. There is no need for any extra tools to install. Operation is also super easy with the valve operators. Remember, in line with the pipe means open, perpendicular means shut!
😃 Solid brass construction is sturdy and classic looking
😃 Includes washers to help prevent leaks
😖 Always disconnect the splitter for the winter – brass will not protect the water inside the splitter from freezing and hard freezes could damage the splitter
The Twinkle Star 4 Way Hose Splitter is the ultimate hose splitter. If you need a 4 way hose splitter, you gotta know what you are doing. You probably have a few soaker hoses or are just really excited about hose splitters.
The high-quality brass construction of this hose splitter ensures you won't have any leaks from the body of the product. This truly is a long lasting hose splitter.
Some customers reported the threads coming off the body due to design flaws. This is a serious failure, but his issue isn't reported often.
😃 Solid brass body without plastic parts and unions to leak
😃 Perfect for soaker hose irrigation systems
😖 Smaller plastic handles may be difficult to use if you have older hands
These Melnor Hose Splitters are sleek looking. If you're tired of junky looking lawn and garden equipment detracting from your home's exterior appearance, this is your hose splitter. It has an exterior plastic with interior metal construction. Don't worry, if this hose splitter doesn't last, you can easily contact Melnor and cash in on their lifetime warranty.
These hose splitters are available in a 2 way splitter or a single valve. They are all super easy to operate with their lever style valve which quickly opens and shuts the valve. The splitters also come with a single quick connect. If you've never used a quick connect, it is a life changing piece of equipment which easily allows you to connect and disconnect your hoses.
😃 Sleek, modern appearance
😃 Easy to use valve handles to open and shut the water
😖 Plastic construction may be a problem after a cold winter
The VIVOSUN Brand is really making an impact in the home garden niche and they are making some phenomenal products. Our focus here is their 4 way and 2 way hose splitters.
Currently, VIVOSUN is one of the few hose splitters which are not entirely made of brass. This is a big deal because the brass hose splitters tend to have really small valve handles which can become really hard to operate.
The VIVOSUN 4 way hose splitter has really easy to operate valve handles and even offers an angled offset so it's easier to attach more hoses or hose timers.
Here is a customer who vouches for the design and construction of thise hose splitter, "Connections are far enough apart to easily hook up hoses and timers. I like this better than the brass ones I've purchased in the past."
😃 High quality construction
😃 Versatile, will fit whatever the needs of your garden are
😃 Easy to operate and will last a lifetime
😖 Some reports of leaking
The Trazon 2 Way Water Splitter seems awesome at first glance. It has great ratings…but if you take a look, you'll see that the questions, pictures, and reviews are about other products.
When we first came across this hose splitter, we were sure we'd found a real winner. Then we noticed that literally every question, review photo, and written review we could find either referred to a handheld steamer or a cake icing spatula.
Maybe this issue is a mixup in the Amazon system, or maybe it's "review hijacking" as described in this post by Consumer Reports.
As a result, we cannot recommend this product. We included it because it seems so tempting at first glance and we don't want you to be tricked into buying a crummy product.
How to install a hose splitter
Installing a hose splitter is easy, but people sometimes skip important steps in the process. This can cause the hose splitter to leak, racking up unnecessarily high water bills.
Hose splitters are attached like a regular garden hose. Most hose bibs have a male end where you attach the hose. This is where you start.
Next, clean the connection with a brass brush. Make sure to remove any old plumbers tape that's left on there. Also clean the female end of the hose splitter to remove any excess debris. Don't damage the rubber gasket at the bottom of the female fitting.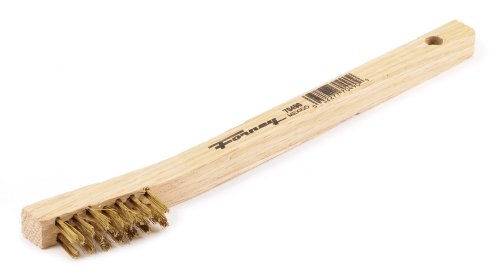 Now that the tap is clean, apply some plumber's tape to the male connector. Make sure to wrap in a clockwise direction if you are looking into the hole of the tap. Wrap it tightly until the threads are just barely visible through the tape, about 7 or 8 times around.
Sale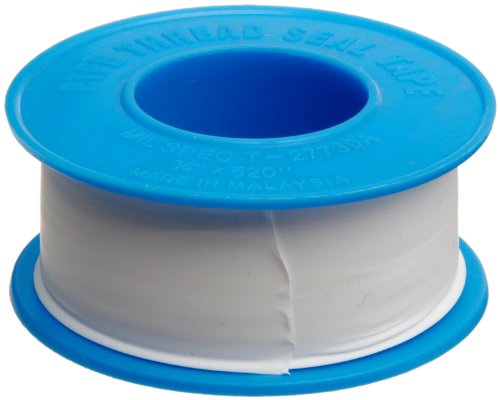 Now, you are ready to attach the hose splitter.
Simply place the attachment onto the water tap and turn it clockwise. You can turn pretty hard but there is no need to use a pipe-wrench. Those pipes can take a good cranking.
Up next is the leak test. With the isolation valves turned off on the hose splitter, open the main water valve (usually a small 2 inch diameter wheel), turn this one counter clockwise. Everything should hold tight and no water should be coming out of any location. If the leak is just a few drops, you are in good shape.
If there's a substantial leak, you need to either crank down harder on the splitter, check for a proper gasket seating at the bottom of the splitter, apply more plumber's tape, or you may have cross threaded the union. All of these except for cross threading are easy to fix.
Place a rubber hose washer in the female end of your hose before screwing it onto the hose splitter. Many hose splitters come with washers, but they're inexpensive to buy if you don't already have some. You might be interested in reading our post on "How to Replace a Hose Washer."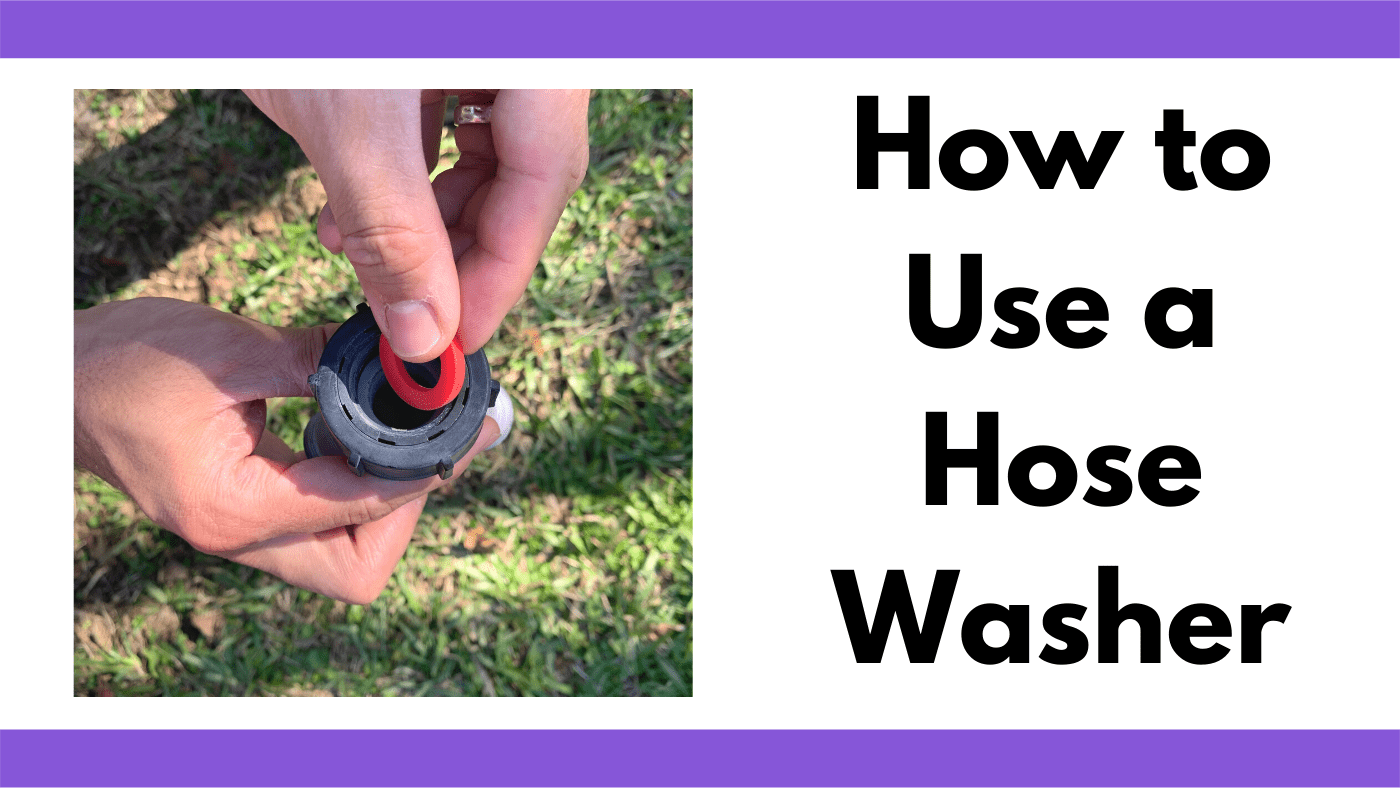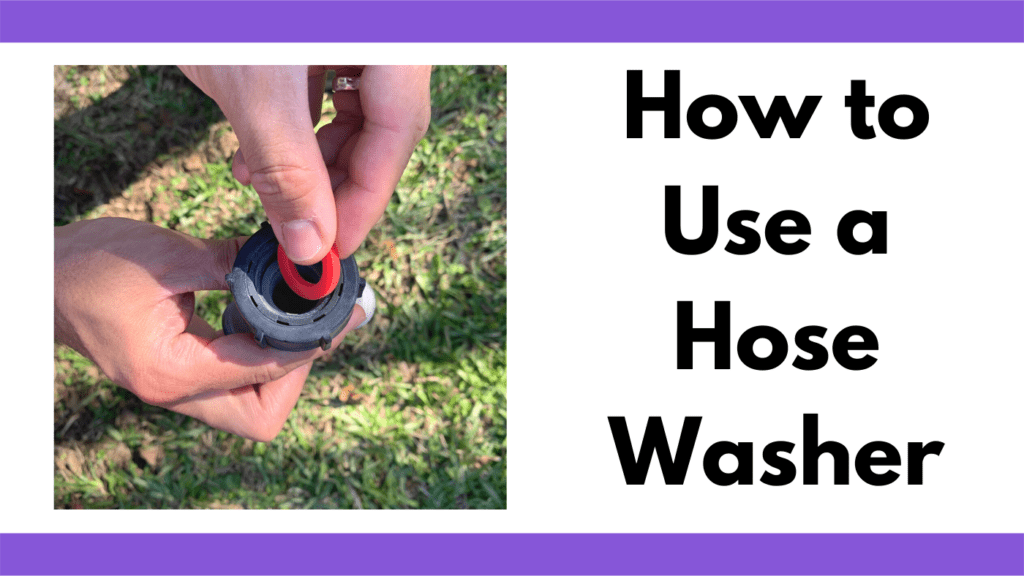 Over time, this washer will probably break down and need to be replaced. If your hose union suddenly starts leaking more than normal and tightening doesn't fix the leak, you could have a worn out washer. Simply replace the washer to fix the leak.
Sale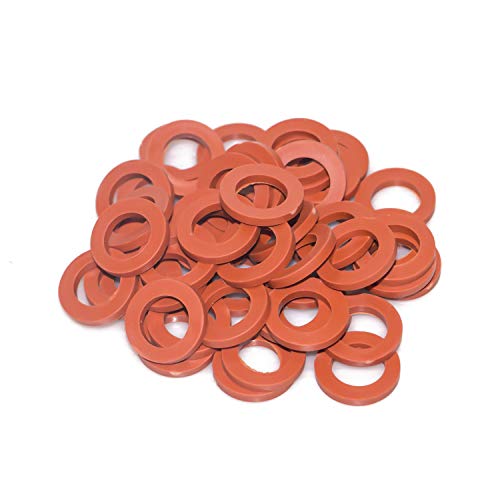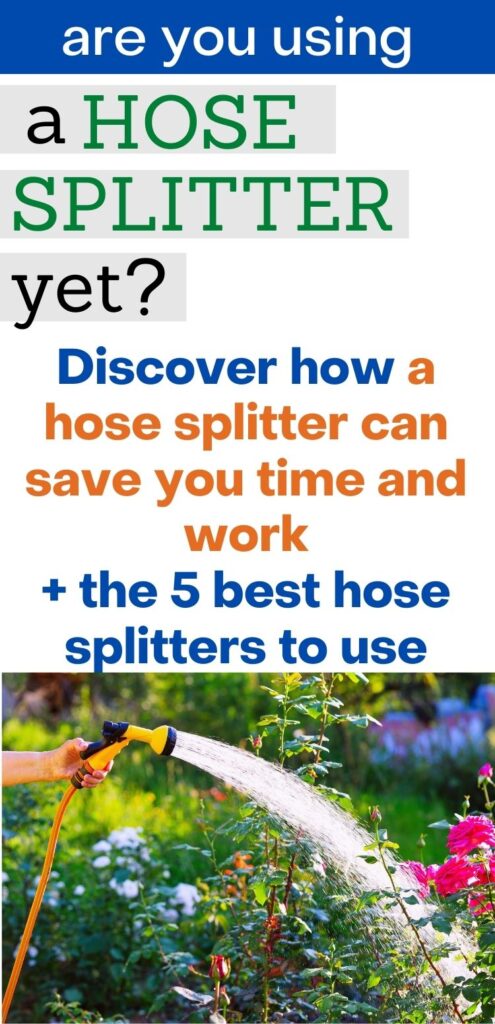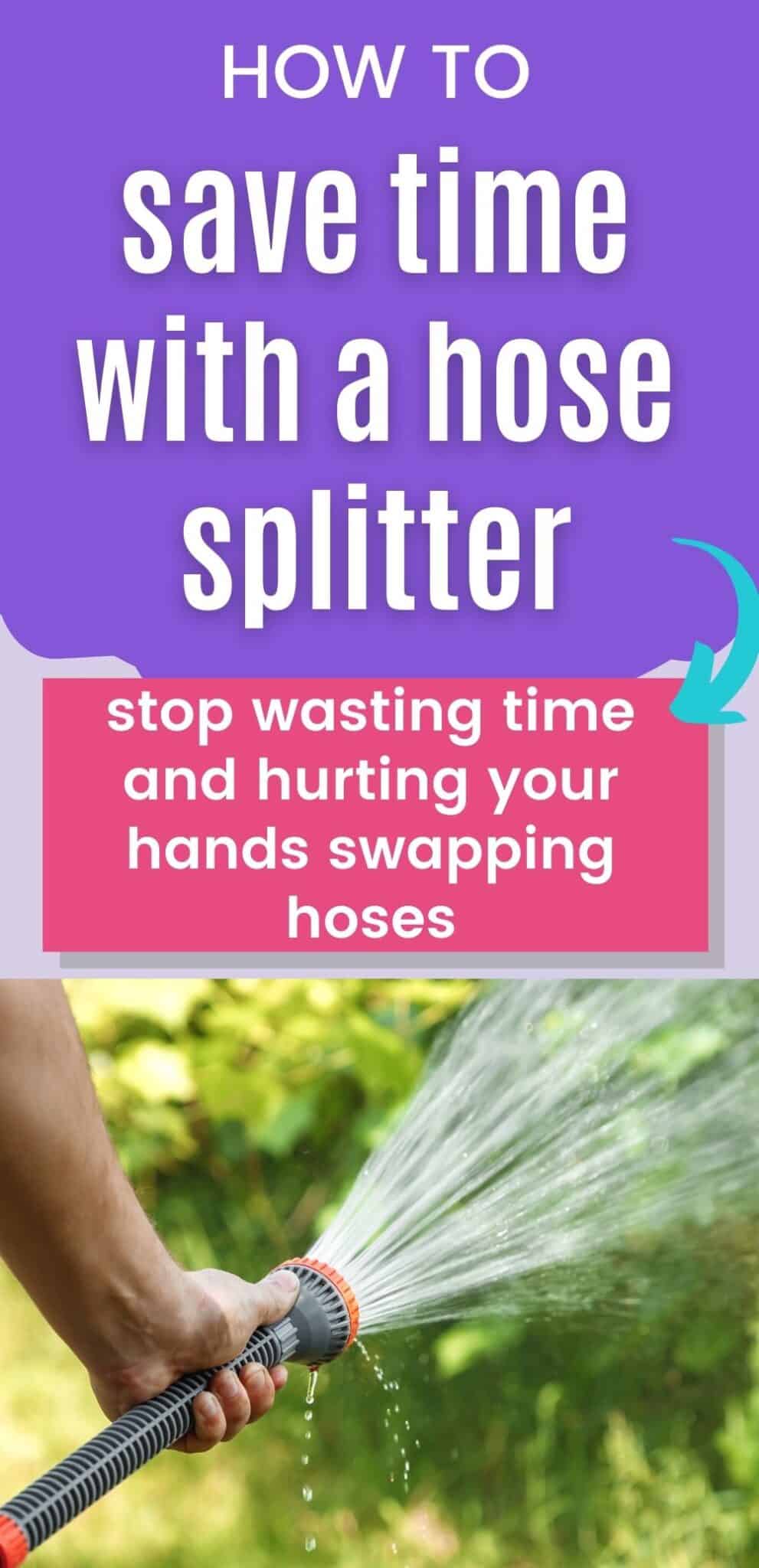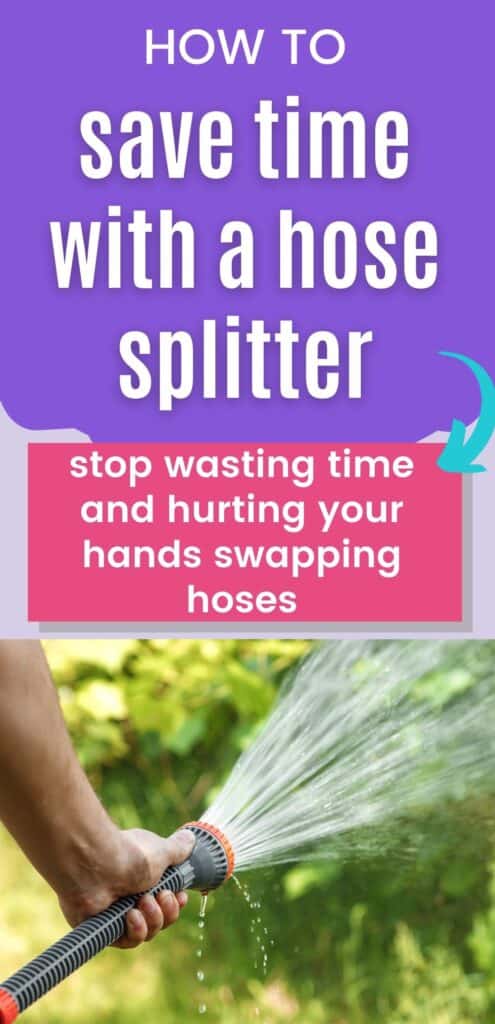 Angel is a Cuban immigrant who grew up with backyard chickens and a yard-loving abuela. He is our "gear guy" who can never have too many pairs of gloves or weed whacker attachments.