Are you tired of lugging your old, heavy garden hose around the yard? Or maybe you gave up on bringing it inside for the winter because of the hassle. Now you need a new garden hose because your old one cracked in the cold.
Make moving your hose around your yard, or inside for the winter, easier with a lightweight garden hose!
There's no need to suffer through dragging an old, heavy hose around. There are many modern, lightweight, and attractive garden hoses available to fit any hose storage space and budget. Discover the best lightweight garden hoses so you can spend less time fighting your hose and more time enjoying your yard or garden.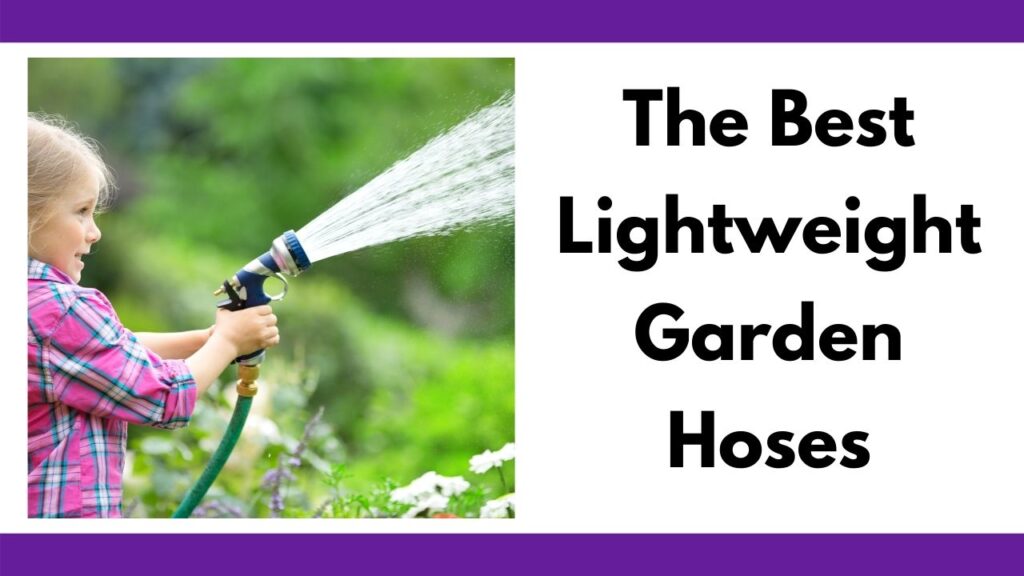 This post includes affiliate links, which means I may earn a commission on purchases made at no additional cost to you.
Although lightweight hoses are convenient, you do need to look beyond the hoses's weight when making your purchase decision. After all, you don't want to get what appears to be the lightest hose in the world only to find it's a tiny 3 foot leader hose after it arrives!
Your lightweight hose also needs to be easy to handle and a useful length. All the hoses we've linked here are 50 feet or less which is a useful and manageable length for most people. This means these hoses are easy to work with when full of water but they are also easy to disconnect and store.
People frequently complain about lightweight hoses kinking. Luckily, high quality lightweight hoses are not as prone to kinking.
In a rush? Here are our top picks.
8 pounds
Flexzilla Garden Hose 5/8 in. x 50 ft, Heavy Duty, Lightweight, Drinking...
3.69 pounds
Camco 40' Coiled Water Rust Resistant Brass Fittings, Hose Design...
4.69 pounds
Aqua Joe AJFJH50-58-PRO FiberJacket Non-Expanding Kink-Free Garden, RV,...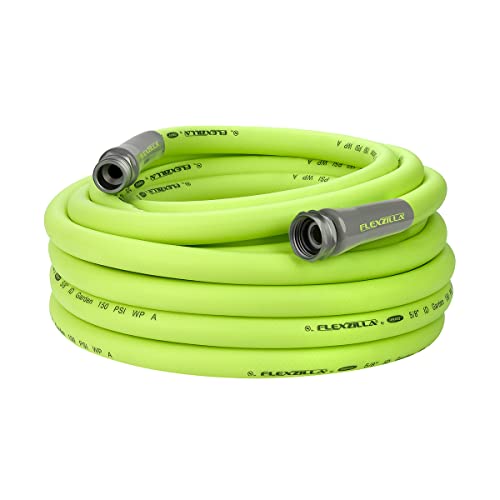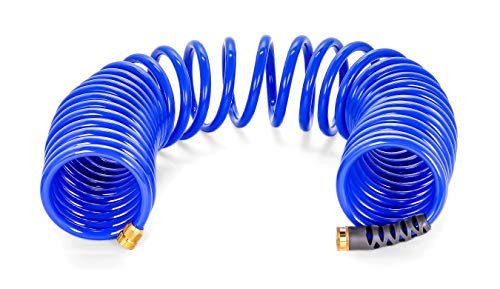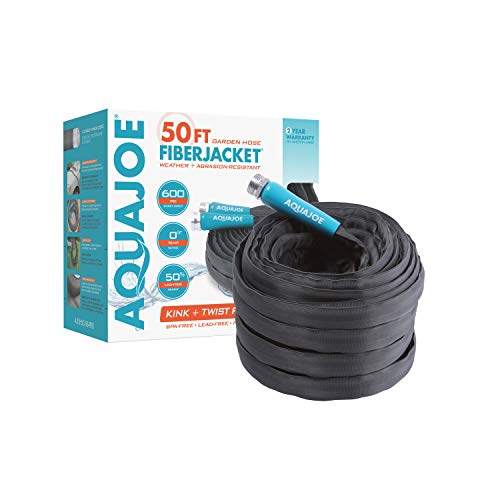 8 pounds
Flexzilla Garden Hose 5/8 in. x 50 ft, Heavy Duty, Lightweight, Drinking...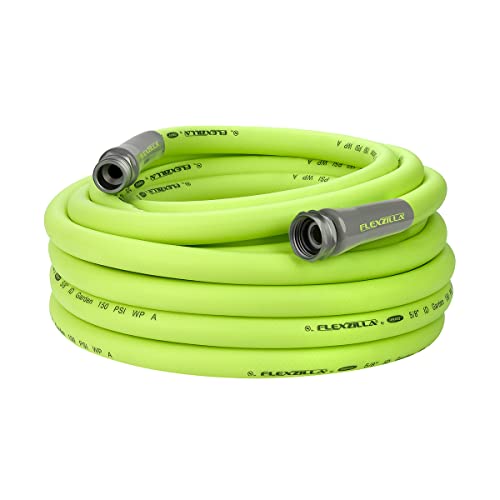 3.69 pounds
Camco 40' Coiled Water Rust Resistant Brass Fittings, Hose Design...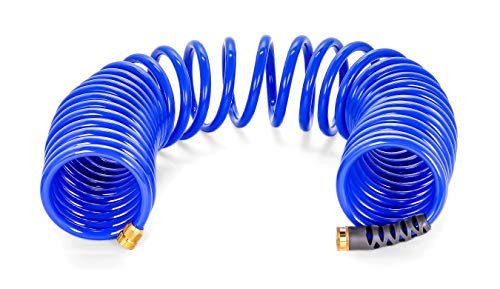 4.69 pounds
Aqua Joe AJFJH50-58-PRO FiberJacket Non-Expanding Kink-Free Garden, RV,...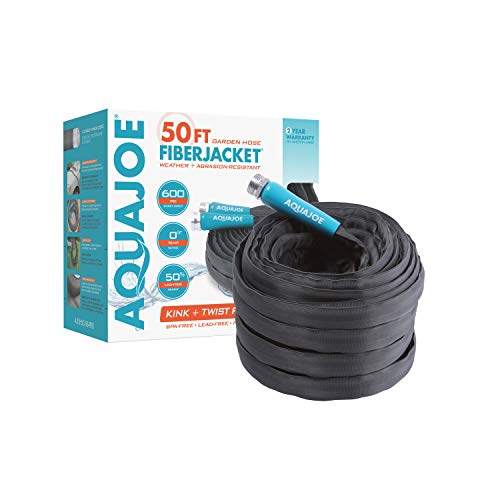 Want to find out more about each hose? Keep reading to learn the good and the bad about each hose.
Best Lightweight Hose Reviews
The TBI Pro expandable hose is a winning hose. We absolutely love it for all of our hose needs. We even use it to move water inside the house where it would just be a pain to use a conventional rubber hose. (Yes, we do use a hose inside to fill our indoor hydroponic plant stands.)
Most expandable hoses are incredibly lightweight. The TBI Pro is 3.85 pounds. If you want to learn more about expandable hoses and why they are just as good as conventional rubber hoses, check out our post on the best expandable hoses.
Expandable hoses are by far the lightest of hoses. Not just because of the construction material but because they carry less water in them. These hoses require pressure build up to fully expand. Once you open the nozzle you cause the pressure to drop inside the hose and thus the hose will start to contract. Now that the hose is shorter there is also less water inside the hose making it easier to drag across your yard.
The one sacrifice with this type of hose is that constant shape changing prevents you from fully using the length of the hose. This specific hose claims 50′ when fully expanded, but this is after it more than doubles in size with water pressure in the line. It's actually kind of fun to watch the hose expand and contract on the ground.
Do you weave your hose in and out of your garden? This hose may not be for you. Because this hose is known to change shape so often, you may damage plants or even the hose itself if you are not very careful. The easy fix to this problem is to simply shut the spray nozzle and the hose will expand again to a useable length.
A coiled hose is the ultimate tidy hose and one where weight does matter. The CAMCO coiled hose comes in at 3.69 pounds. With an inner diameter of 1/2″ this hose will be a breeze to move around your yard.
This particular model comes with a pressure controlling nozzle and a quick connect system to easily change out your nozzle. Depending on your situation you may need a different nozzle. Find the right nozzle for your job with our all inclusive guide to hose nozzles.
Not sure what a quick connect is and how it can save you time (and hand pain)? Discover our guide to the best garden hose quick connects.
Be sure to keep an eye out for Amazon glitches. We have seen the hose kit be significantly cheaper than the individual hose so you may get a great deal on the kit.
Flexzilla is a hose above the rest. We absolutely love our heavy duty Flexzilla, it continues to proves its value after all the abuse we put it through. This hose weighs in at 8 pounds. Not super lightweight but it makes up for it with its durability.
This hose is also drinking water safe. This makes the Flexila ideal for watering animals and keeping hazardous chemicals out of your garden. This hose does not leach any harmful products so you can rest at ease.
Flexzilla garden hoses are known for their durability. These hoses are meant to last a lifetime. To be honest, we rarely remember to release water pressure from our hose. (Or we do, but then our child turns the hose faucet back on.) This is bad for hoses, but our Flexilla is still damage-free after almost two years of use.
Spring 2022 update: we now own THREE Flexzilla hoses! I refuse to use anything else. Last year I tried to save a few bucks and the wait of ordering online by getting a hose at a big box store. What a mistake. It was heavy and kinked up constantly. Out oldest Flexzilla is shown on the bottom, the (less than a month old at the time) big box hose on top: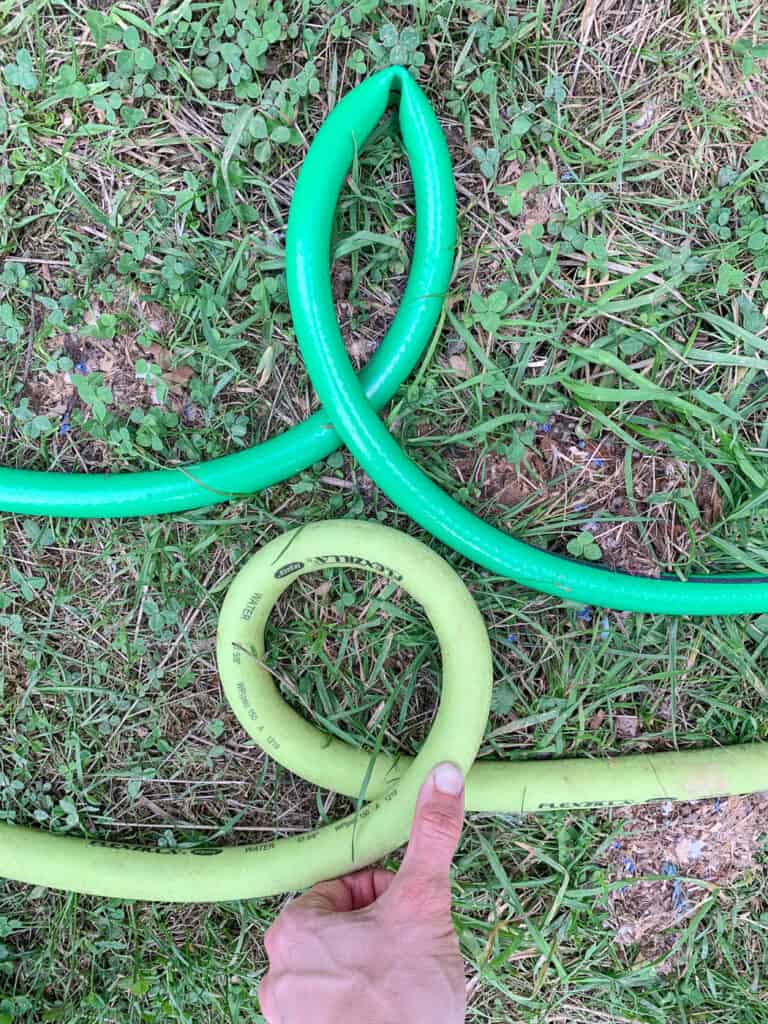 If you'd like to know more about what makes a hose durable, check out our post on the best garden hoses.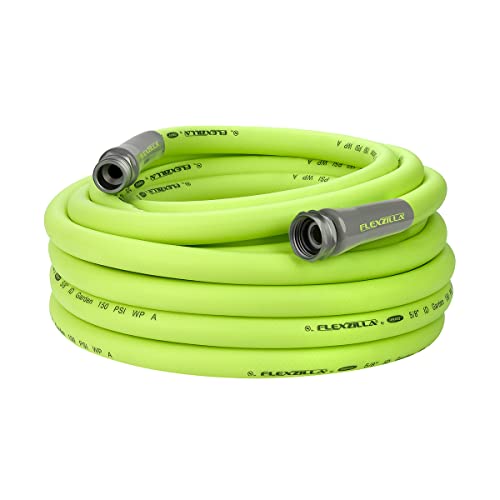 The Aqua Joe lightweight hose is a unique hose. The outer fabric is abrasion and tear resistant and it won't damage any painted surfaces like your car or boat.
Weighing in at only 4.6 pounds, the Aqua Joe hose is one of the best lightweight hoses we've encountered. Not only it is light but it is easy to carry and store. Part of the problem with rubber hoses is not just their weight but their bulkiness. The Aqua Joe solves your problem with its revolutionary outer fiber jacket. Typically, a rubber hose is non-collapsible, meaning there is lots of empty space in your hose box or reel. The Aqua Joe fully collapses making it possible to squeeze into a bag and keep your yard mess free.
The drawback to this type of hose is that the fabric outer jacket does not play well with concrete. Just like we say in our expandable hose post, the fabric gets caught in the concrete and starts to cause micro abrasions which eventually lead to large tears in the fiber. The quick fix to this is to avoid dragging this hose on the concrete whenever possible.
Overall, this hose is a top contender for the best lightweight hose. This has many great ratings like this person here: "This one is so light I can easily coil up in loops to store away after I'm done using it."
Sale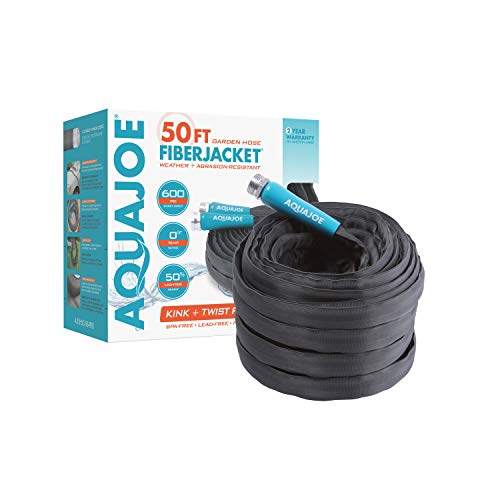 The Bionic stainless steel hose is a great choice as a lightweight garden hose. Surprisingly, the stainless steel does not add much weight to the hose. This 50 foot hose only weighs 3 pounds.
A stainless steel hose has many great benefits other than just its lightweight. The steel exterior provides added protection from the elements, it is crush resistant, and even pet resistant.
The metal sleeve helps protect the hose against most damage. Unlike a fabric hose, a little bit of concrete will not damage this hose. It is also gentle enough that it won't damage your plants if you accidently drag it across your planter.
Are you surprised to find stainless steel hoses on this list? Then check out our post on the best stainless steel hoses for your garden.
Sale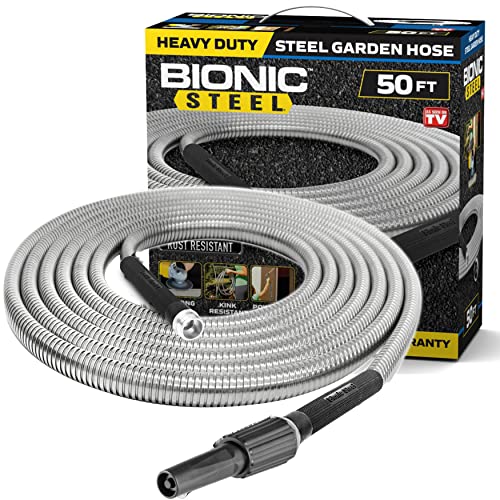 Bionic Steel 1582 50Ft Hose, 50'
Ultra Durable: Our hoses are constructed from a commercial-grade 304 stainless steel that is extremely durable, doesn't rust, is resistant to leaks,...
Flexible and Lightweight: The unique interlocking flex design is extremely flexible and easy to maneuver around tight corners, trees and other...
Weatherproof: The Bionic Steel Hose has been built to withstand extreme conditions– from sub-zero temperatures, the hose can be frozen in a block of...
What to consider when buying your hose
Material
Typical hoses are made of rubber. This is great for durability but these often weigh down the hose and make them bulky. However, a rubber hose will be the most durable.
All of the hoses here will have a comparatively limited lifetime except for the Flexzilla. How long your hose lasts is up to you on how well you maintain it. This means keeping it from freezing, reducing the direct sunlight it receives, and depressurizing it after use. Do NOT store your lightweight garden hose like this if you want it to last: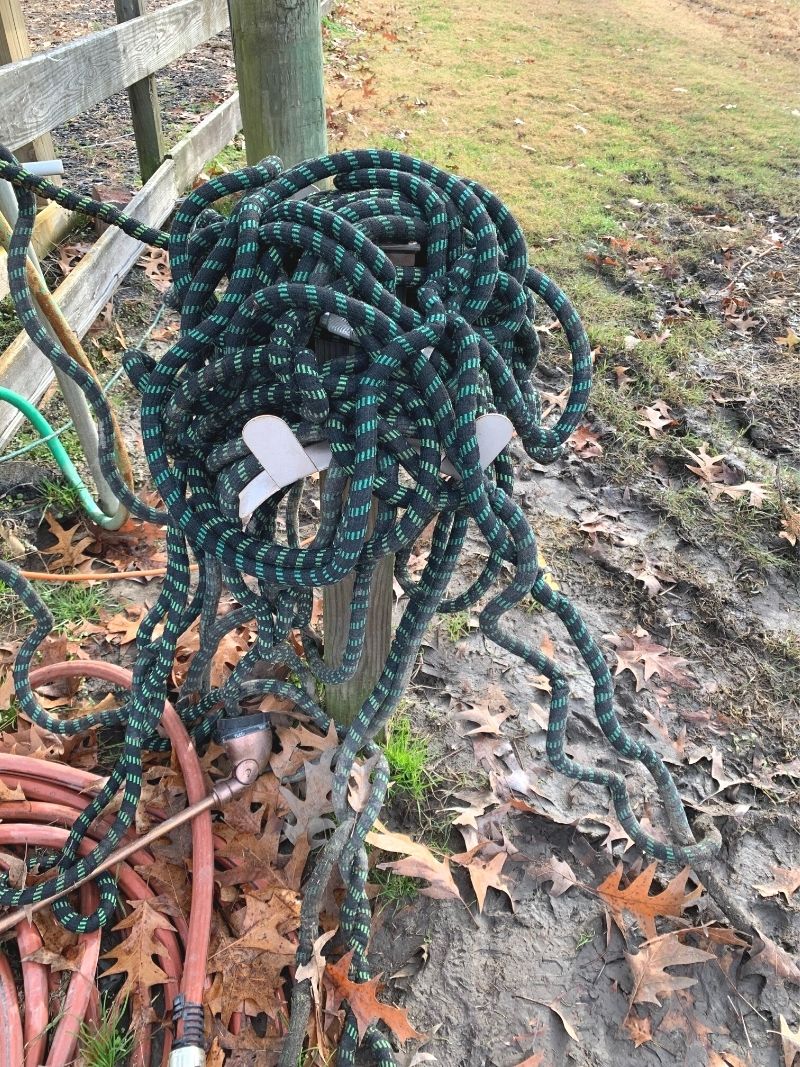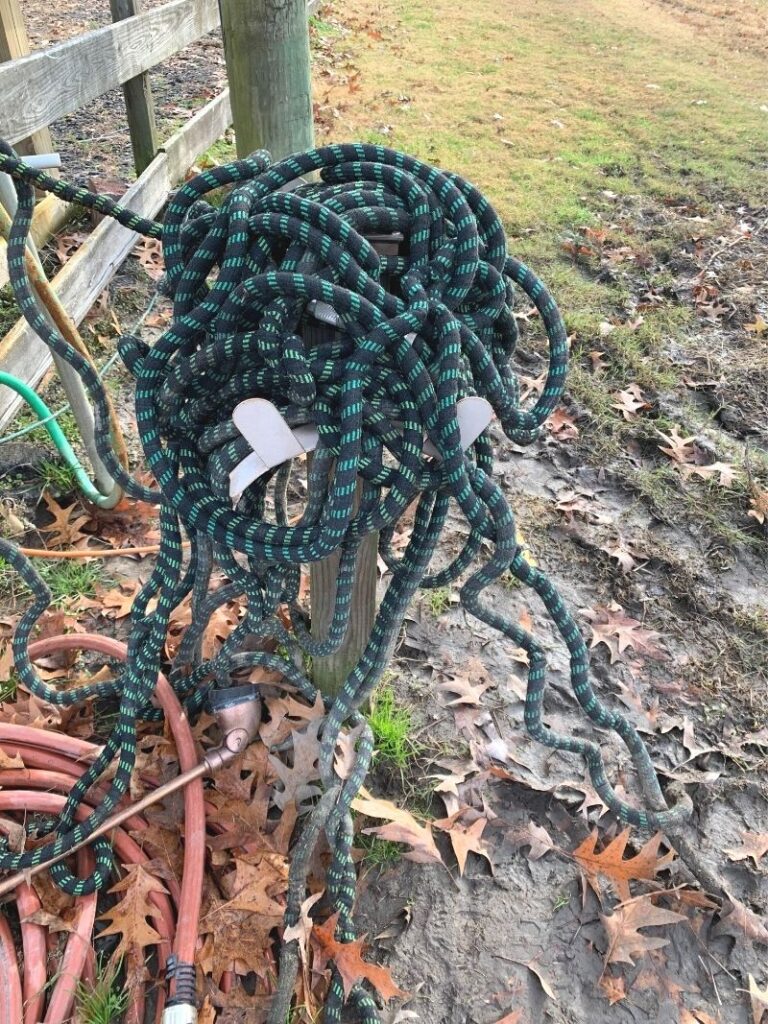 Drinking Water Safe
You may not think this is important but in a pinch, this type of hose could save your life. Typically, these hoses are used for RVs, giving water to your pets or other animals, and any emergency water jugs you may need.
Length
Hose length is something you need to really evaluate. I like to go with 50 feet because this is a manageable length and it is super useful. We have a 100 foot hose and hardly ever reel it out all the way. Remember, the longer the hose, the more difficult it is to store it away. Be truthful with yourself because in this instance, bigger is not always better.
You should also consider where your hose is going to live. Check out some of our hose reel recommendations on our post.
Inner Diameter
This is a big deal. Though you may have a light weight hose, the weight of water stays the same. Yep, about 8 pounds per gallon. If you do the math, a 100 foot hose with an inner diameter of 5/8 inch can hold over 6 gallons of water inside the hose. Given that 1 gallon of water weighs about 8 pounds, that is about 50 pounds of water you are trying to move around your yard. A 50 foot hose of 5/8 inch inner diameter holds about 25 pounds of water.
If you don't need a large diameter hose, don't get it. There are plenty of 1/2″ inner diameter hoses like those in the Water Right 500 Series.
Kink Free
Most hoses claim kink free. In my experience, this is a bit of a lie. I believe this is more that the hoses are less likely to kink under proper use. Always be mindful of the way your hose is lying. You may inadvertently make it so the hose has no option but to kink. More heavy duty hoses are way less likely to kink like those made by Eley but there are sacrifices you make by getting a heavier hose like that.
Lightweight Hoses Are a Must
Gardening is a pleasure. Don't let a heavy, old hose detract from your outdoor experience!
Regardless of what you choose, I hope you can now make a better informed decision on which hose is right for you.
Angel is a Cuban immigrant who grew up with backyard chickens and a yard-loving abuela. He is our "gear guy" who can never have too many pairs of gloves or weed whacker attachments.