Are you sick of leaky, flimsy hose nozzles that either that only have two settings: blast and drip?
Or maybe you're confused and frustrated by the gazillion brands and styles available. You just want a find nose nozzle that does its job, not to do a month-long research projects!
Garden hose nozzles come in a variety of shapes, sizes, and price points. Discover the top-rated garden hose nozzles for any application so you can cut to the chase and save valuable time.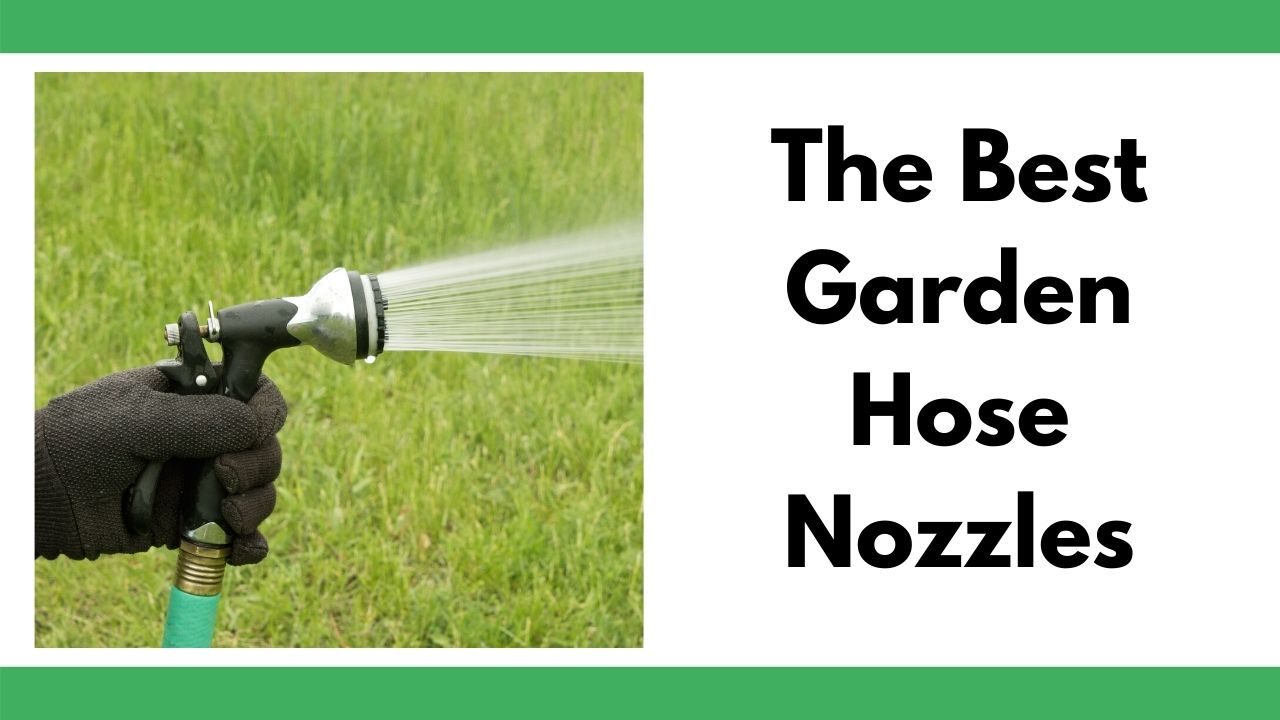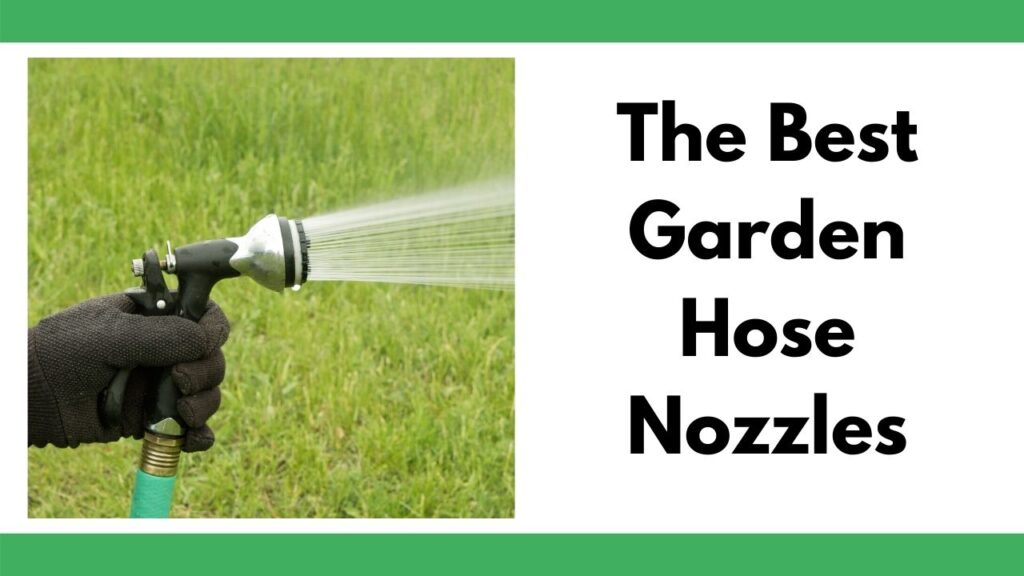 This post includes affiliate links, which means I may earn a commission on purchases made at no additional cost to you.
In a rush? Here are our top picks.
Best for Gardening
Melnor 65058-AMZ Torrent 7-Pattern Nozzle with QuickConnect Product Adapter...
Most Durable
Heavy Duty Brass Fireman Style Hose Nozzle - Fits All Standard Garden Hoses...
Best Overall
Flexzilla Garden Hose Nozzle - 6-Pattern Adjustable, NFZG64, ZillaGreen™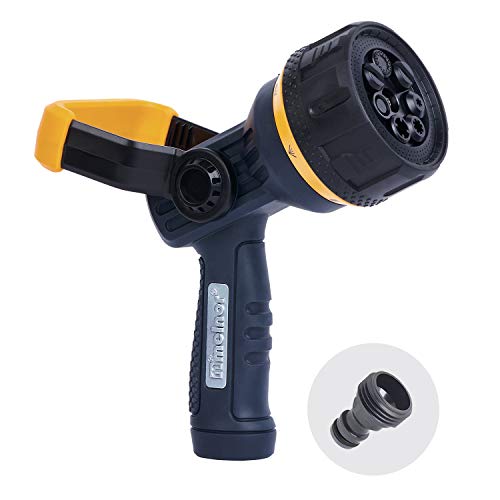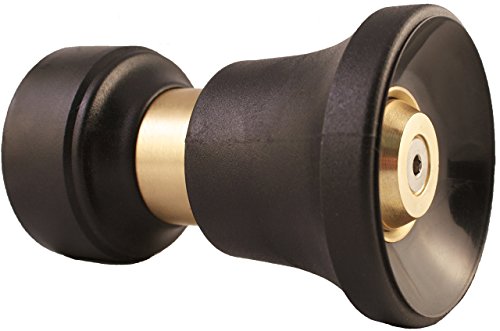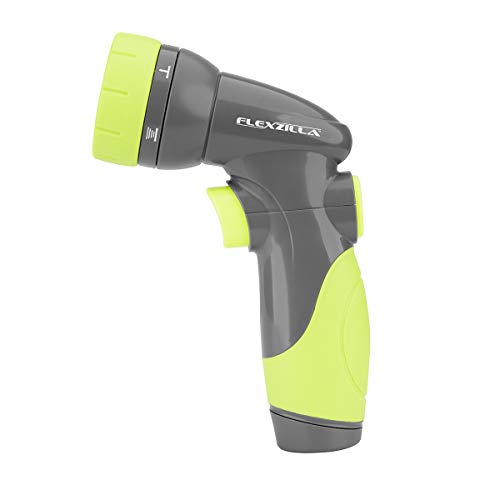 Best for Gardening
Melnor 65058-AMZ Torrent 7-Pattern Nozzle with QuickConnect Product Adapter...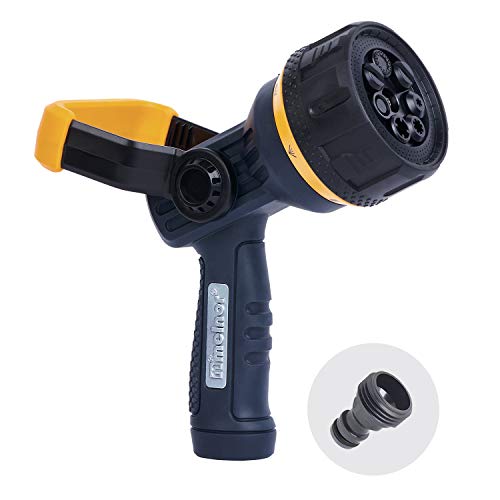 Most Durable
Heavy Duty Brass Fireman Style Hose Nozzle - Fits All Standard Garden Hoses...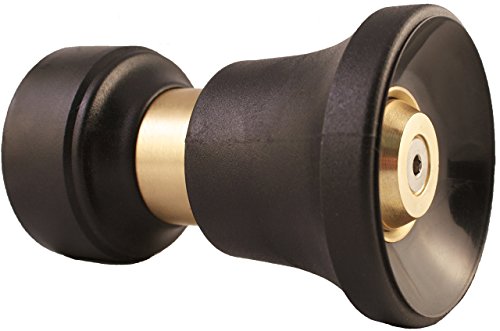 Best Overall
Flexzilla Garden Hose Nozzle - 6-Pattern Adjustable, NFZG64, ZillaGreen™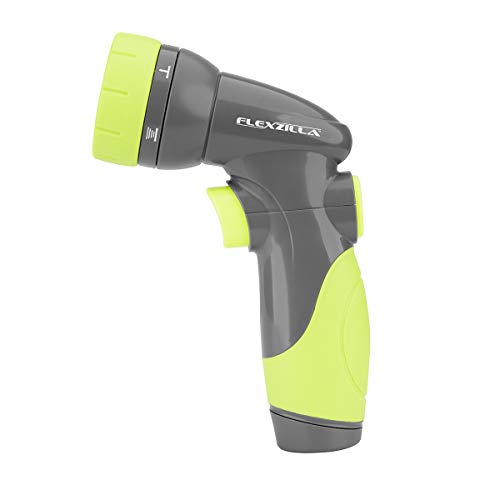 Multi Pattern Nozzles
We use our multi-pattern nozzle for watering our garden, washing the cars, cleaning our feet after a trip to the beach, mixing plant food and compost teas in our watering can, and filling our hydroponic systems. Some patterns are kind of worthless, but others I could not live without. The "jet," shower, and mist settings are the most useful.
The one drawback of this style of hose nozzle is the lack of pressure control. Though it seems that the rear trigger would allow you to regulate this we have found this is not always the case. To solve this problem, you can install a ball valve at the end of your hose and use that to regulate the pressure. If you find your water pressure is too high and you're blasting away plants instead of watering the, give a ball valve a try.
The Flexzilla pattern nozzle is one of our favorites for daily watering. It's lightweight, easy to use with a sliding push button that stays on or off without continual pressure, and doesn't leak.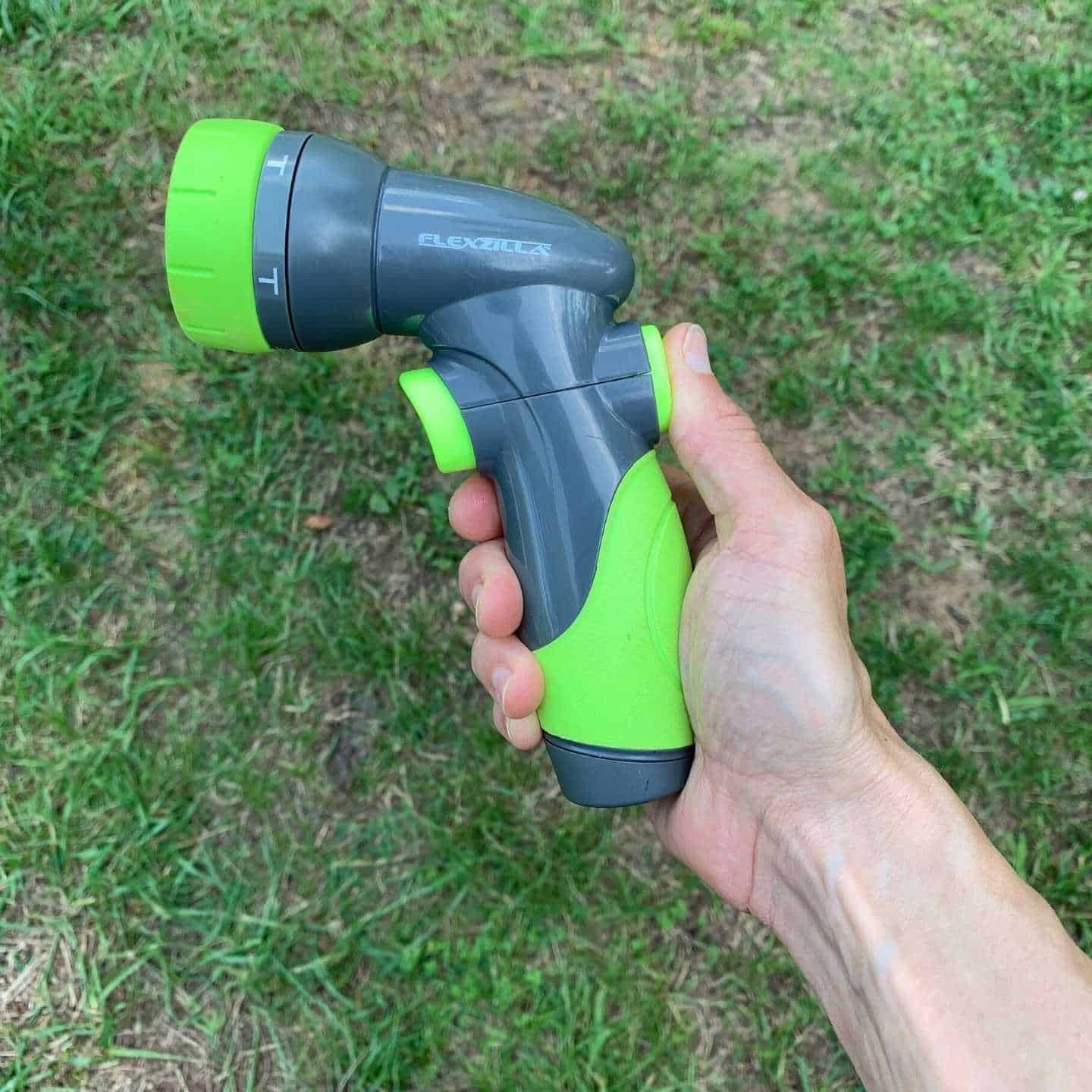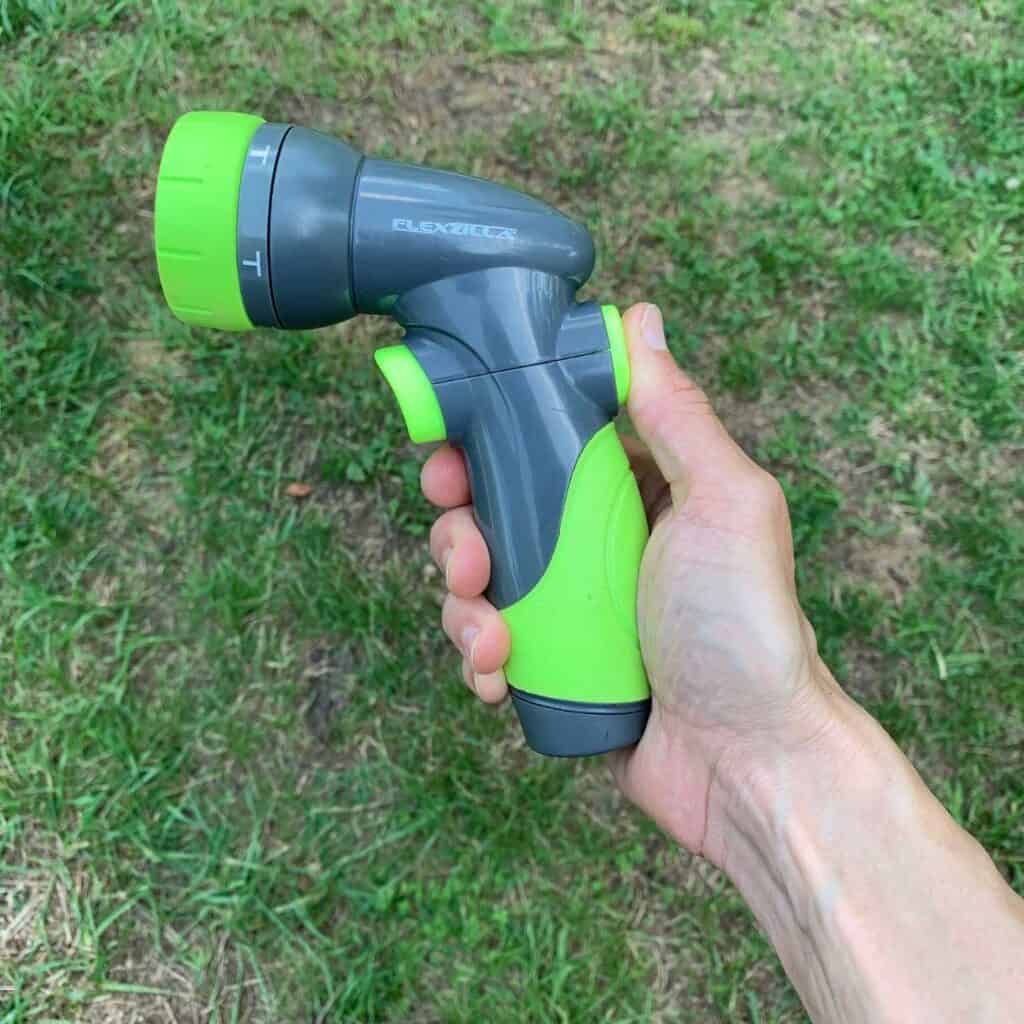 The only downside we've discovered is that it is not heavy duty. This is both a blessing and a curse, as it were. It's lightweight, which means it doesn't stress your arm or hand as you water. This also means it can't take much rough handling and could easily pop apart in a freeze (if there were water still inside the nozzle).
This probably won't be a problem for you. Most people take care of their hose nozzles and don't regularly drop them on the cement. If you take care of the nozzle, you don't have any problems. If you have young garden helpers who are still learning how to be gentle with tools, you may want the Melnor heavy duty nozzle, instead.
In our experience, the Flexzilla hose nozzle is actually leak free out of the box. It comes with a rubber washer installed so it doesn't leak, even when the hose water is on but the nozzle is off.
Yes, we do actually own and use this Flexzilla pattern nozzle. You can see a comparison of it to a "normal" metal big box brand hose nozzle in the video below. You can see how much easier it is to use and that it is actually leak free. (Please note that I accidentally said the nozzle has 5 patterns in the video. It is actually a 6 pattern nozzle.)
In the video, you'll see that we're using a ball valve on your favorite expandable hose. Learn more about lightweight expandable hoses in this guide.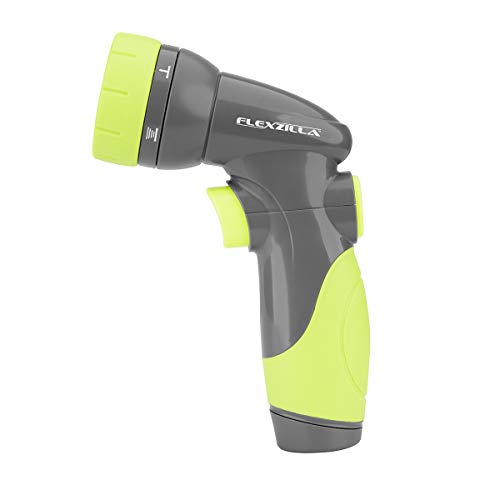 Flexzilla Garden Hose Nozzle - 6-Pattern Adjustable, NFZG64, ZillaGreen™
6 SPRAY PATTERNS - Allowing for adjustable spray patterns and application use, this nozzle sprays as mist, vertical, shower, cone, flat, jet
VARIABLE FLOW - The convenient on/off toggle switch with variable flow allows for easier control over water flow
DURABLE OUTER HOUSING - The 6-Pattern Nozzle is made for longevity with durability in mind
The Melnor heavy duty multi-pattern hose nozzle is one of the best nozzles on the market. Not only is it a substantial piece of equipment, its design is rugged and long lasting.
The lever multi-pattern nozzle is one of the few designs which allows for pressure control. Regulating the pressure of water is a big deal. This type of design saves you time and preserves the health of your garden by not washing away your seedlings when you water them. (As a note – for watering seeds and seedlings, you should really use a gentle watering wand.)
This design also takes some of the strain off your hands which can mean a great deal if your watering chores take more than a few minutes or if you have older, aching hands.
---
The Green Mount multi pattern nozzle is another solid nozzle. This product is long lasting. The metal design ensures it won't crack under the sun.
These also come in some cool colors to give your garden some life. Choose from red, bronze, or silver.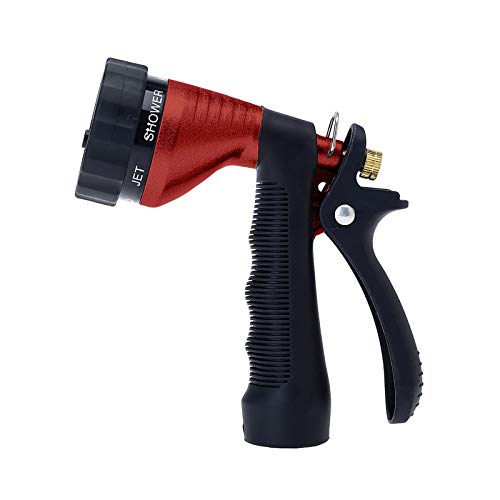 GREEN MOUNT Water Hose Nozzle Spray Nozzle, Metal Garden Hose Nozzle with...
DURABLE & ROBUST. GREEN MOUNT water hose spray nozzle is definitely made of premium zinc alloy, robust and much stronger than plastic water nozzles....
LIGHTWEIGHT & FUNCTIONAL. Our garden nozzle is small and lightweight, but the various sprays have all the power of a heavier product. Adjustable spray...
EXCELLENT DETAIL DESIGN. GREEN MOUNT water hose nozzle features a nice integrated trigger lock bar at the top of the handle that keep the water...
---
The Signature Garden heavy duty multi pattern hose nozzle is the highest rated product among our top picks.
The first thing you'll note is the array of bright colors to choose from. They're very eye-catching! Some may be sold out but often you'll find colors like red, green, and blue.
The next thing you'll notice is this products quality and durability. Several customers attest to this products durability. Here is one customer who uses it to the maximum extent possible, "I have been using this daily in my greenhouse work for months and I really appreciate the quality and durability of this nozzle."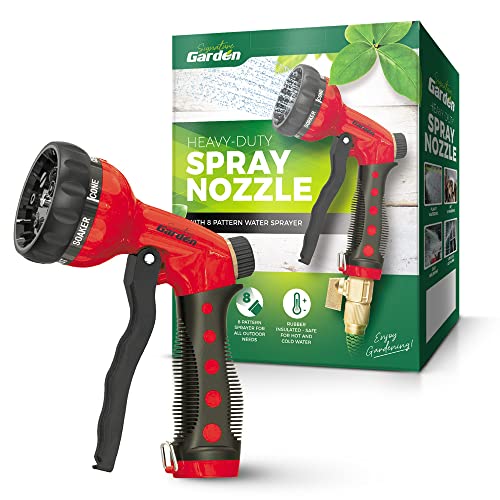 Signature Garden Heavy-Duty Nozzle, Comfort-Grip 8 Different Spray Patterns...
ERGONOMIC DESIGN - The Signature Garden heavy-duty spray nozzle is equipped with an ergonomic design for your comfort and control. The rubber...
DURABLE AND LONG-LASTING - Made of solid metal with a baked enamel finish, the Signature Garden heavy-duty hose nozzle is much stronger and durable...
FITS ALL STANDARD GARDEN HOSES - The Signature Garden hose sprayer nozzle fits all standard garden hoses. Simply connect to your outdoor hose and...
Fireman Nozzles
Fireman hose nozzles are a unique type of nozzle. These are typically heavier and more robust than multi-pattern nozzles or any spring loaded nozzle. The internals are usually brass and are operated by twisting or manipulating a lever.
The major benefit of a fireman hose nozzle is the variety of use. The soaker function is very effective and will not wash away your seedlings, likewise the high pressure function is great for washing away grime or sweeping leaves off your deck.
Another benefit is the rubber outer design which adds a level of robustness to the nozzle. It's more durable than a lever-style nozzle if you have children who tend to drop your hose nozzle while "helping" and it won't pinch little hands and fingers.
These nozzles are more comfortable to use on chilly mornings because you aren't grabbing onto a huge metal lever with your bare hands. The lack of a handle or lever also means they're gentle on hurting hands and easy enough for even a child to use (as long as you twist to the correct setting for them).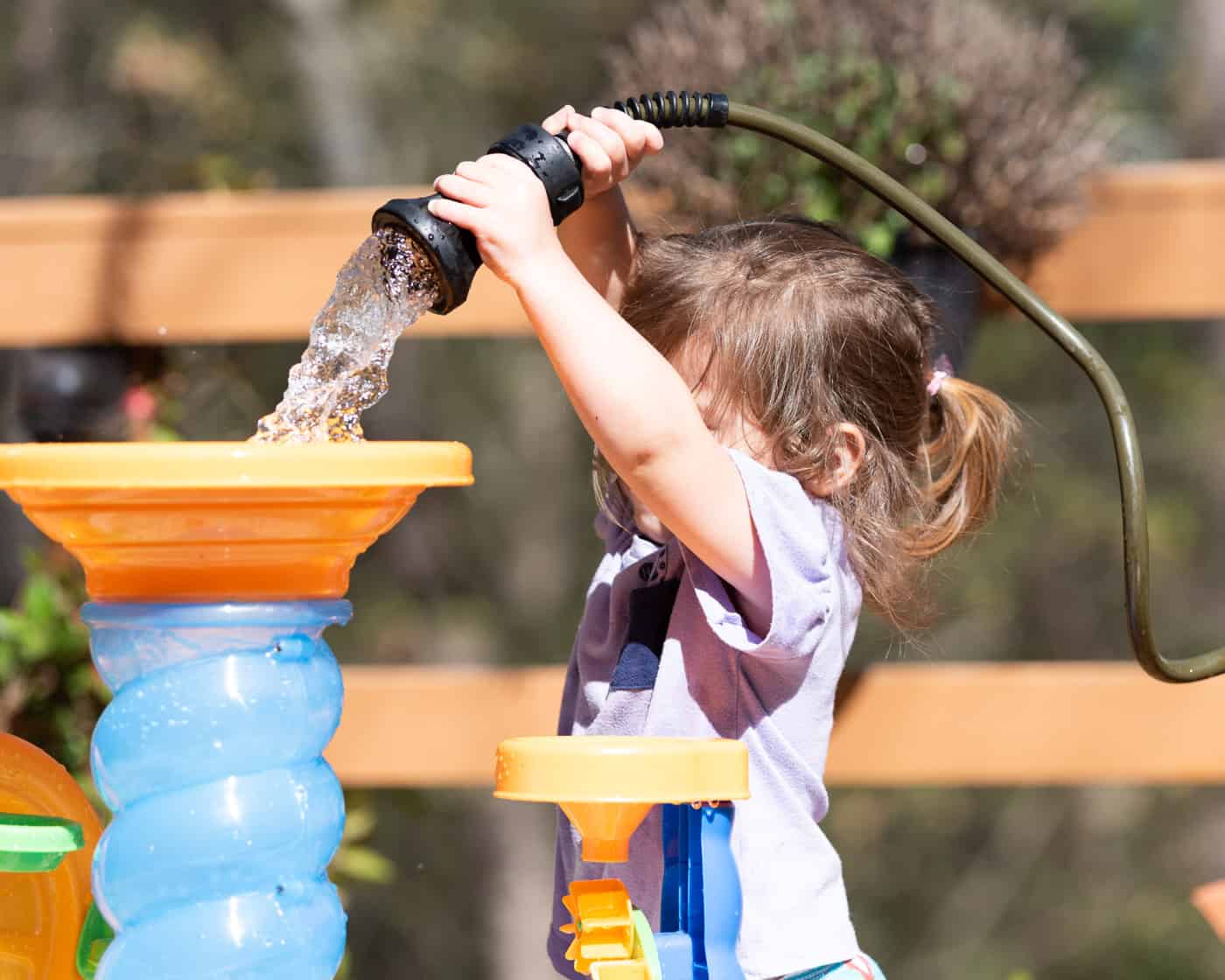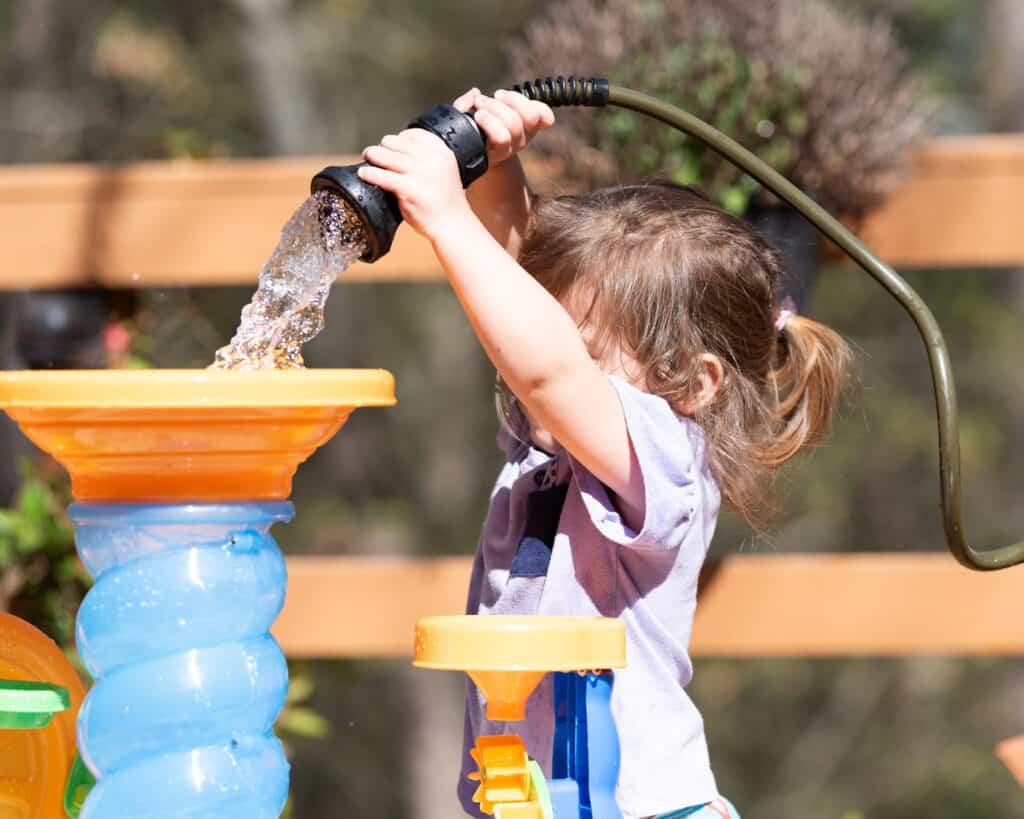 The Dradco brass fireman hose nozzle is a classic design of a fireman nozzle. The internals are brass which means rust is nearly impossible and truly a long lasting nozzle. The fewer moving components the longer lasting the equipment will last, definitely the case for this nozzle.
The review of a previous firefighter shows this reminds him of a firehose except only for your garden. Read his review here: "Coming from a firefighter of over 10 years, It reminds me of the same fire department quality just for your garden hose!"
Sale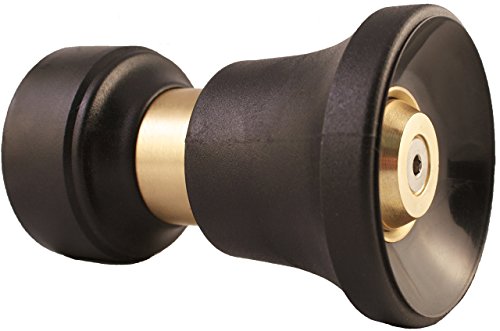 ---
The Bon-Aire fireman hose nozzle is fairly similar to other fireman hose nozzles but it comes with a unique design feature and that is the shut off in both directions.
Usually fireman nozzles require you to turn the fixture in one direction or another to fully close the nozzle but Bon-Aire has made it so that is not the case. This saves you time and is perfect if you tend to forget which way to turn things for off or if your child likes to "help" by cranking them open instead of off.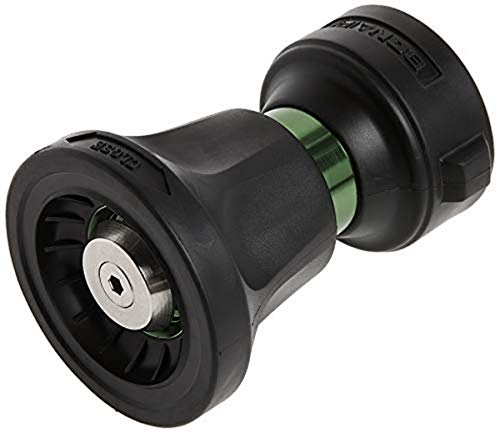 ---
The one downfall of conventional fireman nozzles is the inability to regulate flow well. The Gilmore fireman nozzle removes this problem by adding a flow control lever.
The nozzle still allows you to adjust the spray setting by rotating the front piece of the nozzle. It ranges from flood to high pressure spray with the added benefit of being able to control the flow of each setting.
Sale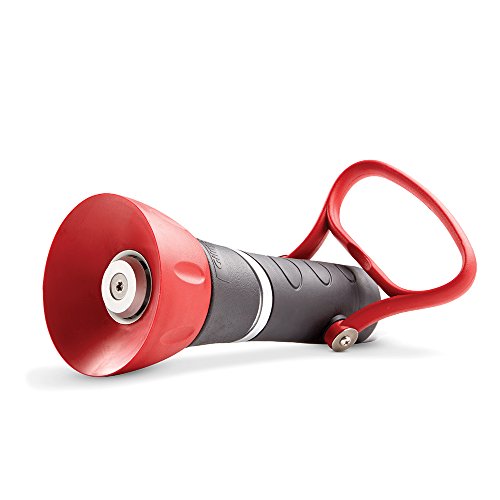 High Pressure Nozzles to Turn your Hose Into a Pressure Washer
High pressure nozzles are useful in your tool box but are limited in the uses. Most high pressure nozzles can be used to sweep your driveway or get rid of leaves off your deck. They are not good at watering your garden especially if you are trying to be gentle with their roots and stems.
Be careful because high pressure hose nozzles can also seriously hurt someone if used improperly.
The Dramm brass nozzle is a classic hose nozzle many of us grew up with. The design has survived the ages and not just by coincidence. The design of this simple brass nozzle is excellent for a variety of jobs around your home.
From high pressure to a gentle flow for flowers and plants, this nozzle does it all. However, it is most suited for high pressure and thin stream uses.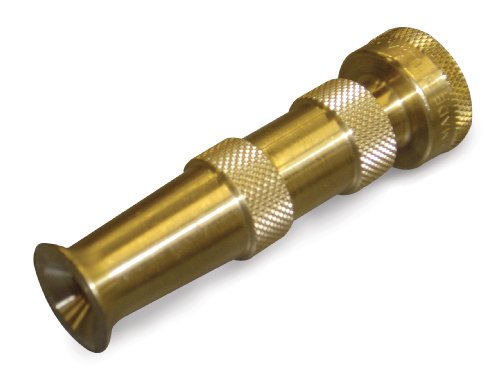 We had a hose nozzle very similar to the Big Shot nozzle when I was a child. This type of nozzle attempts to recreate a pressure washer for your garden hose. The pin point high pressure function is great for removing fine dirt from a small area but not a full scale job like that of a pressure cleaner.
As a high pressure nozzle it is great. Do not let this be your nozzle of choice for your garden, you will blast away dirt, roots, leaves, seeds, maybe even small trees. It can hurt you if you get blasted with it (ask my friends how they know…) This is not a gentle nozzle, strictly meant for high pressure jobs.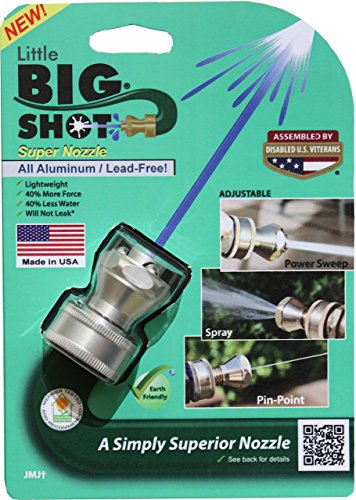 The sweeper nozzle is what it sounds like: it is used for sweeping debris from one area to another. The most effective way of cleaning off a driveway is by using one of these concentrated sweeper nozzles. The concentrated jet allows you to target dirt a debris and move it to a suitable area.
Of course, the simple design comes with its challenges. This nozzle has a very narrow function meaning it would not be good for watering your lawn or washing your car, plus it only has one setting, ON. This nozzle is the perfect candidate for use with a quick connect. You may also want to go ahead and couple this with a ball valve at the end of the hose so you can control it more effectively.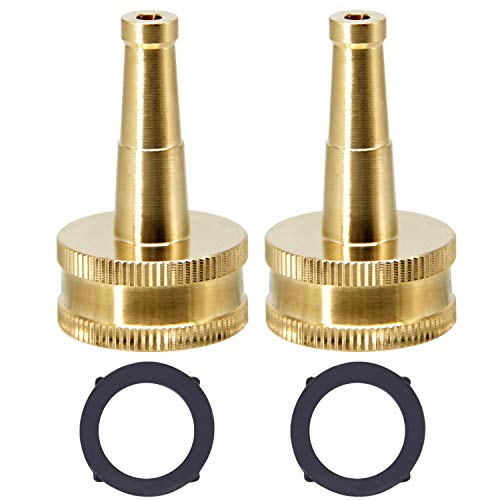 This high pressure spray gun certainly looks fancy and like it has something different to offer. However, if you look closely, this is no different than the Fanhao Adjustable Pistol Nozzle.
The long neck of this nozzle allows you to get down to the root of plants, reach up high into hanging baskets, or get around obstacles. This is convenient if you need the reach, but adds extra length that can get in the way if you don't need the reach.
The cool design certainly makes you wonder but it is the nozzle end that really makes the difference.
Water Hose Nozzle, Heavy Duty Metal Spray Gun, 360° Rotating Water...
➤Unique Design: Garden hose nozzle sprayer has metal anti-rust water outlet and one-piece molding design zinc alloy body.Copper Material super-fine...
➤Adjustable Spray Pattern: Flexible and adjustable water flow goes from fine mist, moderate spray or jet stream by rotating the head of the water...
➤Wide Range of Use: Handheld Long garden water hose nozzle sprayer in multiple Spraying Modes for washing your car, watering plants and flowers in...
Pistol Nozzles
Pistol nozzles are those which have a trigger to them but do not have a multi-pattern tip. These are usually more rugged than those with plastic pieces and so they tend to last longer. However, they do not regulate flow very well and so it can be difficult to do things like delicate garden watering with them. For watering your young plants, check out this review of the best garden watering wands.
The Fanhao pistol nozzle is really a high pressure pistol nozzle but the adjustable nozzle makes it ideal for most home uses. The adjustable tip allows you to jet dirt from your driveway or water your plants. You will still need a watering wand for more delicate watering jobs.
The full metal construction of this nozzle is definitely worth noting. Although most of the nozzles we have mentioned here are solid metal, many on the market are not which leads to rapid failure of the pieces especially if left out in the sun.
Sale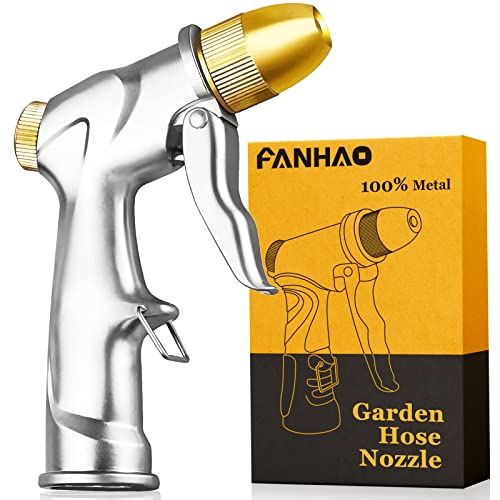 FANHAO Upgrade Garden Hose Nozzle Sprayer, 100% Heavy Duty Metal Handheld...
FITS ALL STANDARD GARDEN HOSES & LEAK PROOF -- Fits all USA-based garden hoses - 3/4" Garden Hose Thread (GHT). No adapters necessary! One piece...
UPGRADED WATER HOSE NOZZLE -- 100% Metal. The FANHAO hose nozzle is extra heavy duty made from a zinc alloy body and trigger. High quality to prevent...
4 WATERING PATTERNS -- For Every Watering Need. 4 modes water flow pattern by rotating the head of nozzle. Adjust the spray head at first, then press...
The Gilmour pistol nozzle is a classic. This is the nozzle many of us grew up using and it is still available for us to enjoy and pass down to our children.
The construction and design of this nozzle are durable and effective. The threads at the front of the nozzle allow you to easily add attachments like a sweeper nozzle.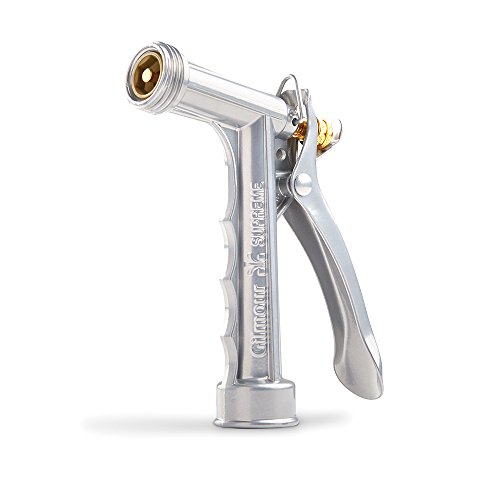 With all the nozzles listed here, it can be difficult to choose what is right for you. Ultimately, you'll want to consider durability, price, and pressure as the three criteria for choosing your nozzle.
Remember to choose a nozzle that suits you too. Each of the products above have character, pick the one that calls to you and will make you happy to use. A home and garden is where we rest our spirit, let even your hose nozzle nurture it.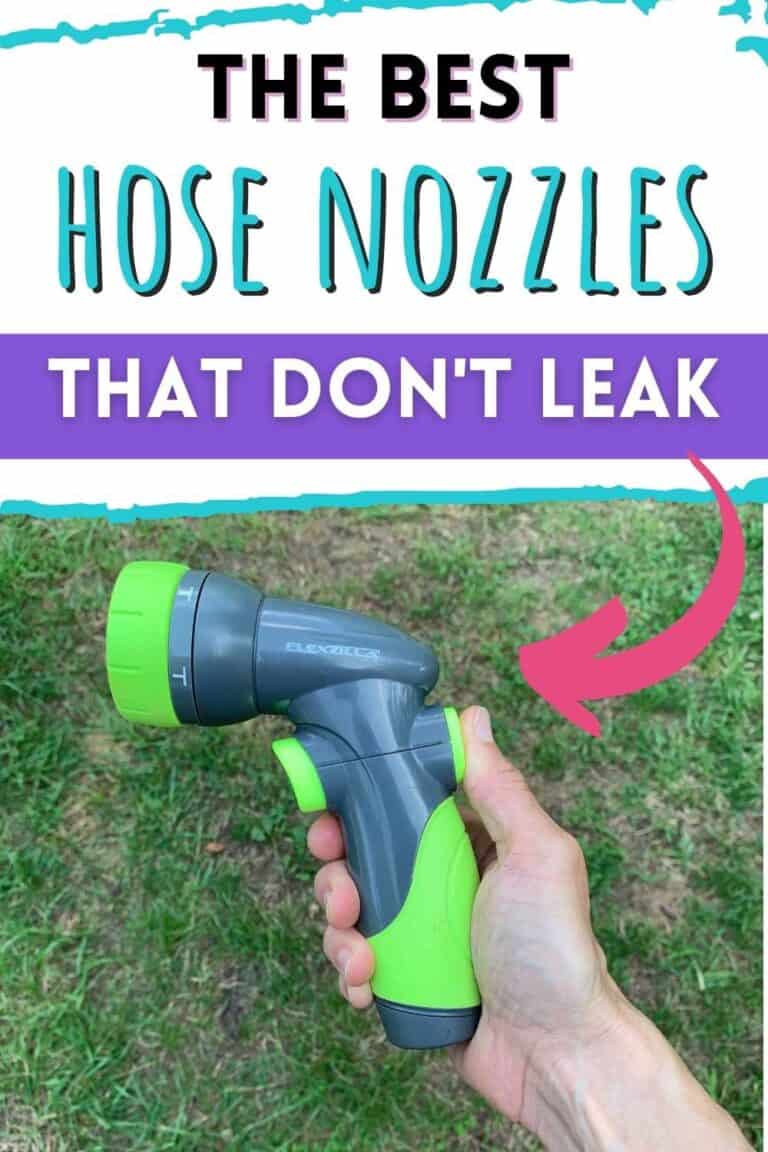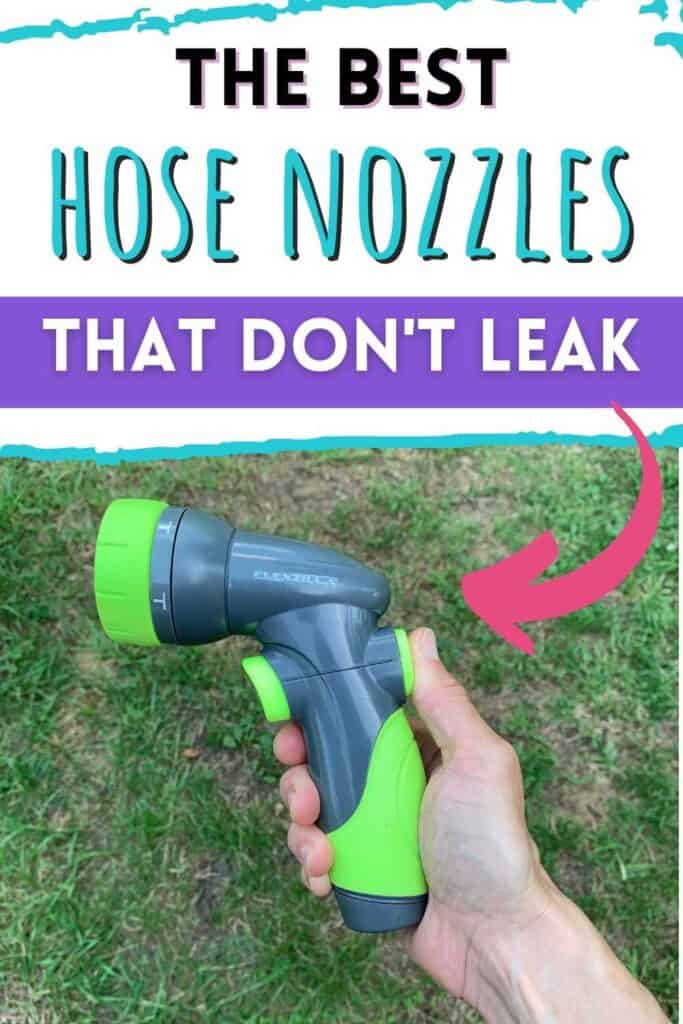 Angel is a Cuban immigrant who grew up with backyard chickens and a yard-loving abuela. He is our "gear guy" who can never have too many pairs of gloves or weed whacker attachments.