You've finally beaten out the cabbage worms and slugs and your cabbage is ready to harvest. Hooray! Discover how to harvest and store your cabbage so you can enjoy this nutritious vegetable all winter long.
One of the reasons cabbage can be such a good vegetable to grow is because many types of it store well. A fall harvest can last you all winter, and there are many other preservation options as well.
If you're wondering what the next steps are, here's everything you need to know about how to harvest and store cabbage.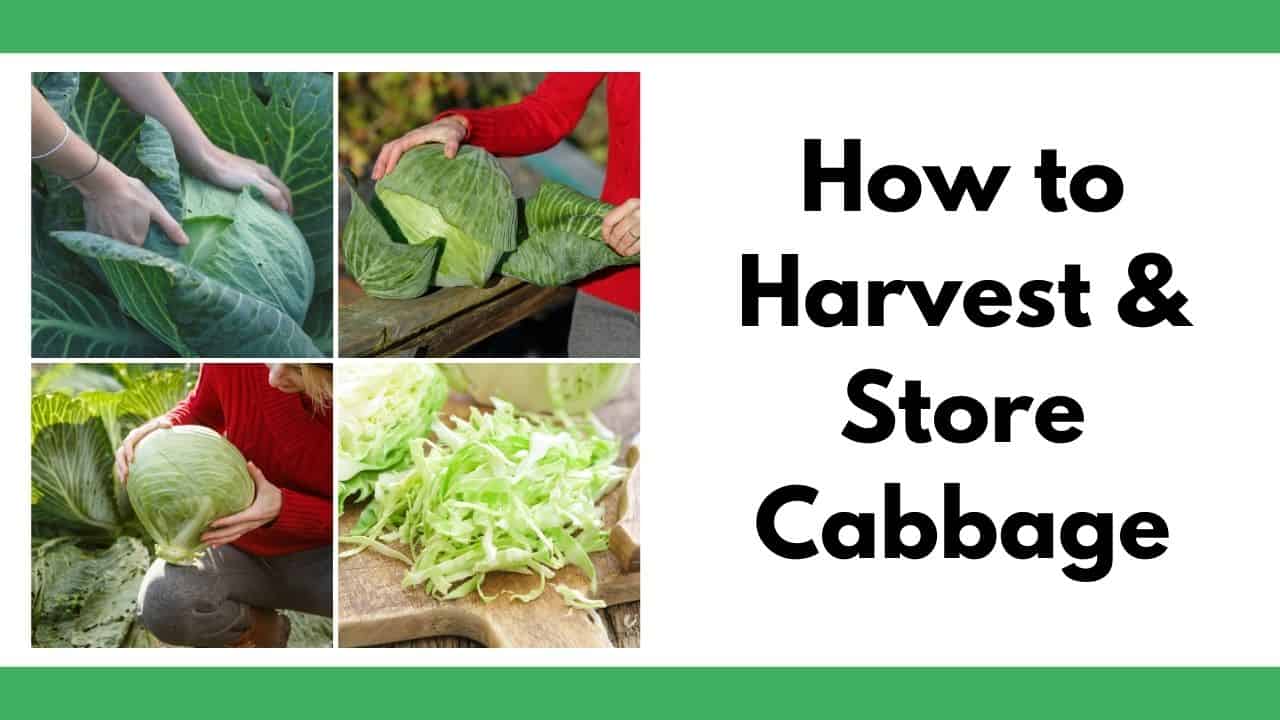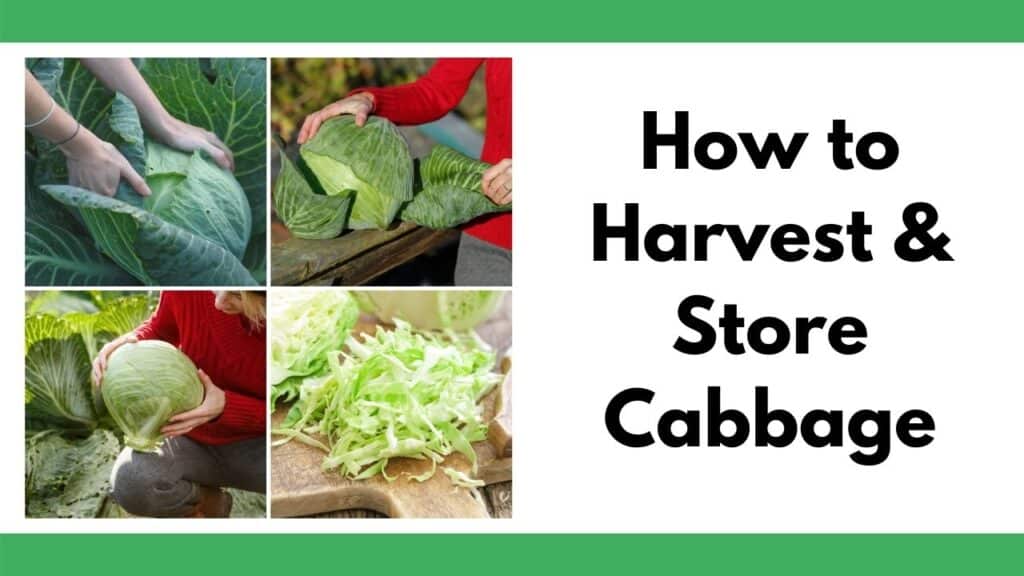 This post includes affiliate links, which means I may earn a commission on purchases made at no additional cost to you.
If you need help with cabbage pests and controlling them, make sure to check out this guide on planting and growing cabbage.
Best Storage Varieties of Cabbage
If you're growing a few heads of cabbage to eat, you can go with any variety you like. But if you want to store your harvest over the winter, you'll need to choose varieties that are suited for long-term storage.
Varieties that form large, dense heads are usually the best option. They may take longer to mature than other types but keep the best. Plant them in mid to late summer for a fall harvest.
For tips on growing cabbage in the fall, check out the book The Year Round Vegetable Gardener. It's a fresh, modern gardening book with tips on how to grow food all year affordably (no super expensive greenhouses!). The author is Canadian – if she can grow food in winter, so can you.
Sale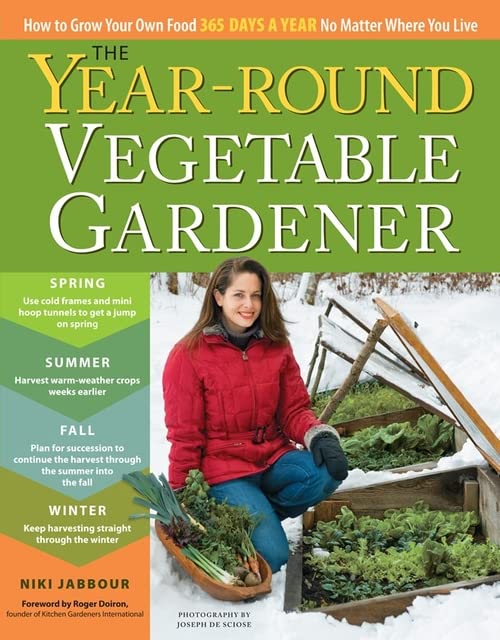 Here are a few of the best types of cabbage for storing:
Langedijker Winterkeeper – This is a Dutch heirloom with a very long 120 days to harvest. It's best grown as a spring cabbage unless you have very mild winters or plant them in a cold frame, hoop house, or other protection.
Storage No. 4 – The name says it all. This variety was developed especially for storage. Heads are green, solid, and get 4-8 lbs. Flavor is great and heads will store until spring. 95 days to maturity.
Murdoc – Heads are green, pointed, and large (7-8 lbs.). They store well for 1-2 months and are also great for sauerkraut. 83 days to maturity. Murdoc is an F1 hybrid, which means you can't save the seeds to plant again next year.
Ruby Perfection – Striking red storage cabbage. Heads are round, dense, and get 4-6 lbs. Can be stored for months. 85 days to maturity.
Kaitlin – Green cabbage with a white interior. Heads are large, dense, and great for sauerkraut or storage. 94 days to maturity. Kaitlin is also an F1 hyrid.
When to Harvest Cabbage
When to harvest your cabbage depends on two factors: the days to maturity of the specific variety you planted and what size you want them to get.
There's a wide range of maturity times for different varieties. Early ones can reach maturity in 60-70 days, while some of the fall-grown storage varieties take 100 days or more. Look up the days to maturity for your particular cabbages and mark the estimated date on your calendar.
You can also judge harvesting time by the size and firmness of the cabbage heads. Many varieties can be harvested at softball size as long as the heads are firm when you put pressure on them. If you can "squish" the cabbage with your hands and feel it give, or if the inner leaves are loose, it isn't ready to harvest. The cabbage should feel firm with closed inner leaves.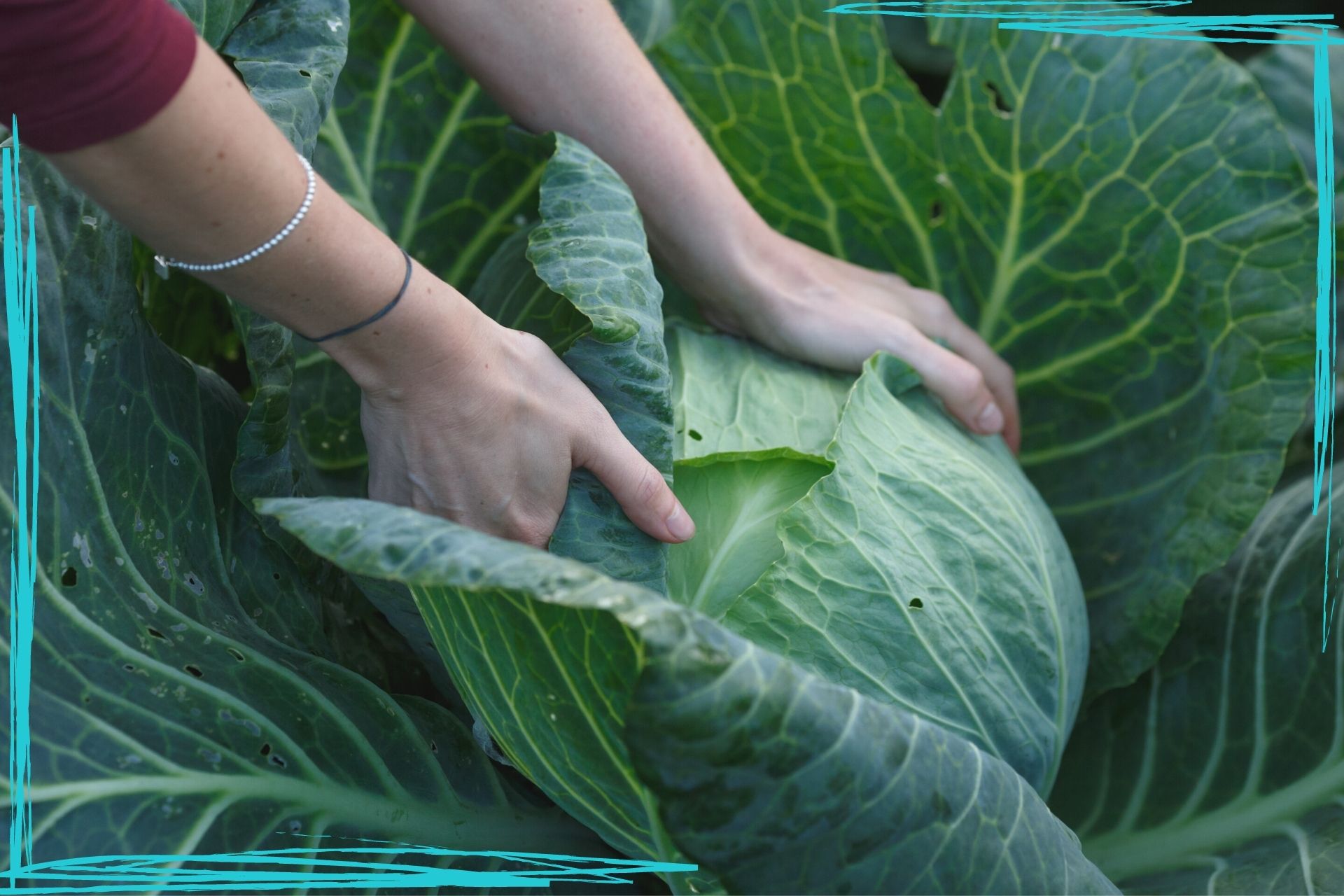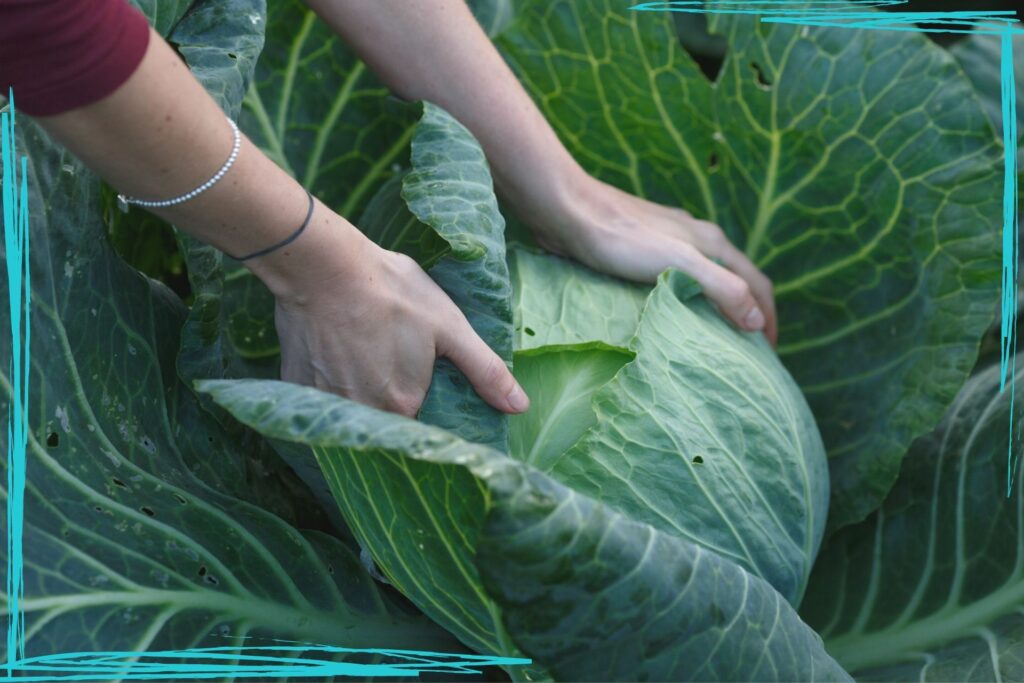 Harvest firm heads anytime you want, but for long-term storage, you should let your cabbages grow as close to their maturity date as possible. The larger and firmer they are, the better they'll store.
While you can harvest early if you don't mind small cabbages, leaving it too late will cause heads to split. If this happens, they are still good to eat but won't store very well.
If you notice your cabbage heads starting to spit, you can take steps to minimize further splitting. Splitting is typically caused by fast growth, especially after the head is firm. This can happen after a lot of rain or as a result of excess fertilizing. Grab your cabbage plant firmly at ground level and twist it about 180º. This breaks some of the roots and will slow growth.
Another old-timer trick to keep cabbage from splitting is to take a shovel or hand trowel and cut into the ground to sever about half of the roots from the plant.
Cabbages can take frost and temperatures down to around 25-30°F, but you should harvest before a hard freeze comes. If there's an unexpected cold snap in the forecast, you can mulch your cabbage with hay to protect them or use insulated row covers.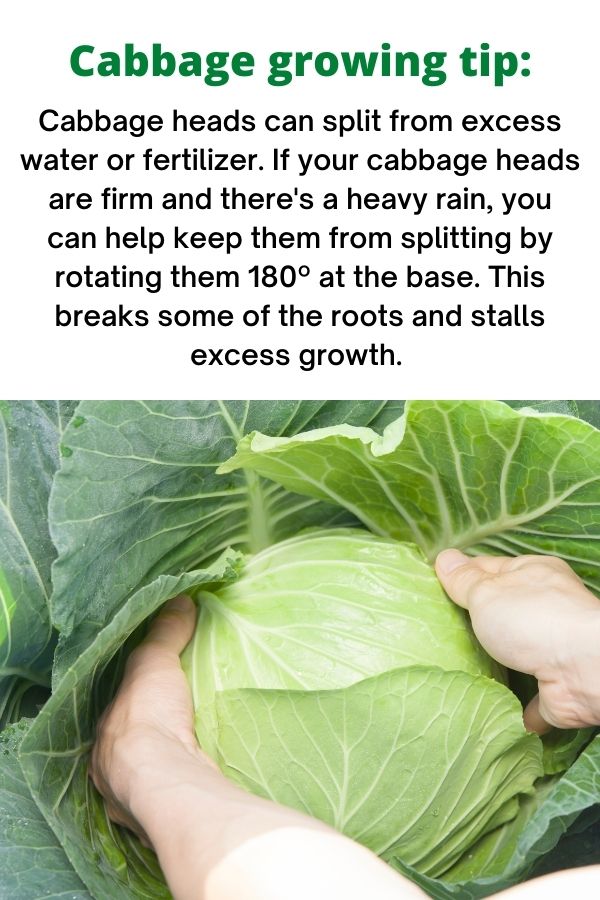 How to Harvest Your Cabbage
If possible, harvest your cabbage in the morning when the leaves and heads are at their freshest.
One way to harvest is to simply pull up your plants by the roots. This can be a bit trickier (and messier) than it sounds, especially if your soil is hard. However, if you have loose soil, this is a quick and effective way to harvest cabbage.
The second method requires a sharp tool: a harvest knife, sturdy pruners, or loppers. If you need a pair of garden pruners that actually cuts, make sure to read our guide on the best garden shears.
Because you'll be working with sharp tools, it's advisable to wear a pair of cut-resistant gloves. Discover the best cut-resistant garden gloves here.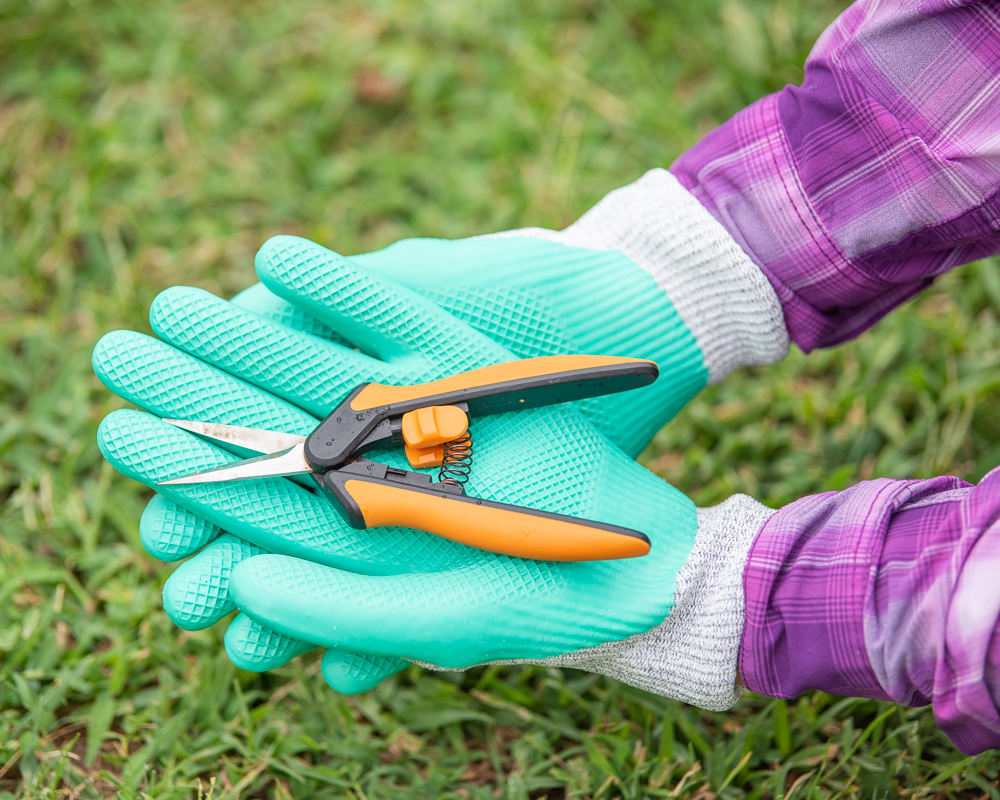 Use your chosen tool to cut each cabbage off a few inches below its base. You can remove any yellow leaves, but leave a few loose green ones on for better storage. Or if you plan to use your cabbage within a few weeks, take off the loose outer leaves to make the heads smaller.
If your cabbage isn't diseased, you can add the outer leaves to your compost pile. If you have a hot, thermophilic pile or a vermiculture bin, even diseased leaves can be composted.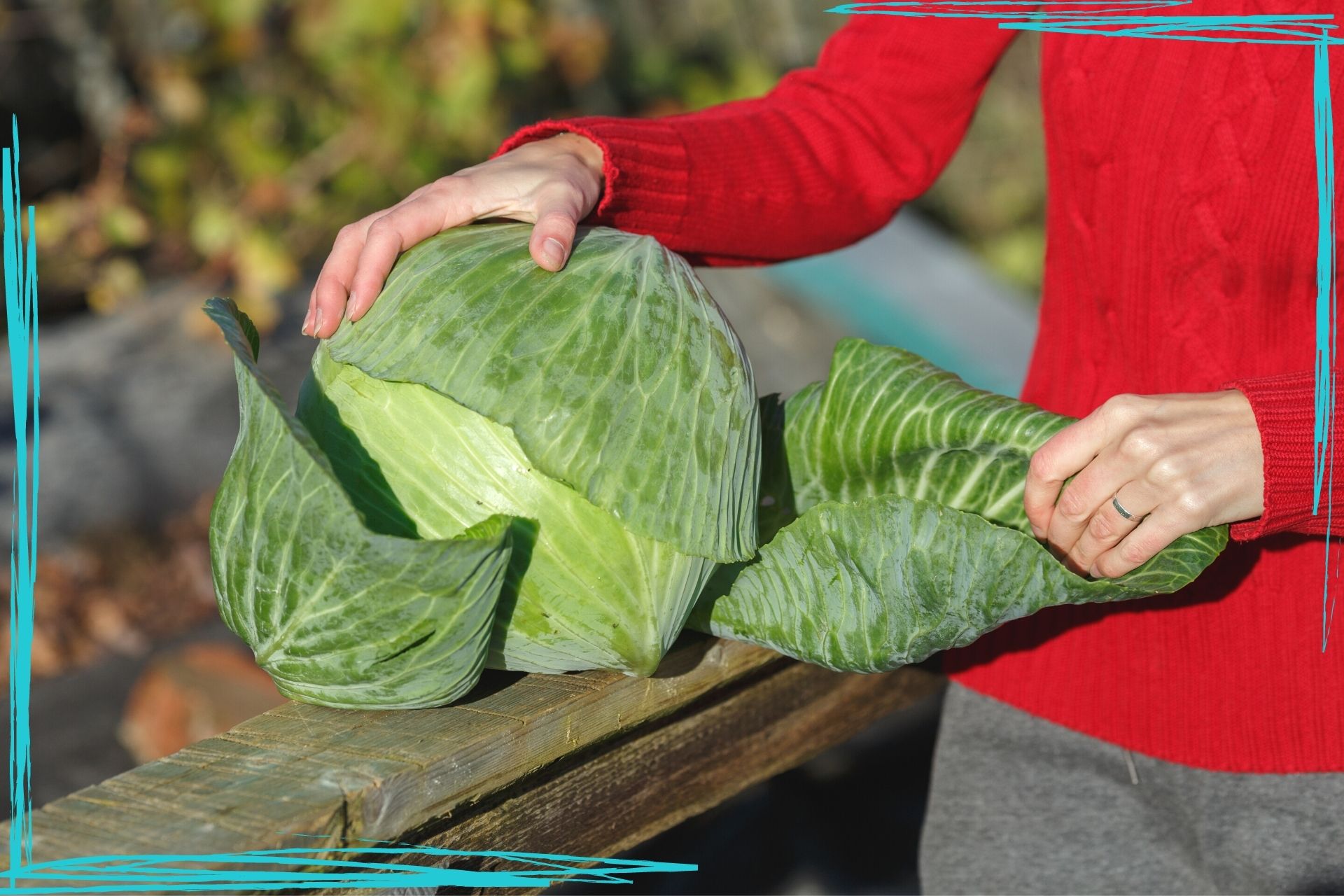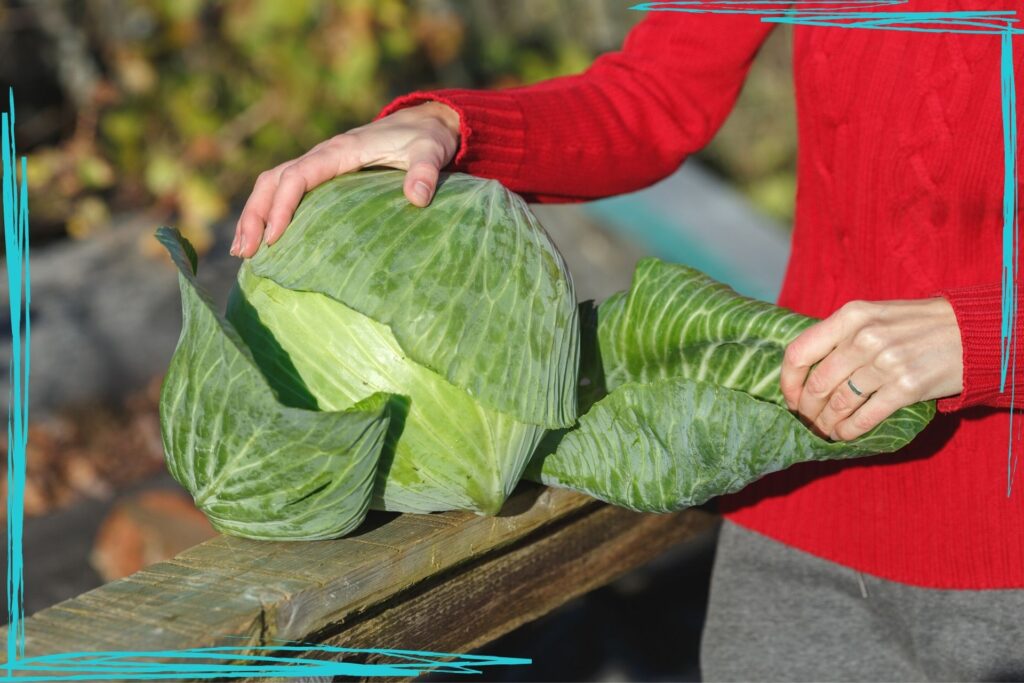 If you leave the cabbage root and the rest of the stem in the ground, you may end up with baby cabbages in a few weeks. Pinch off all but 3-4 of these tiny heads and harvest when they reach tennis-ball size. Some larger storage-type fall cabbages do not form side heads (or don't have the chance before frost), but many smaller and medium cabbages do form as many as 4-5 side heads.
If you want to encourage side heads, make sure to leave several of the large, loose leaves attached to the stem in the ground when you harvest the main head.
This video on how to harvest cabbage is a little shaky, but I appreciate that it demonstrates leaving the stem in the ground for a second harvest. Many people don't tell you this trick for getting cabbage side shoots:
How to Store Cabbage
There are several options for storing cabbage depending on how long you want it to keep.
No matter where you store your cabbage, keep it well away from ethylene producing fruits. Some fruits, like ripe bananas, peaches, tomatoes, produce lots of ethylene. Other fruits and vegetables, including cabbage, are ethylene sensitive.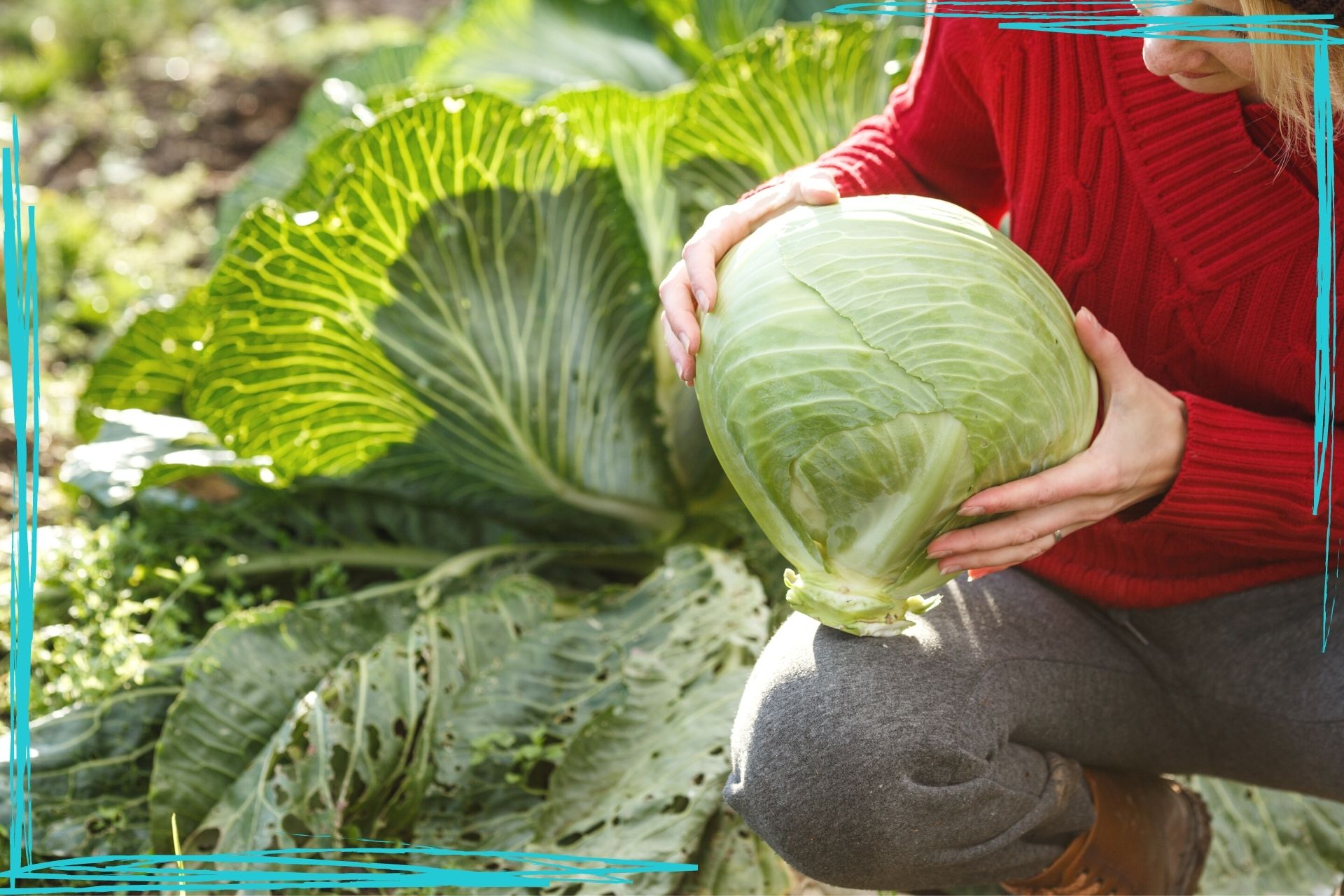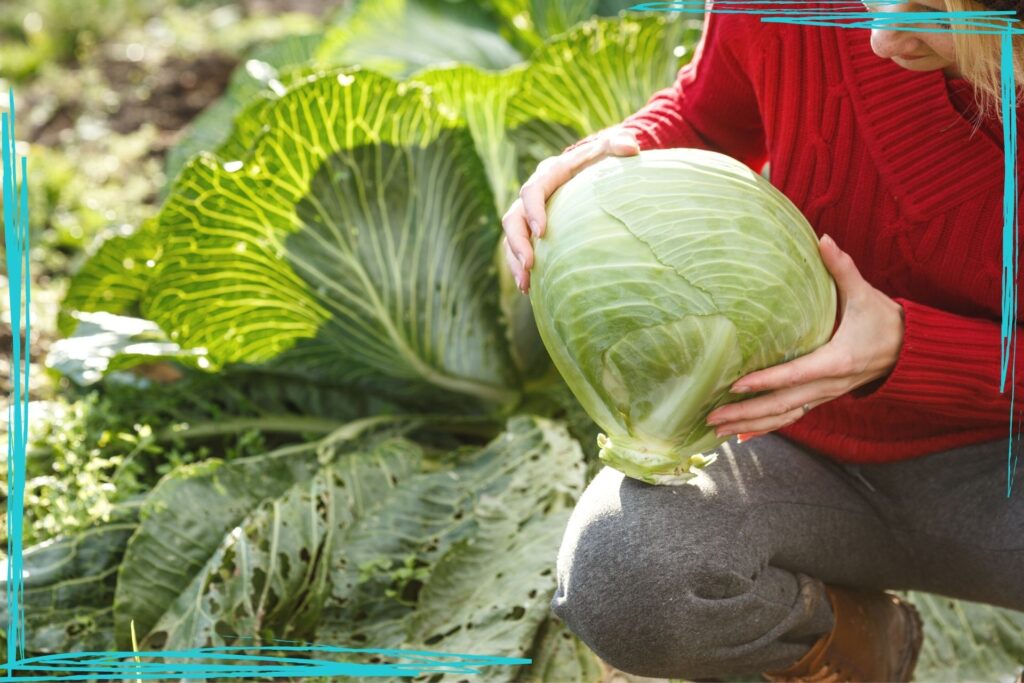 How to store cabbage in the fridge
Cabbage will store in your refrigerator for several weeks as a whole head. Take freshly harvested heads and remove any loose outer leaves. Trim the stems so that only a short section remains. Do not wash your cabbage before storing it.
Cabbages store best in cold, humid conditions. Because the air in fridges is dry, it's helpful to wrap your cabbage in a damp paper towel. Then wrap it in plastic wrap or place it in a perforated plastic bag.
Place wrapped cabbages in the crisper drawer. Because cabbages release gasses, you may notice a cabbage smell in your fridge. This is normal.
Storing cabbage in a root cellar
Root cellars are designed to take advantage of the cool and humidifying nature of the ground while still providing insulation against freezing temperatures.
If you have a root cellar, you can store your cabbage for three months or longer. Leave on the wrapper leaves, and don't wash your cabbage before storing. Keep the heads in boxes, baskets, or on a shelf with newspaper to separate them from each other.
If you don't have a root cellar, you can store your cabbage in a garage that doesn't drop below freezing or a cool basement. They might not keep for as long as in a root cellar but should still last a month or two.
How to freeze cabbage
Freezing cabbage is another option for long-term storage, although it will take a bit of prep. In this case, you'll want to remove all outer leaves and thoroughly wash your cabbage.
If you're worried about worms and other bugs, soak the cabbage heads in a salt water solution in your sink for about 30 minutes. I recommend you go ahead and do this – there are frequently small bugs and bits of garden detritus stuck in between cabbage leaves. Cabbages can be surprisingly dirty. I'd already peeled away the outer, dirtiest leaves from the cabbage below, but you can see there's still plenty of grime.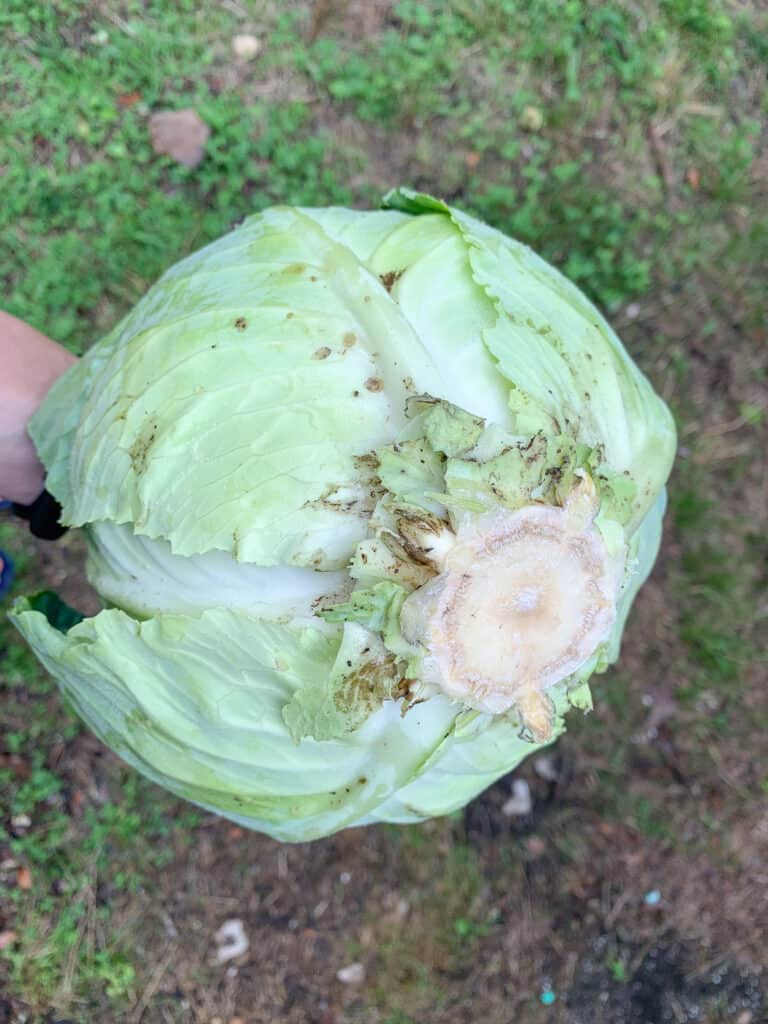 You can then cut your cabbages into wedges or shreds, removing the core as you work. A food processor with the shredding disc makes this job quick and easy.
Blanch the cut cabbage in boiling water for 2 minutes before immediately submerging in an ice bath.
Drain the cabbage, pat it dry with clean kitchen towels, and store in airtight, freezer-safe containers.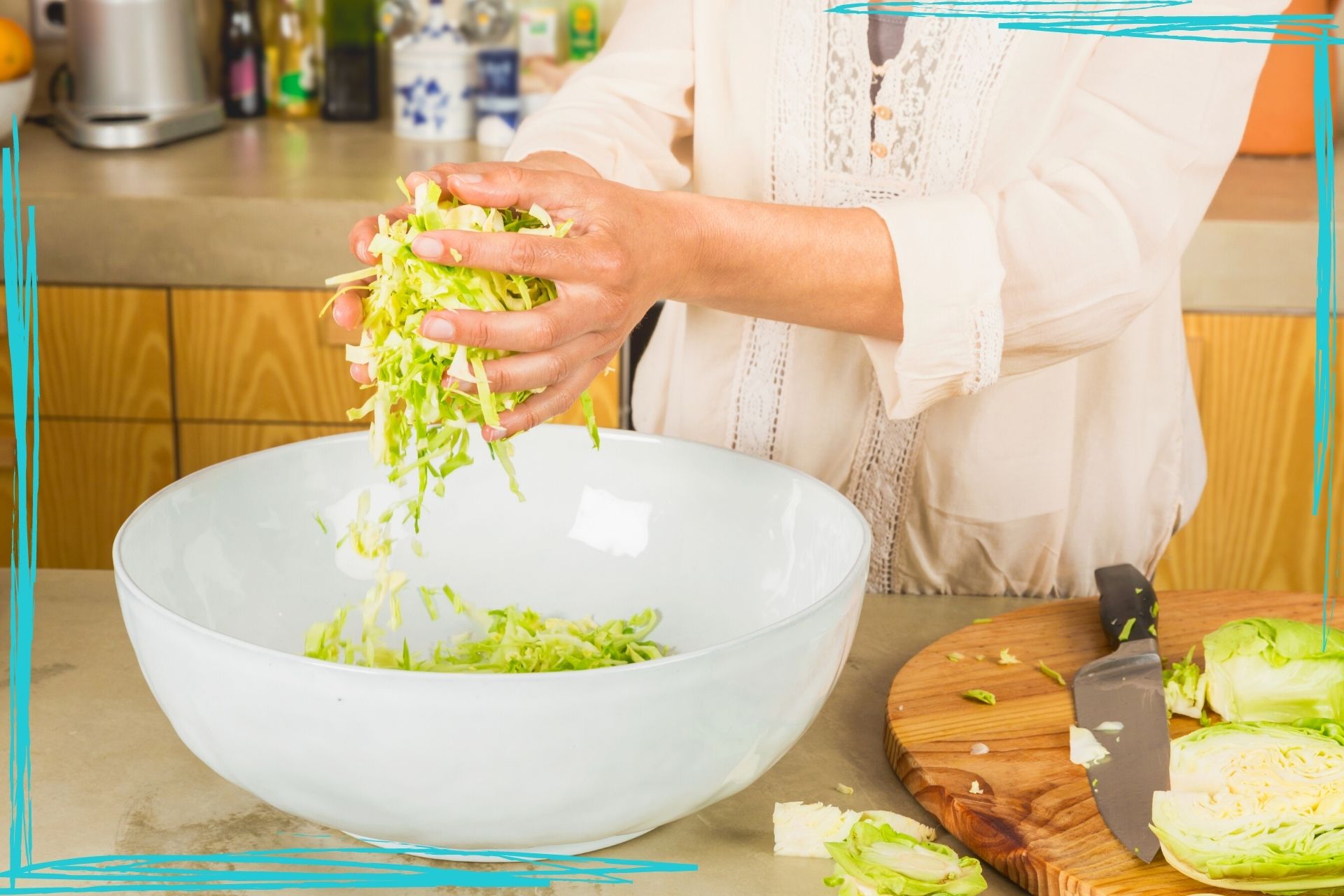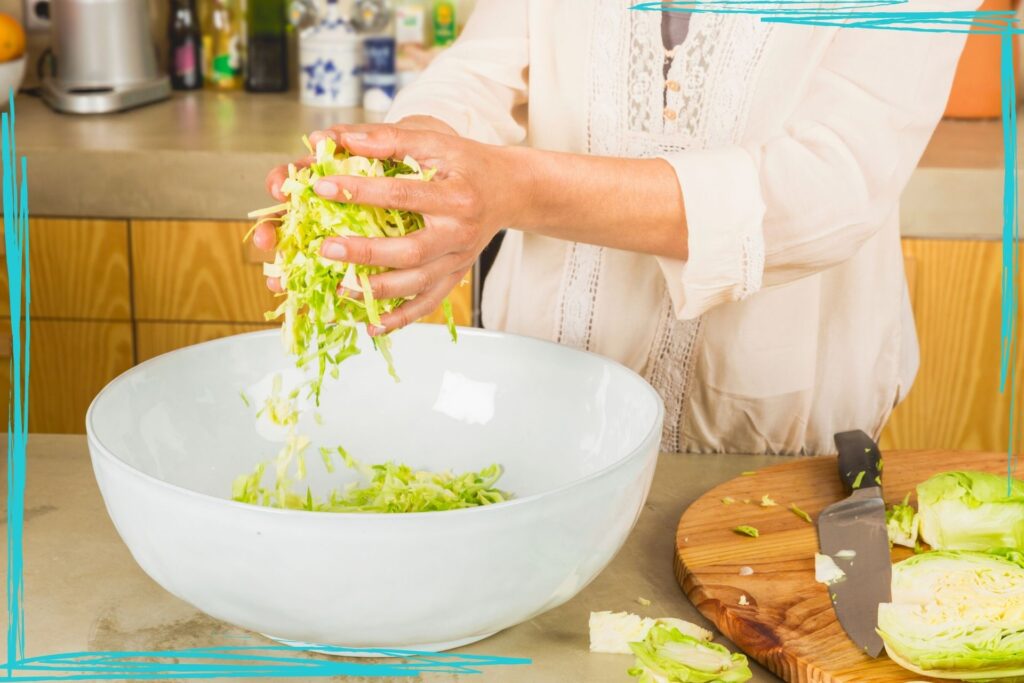 My personal favorite way to freeze blanched vegetables is in sealed FoodSaver bags.
My dad used to have a large vacuum chamber that produced an even better seal more quickly, but these types of vacuum sealers are very large, heavy (about 50 pounds), and expensive. A FoodSaver is much more affordable and practical for most people.
Frozen this way, it can retain its flavor for a year or longer and can be used in cooked dishes.
Sale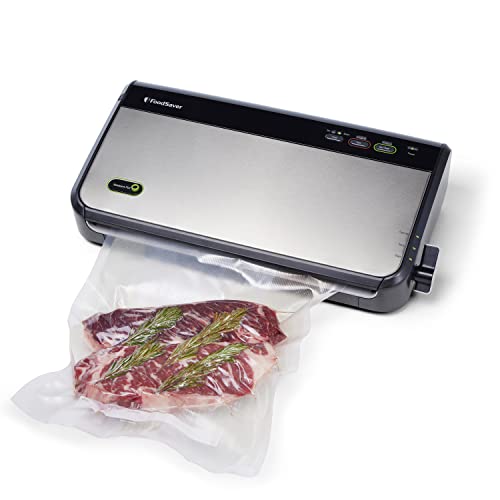 FoodSaver FM2435 Vacuum Sealer Machine with Bonus Handheld Vacuum Sealer...
Stretch your dollar: Meat preserved with the foodsaver system in the freezer can last upto 3 years and still taste fresh, flavorful, and freezer-burn...
Built-in roll storage & cutter: Create custom-sized bags without using scissors; Led light indicators then guide you through the vacuum sealing...
Even more consistent sealing: guaranteed to reach an optimal vacuum level and perform an airtight seal for upto 60 consecutive seals before needing to...
Fermenting cabbage
Making sauerkraut is another popular way to preserve and store cabbage. Kimchi is another, spicier option.
For both, you'll need to salt your cabbage and make sure it's submerged in liquid to properly ferment. You'll need about 1.5-2 teaspoons of non-iodized salt per pound of cabbage, a large clean glass jar, and weights to hold the cabbage submerged in the brine. Homemade sauerkraut is ready in anywhere from 1-3 weeks and is easy to make without specialized equipment.
If you're new to fermenting, there are many modern books on fermenting vegetables and making sauerkraut:
Basic sauerkraut is one of the easiest fermented foods to make and tastes nothing like what you get in a can at the store. It's delightfully crispy and delicious on sausages and sandwiches or as a side dish. It's also much cheaper to make your own than it is to buy. It's a win-win.
Sauerkraut is made through a process called lacto-fermentation. Lacto-fermentation is one of the oldest types of food preservation, and research indicates that eating lacto-fermented foods may have health benefits (source).
Some benefits of laco-fermented foods like sauerkraut, yogurt, and kimchi may include:
Increased nutrient availability and greater antioxidants (this study specifically looked at fermented cabbage and antioxidants)
Reduce inflammation
Immune support
Lacto-fermentation isn't just for cabbage: you can lacto-ferment many vegetables:
Replanting Cabbage Next Year
If you want to try an old trick for replanting cabbage next spring, cut off the heads and pull out the roots when you harvest. Keep the roots in a root cellar or another cool place over the winter.
When spring comes, plant the roots in your garden as soon as the ground thaws (just not where you planted cabbage last year).
You'll end up with fresh sprouts to eat in early spring and small, but delicious, heads to eat later on. You can even let the plants go to seed if you want to collect seeds to plant next year.
Now that you know all about how to harvest and store cabbage, there's nothing left except enjoying it and planning next year's crop! Make sure to check out this guide to planting and growing cabbage to ensure a successful harvest.
Herb and Vegetable Harvest Tips
Not sure when your vegetables are ready to pick? Or how to harvest your herbs without killing the plant? Discover these herb and vegetable harvesting guides!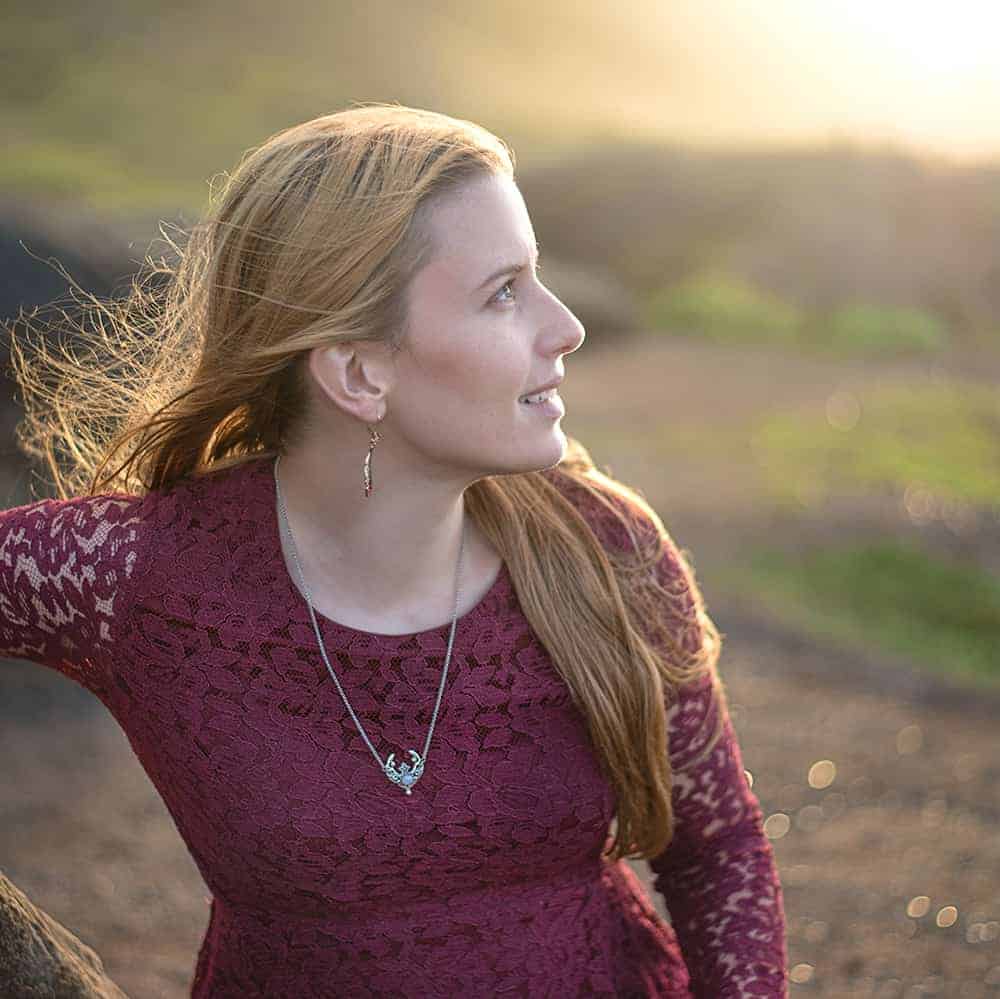 Natasha Garcia-Lopez is an avoid home-gardener and proud owner of 88 acres of land in rural West Virginia. She was a member of the Association for Living History Farms and Agricultural Museums for many years and is currently enrolled in the Oregon State University Master Gardner Short Course program so she can better assist you with your gardening questions.She holds a certificate in natural skincare from the School of Natural Skincare.