Horseradish is one of those unforgettable vegetables. It's full of pungent, spicy compounds that can both open up your sinuses and add tangy, potent flavor to any meal. The roots are also full of nutrients, including a large amount of vitamin C and iron.
As a plant, horseradish is very easy to grow as long as it gets the cool weather it needs to thrive. In fact, some people find horseradish harder to get rid of than to grow, so keep that in mind as you pick out a place for it in your garden!
Here's everything you need to know about how to plant and grow horseradish, including how to keep it from overstaying its welcome.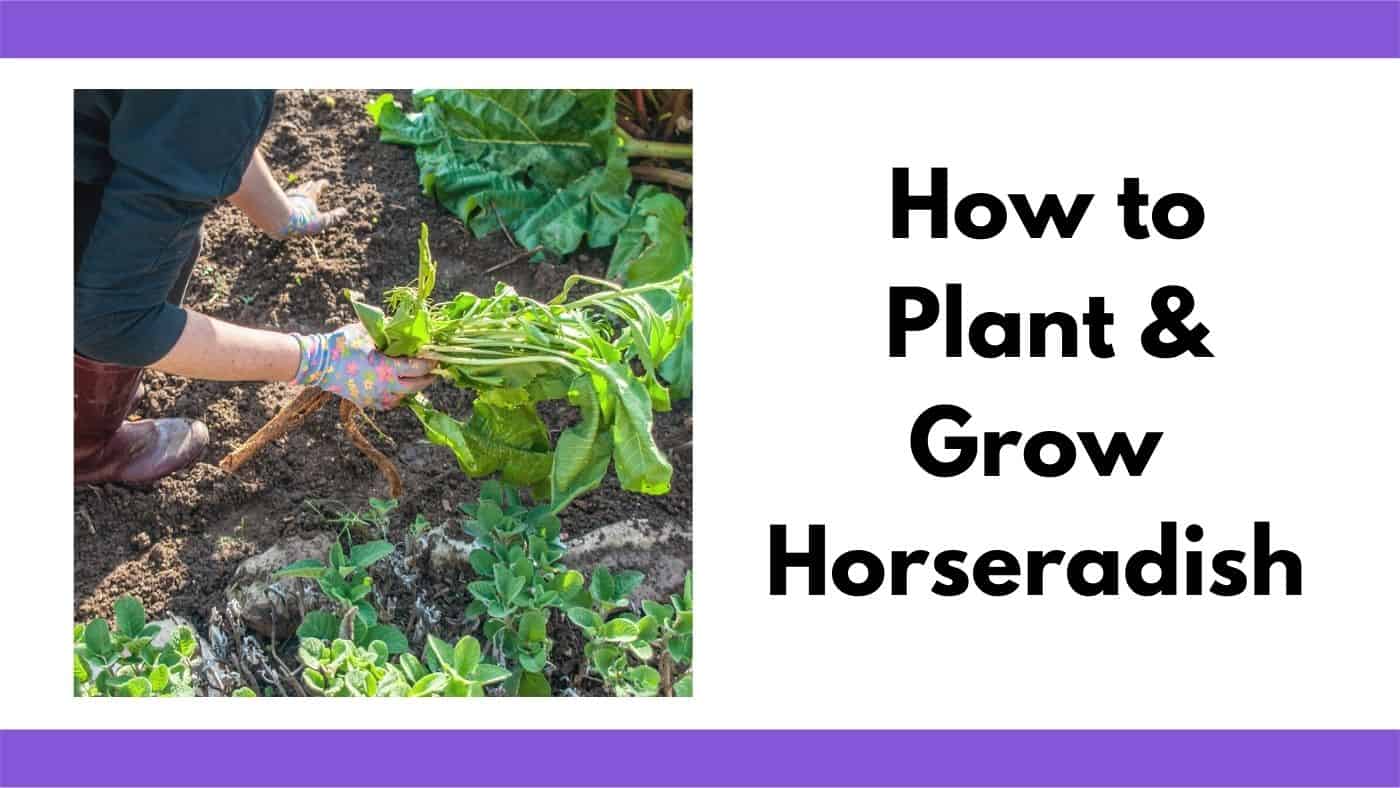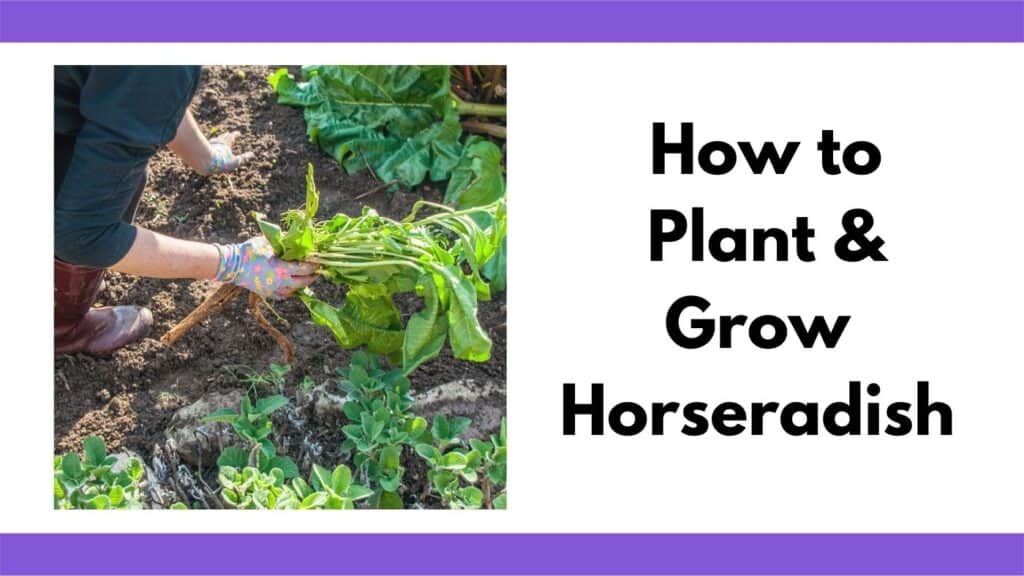 This post includes affiliate links, which means I may earn a commission on purchases made at no additional cost to you.
All About Horseradish
Horseradish (Armoracia rusticana) is considered by many gardeners to be both a vegetable and an herb. It has many culinary uses, especially as an ever-popular sauce, but also has a long history of use as a medicinal herb to clear congestion and reduce inflammation (source).
The horseradish plant belongs to the Cruciferae family, which makes it closely related to broccoli, cabbage, Brussels sprouts, kale, and other brassicas.
However, unlike most of its closest relatives, horseradish is a perennial vegetable, which means it will return each year to your garden as long as you don't dig up all of its roots. You can also choose to grow it as an annual by planting in the spring and digging up the entire plant in the fall.
One thing to keep in mind with horseradish is that it thrives best in cool weather. It will do well in USDA zones 3-7 and sometimes in zone 8, but plants will struggle in hotter climates.
The good news is that horseradish requires very little care once your plants get established and is very cold hardy. Plants grow about 2' tall on average and can put down roots as deep as 10' if left undisturbed for a few years!
How Horseradish Grows + Buying Sets
Horseradish can be grown from seed, but it's difficult to do so and hard to find the seeds, so this method isn't practical for the home gardener.
Instead, horseradish is most commonly grown from root cuttings that are known as "sets" or "starts." The root cuttings are simply small, slender roots that were taken from a mature plant and will sprout when planted in your garden.
Many online garden stores sell horseradish sets if you can't find them locally. It may sound odd, but Etsy is one of my favorite places to look for plants. There are lots of great growers selling on Etsy these days.
Photo Credit: ScenicHillFarm
Tulelake horseradish is known for vigorous growth and its spice. This seller has large roots (8-10") that can be cut into pieces for additional plantings.
Photo Credit: FourOak
These horseradish roots are from the Armoracia rusticana cultivar and were grown on a certified organic family farm.
How to Plant and Grow Horseradish
When to Plant
Horseradish should be planted in early spring so that it can get established in cool weather and have a long growing season before you harvest in the fall.
You can put your sets in the ground as soon as the soil can be worked, which is typically a few weeks before the last average frost date in spring. If the roots are being shipped to you, they may come slightly later in spring, but just put them in the ground as soon as they arrive.
Where to Plant + Prepping Your Growing Site
Choosing the right location to plant horseradish in is an important step. Plants need a spot in full sun in order to thrive. They will tolerate partial shade, but your plants and roots won't get as big.
An area with rich, moist soil is best for growing horseradish. The roots will grow in clay, but they do prefer a well-drained spot, so you may want to opt for raised beds if your soil has poor drainage.
Even more importantly, keep in mind that horseradish has a vigorous nature (which is a nice way of saying it can be aggressive). It likes to grow and spread itself out, sometimes crowding out nearby plants.
For this reason, many gardeners like to plant horseradish at the very edge of the vegetable garden or in a separate plot where it can be kept in check. It can also be grown in containers- either above ground or buried in the garden- to keep its roots from spreading. In the photo below, you can see edging to help keep the horseradish contained: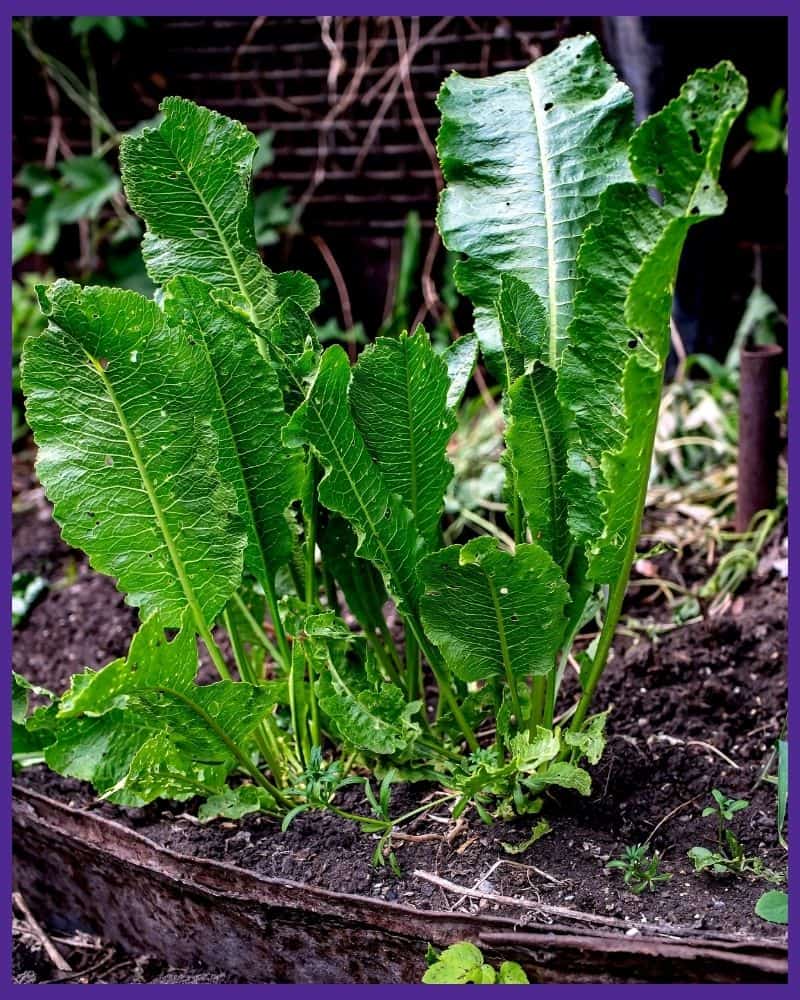 Once you have a spot picked out, work the soil to a depth of about 8-10" inches, clearing out rocks and debris as you go to make sure the roots can easily grow downwards. Add in compost or well-rotted manure to give your plants extra nutrients. I use my Meadow Creature broadfork to loosen soil. (Not an affiliate link – the company is an awesome small business that stocks quality tools.) I can even use it to get through dense clay and grass, as shown below: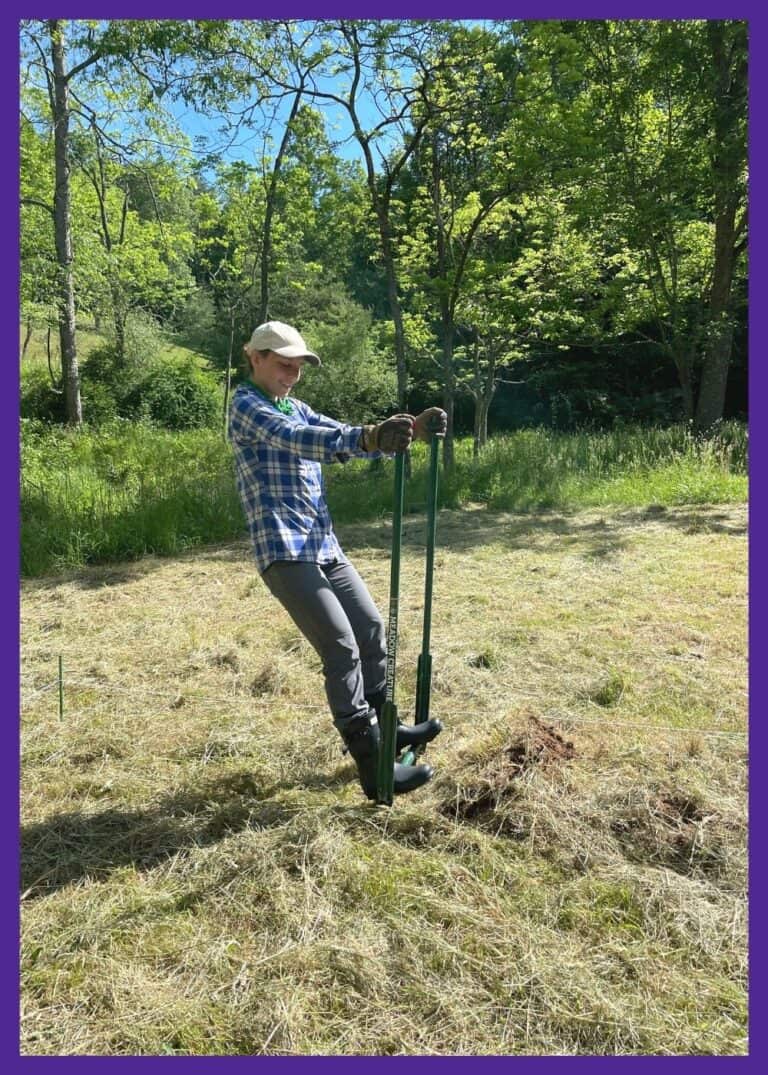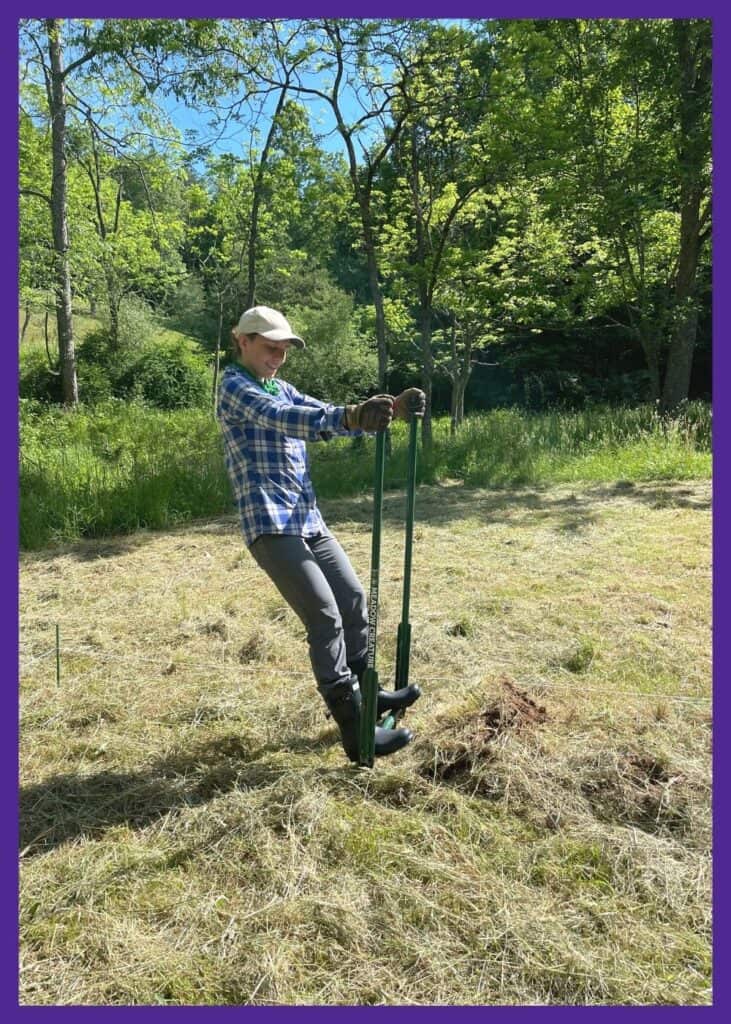 How to Plant Horseradish
The easiest way to plant horseradish is to dig a trench that is 5-6" deep. Plant each separate root 12-18" apart in rows spaced a few feet apart.
When you examine your horseradish sets, you should see that one end of the root is cut squarely while the other end is cut at an angle. The angled end should point downwards, but you don't want it to go straight down.
The trick is to plant the roots so that they are at about a 45° angle with the flat end pointing up and the angled end down. Prop them up with soil so they stay at this angle until you can go back and fill in the whole trench.
Make sure the roots are completely covered, and water them if the soil is dry. I recommend using a watering wand because it has a more gentle stream that won't blast the soil away from your new plants. Discover the best watering wands, including the one we personally use, in this post.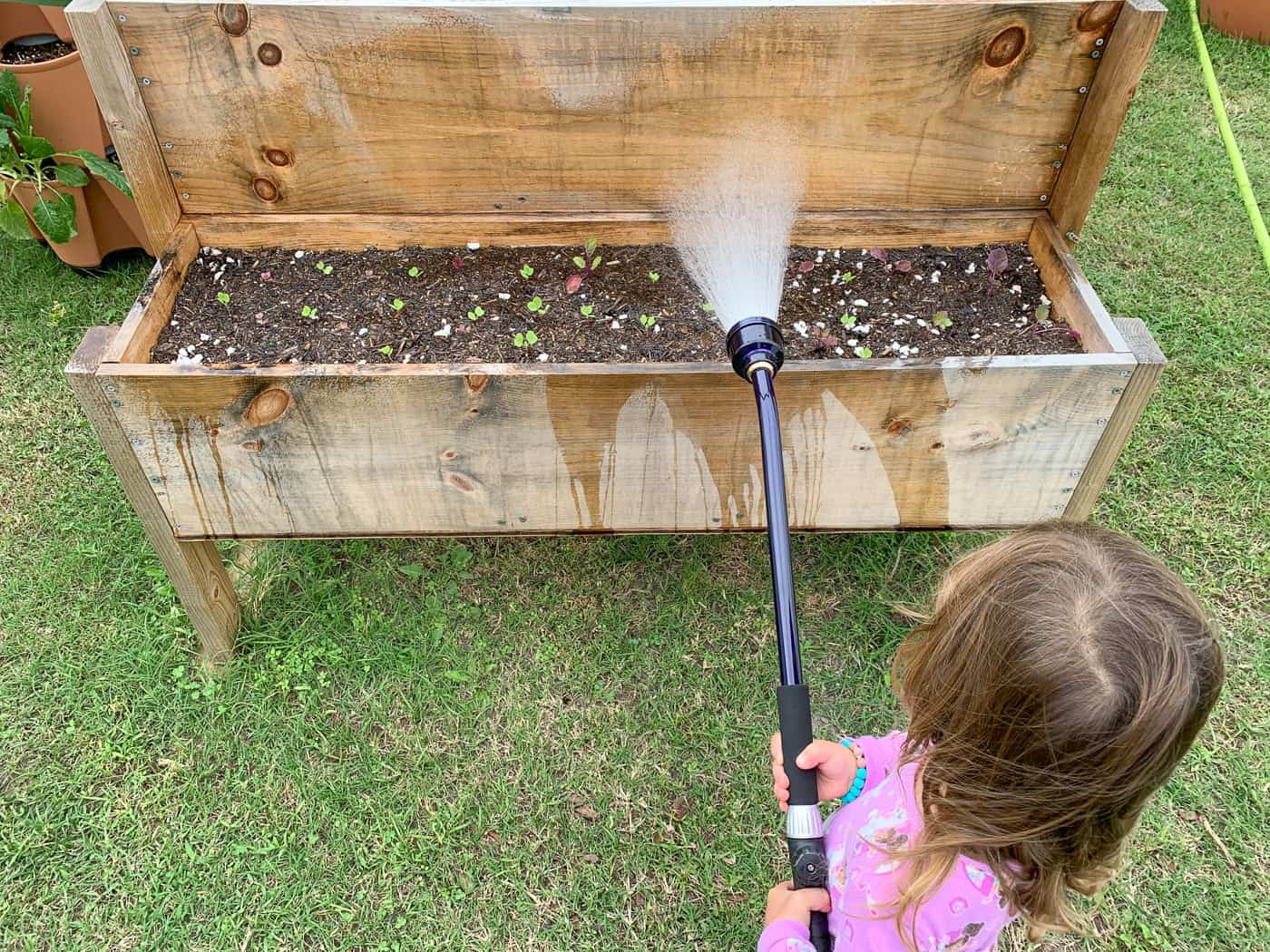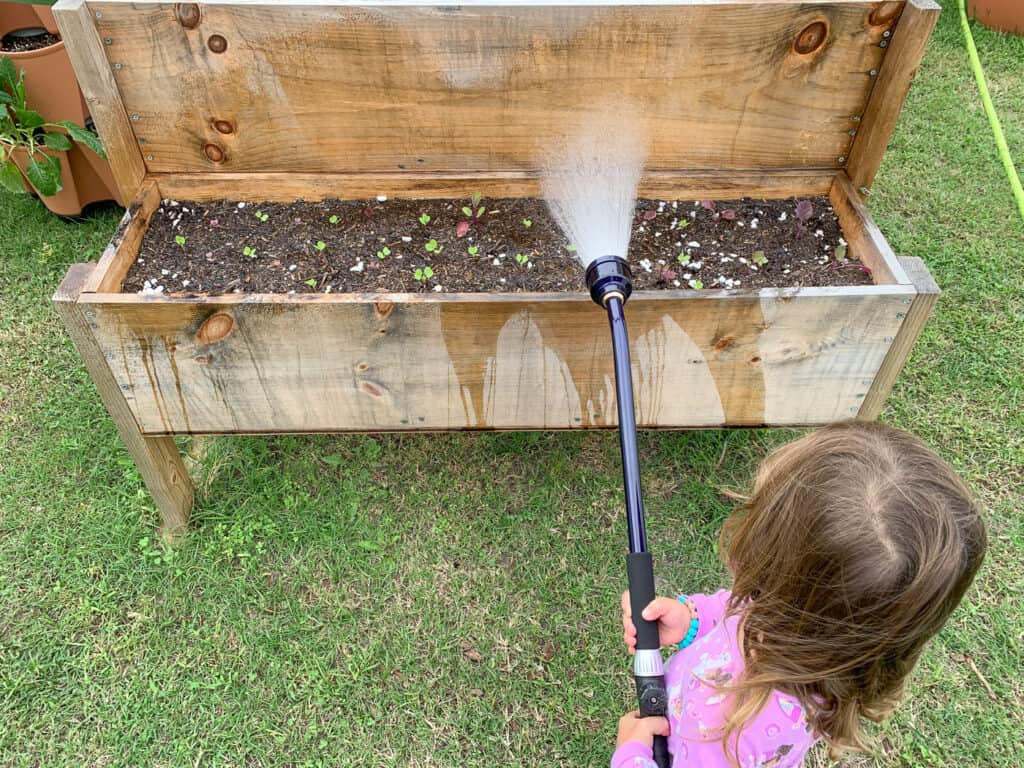 If you want to use containers, choose large pots that are at least 30" deep and fill them with a good quality, rich potting soil. Fox Farms is my favorite. Mix some compost into the potting soil if you have it and make sure there are drainage holes in the bottom of each container. Do not add gravel to the bottom of your pot. This does not improve drainage – it makes the soil more soggy.
Then, plant your roots just as you would in the ground – one per pot.
Horseradish Plant Care
Now that you know the basics of how to plant and grow horseradish, caring for your plants is fairly easy.
Be sure to water your new plants regularly until they get established. After that, you'll only need to supplement with water whenever there's a long dry spell. In fact, horseradish is fairly drought tolerant, although you'll get the best roots by providing plants with consistent water.
Weed around your plants regularly, especially when they are just getting started.
If you are growing horseradish as a perennial, fertilize it every spring when the plants are just emerging. You can apply a layer of compost, fertilize with compost tea, or use a slow-release organic fertilizer. Worm castings are an excellent choice. They are naturally slow release and don't burn your plants.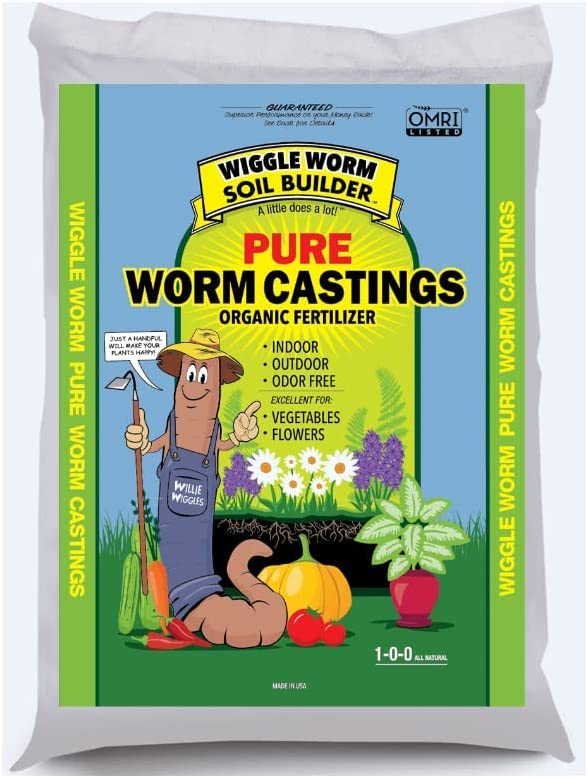 Wiggle Worm 100% Pure Organic Worm Castings 15 Pounds - Organic Fertilizer...
PURE EARTHWORM CASTINGS – Wiggle Worm Soil Builder is pure castings, not vermicompost, because of our special manufacturing and harvesting process....
IMPROVES SOIL STRUCTURE–Wiggle Worm Pure Worm Castings contain tiny, football-shaped particles that prevent packing to help improve plant soil...
NATURAL INSECT REPELLENT – Aside from providing nutrients to the soil, Wiggle Worm Pure Worm Castings can also help control the population of plant...
Keeping Horseradish Under Control
To keep horseradish from taking over your garden, the best plan is to plant it in containers or in a section of your garden that has natural barriers to keep it from spreading too far.
Another way to keep it under control is to harvest the roots regularly, which can be done in both spring and fall. You can also dig up your entire plant when harvesting and replant pencil-sized roots where you want them to grow next year.
If you allow horseradish to grow as a perennial, it will eventually bloom with white flowers in late spring. Clip off the flower heads once the blooms have died to prevent reseeding.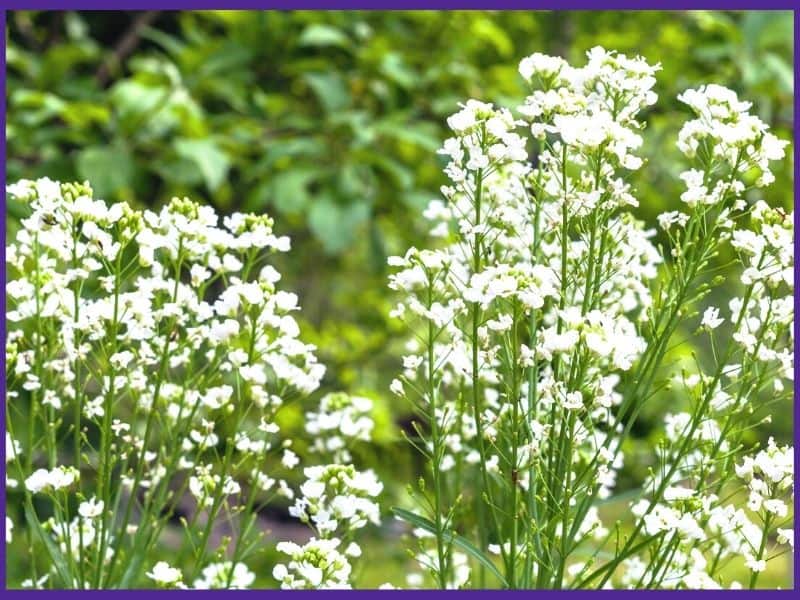 Common Pests and Problems
Horseradish can be attacked by the same pests that go after brassicas, including cabbage worms. However, it's usually much more resistant to these pests than other cabbage family members and the roots rarely suffer damage.
I check my brassicas daily for caterpillars, squish the small ones, and feed big ones to my chickens. If they become a big problem, I use btk, a naturally occurring bacterium that affects cabbage moth caterpillar but does not harm beneficial insects. If you purchase btk, make sure it doesn't include other insecticides, too (unless you want the added ingredients). Neem oil is not effective against caterpillars.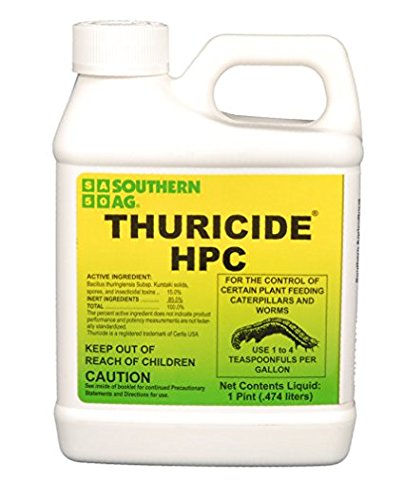 Flea beetles and aphids can sometimes make themselves a nuisance by feeding on the leaves. Again, this won't harm the roots directly, but you'll want to take care of the pests with a natural spray if they become too much of a problem. Neem oil is generally effective against aphids, but so is a solid blast from a hose nozzle.
Diseases are rare with horseradish, although plants can get root rot in extremely soggy soil. This can be prevented by planting where there is good drainage.
How to Harvest Horseradish
Horseradish will be ready to harvest in late fall, usually in October or November. The best time to dig up the roots is after a frost has killed the leaves off your plants but before the ground becomes frozen.
Use a garden shovel and/or garden fork to carefully dig around the roots of your plants and lift them out of the soil. The main taproot will be the thickest root and the best to use, but you can also collect any decently sized side roots. You can cut the leaves off before harvesting so you can see the roots more clearly, but that's not absolutely necessary.
Work around the roots with a fork first: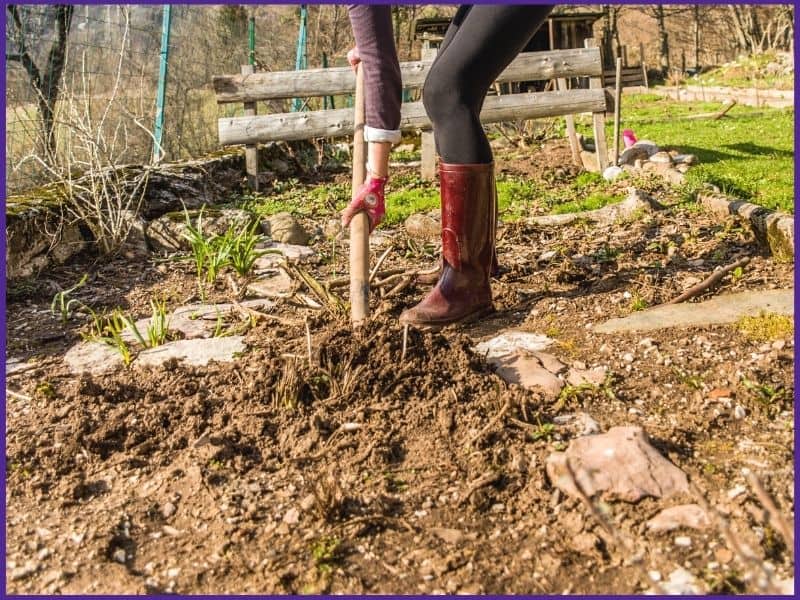 Then dig around in the loosened soil to find the roots: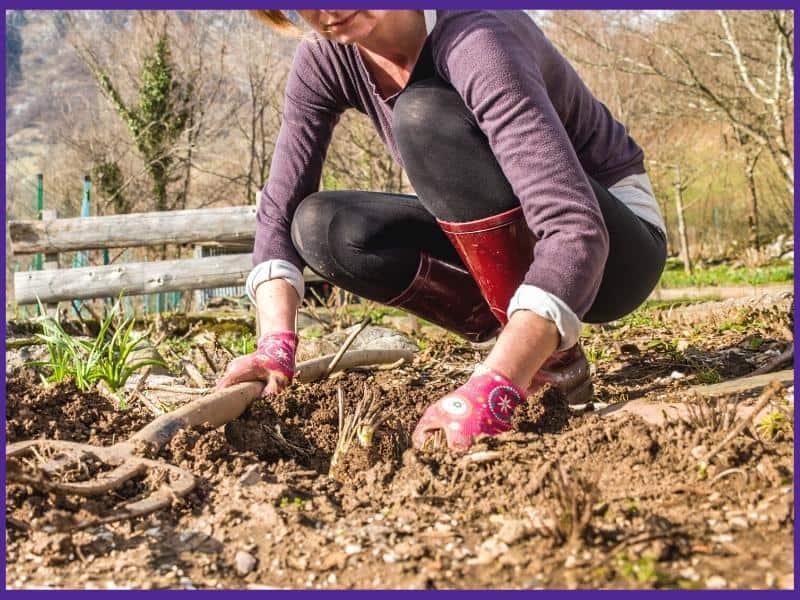 Work the roots free. This may take some wiggling and determination!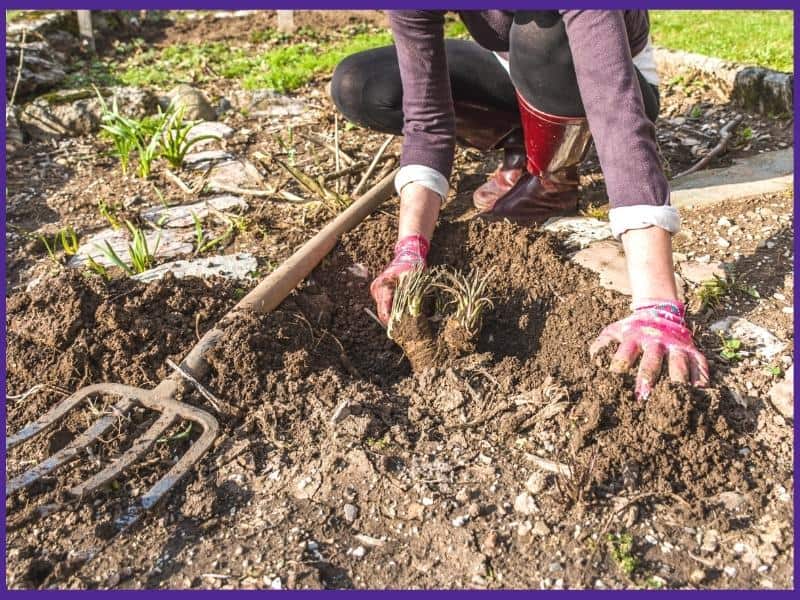 Finally, you'll pull your horseradish root from the gound: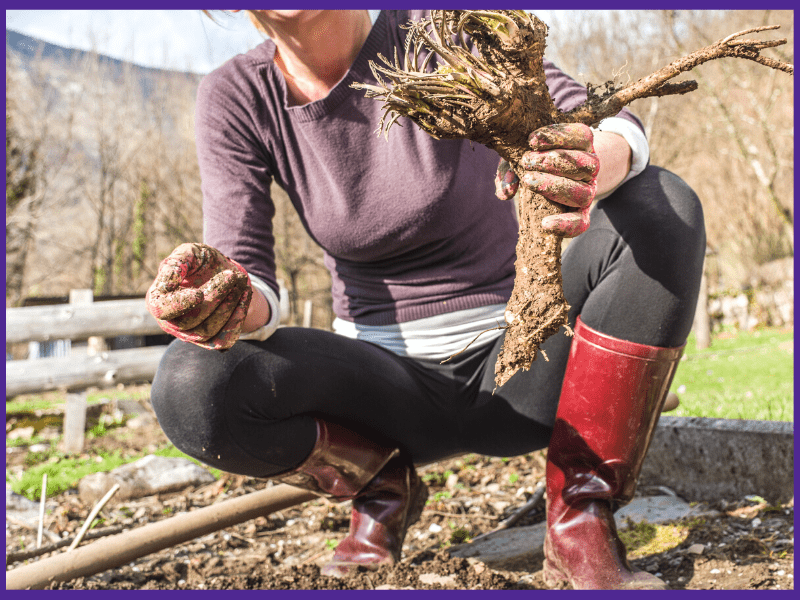 To keep your horseradish plants going after harvesting, you have two options.
If you leave some of the small side roots in the ground when you dig up your plants, they will sprout in the spring without any effort on your part. The only downside to this is that horseradish can become weedy this way and start "walking" to new parts of your garden.
A second option is to dig up all the roots of your plant at once. Look for pencil-sized, healthy side roots and slice them off squarely with a clean knife. Then, cut the bottom of each root at an angle so that you'll know which end goes down when you plant them in the spring.
Store these roots in a cool basement with sand or sawdust until planting time comes next spring.
Storing and Using Horseradish
One of the best parts about learning how to plant and grow horseradish at home is that the roots have a long storage life.
Before storing them, cut any remaining foliage off, leaving about an inch of stem above each root. Scrub each root clean under running water and allow them all to dry thoroughly.
Then, you can either store the roots in a perforated plastic bag in your refrigerator, where they will last for a few months, or in damp sand or sawdust in a cool basement, where they will keep for even longer. I use Debbie Meyer Green Bags for storing produce and they work surprisingly well.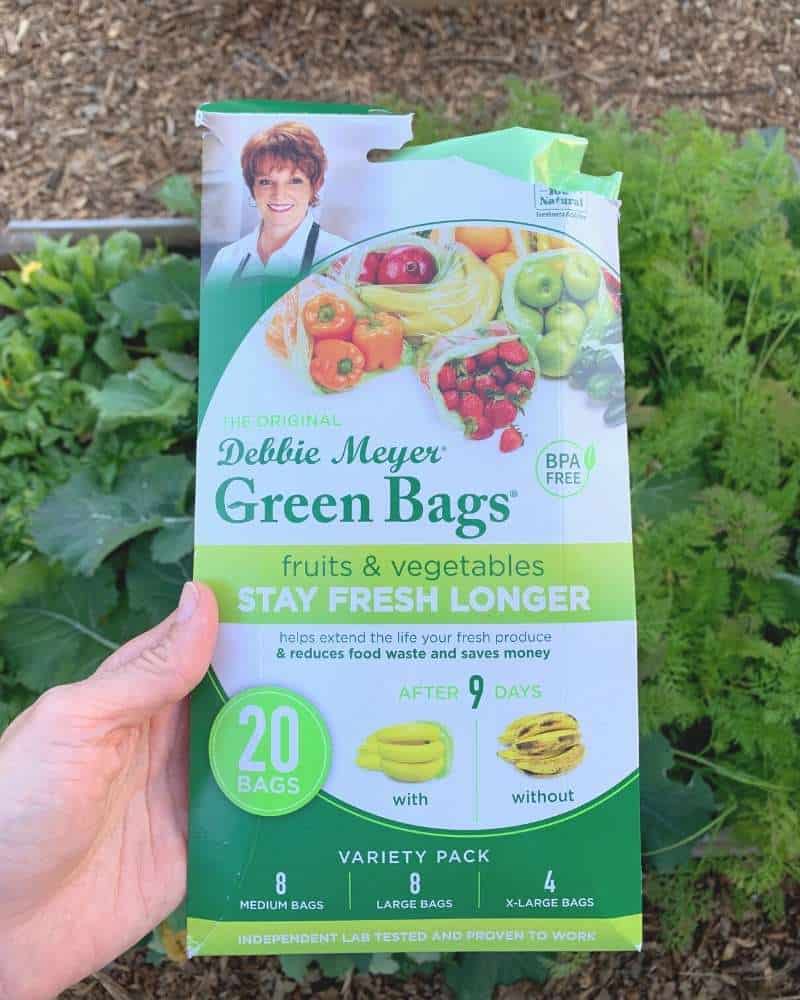 It may interest you to know that horseradish doesn't become spicy until it gets chopped, chewed, or bruised. The compounds that give it its bite are separated within the cells of the plant but come together when the root gets broken down.
When you're ready to use horseradish, grate it coarsely for a lower amount of heat or more finely for extra pungent flavor. Add white vinegar and salt for a simple sauce or use it in a favorite recipe.
With a good harvest, you'll be able to enjoy horseradish all winter and even longer!
Popular summer vegetables and herbs
Discover how to grow popular vegetables and herbs in your backyard garden or container garden with these in-depth vegetable growing guides.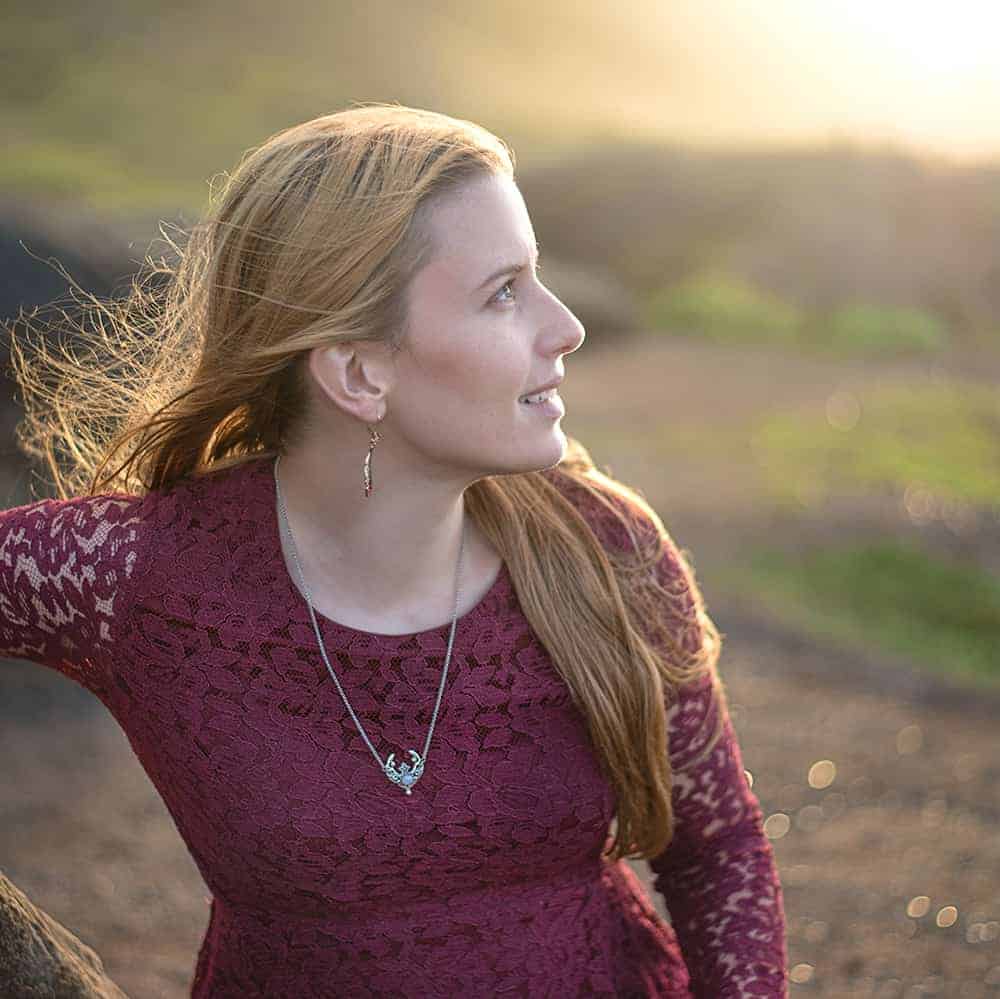 Natasha Garcia-Lopez is an avoid home-gardener and proud owner of 88 acres of land in rural West Virginia. She was a member of the Association for Living History Farms and Agricultural Museums for many years and is currently enrolled in the Oregon State University Master Gardner Short Course program so she can better assist you with your gardening questions.She holds a certificate in natural skincare from the School of Natural Skincare.